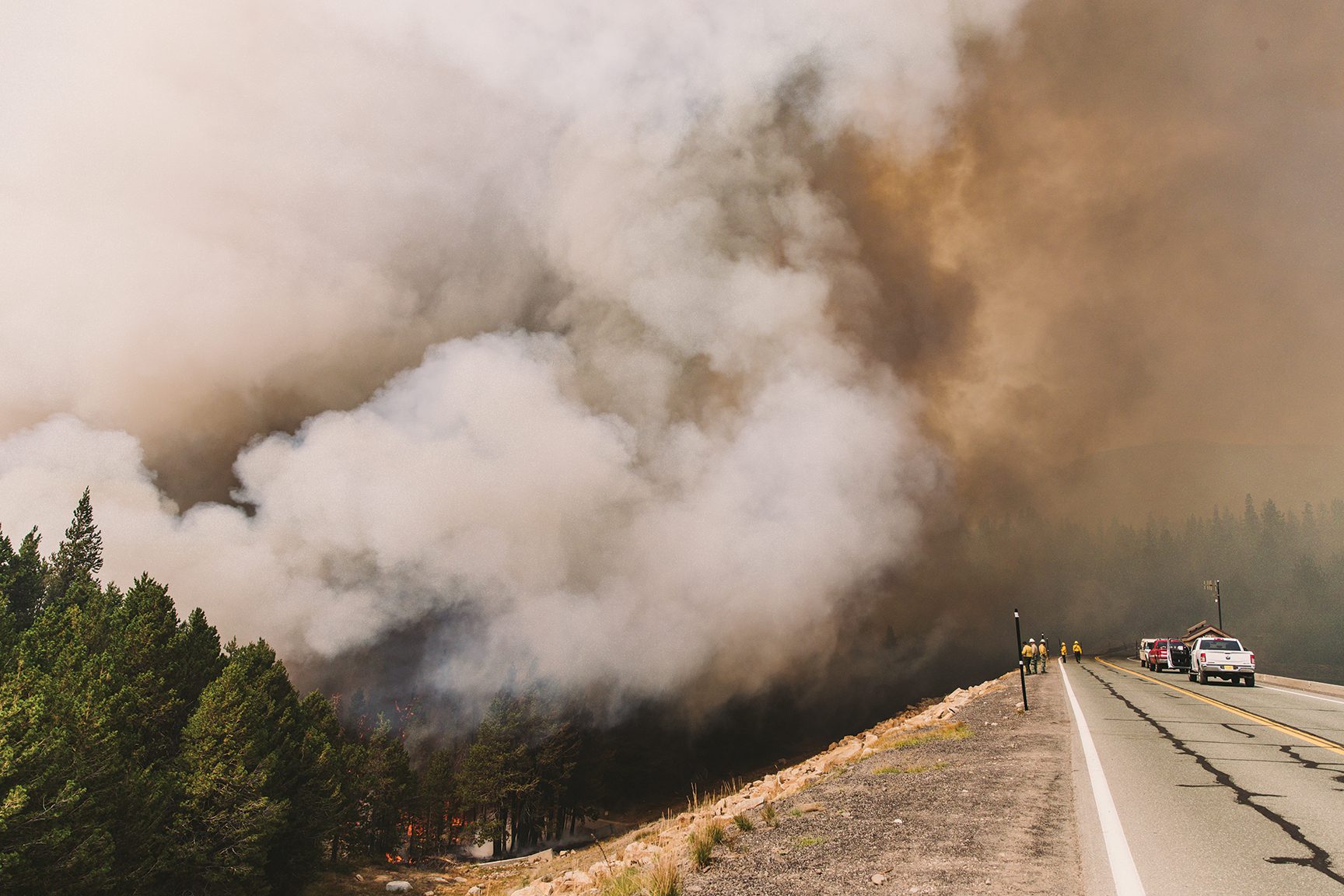 The 2021 Caldor Fire approaches Caples Lake near Kirkwood, photo by Brian Walker
27 Jun

Recruiting a Forestry Workforce
Local organizations are stepping up to address crippling staff shortages in the unyielding fight against Western wildfires
The Sierra Nevada and the rest of the West have a big forest fire problem—not for any single reason, but rather numerous compounding factors that have created the highly combustible landscape we see today.
The good news: Agencies responsible for managing our forests understand this well, and major efforts are underway to thin overly dense forest stands and carry out prescribed burning operations, reducing flammable brush and creating a healthier forest.
The bad news: Despite knowing what needs to be done, many obstacles stand in the way of success, from funding to regulatory challenges to (in some cases) a lack of support from the public. But perhaps the biggest roadblock faced by both public and private organizations is the growing shortage of workers in the forest industry—and at a time when they are needed most.
Recognizing this dearth of willing and ready employees, local entities such as the Tahoe Truckee Community Foundation, Tahoe Fund and Lake Tahoe Community College have ramped up efforts in Tahoe to train young workers and offer incentives to enter this important field.
An Eye-Opening Report
In a 2022 report titled Building California's Forest Resilience Workforce: A Critical Gap in Increasing the Pace and Scale of Wildfire Prevention, The Nature Conservancy brought the issue into focus while heightening the sense of urgency to reverse the troubling trend.
The report notes both Cal Fire and the U.S. Forest Service (USFS) have committed to treating 500,000 acres of forestland annually within the state by 2025—a substantial increase over the tens of thousands of acres treated in recent years. Large sums of public funding have followed. But the goals are unattainable given the current number of workers in the field, which continues to decline. 
"While a big and essential step forward in achieving forest resilience at scale, California's current forestry workforce falls far short of that needed to deploy the large sums of public money flowing to forest resilience," the report states. "By our estimate, California's current public sector workforce alone will need to grow by nearly 9,400 to put these funds to work.
"This gap creates considerable risk that California will fail to reach its ambitious goals or that it will be more costly to do so, given the limited supply of professional foresters, private operators with boots on the ground and wildland firefighters who also do wildfire prevention work."
In fact, California's forestry workforce has declined by approximately 38 percent over the last two decades, according to the report, which The Nature Conservancy attributes to the contraction of the timber industry and attrition from public agencies.
Meanwhile, longer, more intensive wildfire seasons and staff shortages have led to a mental health crisis, with growing rates of grief, substance abuse and suicide, and high rates of firefighters and forestry professionals leaving their field. Some 10 percent of Cal Fire's permanent workforce quit in 2021, while registered foresters who conduct essential planning and oversight are retiring nearly three times faster than they are being replaced.
Money Problems
Money is another contributing factor to the inadequate workforce—both in terms of workers' salaries and the increased cost of living in the state.
USFS, California's largest forestland owner, pays roughly 50 percent less than similar entry-level positions at Cal Fire, while utilities and large landowners with insurance payouts also offer more competitive opportunities.
"Ensuring pay parity for USFS employees is essential to reverse attrition and prevent cannibalization by other sectors in the restoration workforce," states The Nature Conservancy report.
Compounding the issue, California's housing costs have increased nearly 50 percent more than wages over the past decade, presenting a barrier felt across the forestry profession, from community college students to private contractors to seasonal firefighters.
"The biggest issue is the cost of living," says Adrienne Freeman, a Forest Service spokesperson. "We were able to offer incentives to help with housing costs. Is it enough? I don't know. It is widely recognized we need to increase pay both in suppression and fuels."
Despite the disparity in pay, Freeman notes many of the Forest Service's fuels treatment and firefighting jobs offer
on-the-job training.
"The most important thing is to have a good attitude and a willingness to work," she says. "Some of the best firefighters out there just came out with a love of the land that they live in."
Freeman lauds the impact of private/public partnerships locally, which have accomplished more fuels reduction than would have been possible with only public agencies. Several Tahoe-based nonprofits are directly involved in that effort.
Local Assistance
Tahoe Fund's board of directors have made forest health their number one priority.
"Our main goal is to increase the pace and skill of the forest health management effort and reduce fire danger," says Caitlin Meyer, Tahoe Fund's chief program officer.
One way Tahoe Fund is helping is by giving $1,000 grants to Lake Tahoe Community College (LTCC) forestry students. This enabled the program to reach its capacity of 41 students last year. The nonprofit also provided a match through a donor to fund a director of forestry and public safety position at LTCC, which will help students land jobs in the field.
"One of our greatest needs is getting more skilled professionals into our forests," says John Jones, a Tahoe Fund board member. "By providing scholarships for every student in LTCC's new forestry program, we are one step closer to strengthening this understaffed workforce that will make our forests healthier and help prevent wildfires."
The Tahoe Truckee Community Foundation is also helping through its Forest Futures program, which supports local and statewide efforts to create career pathways for forest management and fire mitigation.
To date, the Truckee-based foundation has funded grants to support housing for forestry crews and scientific field equipment at Great Basin Institute; provided personal equipment for forestry students at LTCC; introduced urban youth to forest and career opportunities at The Sierra Institute; and supplied fellowship opportunities for mid-level forestry careers through the Sierra Corps at the Sierra Nevada Alliance. 
Additionally, the foundation is the presenting sponsor for a statewide collaboration that promotes careers in the forest through an annual workforce summit and an exhibit at the California State Fair in Sacramento. The exhibit is intended to broaden outreach efforts for community colleges, universities and nonprofit programs that provide technical training and certifications.
Yet another challenge to forest health in the Tahoe region is the lack of a local sawmill, making thinning operations more difficult and expensive due to the long truck routes required.
Amy Berry, Tahoe Fund's chief executive officer, helped facilitate the creation of a sawmill on Washoe tribal lands in Carson City by connecting a sawmill company, Tahoe Forest Products, LLC, with the Washoe Tribe. In July 2022, construction began on the $10 million sawmill near the Costco shopping center—the first sawmill of its size built in the area in almost a century.
"That sawmill was the only reason Sierra-at-Tahoe was able to reopen this past winter," says Meyer, referring to the catastrophic Caldor Fire that burned more than 220,000 acres southwest of Lake Tahoe in 2021, including roughly 80 percent of Sierra-at-Tahoe ski resort. "They removed 16,000 logs from the Caldor Fire and created between 20 and 40 jobs at the mill, but also the potential for jobs in the forest, delivering logs the shorter distance to the base of Spooner Summit."
Boots on the Ground
While the goal is to get more people to choose firefighting and forest management as careers, it really comes down to individuals deciding they want to pursue that line of work. People like Koson Verkler.
Verkler was born in Truckee and raised in North Tahoe. After graduating from North Tahoe High School in 2021, he left for the University of Montana in Missoula to study forestry, with a minor in fire science and management. While he chose Montana in part for its Tahoe-like qualities, he ultimately went for the forestry program, which was highly touted by a friend of Verkler's parents who earned his doctorate in forestry and fire science there.
"It is incredibly important work," says Verkler. "We have dug ourselves a hole … we have suppressed every single fire for 80-plus years, which has resulted in the fires we see now like Caldor. It was the Yellowstone fire in 1988 that opened people's eyes that we really need to change what we are doing."
The University of Montana owns a 28,000-acre forest 45 minutes from campus that the students manage. Verkler is responsible for his own 25-acre portion of it, planning the best course of action on his plot to turn it into a ponderosa-dominant stand of pine trees. This hands-on work is what most interests him in the profession.   
"We can get back up there and thin and burn it in the fall," Verkler says. "We will go through and broadcast fire to return it to a vigorous and healthy stand. We see it through the entire way."
This past summer Verkler also worked on a fire crew, getting helicoptered into landing zones and fighting wildfires.
"I loved being out in the forest and want to continue doing it," he says. "I don't want to ever have a job where I'm behind the desk. It was the only major course I found that was outdoors and gets to work on the land."
With any luck, others will do the same, bolstering a crucial workforce in need of reinforcement.
---
Tim Hauserman is a Tahoe-based freelance writer.