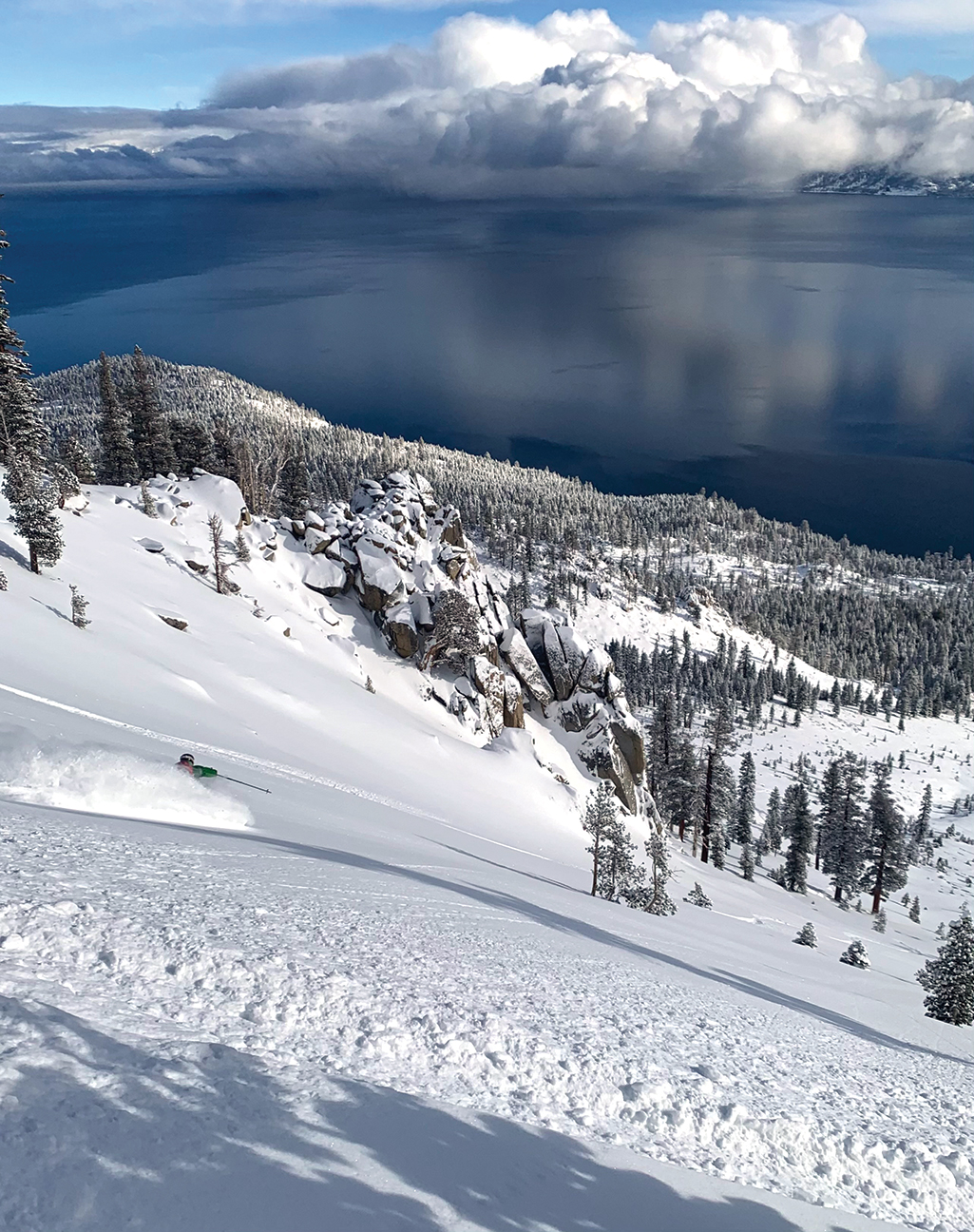 Jeremy Frumkin enjoys prime conditions above the shores of Lake Tahoe, photo by Brennan Lagasse
27 Sep

Reflecting on a Strangely Good Ski Season
In the absence of big, heavy snowstorms, an entire winter spent skiing the Sierra confirms that the range delivers fun conditions in even the oddest of years
Skinning up a south-facing slope in the Tahoe high country is a bonus come late May, when hiking on dry ground to access northern aspects becomes the typical norm for skiers and riders.
Knowing this well, my crew and I were pleasantly surprised to find enough of a fresh white carpet of snow to break out the skins during a backcountry adventure on May 25. The discovery was particularly unexpected given the strange season we had here in Tahoe.
Like that spring day, however, the 2020-21 ski season was full of surprises, many of which were pleasant despite the relatively meager snow totals.
Embracing a Peculiar Season
Maybe the weird factor was inevitable. Coming off the season prior, which was cut short by the COVID-19 pandemic, the excitement to start fresh was palpable across Tahoe.
By late fall, Tahoe skiers and riders were happy to see California wildfires finally extinguished and air quality return to its pristine alpine blue, bringing renewed hopes and dreams that come with the seasonal shift to winter.
When the Tahoe Basin logged the first snow of the season on November 7, it wasn't much, but the simple reality of watching flakes fall from the sky again and being able to go skiing felt like a whole new world, like a reset of daily living.
That early-November day ended up being the first of 182 in a row that I skied (only an out-of-town field course I taught forced me off the program), while June 1 marked day 200 of the season. That wasn't atypical. The abnormality for me was that every single day was spent in the Sierra—a rarity given that I normally spend winters working as an international ski guide.
Oddly enough, even in a low year, the truth is that Tahoe—and the greater Sierra—always provides.
In Tune to the Sierra
Beyond the Tahoe community being accustomed to 400 to 500 inches of annual snow, we're also used to a type of snow that works phenomenally for our particular mountains.
While outsiders may laugh at the term "Sierra cement," we locals smirk thinking about 4-foot storms that ski bottomless, and the surfy, thick base of snow that covers rocks, tree stumps and a host of other backcountry obstacles. Add a few inches, or maybe a foot or more, of colder snow to finish off a warm, heavy storm, and you have a recipe for greatness that has lured some of the most talented skiers and riders to Tahoe for decades.
The 2020-21 winter was a different animal, with the Tahoe area receiving only about 300 inches of snow. The largest storm of the season, in late January, delivered less than 3 feet, while most of the snow that fell was unusually light and powdery.
Skiing locally, I was able to take notes and compile observations about our snow year and the state of the backcountry. Remaining informed about conditions proved particularly valuable, as the Sierra experienced some nuances beyond the low snow.
The real trick wasn't necessarily focusing on the snow totals. It was understanding the type of snow we got out of those storms, and where to go tour as a result. Adjustments were necessary on the daily as lower-density snow fell that lacked the moisture our mountains typically receive.
Finding that special spot was not easy given the other major variable of last season–high winds, which ripped all season long.
The formula ultimately led to much less snow in the high country, as it got blown away and was too light to stick to the jagged peaks and terrain strewn throughout the Sierra. But Tahoe locals who were in tune to where the snow was setting up best can attest that last season was actually great, full of powder skiing, and that the truth is not always in the numbers.
Local Love
As much as I enjoy travel, it ended up being pretty special to stay in the home range last season. I spent most days in Tahoe, primarily ski touring on the West Shore. I rode a few lifts, guided for my favorite cat-skiing operation in Homewood and enjoyed some extraordinary days in the High Sierra that would be memorable any ski year.
In an unintended way, my canceled travel plans—including a last-minute pullout from Alaska in early spring—set me up to become as in tune with our greater backyard as possible.
We had snow to ski in November, and my family and I were not the only ones skiing a small swath of snow near Carson Pass on August 1. From the stark reality of climate change and its effects on the Sierra to the feast-or-famine seasons we've dealt with the past decade-plus, getting back to the simplicity of gratitude in that every day is a gift, especially here in Tahoe.
Oddities aside, mid-elevations skied consistently last season, especially on northerly aspects. Some days felt OK to carpool masked up with close friends, while other days were spent skiing alone. For many of us, our social lives were essentially defined by who we saw in the skintrack.
It was a peculiar season, to say the least, but I can easily close my eyes and remember epic powder days on the West Shore and some of the most beautiful walled couloirs I've ever experienced shared with great partners in the Eastern Sierra.
Our community is what accentuates the unmatched alpine environments we call home. With another blank slate coming this fall, it seems prudent to maintain the awareness that things are still weird. Who knows how the winter will ultimately shake out?
But if you find yourself somewhere in the Sierra, heading out for a ski looking at Big Blue, you're likely not wasting a day regardless of what falls from the sky. It's a good reason to ride whatever funky wave might be coming this season—from the snowpack to the pandemic—and a good reason to get outside and be grateful.
---
Brennan Lagasse is a writer, ski guide and the program chair of sustainability at Sierra Nevada University. He lives on the traditional lands and territories of the Washoe Tribe on the West Shore of Lake Tahoe.