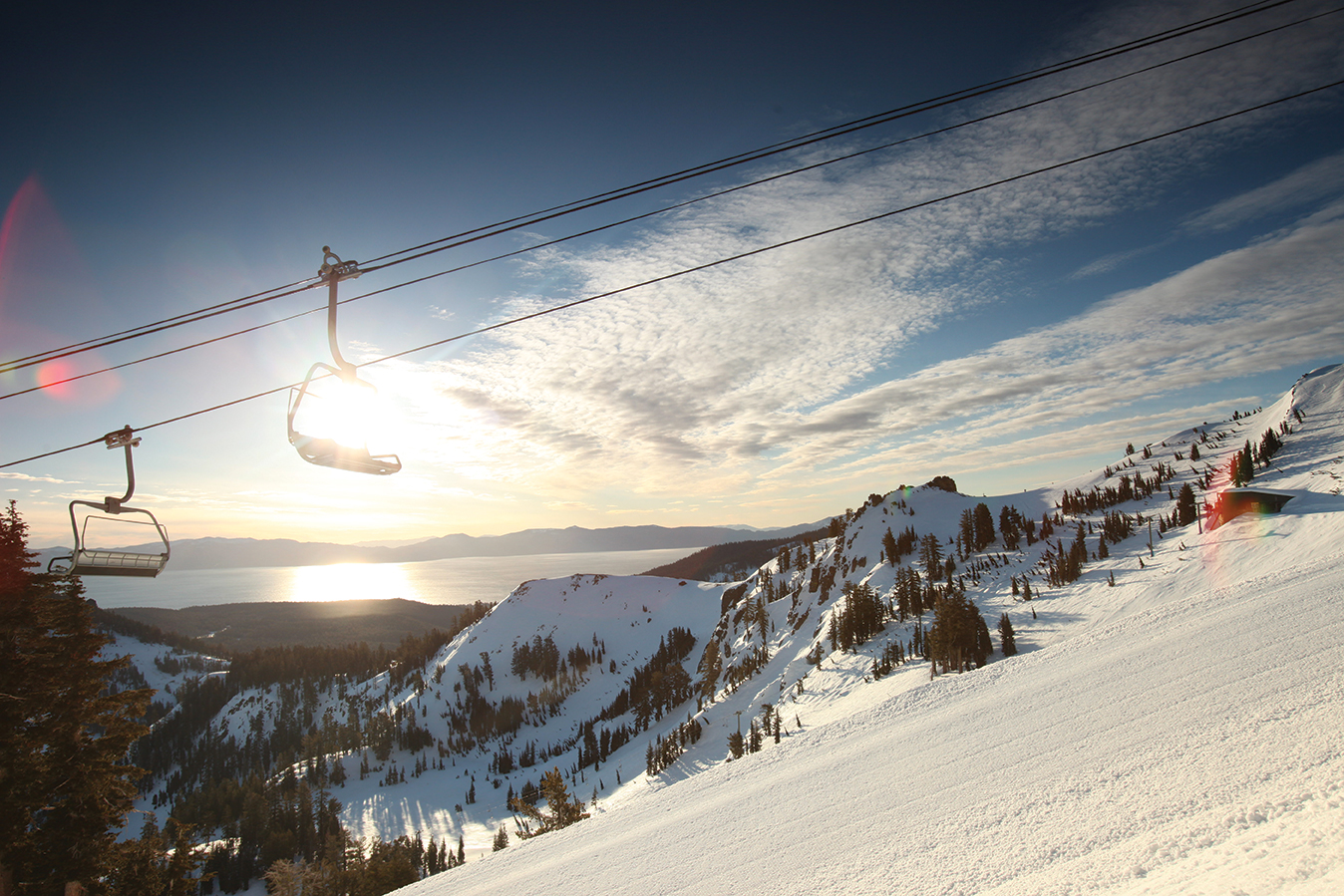 Photo by Trevor Clark, courtesy Alpine Meadows
04 Mar

Report: Ski Resorts See Revenue Despite Drought

Every winter millions of skier dollars pour into the Tahoe Basin. Established resorts squirrel away their winter spoils, knowing every penny keeps the tank running through bleak shoulder seasons.

The Tahoe Basin survives on winters and summers, which is why the last three-and-a-half years of drought are terrifying. Low snow and water levels would seem an obvious financial blow. However, a recent analysis of the Tahoe ski industry's economic impact, conducted by San Francisco State University researcher Pat Tierney, shows the financial hit is not as dismal as imagined.

"The news is not all bad," says Tierney, a professor of recreation, parks and tourism. "The resorts have adjusted their business model to remain profitable. People are having a good time when they're up here, and it's not bad word of mouth. Most people I've talked to have said, 'Yeah, it was better than I thought it was going to be.'"

"Better than I thought" doesn't necessarily spark visions of pillowy powder shots, but at the end of the day it means enough coverage to pay the bills. And in 2013–14, amid severe drought, it meant area resorts still managed to pump more than a half billion dollars into the local economy. Tierney's study, the first of its kind in the Tahoe Basin to go public, collected data from Lake Tahoe's nine largest resorts: Alpine Meadows, Heavenly, Homewood, Kirkwood, Sugar Bowl Resort, Mt. Rose, Northstar California, Sierra-at-Tahoe and Squaw Valley. Combined, these resorts represent more than 75 percent of all skier visits to the Tahoe area and roughly half of all skier visits in California, a cumulative 2.72 million visits.

Last season, those 2.72 million visits accounted for $427 million spent on skiing or skiing-related activities—lift tickets, food, drinks, hotel rooms. Add another $137 million of indirect expenditures, such as purchases from food wholesalers by restaurants, and the grand total rings up to $564.5 million circulating in the local economy thanks to ski resorts. That chunk of change also generates $33 million in tax revenue and more than 8,000 jobs in the Tahoe Basin.

"Through the low tide up here, where ski resorts are kind of doing marginal numbers, restaurants and bars are setting records," says John Monson, director of sales and marketing at Sugar Bowl. "People are still coming up here for their holidays and maybe they're only skiing one or two days out of their four-day trip and really just going to lunch and going out."

Hard numbers support Monson's logic. Restaurant, food and beverage revenue is earmarked as the leading skier expenditure, according to Tierney's study. Food and beverage sales account for $98.2 million, nearly 20 percent of the ski industry's total economic impact last season.

Lift tickets were a close second at $90.9 million, largely thanks to help from season pass sales. Lodging kicked in another $75.3 million, followed by shopping and retail at a cool $66.2 million.

"It seemed like the resorts were making a profit even though it wasn't a banner year," Tierney says. "Of course, there's going to be fewer people than when it's a big snow year, but it seemed like the resorts made adjustments in their business model to where they were doing OK."

As California plunged into a severe drought, resorts that could afford to bolstered their snowmaking capabilities. A unanimous push for stronger pumps and better equipment came among the Basin's bigger resorts.

"Sugar Bowl added a $500,000 mid-mountain pump house this past summer so that we had the ability to blow snow with ample pressure up to the top of Mt. Lincoln," Monson says. "We can now open early season, by Thanksgiving if temperatures cooperate, with 1,500 vertical."

In respects to snowmaking, the drought gave resorts more consistent holiday revenue. Major vertical can now be covered by Christmas whether Mother Nature cooperates or not. Five years ago, no snow by Christmas was the kiss of death.

Blowing snow captures the audience that all ski resorts depend on—corduroy-cruising, blue-square seekers. The manmade stuff is a little harder packed, but good enough for intermediates, Tierney says.

The double diamond runs, backcountry and, to some extent, single black diamonds are where it hurts, but losing that clientele won't cripple the industry. Resorts are recouping those lost ticket sales in season passes.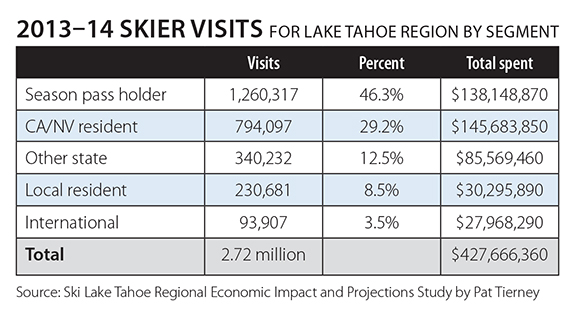 Today, season pass sales account for more than 46 percent of all ticket sales in the Tahoe Basin, according to Tierney's study. That percentage is likely to climb as single-day prices continue to rise and season passes remain affordable and loaded with perks.
"It's no longer just discounted food and beverage or cheaper buddy lift tickets once you reach a certain number of points," says Monson of Sugar Bowl season passes. "Now you can take your pass and go to Grand Targhee or Sun Valley."
Season pass holders also get reciprocal passes or tickets at additional resorts in the Tahoe Basin.
"You're getting way more value for your pass beyond that basic break even after four visits to pay off your purchase price," Monson says. "There are a lot more bells and whistles."
While the original intention of increased loyalty and sales still stands, the lower pass prices turned out to be a nice safeguard against drought years.
"That's a big one," Monson says, "because people are purchasing in advance and it allows us to do more of those capital improvement projects that do improve the experience. As opposed to if everyone was moving to a lift ticket product, then they don't come up if it's not that good and then it's sort of a vicious circle."
There's no calling the weather, and it's impossible to tell if or when a drought might break, but the hypotheticals seem to be covered at big resorts. The small guys are a different story, but for today, there is a better understanding of the underlying secrets to success in current conditions.
Part of that success will be a shift in marketing, Tierney predicts. The new target is now destination and international skiers, seemingly with less focus on Bay Area or local skiers. If resorts corner that overnight market, Tierney estimates Tahoe ski areas will pull in an additional $10 million and increase ski visits by 2 to 5 percent a year despite drought conditions.
"People love to ski, and I'm not sure that they understand how reasonable the conditions are," Tierney says. "I think that a lot of people perceptualize that it's not good, that it's really poor conditions. So I think there's some education and advertising that can bring in more people. There's room to grow even in a low snow year."
And after three marginal years, resorts are actually seeing a pent-up demand, Monson says.
"If you're an average skier," Monson says, "you're thinking 'man, I haven't really skied much the last three years. Dammit, I'm going skiing this year, and I'm going to make it a good season.'"