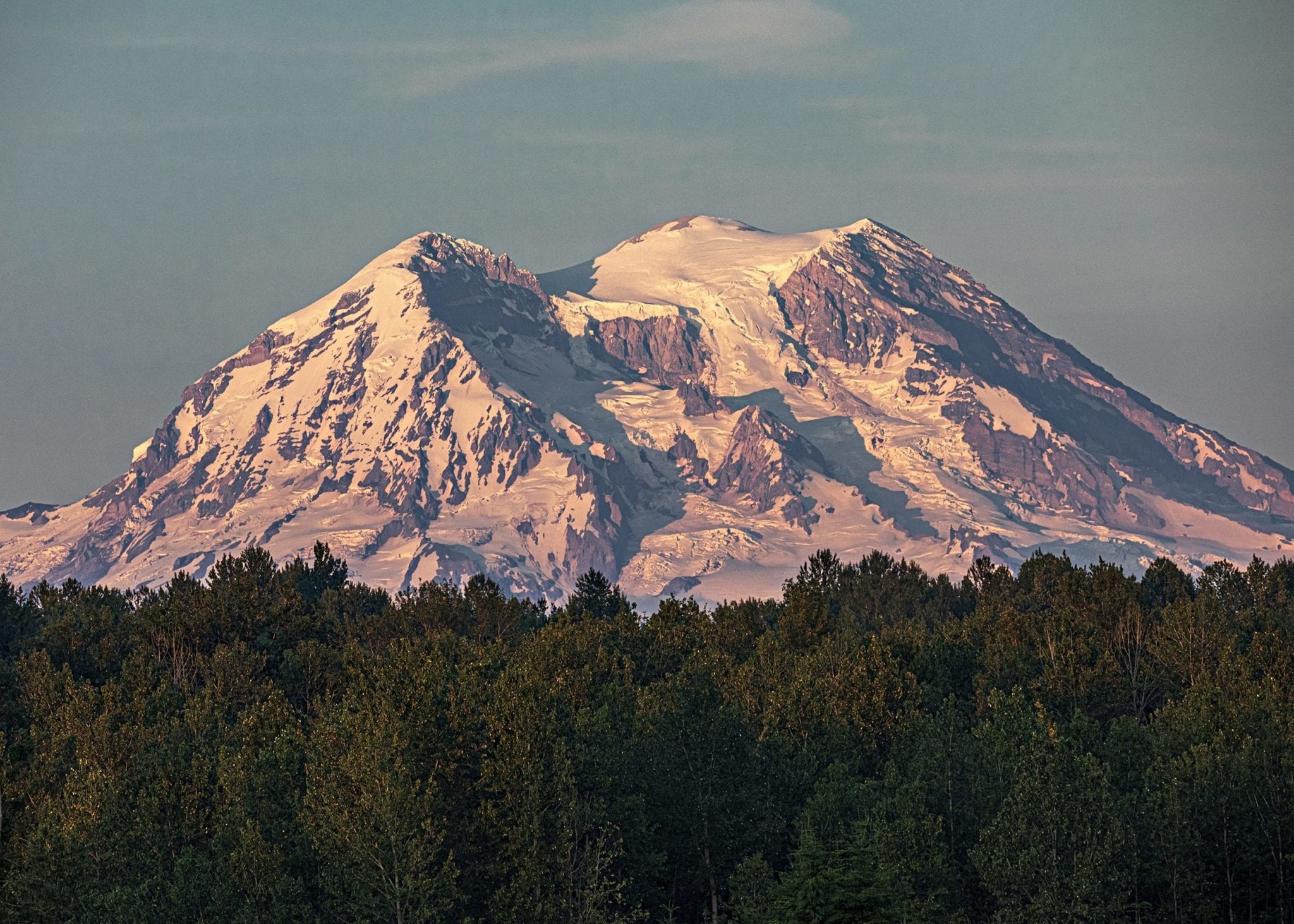 At 14,411 feet, Mount Rainier towers over the landscape in Washington's Cascade Range, photo by Dwayne Hicks
27 Sep

Riding Rainier's Rivers of Ice
What better place to have a midlife crisis than 14,000 feet high on an active stratovolcano?
Mount Rainier rises like a wayward iceberg from the green sea of moss, fir and ferns that drape both sides of the White River. Towering 10,000 vertical feet above us, it is a disorienting and intimidating glacial behemoth creased and crinkled by yawning crevasses and towering seracs.
We're a world away, laboring beneath heavy backpacks in the thick air blanketing the east side of the mountain. At 4,000 feet, it feels like swimming weather, like maybe we should drop the packs and stand under one of the waterfalls cascading through ferns and babbling under the trail. But, as the skis, snowboards, crampons and ice axes affixed to our packs attest, we're in search of the frozen form of the clear liquid now rushing from every hillside. We're here to ride the rivers of ice that cascade down the flanks of this king of volcanoes.
The occasion—more of an excuse for that coveted adventure hall pass that seems more elusive each year—is my 40th birthday. As my middle-aged legs struggle to piston me higher up the peak, I wonder if I might find some fountain of youth atop this mystical mountain, if somehow planting my crampon spikes atop this slumbering volcano might rewind the clock a year or two. Or at least keep at bay the rapidly receding hairline, reinvigorate that complaining lower back and turn a few white hairs back to brown. On the long slog up a volcano, there is plenty of time to hope and dream.
Only a Day Away
Mount Rainier is the outsized punctuation mark near the end of the string of stratovolcanos that dot the West Coast. From Mount Lassen, this line of towering giants built by erupting magma leads north to Rainier. They are all part of the Pacific Ring of Fire, a giant horseshoe-shaped path of volcanic activity that stretches from Chile to New Zealand. Many of them millions of years in the making and some only decades removed from eruption, they represent an alluring trail of wild backcountry skiing adventures.
While many Tahoe residents make the annual pilgrimage to ski spring corn on Mount Lassen and Mount Shasta, Rainier represents the next step up—a more distant, more involved, but attainable, climb and ski descent for Tahoe skiers. And while Rainier seems distant, a whole two states away, it is actually just a long day's drive from Tahoe.
At 14,411 feet, the king of the Cascades is less than 100 feet lower than California's Mount Whitney, the highest mountain in the lower 48 states. But its prominence and its sheer size and scale, not to mention the heavy glaciation that cloaks its slopes, make it an entirely different animal than Sierra peaks.
For our team—Mark Bunge, president of the volunteer board of the Sierra Avalanche Center, and Andy Deinken, a former partner-in-crime in a long-past summit and snowboard of Mount Shasta—the Rainier trip meant brushing up on some dormant rope skills and crevasse rescue techniques.
While many widely respected guide services run trips up the peak, particularly on the Disappointment Cleaver route on the south side of the mountain, we opted for an unguided ascent up the less traveled Emmons-Winthrop Glacier route. The east-facing terrain promised a more direct ski descent and more solitude.
Only about 20 percent of the Mount Rainier summit attempts ascend the Emmons-Winthrop route. And in some ways, the route is safer. While the same maze of crevasses and seracs greets climbers, there are fewer "objective hazards"—climber lingo for random and unavoidable dangers like rock and ice fall.
Camp Schurman
The east side of Rainer is a cavalcade of supersized glaciers. The Emmons Glacier is the largest in the contiguous United States. The neighboring Winthrop Glacier is the second largest on the peak.
But we start small, skinning up the Inter Glacier, a miniature version of the two icy behemoths above us. While we nabbed our permits as early as the ranger station opened, we still end up on the glacier in the heat of the day, slogging up softening snow. Skins slip under the combined weight of climbing and camping gear. We sweat. A few profanities are muttered in between labored breaths. We're paying the price that all real mountains exact as entrance to these airy realms.
Finally, we top out at Camp Curtis, a stunning ridge with jaw-dropping views down to the Emmons Glacier and jagged Little Tahoma Peak. After a moment of indecision over whether to downclimb steep rock to Camp Schurman or descend to the Emmons Glacier and skin up to camp, we opt for the Emmons route. We rope up on the glacier and cross our first open crevasses tentatively. Each snow bridge brings a little apprehension as this late in the day the sun has softened the only barrier between us and a freefall into an icy chasm.
We arrive into 9,500-foot Camp Schurman to a warm greeting from climbing ranger Seth Waterfall, who fills us in on the condition of the route. With our tent assembled on a snow platform that barricades us against the wind, we have nothing left to do but eat and attempt to revive our weary legs.
The sunset casts a warm orange glow over the Cascades that wrinkle like shallow hills off to the east. Meanwhile, Little Tahoma Peak and Liberty Ridge shed rock and ice off of their steep slopes, sending ominous growls and rumbles through camp.
As Bruce Barcott wrote in The Measure of a Mountain: Beauty and Terror on Mount Rainier, "This is how I think of Mount Rainier, not as an icon of permanence but as a source of relentless change, a mountain forever falling." 
We know, academically, that mountains are always changing, pushed up by subterranean forces and pulled down by gravity. But to hear it happening right in front of you is another experience entirely—a humbling and awe-inspiring spectator sport.
The night is fitful. We wake at 3 a.m., unsure if we slept for a total of minutes or hours. But the stars spread out across the sky assure us that the weather is unnaturally clear for the Pacific Northwest. This good omen, and the lack of wind, make for an almost perfect summit day.
Soon we rope up and ascend "The Corridor," a straightforward slope above camp that leads to the upper reaches of the route to the summit. The sun pops over the horizon as we motor uphill, delivering a truly indescribable moment of mountain beauty. After an hour, we trade our skins for crampons and ice axes, and weave through a jumble of crevasses and ice bulges.
We traverse onto the Winthrop Glacier, and begin the push to the summit. The air thins, the legs tire, the pace slows, but soon we stumble past a deep bergschrund and up to the crater of Rainier.
It must be said that the summit of Rainier is at once intriguing and anticlimactic. Twin craters top the peak, but the summit is a huge expanse of flat snow with exposed rock ridges where volcanic heat percolating up from the volcano has melted away the winter. We wander around the crater for a bit in search of the true summit, congratulate one another and stare awestruck at a seemingly limitless view to Mount Adams—a peak we end up summiting and skiing on our way home.
Then we strap in for the descent. While we climbed roped, we decide on an unroped descent, confident we can safely follow our line and avoid open crevasses.
The ski down is majestic. Winter snow at the top transitions immediately to soft corn below. We zigzag through a few icy sections and traverse through crevasse fields, but end up opening it up lower down, arcing full turns in the forgiving spring corn.
Other than one hooked turn in spongy snow that ends in an inelegant cartwheel by the snowboarder (me), the skiing is more than we could ever have hoped for.
We slide into Camp Schurman laughing and smiling ear to ear, in disbelief over how lucky we were with weather and snow.
And then we load back up our multi-day packs and head down to the green world that awaits below, heaving labored turns in the over-ripe spring corn under heavy loads. The summit still lingers in our minds. But the cold beer at the car beckons.
I received no grand epiphany on Mount Rainier on the eve of my milestone birthday. I found no fountain of youth. Instead, I got what I came for—tired legs, a clear mind, a mountaintop I will never forget, and the reminder to never get too old for a hare-brained adventure.
Aldo Leopold encouraged us to "think like a mountain," and in that mindset I am still a toddler, a minute fraction of the age of the 500,000-year-old mountain I just climbed. And despite a few volcanic eruptions, some catastrophic mudslides and dozens of crinkling crevasse fields, Mount Rainier seems like it's just hitting its prime. I can only hope the same for myself.
---
David Bunker is a Truckee-based writer and editor.