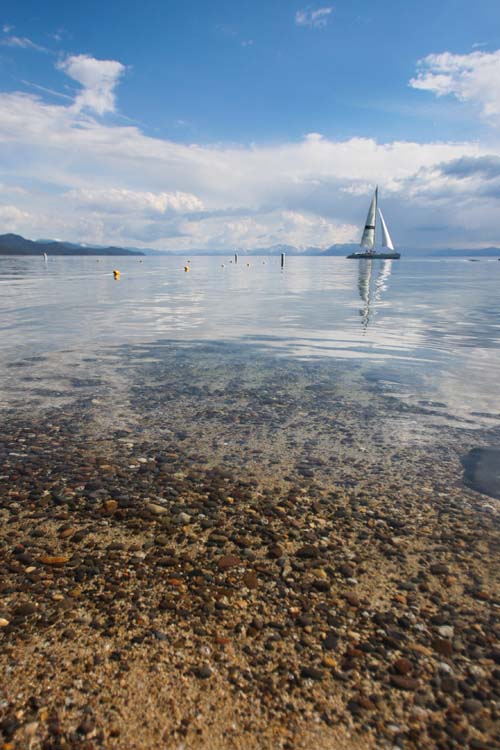 07 Feb

Sailing the Big Blue

Originally published Summer 2011

It's afternoon and the powerboats begin their stuttering retreats back to buoys and trailers. What once was inviting glass for wakeboards and water skis is now darkening, beginning to move and churn as the breeze picks up. Cat'spaws and zephyrs touch the water's surface tentatively, then move swiftly down and across the water toward the North Shore. Welcome to summer sailing on Lake Tahoe.

Sailboats have plied Tahoe's waters since the 1860s, though back in that era of emerging steam power, it was all work and no play for most vessels cruising The Lake. The Iron Duke, a 60-foot schooner, delivered hay bales—and sometimes passengers— on its route that criss-crossed Tahoe's shores. It would take another century for recreational sailing to take hold here at 6,250 feet above sea level.

Nowadays, both old salts and new enjoy getting out on Tahoe's waters. They share the fun, friendships and occasional frustrations of life on The Lake.
Winds of change
Even the Big Blue's most experienced sailors call her winds tricky, fluky and unpredictable. "Tahoe has the mountains mixing up all this air," explains Nick Pullen, former Canadian National Laser champion and Tahoe transplant since 1997. "It's causing the winds to shift and also to change in velocity, so it could be swell and gusts on one side and the other you're in a lull. To be a good sailor in Lake Tahoe you have to be extremely sensitive. Good sailors look upwind and they're constantly assessing what kind of breeze is coming."
Jerry Starkey, rear commodore of the Windjammer Yacht Club, offers a similar assessment. "You can be sailing side by side or in close proximity to another boat that's going the complete opposite direction," he says. "The winds are very, very tricky on The Lake, to say the least. It's not like, say, down in the Caribbean where you have a predominantly onedirectional wind."
Tahoe's skippers begin to better understand The Lake's variable breezes as they gain experience. Sometimes they can even use the strange patterns to their advantage.
Now and again, longtime local Jim Courcier, co-owner and co-captain of Tahoe Sailing Charters' Tahoe Cruz, will come across customers who have sailed in other areas of the world.
"They'll come up at 1:30, 1:45 p.m. to check in with my wife [for the 2:30 p.m. sail] and say, 'Hey, we're going to have to cancel because we're sailors and there's obviously no wind out there.' My wife will say, 'The winds come up at 2:30 in Tahoe on the West Shore. It's not 2:30 yet.'"
He adds, "I wish I had a dollar for every time [in the early afternoon] there are absolutely no signs of wind and it's total glass on The Lake—then 2:15, 2:20 p.m. you see these little zephyrs coming in along the West Shore. By 2:30 p.m., bam, the wind's in, the boat's heeling over and we're cruising."
The Lake's most seasoned enthusiasts usually know where to find just the right combination of wind and waves. According to Dan Hauserman, a 50-year local and sailing committee chair of the Tahoe City–based Tahoe Yacht Club (TYC), the North Shore has the best of both worlds because the prevailing southwest winds travel all the way across The Lake to the northeast corner.
"There's big wind and big waves in Incline, so between Tahoe City and the state line is the best because you get the steady breeze but you don't get the giant waves," he says. "I like big waves on the ocean but Tahoe's waves are very abrupt. It's not fun when you're getting pounded to death."
Going is fast and fun on a laser
Although Hauserman races his Melges 24 all over the country these days, small boats sparked his passion for sailing in the eighth grade, and he eventually became one of the three founders of the Tahoe Laser Fleet in the late 1970s.
"Originally, it was not part of the Tahoe Yacht Club," says Hauserman. "In the early days, we used to run it on our own. We had a friend who had a ski boat, someone else who had buckets full of concrete. We made our own marks, we set our own courses, and we did it all ourselves, with our own boats and flags and whistles and everything else."
As the fleet grew, Hauserman realized that it would benefit from an affiliation with the yacht club; when he joined the TYC 20 years ago, the sailors merged with the larger organization. The Tahoe Laser Fleet—around 20 vessels—still race every Monday during the summer at 6 p.m.; drop-ins are welcome for a $25 fee.
Lasers are unique because they are a class boat built to a specific standard, and therefore more or less identical, so racers compete on a level playing field with even the biggest of fish. Pullen, once an Olympic hopeful, still enjoys the sport and the Monday night races.
"You don't have to qualify—anyone can go," he says. "There aren't too many sports where you're on the same start line as Olympic-level athletes, and sometimes you beat them because they make a mistake or the wind changes. That's the neat thing about sailboat racing; you can line up against some of the best people in the world and occasionally beat them."
In Tahoe, that same big fish will welcome and encourage you as a newcomer, teach you how to rig your vessel before the race and go to dinner with you afterward.
"The Tahoe Laser Fleet is one of the most successful and enduring Laser fleets in the country," says Pullen. "I raced Lasers in Halifax, but in Halifax they think Lasers are a kids' class. I came to Tahoe and I found a whole fleet of guys that were older than me and were still getting out there Monday nights and mixing it up and having a great time. I was welcomed and just had a good time from day one. It's very organic, and a very friendly community."
The fleet is so close-knit that it finishes up the season every year with a championship and weekend campout at Stampede Reservoir, with 20 to 30 sailors, kids, spouses and a great party.
Tahoe Yacht Club's biggest race of the year is the Trans- Tahoe Regatta, a 33-mile distance race that basically covers the entire north half of The Lake. The 48th annual regatta takes place July 8 to 10 this summer.
Learning to sail with the Windjammers
While it seems that even experienced sailors find The Lake challenging to master, transplants who have been landlocked for a lifetime discover that Tahoe is an excellent teacher. Recent sailing converts from Colorado, Ralph and Terri Thomas picked up the sport five years ago. Terri's instruction started with a women's sailing clinic offered by South Lake Tahoe's Windjammer Yacht Club (WYC); Ralph immediately wanted to learn too.
"Our new acquaintances said that the one way to really learn how to sail is racing," says Terri. "All the race boats are looking for crew, so Ralph got on a race boat and crewed the first summer. The next year he was having so much fun with it, he said, 'You gotta learn, you gotta get into it.'"
Annual membership for the WYC runs $150 per boat the first year and $100 each subsequent year, and grants each of its (currently) 73 members reciprocal privileges at yacht clubs anywhere in the world. "There are people who join so they have that privilege," says Starkey. "It's a pretty nice thing to be able to go [enjoy] the San Francisco or Tiburon yacht clubs."
In June, the Windjammers host the Southern Crossing, a 23-mile race that draws boats from as far away as the Pacific Coast. With a spinnaker division and a non-spinnaker division, there's a place for both racing and cruising boats. During the summer, at 6 p.m. on Wednesdays, the club also hosts beer can races, an informal, relaxed style of racing perfect for inexperienced sailors looking to learn.
Other outings
A hybrid race, the National Ski Sail Championships take place each spring and include a Laser race one day and a ski race at Squaw Valley USA the next. Hauserman has been a participant for 20 years.
"Quite a few people from the Bay Area come up for that one," he says. "You'll get a really good sailor that doesn't know how to ski, or a really good skier that doesn't know how to sail. It's all sort of interesting how it comes together." Although, he adds, "the locals tend to do well."
Though Tahoe's racing culture is alive and well, Starkey prefers cruising and camping overnight on his Catalina 25, which he purchased for $200 last year and saved from a life of dormancy in the back of a rental property. He loves anchoring offshore for the Fourth of July or the outdoor concert series on the South Shore, and counts Emerald Bay, Whiskey Cove and Sugar Pine Point, all West Shore anchorages, among his favorites.
"With gas prices now, sailing is the easiest, cheapest form of recreation on The Lake," says Starkey. "We do raft-ups, overnighters; you get four or five boats tied up together, it's always a good party."
"I like sailing in general," says Hauserman. "I really like it on Tahoe, for the obvious reasons. It's just so beautiful. In the middle of July and August, it's like a bathtub out there. Ski boats and Cobalts and powerboats, they're all out bobbing around and making big waves all over the place and making noise, and then the wind kicks up at about 3 in the afternoon and the powerboaters sort of all just evaporate. The sailors come out and you almost have The Lake to yourself. It's peaceful and beautiful. I don't think there's any place I'd rather be than sailing a boat on Tahoe in July and August in the afternoon."
"I love the challenge," says Pullen. "I think I became a better sailor coming to Tahoe, because I had always had ocean experience, big burly waves, big wind, steady breeze. I learned how to get my head out of the boat and flip around and become more sensitive to the changes in the wind."
"We didn't even know about sailing when we moved here; we were from Colorado and hadn't ever thought about it," says Terri Thomas. "This is something we can do as we get older, we can do together and we can meet people at the same time." Now the couple own two boats, race every month of the year and are learning to sail on the ocean.
"Sailing in Tahoe, it's just gorgeous," says Pullen. "You're in this beautiful mountain environment and the water is clean and crystal clear and it's really special. There's nowhere like it in the world, there really isn't. I've been around a lot—sailed all throughout Europe, world championships. Every time I go out on Tahoe, I'm just in awe."