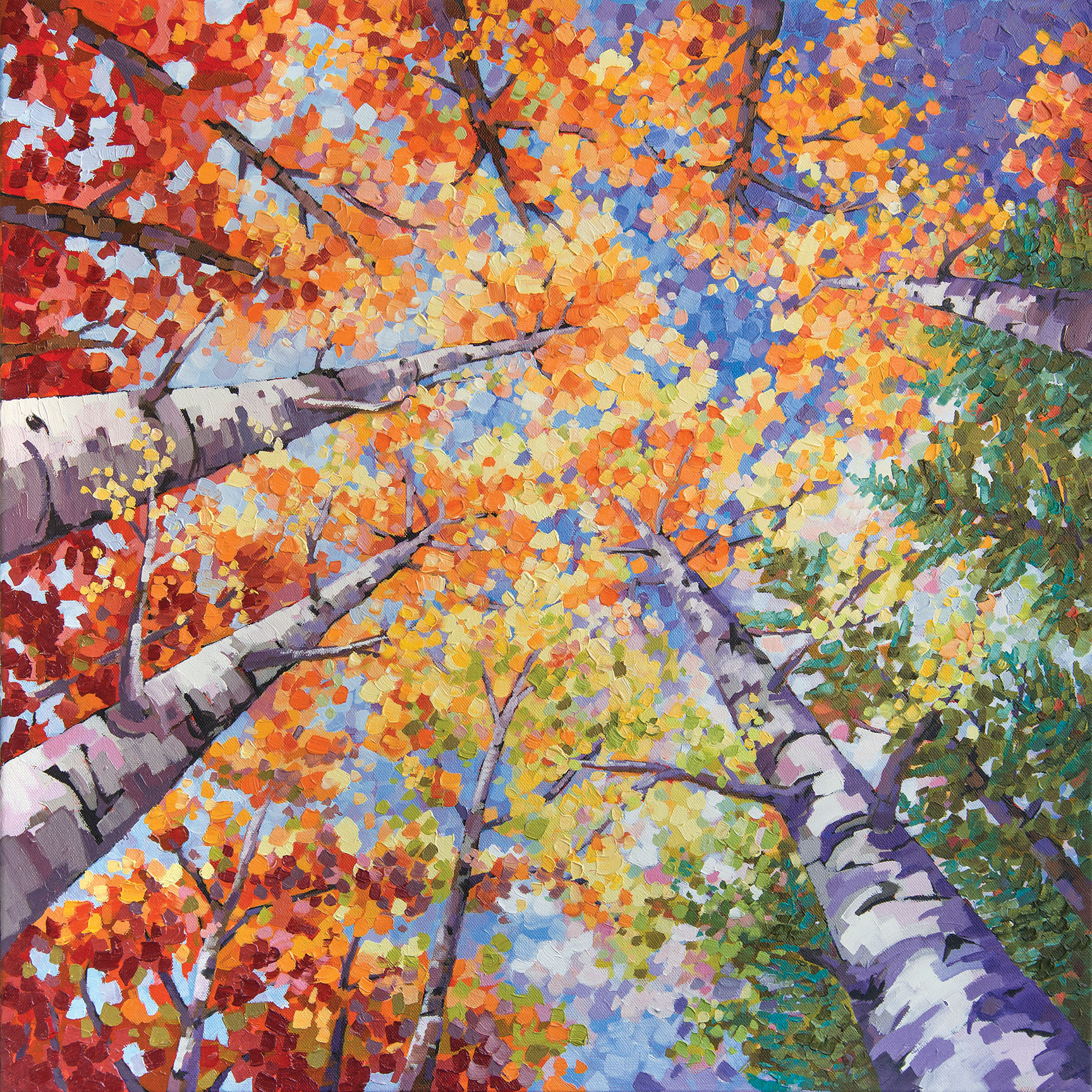 Aspen Sky, oil on canvas, by Jane Lufkin
28 Apr

Seven Views of Tahoe

The Lake Tahoe region is many things to many people. It's the serenity of the forest, the shades of blue in the water, the contrast of snow-capped peaks against sky, the golden leaves of its aspens. With its vast, panoramic beauty and its seasonally-changing scenery, it's no wonder Tahoe draws those with a desire to recreate both its shores and its mountains. Here, seven artists share—through painting and photography, realism and abstraction, even by the winds and weather itself—a work that, to them, represents the Lake Tahoe region:
Jane Lufkin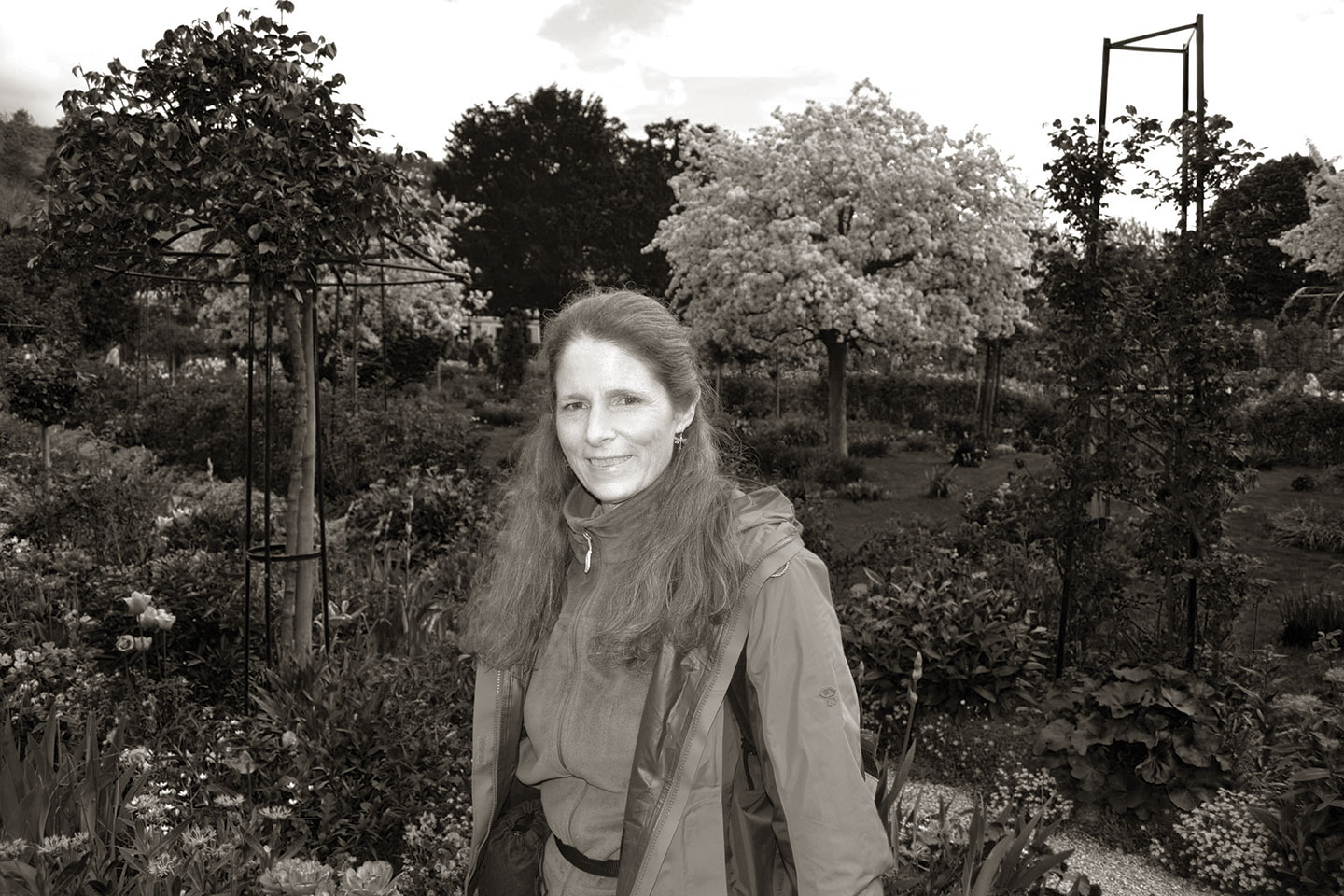 Since she was young, Jane Lufkin has been an artist. The native Californian spent most of her life in Sonoma County, where she ran a landscape architecture practice for about 20 years. She and her husband had twins then, 13 years later, a second set of twins.
About ten years ago, she and her husband, a builder, decided to retire from their professional practices and move their family to Truckee. Lufkin started working at the gallery Art Obsessions. Spending her days surrounded by fine artwork and stunning scenery reignited her lifelong passion for art.
"I was so taken by living here, in the heart of one of the most beautiful areas on Earth, that I couldn't stop thinking about painting, couldn't stop thinking about the color I was seeing, and the perspective and the clouds and the trees—it was overwhelming to the point where I decided I would paint," she says.
Her background in landscape architecture—which involves drawing, rendering and design principles—provided a solid base for her artwork. The first step of a painting is the inspiration, which, for her, means the natural landscape: Lake Tahoe, the woods in Tahoe Donner, or scenes she sees while skiing or hiking. Lufkin carries a camera with her in case she notices something striking while she's out. A self-described "color junkie," she's drawn to strong contrasts.
Lufkin works primarily in oils or acrylics. As her kids grow, she's painting more, now every day, and studies with other artists to learn, grow and experiment.
"My art changes," she says. "It kind of morphs based on who and what I'm studying and what I'm influenced by."
For Lufkin, art is consuming, an overwhelming urge to express herself through paint.
"When I was a child, when I saw art materials or went to art class, I would get chills—I would be so excited about it," says Lufkin. "It grew and grew as I got older. That's what drives me as an artist, and it's only inflamed by the fact that I live in such a beautiful place."
Jane Lufkin's works can be found here.
Jon Paul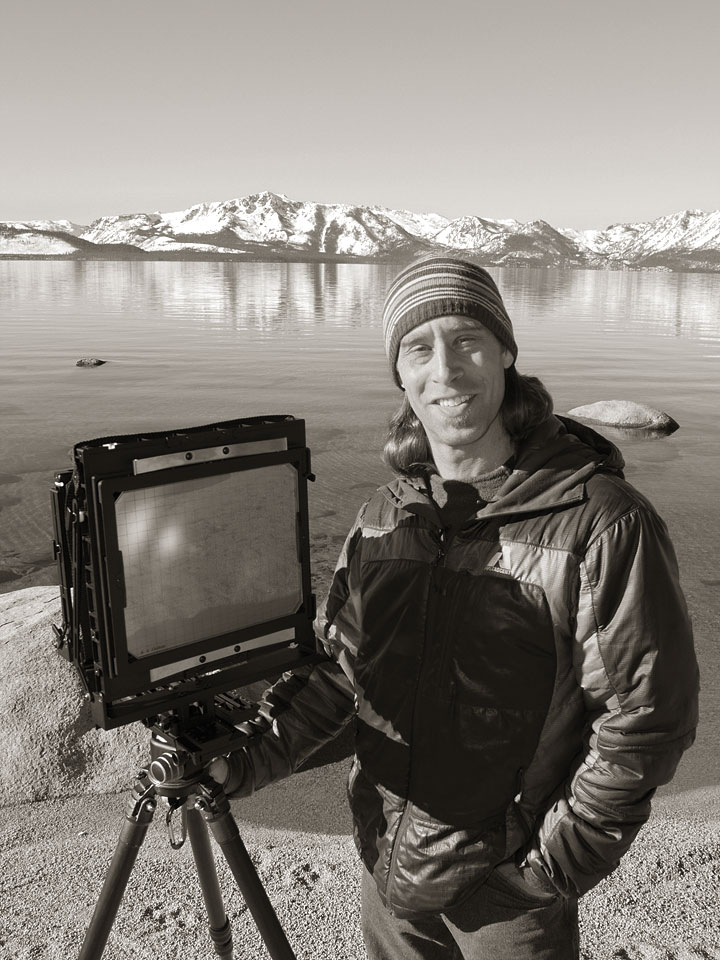 Backlit Pines & Granite, Sunrise, Emerald Bay, photo by Jon Paul
Born in New York, photographer Jon Paul was raised in Arizona and attended high school in Colorado, which he says was his first real introduction to the outdoors. He majored in biology at the University of Arizona and, on summer breaks, worked at Lake Tahoe, taking seasonal employment at  South Shore casinos.
"After that, I ended up moving back to Tahoe for the outdoor lifestyle," he says. He was rock climbing and competing in triathlons; his training would take him through beautiful scenery, which inspired him to take up photography.
In 1997, Paul bought his first camera and spent the next two years learning the technical aspects. His biology background gives him an awareness and knowledge of what he's seeing and the natural system, "but I don't approach my work from a scientific standpoint," Paul says.
Today, Paul works mostly in large format photography rather than digital photography. He eschews ultra-saturated digital pictures for larger, more detailed imagery allowing the viewer to feel like part of the scene. "As opposed to images that absolutely scream at you, my work is more quiet," he says.
Large format means using film sheets that range from about four-by-five inches up to eight-by-ten inches. The gear is hefty and film is expensive. It also means Paul is more cautious in his work.
"When I'm personally shooting with digital film and take 150 exposures with different composition variations, I'm not committing 100 percent to what I'm seeing. It really helps me with my final outcome."
This type of photography also slows down the process exponentially. "Sometimes I'll see something and I'll envision an image, but I have to wait until natural conditions are right—I may see something in summer and think this would be great in a snowstorm or when the colors turn in the fall. Sometimes I'll wait years to take a shot and then I'll go out and take one exposure," says Paul. "It's a slower process; I'm shooting more for the art."
Paul does a high-resolution scan of the film to create a huge digital file, then uses traditional darkroom methods—simple color corrects, dodging and burning—in the digital darkroom. "I believe in shooting it right to begin with," he says.
Jon Paul's work is available here.
Kim Snyder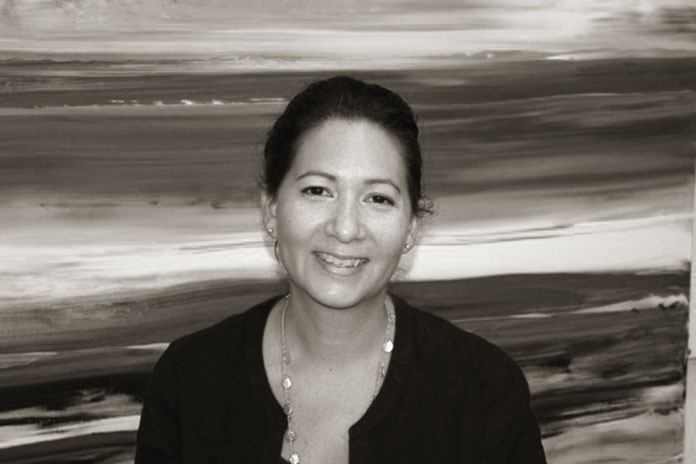 Genesis, oil on canvas by Kim Snyder
Even as a child, when she practiced drawing Paddington Bear from her books, art fascinated Kim Snyder. She continued her artwork through school, where she focused on realism and used charcoal ("my first love," she says) as her medium. Later, when she became a teacher, she taught the art club. However, when Snyder was let go in a round of layoffs that affected teachers throughout California, she decided to focus full-time on her art. "I decided to go for it—working and painting," she says.
Snyder joined an art organization with some 400 members. She taught classes, participated in children's art programs and displayed her work in shows like the Beverly Hills artSHOW.
"When I moved into painting, I moved into the more abstract style," she says. She attributes the change to working with acrylics and palette knives, where she could build texture up to two inches. "Exploring the different mediums started me on the path to a more abstract style," she says.
Snyder uses a wet-on-wet, or alla prima, painting technique, which involves layering wet paint without waiting for previous layers to dry. While she spends a lot of time planning the canvas—mentally dividing up the space, imagining the composition, thinking about focal points and color combinations—the actual painting is relatively quick.
"I use a ton of paint," she says. "I buy in quarts or gallons." Snyder mixes her colors using masonry floats, which allow her to move paint in large swaths, and uses large canvases, as the nuances in the paint don't easily translate to a smaller size. The results are large, stunning abstract paintings that suggest landscapes.
"The hardest part is knowing where to stop," she says. "You can definitely end up with a big pile of mud on a canvas."
A few years ago, Snyder's husband's job took him to Incline Village. For a couple of years, Snyder went back and forth between Incline and her home in Paso Robles. In fall 2015, Snyder transitioned to Tahoe permanently.
She'd met artist Monika Piper Johnson during the Incline Artists' Open Studio Tour and the two teamed up to form Cobalt Artist Studio, which opened this past February. Cobalt (the name of which is a nod to Lake Tahoe's famous blue) is a working artist studio as well as a gallery, and is located at 230 Village Boulevard, Suite 3, Incline Village, NV. It will offer art classes and feature guest artists.
Kim Snyder's art can be found here.
Monika Piper Johnson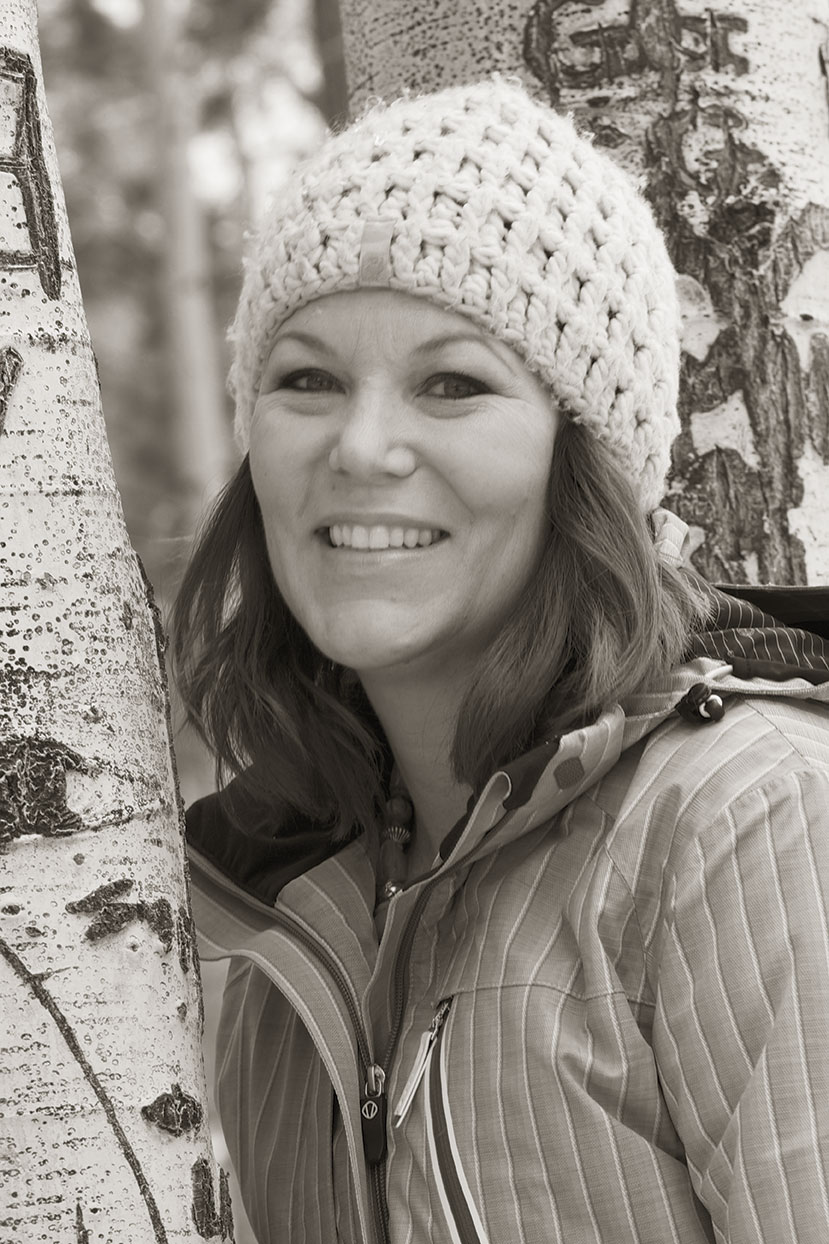 Tahoe Morning, oil painting by Monica Piper Johnson
Monika Piper Johnson's story is familiar: Like so many people, the Boston native moved to Tahoe for "just one season." That was in 1995.
About 16 years ago, Johnson, who lives in Incline Village, started painting. "It started as something enjoyable, a therapeutic escape," she says. Johnson started with still lifes: flowers, vases and wine bottles. Then, about five years ago, she tried painting outside. After all, she'd moved to Tahoe for the outdoors, and she found the plein air style suited her. "That's when I really got hooked and it took off," she says.
About a year and a half ago, Johnson sold her salon, having decided to phase out of her two decades-long career as a hairdresser, and began working on art fulltime.
Her style is distinct for its thick, rich texture, her now-signature style dates back to a day when she was hiking to Angora Lake. The haul was further than she usually went with a backpack full of supplies, so she decided to leave her brushes and turpentine at home and just take a palette knife. "Then I thought, this is a lot easier."
She liked the textural aspect the palette knife gave her artwork. "The thicker paints keep me from being too perfect or detailed; it keeps it a little looser."
It also gave her painting a more distinct style. "There are so many really good artists and good painters," she says. "You start thinking, what can I do to make my art more unique, make it stand out?"
While Johnson does her larger works and commissions at Cobalt Artist Studio, which she co-owns with Snyder, most of her work is done en plein air. She tries to finish about 90 percent of the painting in the field, favorite spots include the Tahoe Meadows at Mt. Rose and Tahoe's East Shore. "The appeal is that urgency, that carpe diem mentality," she says. "It's changing, it's moving. In the studio, I can walk away from it and come back and it's exactly the same. I think it translates into the painting, too. There's a certain kind of life to the painting that's more difficult to get when I'm working with a photo."
Johnson continues to study the craft, learning from artists such as South Lake's Kit Night and West Shore artist Andy Skaff.
"I feel very lucky being a plein air painter," she says. "I couldn't live in a better place for inspiration."
Monika Piper Johnson is part-owner of Incline's Cobalt Artist Studio.
Keoki Flagg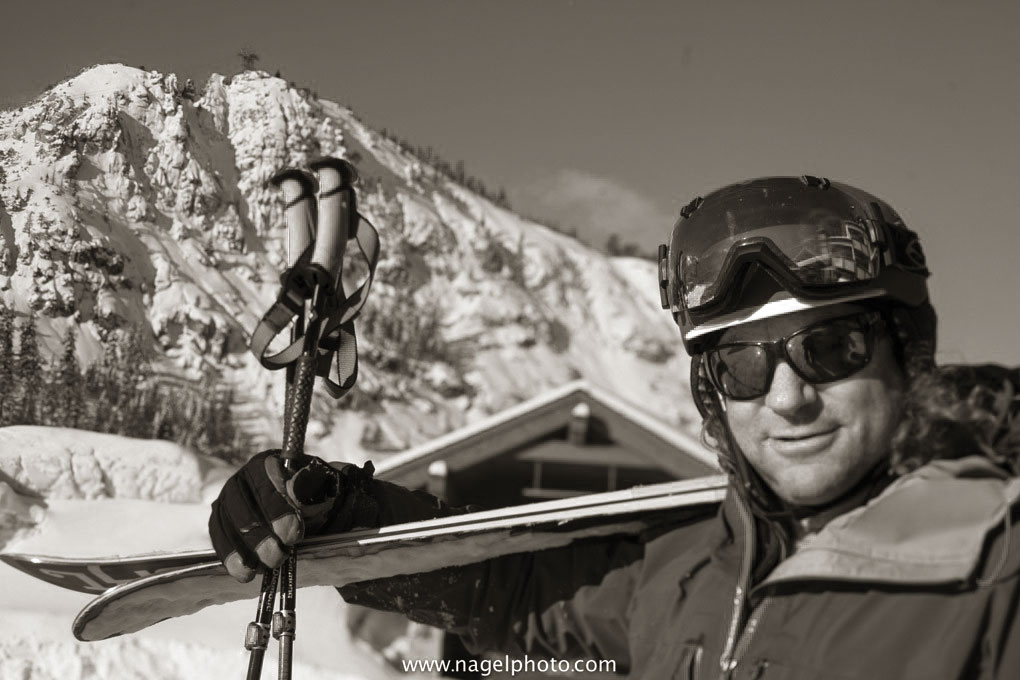 Nine Dog Sunrise, photo by Keoki Flagg
Keoki Flagg was raised in Hawaii and spent part of his childhood in Europe before his family settled in Lake Tahoe. After graduating from Connecticut College, Flagg, traveled through the Southern Hemisphere, Asia and Africa for almost four years, camera in tow.
"After that, it was very clear to me I wasn't about to get a desk job," he says.
As a photographer, Flagg took assignments around the world—his work spans all seven continents. While he enjoyed—and still enjoys—the work and travel, he found the pictures that touched him the most, the most unique and original images, were those passed over for print.
"That's why opening the gallery was very important to me," he says. "It gave light to these in-between moments that somehow seemed more real."
Flagg opened Gallery Keoki at the Village at Squaw in 2003. His gallery offers a variety of product media as well as large-scale custom sizing, and documents Flagg's works from his earlier pieces to the more intricate works he creates today.
For Flagg, his struggle as a photographer has been defining originality. "The principle is for something to be art, it has to be original, it has to be unique," he says. "In the digital era, this has been watered down significantly. Now you can be somewhere and something amazing is happening—a sunset, a baseball game—and everyone is watching it from behind their camera. It takes you out of the moment, takes away the magic."
Flagg realized that "pushing the button is not good enough." Today, he's working with what he calls multiple stitch compositions. Digitally stitched together, these images are very long, about twice the length of a normal panoramic, and expand both vertically and horizontally. It's part of an approach that Flagg calls 'pentimental,' which involves layering images, exploring the horizontal plane beyond what we can see and the depth plane, emulating human (stereoscopic) vision to show evolving time, rather than just the fraction of an instant when the shutter clicks.
He gives an example from a trip to Antarctica. He was at a penguin rookery he'd visited five years earlier. On that first trip, he took thousands of pictures of penguins, but they looked like any other photos and not particularly unique or original. Returning, and using this new pentimental approach, Flagg mounted his camera on a tripod. He used a 400-mm telephoto lens, which, because of the proximity, only allowed him to see a fragment of the overall scene. Over 40 minutes, he shot the penguins in a grid pattern on a set focal point, a process he repeated six times. A month later, he started stitching the composition together. The process allowed him to relive those 40 minutes—the penguin who was asleep and woke up screaming, the two penguins dancing together, a blurrier penguin in the foreground that kept pacing back and forth. "I was able to cherry pick moments of the experience," he says. "By bringing them out, it highlighted why it felt the way it did to me. The end composition would not be possible for anyone else to photograph."
This new approach has brought back the magic of photography and the sense of capturing time, Flagg says.
He continues to travel, on assignment and for pleasure. "I'm very lucky I get sent to these amazing locations," he says. "Yet, every single time I come back to Tahoe and drive in the mountains, breathe the air, I'm reminded of how compelling this place is. The contrasting change—day to day, month to month, season to season—is extraordinary. It's stimulating to someone trying to create."
Keoki Flagg's work can be found here.
Ellen Nunes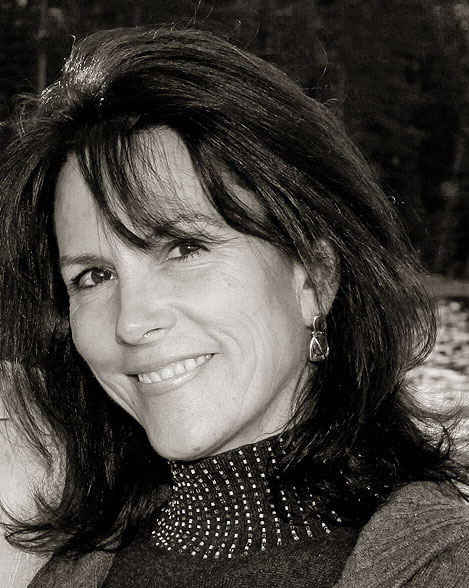 Creation Series #16, acrylic ink and rock salt by Ellen Nunes
A self-described "Air Force brat," Ellen Nunes lived all over the country with her family until her father retired to the San Joaquin Valley. She first came to Tahoe in 1985. "I came up with a boyfriend—he left, I stayed," she says. "I just loved it here." Though she'd painted since childhood, her move to South Lake Tahoe coincided with her first formal art education. She took her first watercolor course at Lake Tahoe Community College (LTCC) with David Foster. "That's how I got in the door," she says.
Nunes enjoyed the art environment so much that she decided to go to LTCC for her art degree. "I loved it there so much they hired me to work in the department," she says.
Among the teachers she met there was the late Dave Russo. "What an amazing man he was," Nunes says. "He changed my life and my whole approach to water media."
It was in 2006, during one of Russo's courses, that she decided to experiment with a new technique. "Dave was one of those teachers who wanted you to use everything in the kitchen to make art," Nunes says. One cold Tahoe winter, Nunes soaked her paper and put it in a cookie sheet with rock salt and acrylic ink. The next morning, "what was in the tray blew my mind," she says. "I'd left it out with weather and snow and wind, all this affected what happened with the piece. Nature kind of took over."
The wind pushed the water and inks around the panel in ways Nunes hadn't expected, while the rock salt glittered and, combined with the acrylics, created brilliantly colored crystals.
Over the past decade, she's refined the process. She's learned she needs a bitterly cold Tahoe night, between 18 and 26 degrees. Her panels are constrained by the size of her trays, but she can put them together to make diptychs or series. She's drawn out the drying times, learning the longer the piece takes to dry, the longer the salt has to create ice crystals. She's learned to apply color in a certain way and use the salt for directional movement, but she acknowledges that's about the control she has over a piece. "I'm more assisting the process than controlling it," she says. "I've got an idea, but Nature's got its own idea."
She calls these pieces her "Creation Series" and she numbers them, as opposed to giving them names. She's told people see underwater scenes in her works, or possibly they look like aerial photographs or celestial bodies. "In work that is not objective, I don't want to tell people what to think," she says.
In warmer weather, Nunes oil paints. She's been practicing en plein air and taking classes with LTCC's Phyllis Shafer. "I'm pretty darn grateful to be able to do what I love," says Nunes.
Ellen Nunes' works can be seen here.
James Babcock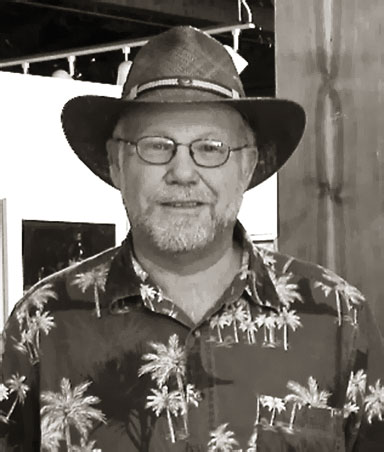 Morning at Sand Harbor, acrylic on canvas by James Babcock
A self-taught artist, James English Babcock began painting in high school, around the time he and his family moved to the Sonoma County town of Healdsburg. He was inspired by rolling vineyards, hills and farms, and his work, in realistic detailing, reflects Wine Country's brilliant foliage and the blues and grays of the nearby coast.
But, he says, as an avid backpacker, his greatest love is the Sierra Nevada, and he found himself drawn to Lake Tahoe and the alpine scenery. "Most of my mountain, lake and river scenes are an expression of my time spent in the Sierra," he says. "Its vast expanse has inspired me to paint large-format paintings that give one the feel of actually being there."
After retiring from a career in the bottled water industry, Babcock now paints full-time. "I am always looking for ways to better my skills." He finds artists whose style he enjoys and seeks them out for classes or mentorships. "Studying their work and the practices they have developed does not change my detailed style, but only improves upon it."
Babcock particularly enjoys painting Hope Valley, the Upper Yuba River, Old Highway 40 near Donner Pass and Lake Tahoe's East Shore, "with its lovely aqua water and granite boulder outcroppings." He paints with acrylics when he's working in the studio and oils when he's painting in the field.
Babcock's wife, Lynne, encourages his work, managing the business side of Babcock's career as well as his website and marketing. Babcock has three stepchildren, seven grandchildren and a miniature half dachshund-pug named Rosie.
"It is such a joy to be able to paint, to do the very thing I love for a living," says Babcock. "But, for me, it is more than that because I dearly love the outdoors and the beauty of creation. Finding that beauty and expressing it in an artistic form that opens the eyes of others is the true joy of it."
James Babcock's works can be found here.
---
Writer and editor Alison Bender is also inspired by Lake Tahoe's beauty, though she is usually inspired to sit on the beach with a cocktail.