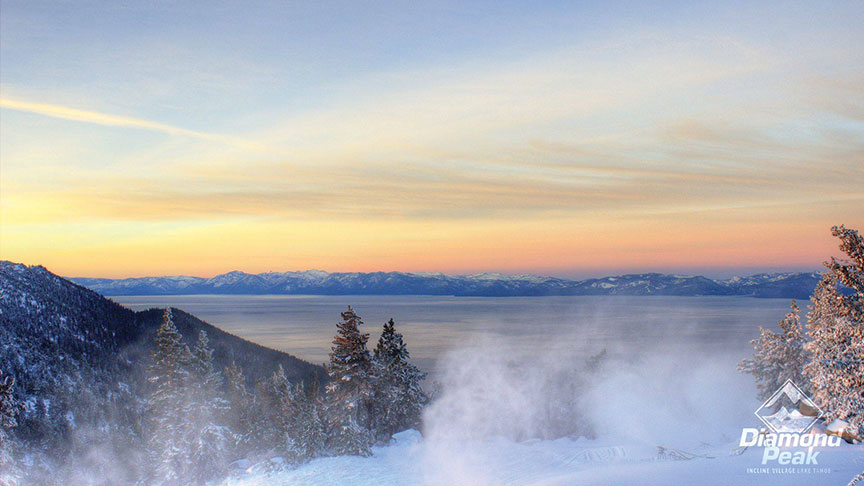 Photo courtesy Diamond Peak Ski Resort
26 Nov

Snowmakers: Custodians of the Peak

JP Silva spreads a large satellite printout dotted with pale green conifers over a conference room table at Diamond Peak Ski Resort. Blue lines pinpoint the approximate locations of underground water and air pipes.

"This is actually one of the maps that shows exactly what we see on our SnowSAT," says Silva, Diamond Peak's assistant slope maintenance manager.

Diamond Peak was the first in the Tahoe Basin to make snow, and beginning last summer, it was the first on the continent to use a new satellite-based snow monitoring technology known as SnowSAT.

"It allows us to see where the snow is, how much snow we have and where we need to put it. We're the first, in a sense, test dummies. That actually saved us a lot this year. It allowed us to get snow where we need it and stay open longer," says Silva.

Silva has seen first-hand the drastic decrease in snowfall over the winter season during his ten years in Diamond Peak's snowmaking department.

"The last couple of years it's been really sad. We've had years though where [we have so much snow] we don't know what to do with it. When there's more snow we work less, but when there is not as much snow, our hours pretty much become ridiculous," says Silva.

A decreasing snowpack impacts more than just skiers and snowmakers, though. The arid West is heavily reliant on its snowpack, which acts as natural water storage and provides flood control, all while supporting life hundreds of miles downstream by filling local streams, rivers and reservoirs. By 2050, however, 25 to 40 percent of this vital snow could be gone, according to California's Department of Water Resources.

"There are some really important questions on how we manage the realities of our changing climate," says Dr. Noah Diffenbaugh, senior fellow at the Stanford Woods Institute for the Environment.

Diffenbaugh studies the dynamics and impacts of climate change. In March, he published a study on human-induced warming and its effects on California's drought.

"As it gets warmer we're more and more likely to see years that have extremely low snowfall," says Diffenbaugh.

A decrease in spring snowpack and a shift toward earlier snowmelt followed by hotter summers may increase the likelihood of drought and create more desperate conditions.

In a normal precipitation year the Sierra Nevada snowpack provides approximately 30 percent of California's water supply, according to the California Department of Water Resources.

But a thicker snowpack also ensures soil will be moist later in the year. Heavier snow seasons keep rivers flowing longer, prevent quick soil runoff and decrease the chance of wildfires.

If snow is so vital to California's ecology and water supply, it begs the question: Will generating snow on Tahoe's mountaintops help plug the proverbial drain or is the practice an inefficient use of water?

Water use and efficiency are two of the most pressing concerns in the western United States. Most resorts cite a return rate of 80 percent on snowmaking, meaning most of the water they use to make snow returns into the water table as it melts slowly in the spring and flows downhill to nearby streams, rivers and lakes.

This return rate is much more efficient than, say, irrigation, which returns only 50 percent of the water it uses, according to the U.S. Geological Survey's online Water Science School.

Still, resorts are always looking to become more efficient in their snowmaking, which is where Silva's map comes into play. Created for the Tahoe Regional Planning Agency (TRPA), the map charts the location of Diamond Peak's water lines, which run beneath the mountain and are buried three feet deep for natural insulation against freezing winter temperatures. Every water valve, snow vault and pipe diameter is drawn out in blue, red and black ink. It allows the TRPA to see where upgrades or improvements can be made on the pipeline system, which was installed in the 1960s.

The more Mother Nature delivers, the less Diamond Peak's equipment is tested.

"Our major goal at the end of the day is trying not to use one of our air compressors," says Silva.

Three air compressors, the size of pickup trucks, take up a large room in the maintenance warehouse midway up the mountain. The oldest compressor was refurbished three years ago to improve efficiency.

"When I turn that one on there, all of the lights in Incline dim," says Silva.

When mid-winter temperatures rise and snow melts quickly, more air compressors are required to run snow guns on the mountain to maintain a solid base for skiers.

"The long-term goal is to go toward more energy efficient guns," says Silva.

For the same amount of energy that one of the resort's older Ratnick Snow Giants uses to create powder, six to eight of its new HKD Snowmakers could run at the same efficiency, Silva says. Better efficiency means less overall power use.

Testing new products such as SnowSAT and the more efficient HKD Snowmaker has made Diamond Peak an attraction for snowmaking crews across the country.

"We've had a lot of other resorts come and check us out, and see if they might want to put some of these things to use," says Silva.

The big picture is what seems to matter for Diamond Peak. The resort is applying for the SureBet program with NV Energy in the hopes that it might receive additional funding for improved infrastructure.

"We're a little resort, but we keep trying new things all the time," says Silva. "We enjoy it."

This crew of snowmakers may not be able to bring substantial winters back to Tahoe, but with some ingenuity and a little elbow grease, they're set on weathering the storm.