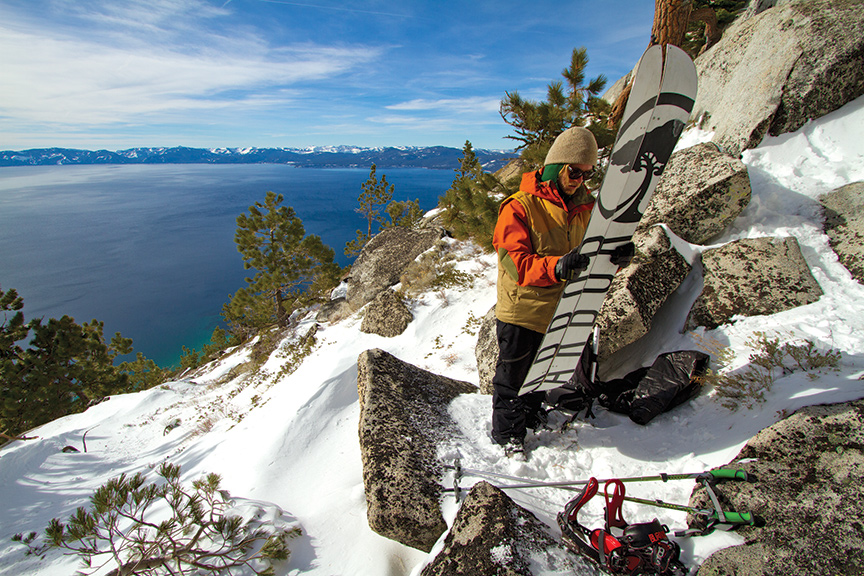 Curtis Woodman clicks together his splitboard for a backcountry run above Tahoe's East Shore, photo by Seth Lightcap
26 Jan

Splitboard Revolution

More than 20 years after a guy called Cowboy pieced together a hacksawed snowboard into the world's first splitboard, the idea of using a snowboard to skin uphill and ride down is no longer a weird, fringe experiment. The sport has matured, led in part by legendary Tahoe snowboarders like Jeremy Jones, Tom Burt and Jim Zellers. And Tahoe, with its endless backcountry terrain and strong mountain culture, has become one of the capitals of a backcountry breed of riding that is injecting new energy into the flagging popularity of snowboarding.

In many ways, the growth of splitboarding is a return to snowboarding's roots, a full-circle rewind to a time when ski resorts outlawed snowboards and when skate punks of questionable societal standing trudged up backcountry mountains to experience the exhilaration of riding down snow-covered slopes on a single plank.

Zellers, a Truckee snowboarder who, along with Burt, notched the first snowboard descent of Alaska's 20,320-foot Denali peak in 1991, remembers his first run on a snowboard. An Alpine Meadows season passholder, he had to head to the backcountry around Castle Peak to strap on his snowboard.

"That is kind of how the whole thing started—the purity of just walking up and doing your own thing," says Zellers. He was immediately hooked, noting that after that one run "I knew I was not going back to snowshoeing."

Once snowboarding became accepted into ski resorts, snowboarders focused their energy on backcountry riding's antithesis—the artificial rails and boxes, halfpipes and manicured jumps of terrain parks.

A largely ignored splinter of the sport pushed the limits outside of the resort, though. Zellers and Burt continued laying down legendary backcountry descents. And some of the sport's stars—iconoclasts like Craig Kelly and Brian Iguchi—defected from terrain park competition to the backcountry's relative solitude. However, inefficiencies hamstrung backcountry riding in its early days. Snowboarders were the red-headed stepchildren of backcountry snowsports—rare specimens derided by all-terrain skiers and teleskiers as they labored uphill, postholing up the skintrack or snowshoeing through deep drifts. Zellers and Burt used approach skis to reach base camps on extended snowboarding expeditions before climbing the final vertical with snowshoes—their boards strapped to their backs.

In 1991, the way snowboarders went uphill changed. Brett "Cowboy" Kobernik was recovering from an injury when he took a friend's hacked-in-half snowboard and designed a rudimentary system allowing two "skis" that functioned well for uphill travel to be pieced back together into a snowboard.

Despite this revolutionary development in backcountry snowboard travel, splitboarding was slow to gain acceptance. Utah-based ski company Voilé sold splitboard kits in the early '90s, and by 1995, Tahoe locals like Zellers rode the crude splitboards. But questions remained about the boards' performance in extreme backcountry situations.

"We did not know if we could trust the system to do things like ride down Denali," says Burt of the invention's early iterations.

By the early 2000s, more splitboard companies—like Prior, Venture and Never Summer—entered the market. But snowboarders themselves were still divided into two camps—terrain park rats and the big-mountain riders who helicoptered to the top of the peaks.

That changed in 2010 when Truckee's Jeremy Jones, the best-known big-mountain snowboarder in the world, released Deeper—the first of a Teton Gravity Research  (TGR) trilogy of films featuring splitboard-powered world-class snowboarding. By climbing and shredding the most hair-raising big-mountain lines imaginable—all powered by two feet—Deeper re-defined what was rideable on a splitboard. Continuing with 2012's Further, Jones took his splitboard to Antarctica, above the Arctic Circle, and into Alaska and the Alps, riding serious terrain with a cast of the world's most well-known riders including Travis Rice, Xavier de Le Rue and Tahoe's Ryland Bell.

The wide release and complete commitment to splitboard-powered big-mountain riding in Jones' TGR films blew audiences' minds and gave splitboarding a place in the snowboarding world.

"You can't give Jeremy Jones more credit than he deserves," says Chris Gallardo, the founder of www.splitboard.com, a website promoting and providing a community for splitboarders since 2004. "Splitboarding would still be here without him, but you have to give him the credit he is due. The star power he brings and the exposure—we as a sport could not ask for anything better."

Recent interest and investments in the sport has led to a period of rapid innovation.

New binding systems manufactured by companies like Spark R&D and Karakoram produced splitboards capable of shredding the most serious big-mountain terrain with little to no sacrifice in performance, opening big-mountain riding to anyone with enough lung power, avalanche knowledge and riding skills to climb wilderness peaks. And, with growing numbers of splitboarders, companies are beginning to invest in research and development for improved bindings and boards.

"As more people become interested, it becomes a viable business," says Burt.

Now, the majority of mainstream snowboard brands—from Burton to K2—each build at least one splitboard.

As the sport grows, more and more riders are taking splitboards to Tahoe slopes. Experts like Burt and Zellers use the Basin's steep, stable snowpack to train for larger global expeditions, while newcomers to splitboarding can find plenty of backcountry terrain on which to practice safely.  Paul Adams, who guided splitboarding trips for Truckee-based Alpine Skills International, says his six to eight trips and avalanche courses for splitboarders filled to capacity in 2011–12 (the last year he guided full-time).

The sport remains a tight-knit group despite its increasing popularity, retaining the energy and enthusiasm of a relatively new activity still growing and innovating. Thanks in part to Gallardo's website, which boasts nearly 6,000 registered users, splitboarders can discuss the sport or get together, and many still congregate most winters in semi-organized "Splitfests" in mountain communities from Canada to Utah.

Some splitboarders are older snowboarders who saw the sport grow and find the cardiovascular exertion and the allure of untracked backcountry powder all the incentive that they need to choose the skintrack over the liftline.

"I think with age what happens is you let that quantity go, and you focus on the quality," says Zellers.

But other splitboarders are young shredders who are pushing the limits of the sport in the untamed terrain outside of the resort.

In that way, splitboarding is truly a full-circle return to snowboarding's roots, re-injecting imagination, discovery and adventure into the experience of sliding on snow on a single plank.

"That is the allure of backcountry riding—you are able to pick what you want to do, and discover," says Gallardo.