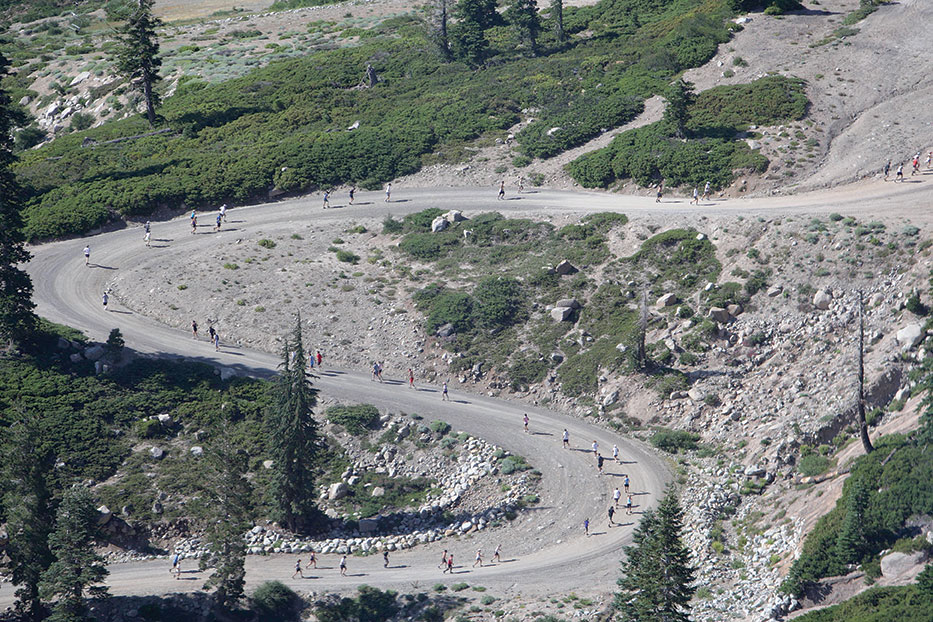 Runners head up Mountain Run during the 2013 race, photo by Sylas Wright
22 Jun

Squaw Mountain Run Turns 35

There are two days a year when Squaw Valley is scarier from the bottom.

The Squaw Mountain Run is one of those days.

Like its winter counterpart—the Billy Dutton Uphill—the Squaw Mountain Run is an unrelenting 2,000-vertical foot climb demanding more than physical perseverance to surmount the 3.6-mile ski run.

"It takes mental toughness when you feel like you're barely moving," says Truckee ultrarunner Paul Sweeney. "And, the hardest part is just breathing. The closer you get to the summit the thinner the air is. It doesn't get any easier."

The 35th annual Squaw Mountain Run is set for 9 a.m. on August 1.

The 2013 start to the Squaw Mountain Run, photo by Mark Nadell
Regular attendees know the pain all too well, yet eagerly anticipate the burn and reward every year. Among them is four-time winner JP Donovan, an Incline Village resident who knows the twists and pitch better than most.
"I will think about walking within the first mile; I bet you everyone does," says Donovan, who finished one-tenth of a second off the modern course record in 2012. "Stay strong, challenge yourself and reap the rewards at the finish."
Donovan knows those rewards, and records, are all waiting at the top.
The challenge begins at Squaw's base, at 6,200 feet elevation, and steadily marches up a road-grade dirt trail known as Mountain Run. Participants top out at High Camp, a dizzying 8,200-foot high perch where the air is thin and legs are wobbly, but well-earned recovery beers, food, music and high fives are waiting.
Record-challengers make an appearance at the 28-minute mark. Shiloh Mielke set the overall course record of 28:50 in 2008. Giovanna White owns the women's mark with her 34:55 finish in 2010.
"Timewise, it's short," says race director Meg Seifert. "And, it's not that steep. I think 2,000 vertical feet sounds scary, but over 3.6 miles it's not bad. And while it's challenging to run straight uphill, it's not that far in reality."
Although it may not feel so, steeper sections, like a final exhaust-burning push to High Camp, are kept in check by the road grade. All speeds and ages—to range from 5-year-olds to nonagenarians—make up the contingent of 500 people who usually participate.
Some come for the belt notch. A hearty few for the records. Most come for the good-time atmosphere at High Camp, and everyone comes in memory or support of those afflicted by cancer.
The longevity and popularity of the event is a testament to that uphill battle against the disease, says event volunteer Maggie Shane.
"Sometimes you make it to the top and sometimes the end goal is not achieved, but you can still participate in memory of that person," says Shane, who also serves on the Auburn Ski Club Association board.
The Auburn Ski Club, which hosts the long-running event, donates 20 percent of the profit to the Gene Upshaw Memorial Tahoe Forest Cancer Center in Truckee. Last year, the Auburn Ski Club gave more than $3,000 to the Cancer Center to bring the grand total to more than $21,000 raised since 2007. Any additional proceeds go directly to the Junior Nordic Program or to covering the event expenses. No money is absorbed by a promoter or event organizer. The event survives on volunteers.

JP Donovan, of Incline Village, has won the Mountain Run, photo by Sylas Wright
As one of those volunteers, Shane has seen many inspiring moments.
"Whole families come and do it together as a team for a family member or friend battling cancer," Shane says. "Some do it every year as a memorial to someone who has lost the battle. I have seen one family every year I have volunteered with about 30 members."
Former race director Sally Jones knows what Shane means. She looks forward to seeing a participant named Delbert Wichelman every year.
"He's a total inspiration," Jones says. "He holds the record for the 80-plus, 85-plus and 90-plus. He always came across the finish with a huge smile on his face."
Wichelman, a wiry running veteran from Oakland, is somewhat of a celebrity at High Camp, where there is a relaxed cutoff time and nothing but support for finishers.
"The spirit of the event is that we fuse together to do something healthy, get a really good run or hike in and at the same time support a really good cause," Jones says.
That spirit sparked the inaugural Squaw Mountain Run in 1980, when a woman named Holly Beatie launched the race.
Beatie had a knack for bringing people together with her inspiring personality and strong athletic background.
Four years after starting the Squaw Mountain Run, Beatie earned the number one spot on the first women's U.S. Olympic biathlon team. She anchored a team that went on to take bronze, the first Olympic medal in the biathlon for the United States.
Beatie approached the Squaw Mountain Run with the same enthusiasm.
The race has fluctuated in participation and competitiveness during its 35 years to include a brief stint on the La Sportiva Mountain Running Series. But Tahoe Basin residents have always been the race's heartbeat.
Beatie was part of that running community one final time in 2013. She came out to start the race, despite undergoing cancer treatment at the time.
Beatie died in 2014, but her memory and the inspiration endure in participants.
"One of my best memories is of Fro [Tahoe City's Robert Frohlich], who always did it, even when he was sick," Sweeney says of the well-known local author and former Tahoe Quarterly contributor. "When he was healthy, he would just hike up with ski poles, but he was dying of cancer right at the end and he was still doing it every year.
"There's a lot of inspirational stories. I've seen five 5-year-olds out there. One year, there was a set of twins, must have been 5 or 6, and they hiked the whole thing."
Veteran ultrarunners like Sweeney are part of that inspiration. He offers race strategies that set a nice pace for life off the trail as well as the Squaw Mountain Run.
"The tricky part is to know when to walk," Sweeney says. "Don't walk before you have to, and if you're going to walk then walk with a purpose."
For Donovan, who has proven the record is within reach, it's all about surviving that first mile.
"I will jump off the line into a short burst and probably choose a pace in the first 400 meters that makes the next two miles very painful," Donovan says. "When I hit the sandy bits I will naturally feel at home and eat up anyone who spends too much time in that little beach. When the people with cameras are close enough, I will try to make it look like I am not obliterated."
But, at least for the first few minutes after reaching the finish line, Donovan—and everyone who pushes to the top—is toast. It's all part of the game.
"Once people do this," Sweeney says, "it gets in their blood and becomes a tradition."
Run organizers encourage early registration to ensure a prompt starting time. Register here.