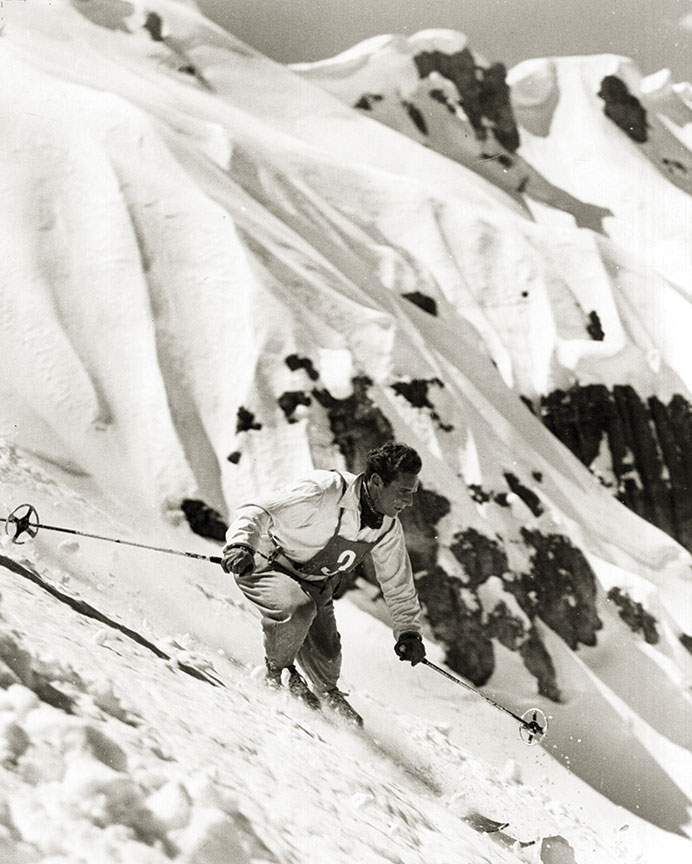 Peter Picard competes in Sugar Bowl's historic Silver Belt race on Mount Lincoln, photo courtesy Sugar Bowl Resort
28 Feb

Still Grand, the Dame at 75
Sugar Bowl's four-peak access shines as the resort celebrates its three-quarter century mark
If Sugar Bowl's mountains could talk, they would tell stories of celebrity shenanigans, world-championship racing, young and hopeful talent, hard-earned turns through deep winters and generations of family memories.
This winter, Sugar Bowl celebrates 75 years of operation. Through the decades, the resort stayed true to its roots despite a tangle of corporate buyouts of neighboring ski areas, frustrating years of drought and the sharp financial slaps of a rapidly changing industry. Sugar Bowl has endured, and endured well.
"We're standing on our own," says John Monson, Sugar Bowl's director of marketing. "We are truly one of the last independent California family-owned-and-operated resorts out there. The competitive landscape has changed so drastically that one of the key differentiators we have is that we are independent, and that resonates with people."
Roots in Tradition
Perched atop Donner Summit, the historic resort has made many changes to stay competitive, but none of those involve shucking tradition for the vanities of amusement parks or shopping malls. Sugar Bowl has maintained a firm grip on its skiing history and that nostalgia crackles through the halls of the old Bavarian-style lodge and down the spines of the Silver Belt gully and Mount Disney.
Changes at Sugar Bowl are skier focused. Since 1939, the resort has expanded its accessible ski area from one peak to four, strategically laying its new lifts to grant optimal access to a glittering expanse of mouth-watering backcountry. All this comes with a rare open-boundary clause.
Sugar Bowl stretched beyond those four peaks in 2012 by adding a colossal name to the neighborhood team—Royal Gorge, the largest cross-country ski resort in North America.
"Obviously, every resort needs and wants to make some money so they can put money back in there, but it's done in a great way at Sugar Bowl," says Daron Rahlves, resort ambassador and three-time Olympian. "There's a great family atmosphere, and they're not selling out just to hit a bottom line. Because of that, generations of families come back."

Famed San Francisco architect William Wurster designed the original Sugar Bowl Lodge,
photo courtesy Sugar Bowl
Slopes of History
In the 1930s, big ski resorts with fancy chairlifts were still a whisper of a concept, luxuries that did not yet exist on the West Coast. Idaho's Sun Valley revolutionized the industry with its new-fangled chairlift in 1936.
Besides a handful of small ski areas like Granlibakken and Soda Springs, the Tahoe Basin was relatively untouched. Big dogs like Squaw Valley and Heavenly were at least a decade away.
The founder of Sugar Bowl Ski Resort, Austrian Hannes Schroll, first laid eyes on what is now known as Mount Disney in 1937, when his friend and fellow Austrian Bill Klein introduced him to the area.
Schroll, with help from Klein (who died in November 2013), recruited investors like Walt Disney to back his vision. Sugar Bowl opened in December 1939 and featured California's first chairlift. The ride up Mount Disney took six-and-a-half minutes and cost 25 cents to ride, $2 for skiers.
The resort was a success, with many skiers coming by train on a ride known as the 'Snowball Special.' Celebrities like Greta Garbo, Errol Flynn, Norma Shearer and Claudette Colbert could be spotted on those trains as skiers piled in at the Oakland Pier for a cozy ride to the summit. They would cover the last mile on tractor-drawn sleds.

Sugar Bowl skiers, photo courtesy Sugar Bowl
From Silver Belt to Banzai
The atmosphere at the resort was fun and festive, and Schroll and Klein added an Austrian racing flair in 1940.
The Silver Belt, which plummeted racers 1,383 vertical feet down Mount Lincoln's Silver Belt gully, quickly became an internationally acclaimed event. The race was one of the country's first organized giant slaloms and was later rated as the steepest race terrain in California and fifth steepest in the nation.
The new race and the resort were off to a blazing start, but the excitement quieted down two years later with World War II. Sugar Bowl closed its doors from 1942 to 1944, and many of its skiers and instructors, including Klein, joined the 10th Mountain Division.
The resort reopened in 1945. Klein took over the role of Sugar Bowl's ski school director from Schroll. The Silver Belt returned and now the California State Championships graced Lincoln's slopes. Klein's Austrian-influenced ski school, complete with a fleet of international instructors who sometimes yodeled, put Sugar Bowl on the map as the best in Northern California.
Among the San Francisco winter enthusiasts who flooded the summit was a young woman named Babette Haueisen, who, as a ticket taker, earned room, board, $150 a month and free rein of the slopes.
Haueisen arrived in 1951, just in time to hunker down and endure one of the heaviest winters in the Sierra's recorded history. Six weeks of nearly continuous storms amounted to a record-breaking 65 feet of snow on Donner Summit.
"It started snowing in January and seemed like it would never stop," says Haueisen, age 84, who still lives near Sugar Bowl. "I thought, 'I've prayed for snow a lot of times, but I never would have prayed for this much.'"
Sugar Bowl's chairlift was buried, and anyone skiing that year earned their turns. A train carrying more than 200 people was waylaid for three days and three nights in high snowdrifts before shaking loose and returning passengers unscathed.
"It looked like a cemetery out there. Power lines that would normally be 20 or 30 feet above us were completely buried," Haueisen says.
Despite a burly initiation year, Haueisen remained, earning a coveted Silver Belt invitation in 1953.
Back then, racers had to hike to compete. Haueisen and company rode Disney and then hiked up Mount Lincoln with skis strapped to their backs. From there, skiers would strap in and sidestep down the entire course. Anyone caught sliding instead of digging in had the opportunity to redo the procedure or not race at all. The washboard effect was ideal racing conditions back then.
Haueisen skied to second place that year, and was invited back in '54.
"There were so many people in the ladies' class that year. I thought, 'Boy, I don't have chance,'" Haueisen says. "But I knew the mountain better than most."
Her technique didn't hurt either. Haueisen tucked hard and made a sweeping line through three tight H-Gates to sail into first place. A picture of her sipping champagne out of her winner's cup hangs in the Belt Room Bar to this day.
The Silver Belt carried the clout of today's World Cup races in the 1940s and '50s. The series persevered through the '60s, but petered out a decade later as the World Cup series overtook the spotlight. The Silver Belt ended in 1975, and didn't resume until 34 years later, when three-time Olympic skier Daron Rahlves picked up the cause.
"I wanted to do something for the snow-sport community," Rahlves says.
And he did, in a big way. Rahlves rallied sponsors and resurrected races down the historic Silver Belt gully course in 2009, adding a few modern twists.
"It's kind of like a throwback to the traditional racing, but with a ski-cross, boarder-cross element," Rahlves says. "And it blended together two things I love—freeskiing and racing."
The Rahlves' Banzai Tour is a three-stop series with races at Kirkwood and Alpine Meadows before the grand finale at Sugar Bowl.
Racers are released in packs of four and winners advance to the next round. The champion wins a chance to compete against Rahlves himself for a big purse at the Silver Belt showdown.
"It's just a little more exciting when you're going head-to-head," Rahlves says. "It's like motocross on skis."

A celebration in the early Sugar Bowl Lodge after a day on the slopes, photo courtesy Sugar Bowl
An Eye to the Future
As Rahlves built up the Banzai series, the resort added to its accessible terrain. The Summit Chair opened in 2009, granting even more access to the open-boundary policy.
"When we put in the Summit Chair up to the ridge of Judah, that's where the impetus of the Backcountry Adventure Center came from," Monson says. "We knew we had to focus on education because now we were taking skiers and riders right up to the ridge where they could see the lake run and be enticed."
Three years later, Sugar Bowl snagged neighboring Royal Gorge, North America's largest cross-country ski resort. The purchase was spearheaded by the Truckee Donner Land Trust to protect the land from large-scale real estate development.
The resort has continued to invest in skier-centered growth despite the past three years of minimal snowfall. Last year, the resort pumped $20 million worth of improvements into the mountain and its future. There is now a new ski-in, ski-out Sugar Bowl Academy campus in addition to a fitness, spa and ski training facility called the Sporthaus.
"Sugar Bowl is a perfect blend of throwback, welcoming family vibes with modern infrastructure, great terrain and the best snow in Tahoe," says Jesse Maddex, resort ambassador and 2012 Rahlves' Banzai champion.
All improvements considered, last year's addition of the Crow's Peak chairlift is possibly the most significant.
"We have four peaks at Sugar Bowl and now every one of them is lift serviced," Monson says.
Crow's Peak opened significantly more intermediate and advanced terrain, and allowed extensive backcountry access.
"You could hike over to that terrain, but you'd have to cap your run pretty early on to make sure you could traverse back to Disney," Monson says. "Now, with the addition of Crow's Peak, you can ski fall line for about 1,000 vertical."
Extra vertical feet is something Sugar Bowl has been focused on for 75 years and counting.
"The experience is only getting better," Monson adds. "With more efficient lifts, better services and more terrain, it's looking pretty good. We sometimes joke that we are who we're not. Because we're not a big village, we're not shopping. We're all about the mountain and skiing and that's what it's always been about."
---
Becky Wright is a Truckee-based writer and former San Francisco Giants beat reporter.