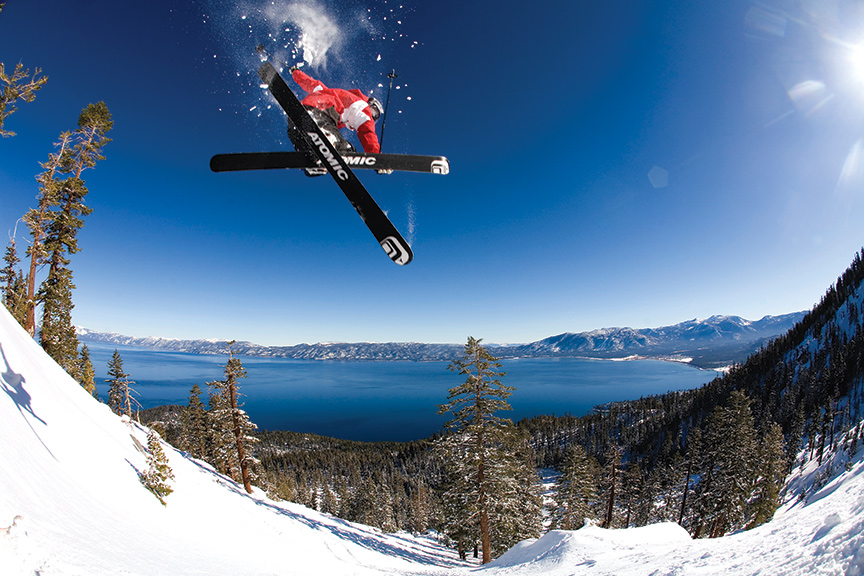 Miles Clark goes big at Hidden Peak, photo by Ryan Salm
26 Jan

Tahoe's Backcountry Gems

Diverse and varied ski resorts ring Lake Tahoe, offering a wide range of terrain to any skier or snowboarder's liking, instantly accessible at the top of a chair or gondola. But spend enough time on the region's snow-covered slopes and the eye begins to wander beyond the patrolled boundaries, the imagination tracing perfect tracks down an open bowl two peaks over or through the perfectly spaced trees of a distant glade.

A question starting with "what if" forms in the back of the mind.

It used to remain as an idle daydream, but these days, more and more skiers and riders are venturing off into the backcountry. It's not for everyone: Many a bright-eyed and bushy-tailed skier has strapped on all the right gear—backcountry boots, bindings, skis correctly applied with climbing skins—only to find themselves trading hours of work on the up for minutes of skiing on the way down, dissuaded never to do it again.

"People who don't appreciate the uphill too won't remain backcountry skiers," says Craig Dostie, backcountry guru and author of www.earnyourturns.com. "But if you're willing and have the gumption, you can ski your own private slopes."

The backcountry is also dangerous. Without the patrol and control of a ski resort, the hazards of the wilderness—from hypothermia and getting lost to avalanches and injuries far from help—must be taken extremely seriously.

Those who call the backcountry their winter playground of choice, who can find enjoyment in the up and the down, have a whole world to explore in the Truckee–Tahoe region. Put in the time and the reward is real stories to tell of adventures off the beaten path, not just numbers of runs ticked off in a day.

Standard cautions apply—a minimum training of an Avalanche 1 course, mandatory gear including an avalanche beacon, shovel and probe must be purchased, and the leadership of a more experienced alpine tour guide would be well advised.

"I really stress the need for education," says Brandon Schwartz, an avalanche forecaster with the Sierra Avalanche Center, which puts out daily forecasts in the winter at www.sierraavalanchecenter.org. "Most people are lacking in that regard, and there are hazards beyond their ability to assess."

If exploring the backcountry sounds too extreme, there are plenty of downhill thrills at area ski resorts. But if going off-piste still piques your interest, or if you're already a card-carrying member, here are a few of Tahoe's classic backcountry ski runs:
Jakes Peak
Looming over Emerald Bay on Lake Tahoe's southwest shore, Jake's Peak is a favorite backcountry ski destination for locals and visitors alike.
It blends incredible views and world-class terrain with aspects that hold excellent snow well after a storm.
"The view from the top is one of the best anywhere," Dostie says. "You're right above the big blue finger of Emerald Bay."
And then there's the skiing.
"It's basically 2,500 feet of steep, sustained vert that holds deep snow, with only one bench breaking up the slope in the middle," Dostie says. "And if you're a good skier, the trees are spaced perfectly for keeping up your speed."
However, he warns, it's not "intermediate terrain." The name should remind skiers to be cautious each time they tackle the peak, which is named for Jeffery James Smith, known as Jake, who died in an avalanche at Alpine Meadows in 1982. "Folks fall into the trap of familiarity at Jake's," says Schwartz. "The higher you go, the more wind-affected the snow becomes; there is potential for wide-spread instability. It deserves more respect than most folks give it."
Standing at the bottom of the peak on Highway 89, skiers and snowboarders have a few decisions. Locals often cut a steep skin track up the peak, which can be tough.
"If you follow the set trail, it can be a brutal suffer-fest," Dostie says. "If you don't mind breaking your own trail, you can check out a whole lot of terrain not normally walked upon."
Once you've topped out, taken your summit picture and replenished food and water, you have some choices, Dostie says. "You don't have to come down the way you came up—you can tackle one of three chutes, go down through the trees or traverse the ridge a little farther north. Getting fresh tracks is not difficult."
Incline Lake Peak
At just about the opposite corner of The Lake, in the high peaks off Mt. Rose Highway, is another locals' favorite backcountry stash, known as both Incline Lake Peak and Rose Knob Junior.
"The beauty of this one is that it's self-limiting. The number of spots to park in the two pullouts off of (Nevada Highway) 431 mean only so-many skiers can get up there at a time, so it's easy to find large swaths of untouched snow," Dostie says.
At 1,200 vertical feet, it makes for a quick run that locals take on before work on a powder day.
"The climb takes an hour to an hour and a half, two at most if you're out of shape," Dostie says. "The ski down is absolutely delightful, with short couloirs, widely spaced trees followed by a very short hike back to your car. And it has a beautiful view that rivals Jake's; you see the whole lake."
Here again, history serves as a reminder of caution, as riders will pass the remnants of an old ski resort wiped off the mountain by an avalanche in the 1950s, Schwartz says.
"People tend to blindly cross through that zone," he says. "It's more compact than Jake's but has all the same considerations, with more abrupt changes to wind-affected snow."
Dostie recommends taking a more meandering route than the standard steep track set up the mountain, both to make for easier climbing and to check out more terrain, which aids in avalanche risk assessment.
Lake Run (Donner Peak)
The Lake Run towers over Donner Lake, rolling off the shoulder of Sugar Bowl Resort, giving skiers and snowboarders the option to access the run either by hiking up or taking a lift, thanks to the resort's open boundary policy.
Those who want to earn their turns start on Old Highway 40, near Sugar Bowl Academy, and work upward to the ridge, aiming for the big reflector dishes at the top of Judah Ridge—about 800 to 900 feet of climbing. Alternatively, the terrain can be accessed by a ride up the Mt. Judah Express Chair and the Summit Chair at Sugar Bowl, crossing out of bounds at the top.
Once there, running it all the way down to Donner Lake gives you a 2,000 foot vertical drop—but also means two cars are needed for shuttling: one at the start and one at Donner Lake.
"What's great about the lake run is there are so many variations to choose from," says Dostie. "You can go to the top of Donner Peak, choose different lines from the ridge or go up Trestle Peak."
Terrain varies from the insanely steep to just moderately steep, with trees, rock-drops and pillow lines and even a possible walk through an old railroad snow shed (the train no longer runs through these tunnels).
Dostie prefers skiing off Trestle Peak.
"It's really a fantastic line, probably my favorite route, with super wide trees, sustained steep and anyone who likes to get air cannot ignore the lure of hitting the train trestle," Dostie says.
However, just because it's accessible by ski resort doesn't mean it's any more safe than any other backcountry run. In fact, the unique terrain can make it much more dangerous.
"The terrain is more complex so there are more opportunities for avalanches to occur," Schwartz said. "A lot of folks have had close calls up there."
Once at the bottom, avoid private property on the exit—don't tromp through somebody's backyard to get to the car.
Resources
If you're just getting started, schedule an Avalanche 1 course from an educator like Alpine Skills International (ASI), Slide Snow School, North American Ski Training Center (NASTC), Sierra College or Expedition Kirkwood. A complete list is available on sierraavalanchecenter.org under "education."
And speaking of the Sierra Avalanche Center, start reading its avalanche forecast everyday in the winter, whether you're going into the backcountry or not, to get a feel for how conditions progress throughout the season in different weather conditions.
Get detailed beta by stopping in at one of the area's ski shops, or go on a guided trip with ASI or another organization to get started.
---
Greyson Howard is a Truckee-based writer and backcountry skier.