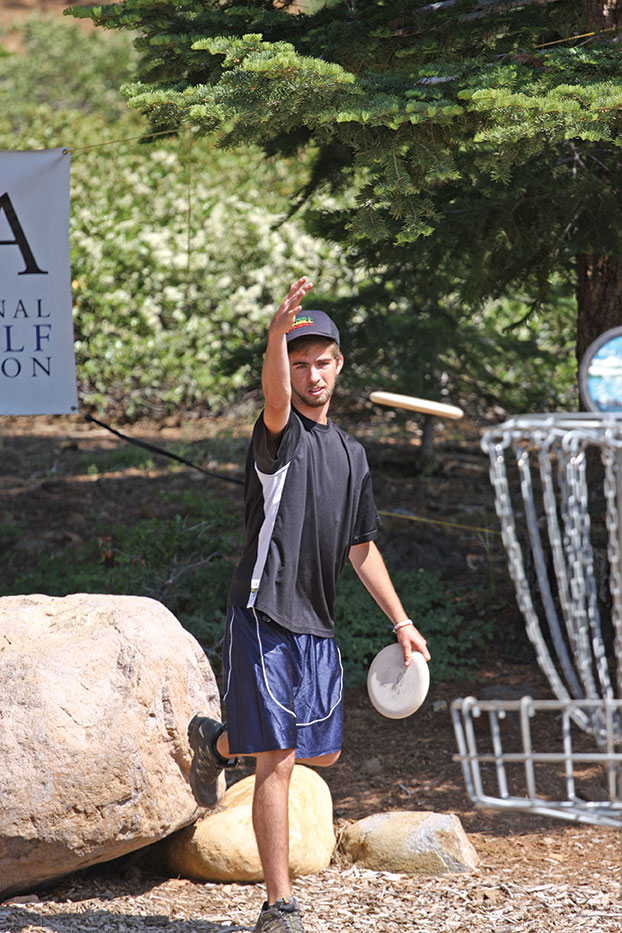 A competitor in the Tahoe Mountain Sports Pro/Am Disc Golf Tournament, photo by Greyson Howard
03 Feb

Teeing Up

Brandon Uppham sized up a shot on Incline Village's disc golf course and cocked the hard plastic disc across his body. From a half-crouch—and forgetting, or not caring, to shed his over-the-shoulder disc-carrying satchel—he unleashed his disc low and straight through the pines on the south side of Highway 28. It thunked into the pine needle–covered ground just short of the metal chain basket disc golfers use as their mother sport's pin.

"Beats a day at the office," says Uppham, a South Lake Tahoe resident, as he holsters his "putting" disc and heads toward the basket.

The by-night blackjack dealer is a relatively new practitioner of the sport, which has grown by tremendous leaps and bounds since the first local disc golfing course was built at South Lake's Bijou Community Park in 1997. For those unfamiliar with the sport, it's played with the bones of regular golf's rules, but includes throwing a Frisbee-shaped disc toward the aforementioned chain metal baskets. Since the mid-1990s, the sport has exploded in Tahoe, adding courses in Squaw Valley's High Camp, Tahoe Vista, Sierra College, Truckee Regional Park, Zephyr Cove, Bijou, Markleeville, Kirkwood, Incline Village and Reno. The rise in popularity has led to interest in local courses from a national tournament.

"It's a low-impact, affordable sport that gets people of all ages outside," says Dave Polivy, owner of Kings Beach–based Tahoe Mountain Sports and a major disc golf supporter. Tahoe Mountain Sports has hosted an annual pro-am tournament for the past eight years and sponsors the course in Tahoe Vista. Polivy is also an active supporter of the Sierra Tahoe Series, seven tournaments beginning in Reno in April that include stops throughout the Tahoe region.

"We consider it a sport for the masses," Polivy says. "The cost to enter is very minimal. If someone doesn't want to do a $150 parasail ride to see Tahoe, for $30 they can buy three discs and walk a course through some of the beautiful parks in the area."

Reno's Craig Getty has designed a number of Tahoe's disc golf courses and is a certified course designer. He attributes his interest in the sport to its low cost and laid-back vibe (it's not unusual to see one's yearly allotment of tie-dye on a local course.)

"I was a traditional golfer, and I took up disc golfing because it requires so much less time and money," Getty says. "I can fit a tee time into my schedule instead of having to make my schedule accommodate a tee time."

His personal favorite course is Zephyr Cove Park, with its granite outcroppings and views of The Lake.

The aesthetic appeal of local courses combined with a growing number of national disc golfers has drawn interest—and funding—for Tahoe's courses. For the past two years, the North Lake Tahoe Resort Association (NLTRA) has been dispensing grant money to the Tahoe Mountain Sports tournament as a part of its human-powered sports initiative and in late March submitted a bid to the Professional Disc Golf Association to host the 2015 Amateur World Championships in Tahoe. Organizers will know if the bid is accepted by June, and its promise of 1,800 hotel room nights would be a welcomed get, says Judy Laverty, NLTRA special events program manager.

"We have so many courses in our area that I think disc golf is really a nice addition to our marketing strategy," Laverty says. "Before we got involved, I had no idea how popular the sport was."

So grab a disc and let fly. Sure beats a day at the office.
---
Tahoe Quarterly Editor Kyle Magin terrorizes course-side manzanita bushes each summer.