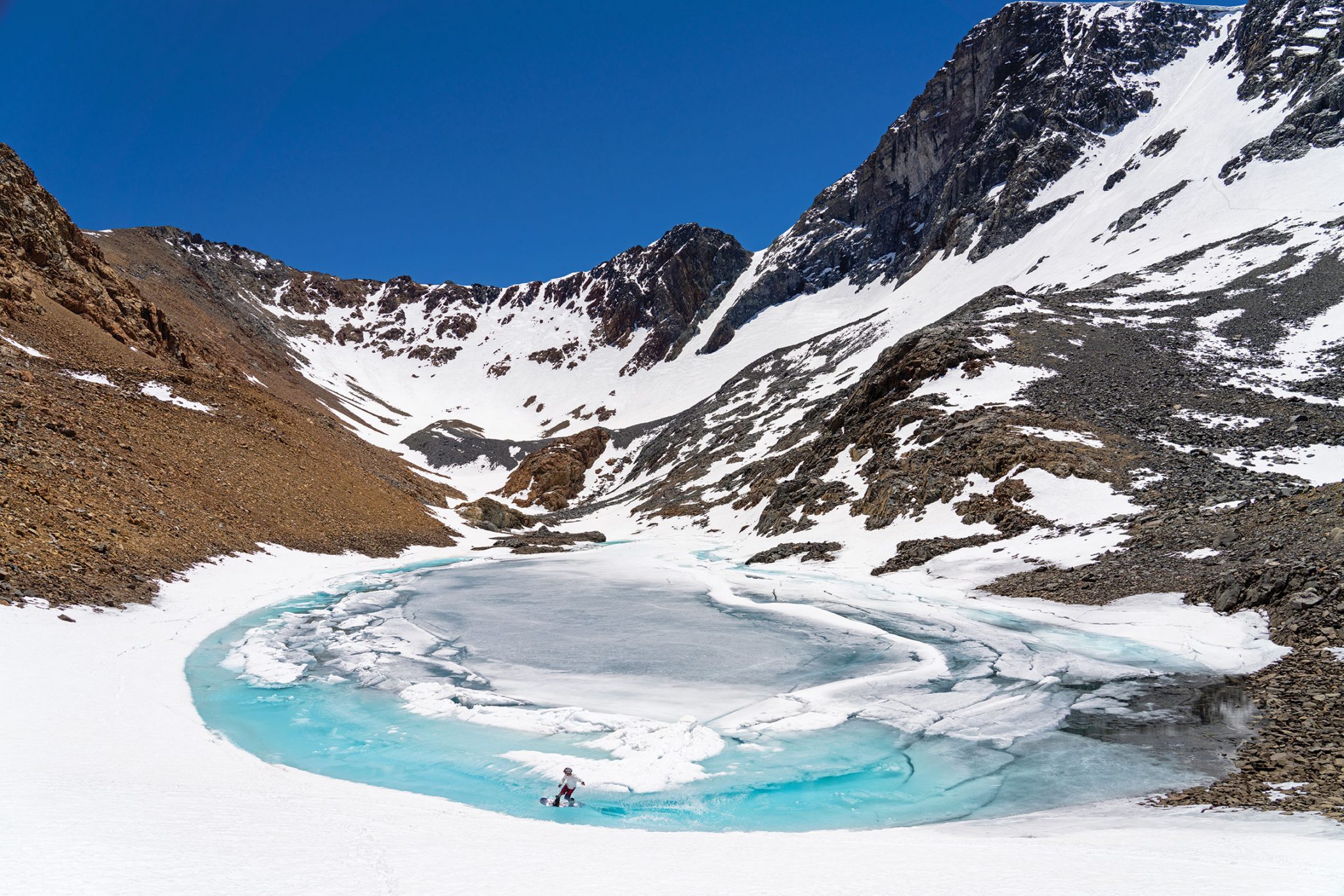 Greg Johnson skims across Dana Lake with Mount Dana and Dana Couloir in the background, photo by Anthony Cupaiuolo/First Tracks Productions
24 Sep

The Art of the Skim
For a brief stretch after winter, the stars align for elusive but exhilarating backcountry pond-skimming sessions
Mountain-lovers who have long since mastered skiing or snowboarding tend to follow the same natural progression—hanging up the resort gear for a touring setup and heading out to explore far beyond the lifts.
After putting in the work to get there, Tahoe's backcountry terrain offers untouched powder, undiscovered features and remote solitude. And, as four South Lake Tahoe locals will attest, select locations at just the right time of year offer another elusive joy: the backcountry pond skim.
Backcountry Bliss
You've got to love skiing or riding to seek out distant backcountry lines long after most people have switched gears to summer activities. The combination of warm weather and long days leave exposed, rocky terrain to negotiate in the Tahoe high country, but also glistening, crystal blue pools of water in secret pockets between peaks.
Of course, those who are determined enough to find these backcountry pools keep their whereabouts close to the vest. 
Skiers Chris Whatford and Jenn Sheridan have stumbled upon their fair share of these rare gems. As avid backcountry enthusiasts, the couple initially set out to see how long they could extend the season beyond the winter. They've now skied every month for the past three years. The pursuit has led to many adventures, including the discovery of high-elevation ponds primed for skimming across. 
Whatford says blasting across an iridescent pool of water deep in the backcountry is a fun change of pace from the seriousness of winter skiing. He also enjoys the element of surprise in finding backcountry skimming opportunities.
"You go to some weird places when you're looking for snow in August," he says. "Doing those missions, it's just interesting. It's a different mindset. You go out with swim trunks or ready to skinny dip, have a few beers, and have a picnic."
While Anthony Cupaiuolo has never met Whatford or Sheridan, the longtime snowboarder shares the couple's passion for the backcountry, as well as the chance to slide across remote pools of water—whether it's a short-lived collection of snowmelt or a stunning high-alpine lake that's just begun to thaw.
Cupaiuolo says an afternoon spent playing on one of these natural wonders, photographing the action and cheering on friends, presents a low-key and often unexpected finish to the day.
"By the time you get to the pond skim, you've already done your most challenging climb or hardest line, and you're relaxed… you kind of have this buzz from just doing the line you [planned] for the day," says Cupaiuolo, who has produced numerous action sports films as owner of First Tracks Productions. "Everybody's in a good mood and the endorphins are flowing. [And] the novelty of it… you're going from snow to water to snow. It's just super fun."
Cupaiuolo, who typically embarks on such adventures with his trusty chocolate Lab, Emmie, adds that he and his crew tend to linger at these sites as long as possible, knowing that the same pool of water will likely be gone in a couple of days.
"You have these mountains, snow and glacial blue water—it kind of keeps you in that spot longer than you would usually stay if you were hiking," he says. "When you're pond skimming, you're absorbing it and really realizing how beautiful it is, and how rare it is, because it doesn't last long."
Pond-Skimming Progression
Backcountry pond skimming is the epitome of the phrase, "It's not the destination, it's the journey." But even the most experienced backcountry skimmers had to start somewhere. Oftentimes, it's at a ski resort in front of a festive crowd of onlookers.
Such was the case for Jordan Nield, a former professional snowboarder who first tried pond skimming at Kirkwood in 2001.
"I was with my big brother and his wild friends. Six of us all dropped in at the same time and I was the last. All of us made it through, but by the time I went through it was like the ocean with waves," says Nield, laughing at the memory. He has since participated in pond skims at Heavenly and Big Bear.
The key, he says (aside from successfully crossing), is to put on a show for the audience, which adds an exciting element to the activity.
"You wanna please the crowd," says Nield. "I'm gonna try to make it more fun and interesting and do a trick or a big spray and hope that I get everybody wet and make it out drier than them."
Like Cupaiuolo, Whatford and Sheridan, Nield was increasingly drawn to the backcountry, where he discovered, as they did, the opportunity to glide across natural water features.
His pond-skimming experiences around Carson Pass, Desolation Wilderness and the Eastern Sierra have opened the door to the sort of creative freedom that snowboarding embodies.
"You can jump, do 180s, ollies, or ollie up and grab your board. It all depends on the pond," he says. "If there's grass or something, you can hop over or hop onto it. There's always something different."
Whatford, who's been known to film videos skiing from patch to patch of snow, jumping over rocks in between, likes to get creative with his pond skims, too.
"I like building a jump at the end… and that has gone wrong plenty of times," he says with a laugh. "Even though it's a glacier, you're building a jump with slush. I've had a few times where I went for a trick and the whole lip just bailed on me."
The Art of the Skim
While every rider has his or her own style, all agree on a few starting points for successful pond skimming.
First, make sure a sufficient slope leads to the water, as it is crucial to have enough speed to make it across without sinking in.
Sheridan and Whatford recommend taking the time to smooth out chunky summer snow on the approach, particularly near the entrance to the water. The ramp onto the water should be relatively flush with the surface. Make sure to create an exit on the other side as well. Start small, picking a shallow edge of the pond that won't be dangerous if you fall (you should also be a capable swimmer, of course). 
On the actual attempt, look across to the other side and lean back, says Cupaiuolo, standing on your board or skis like riding through powder.
Once you've got it down, the options are endless. And if it doesn't work out, it's all for fun anyway.
"A lot of people look at [these trips] like, 'Why would you go for just five or 10 turns?' But it's super entertaining," says Whatford. "It's an adventure."
---
Le'a Gleason is a Tahoe City snow-lover and freelance writer inspired by sharing people's stories. Hailing from Hawaii, she's thrilled that pond skimming marries snowboarding and surfing.