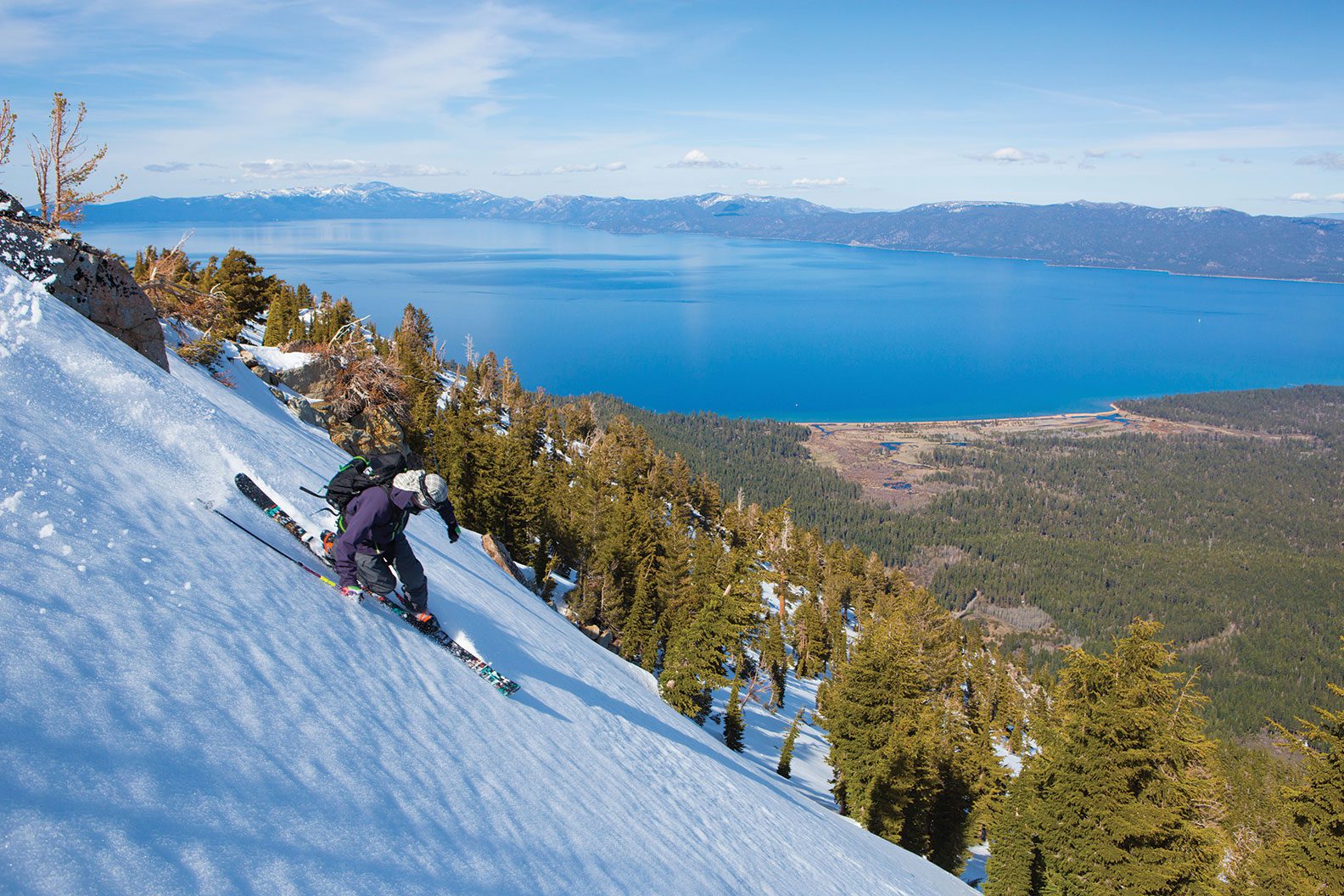 Jason Layh enjoys ideal corn snow on the flanks of Mount Tallac, photo by Ryan Salm
26 Apr

The Best Corn Snow Nature Can Grow
Thanks to its maritime snowpack, the Tahoe region serves up ideal sun-ripened conditions in the backcountry as winter transitions to summer
After a winter of relentless storms and seemingly endless powder days, it's easy to forget that one of the best things about skiing in Tahoe is the world-class corn snow. With one of the deepest snowpacks in recorded history, however, you can rest assured there's still plenty of time left to get a taste of our famous California corn this spring—and likely well into summer.   
Whether you have your sights set on classics around the lake or bigger objectives in the Eastern Sierra or on Mount Shasta, coverage has never been better. The time has come to reap a bountiful corn harvest. 
A Gift of Nature
For those who are unfamiliar with the term, corn is a condition that occurs when the surface snow has undergone numerous melt-freeze cycles. Warmed by the sun, the surface melts during the day and refreezes at night, resulting in a breakdown of the snow crystals. The crystals eventually round and increase in size until loosely resembling a kernel of corn. 
When timed properly, the top inch or so of the snow is soft, buttery smooth and edge-able, providing perfect conditions for snow sliding. Think of it like nature's groomed run, only much better than machine-groomed snow.
Safety is another benefit. Given the conditions necessary for the creation of corn, the likelihood of avalanche activity is generally low. As a result, corn can be ideal for tackling larger or steeper objectives in the backcountry. Some backcountry skiers and riders even consider it their favorite snow condition for this reason.   
Geography and climate are two closely related sciences, and when considered together reveal the reasons we have such excellent corn snow here in Tahoe. 
The Sierra Nevada's proximity to the Pacific Ocean and mid-latitude location create a Mediterranean climate, which results in a maritime snowpack. Moisture-rich storms barrel off the Pacific Ocean and into the Sierra, where they are forced upward in a phenomenon known as orographic lift into cooler air, resulting in precipitation. Due to the moderating effect of the Pacific, mountain temperatures are generally milder in the Sierra than other regions of the West, and this causes our snow to have comparatively higher water content. If you've ever wondered where the term "Sierra Cement" comes from, that's it.
A maritime snowpack is characterized by an often deep and relatively homogenous snow structure. The warmer temperatures and comparatively moister snow make it quicker and easier for the snowpack to consolidate into a cohesive layer than in colder and drier mountainous regions. Although Tahoe does get its share of low-density powder, as we saw this past winter, these maritime snowpack characteristics typically result in relatively short avalanche cycles and less likelihood of persistent weak layers, and an overall higher-density snowpack. This makes the transition from cold powder to creamy corn a faster process than in most other places.
Still, it doesn't happen overnight. 
Timing is Everything
Waiting for the harvest can be hard, but as any good farmer can attest, it's important to let the crop mature for the best results.
After a storm, it can take anywhere from several days to several weeks for the snow to fully transition to corn. Numerous repeated cycles of warm, sunny days followed by solid overnight freezes are needed for the uppermost layer of the snowpack to consolidate and the surface to become supportable to the weight of a skier.
During the transitional phase, the snow will typically be mushy, sticky, potentially unstable and a generally unpleasant skiing experience. Attempting to ski transitional snow also has the undesirable effect of leaving deep tracks that ultimately impact the overall smoothness of the snow's surface.
While corn is often associated with spring skiing for obvious reasons, it can form any time throughout the winter given the right conditions. Assuming there is adequate snow coverage, any extended dry period between storms with the presence of a strong melt-freeze cycle can serve up some quality corn snow. But due to the lower angle of the sun in the winter months, it is typically confined to southerly aspects earlier in the season. As we progress into spring, however, the increasing sun angle means corn can form on any aspect that receives enough solar radiation.
Much like chasing spring snow at the resort, following the sun as it makes its way across the sky is usually your ticket to finding the best conditions in the backcountry.
Like any good vegetable, corn is best enjoyed when it has ripened to perfection. Just as the sun provides energy for plants to grow, it's also a driving factor when it comes to corn snow. A couple of hours of direct sun exposure is usually required for the corn to ripen enough for harvesting on a given day. Harvest too early, and it will be too firm. Pick it too late, and it can be mushy and past its prime.
Good timing is critical not only for maximum enjoyment, but also for safety and maintaining quality snow surface conditions for other skiers and riders and your own future laps.
Ideally, the snow has softened enough to allow your edges to sink in about an inch or so. This provides a nice soft cushion with predictable edge grip, and your tracks should just barely disturb the snow surface. Drop in too early, and it can be a harrowing, teeth-chattering, icy experience. Conversely, if you are too late, you may experience the exact opposite: a sloppy mess where you leave trenches in the snow. Of course, factors like wind, temperature and cloud cover can also have an influence on when or if the snow will soften, and should be always taken into consideration.
Staying Safe
Timing your corn descent properly often entails starting your ascent while the snow is still firm with it gradually softening as you make your way to the top. This can be the most challenging and dangerous part of any spring backcountry tour, as hiking on firm snow can require advanced skinning technique, the use of ski crampons for enhanced grip, or sometimes even switching to boot-packing to get up the mountain.
Regardless, when everything comes together, spring corn runs can be among the best of the season.
Spring typically involves milder weather and reduced avalanche activity. But backcountry skiing is an inherently risky activity. Even if fresh snow hasn't fallen in weeks or even months, avalanches can occur from daytime warming, poor overnight refreezes or lingering instability in the snowpack.
Proper precautions should always be taken when traveling in the backcountry. Always carry a beacon, shovel and probe—and know how to use them. Perhaps more importantly, learn how to avoid needing to use them in the first place.
Always be sure to check the weather and avalanche advisories as part of your planning and decision-making process. If you're unsure of your skills or where to go, numerous guide services around the state lead training courses and day trips, and will happily take you to the goods.
So, don't hang up the skis yet: Harvest season is just getting started.
Avalanche resources
Lake Tahoe:
Bridgeport and Sonora Pass:
Eastern Sierra:
Eastern Sierra Avalanche Center
Mount Shasta:
Guide Services
Lake Tahoe Area
Eastern Sierra
Mount Shasta
---
Jeremy Benson enjoys smooth snow and uncrowded slopes and has been laying tracks in the Tahoe backcountry since 2001. His obsession with human-powered backcountry exploration led to the creation of Backcountry Ski and Snowboard Routes: California, published by Mountaineers Books in 2017.