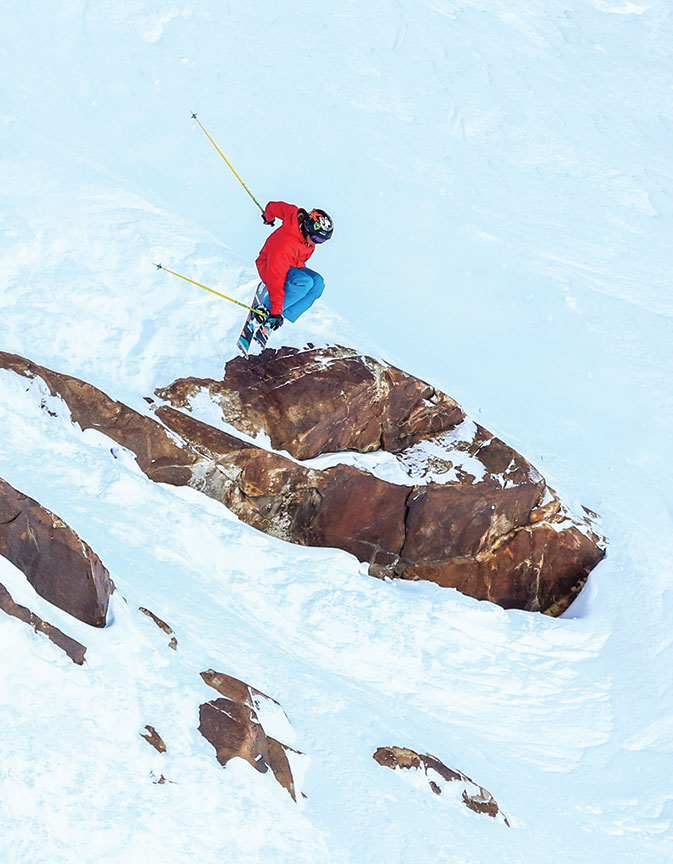 Ross Tester competes in a big mountain event, photo by Julie Shipman
Tahoe's Junior Takeover
In 2003, when Eric DesLauriers started coaching junior big mountain skiing competition, he and his kids had just one competitive outlet in the entire country in Crested Butte, Colorado. The event was great, he says, but attracted less than 30 competitors.
Since then, things have changed. Going into the 2015–16 winter, there will be seven junior competitions in Tahoe alone, with two additional events proposed at Mt. Rose and Kirkwood. There are now more than 60 total in North America, marking a 1,500 percent increase over four years, according to the International Freeskiers & Snowboarders Association (the IFSA was established by late Squaw Valley skier Shane McConkey in 1996). IFSA has over 1,700 total participants 18 and under and DesLauriers, who coaches the Squaw Valley Big Mountain Team, will oversee almost 80 kids on the squad shared between Squaw and Alpine Meadows.
"In the last four or five years it has just been exponential growth, and that was due largely to IFSA taking over the sanctioning of junior comps," says DesLauriers.
Big mountain skiing, also called freeride, lets skiers attack the off-piste with creative control. No gates and no timing. Competitions are held on runs with a myriad of options—think High Yellow at Alpine Meadows or Enchanted Forest at Squaw—and skiers choose their line. Airs and fast skiing are meant to be rewarded, but the judging has matured as well. Where podiums once went to those with the mettle to throw themselves off the biggest cliffs and ski recklessly with less emphasis on technique, judging is now hyper-critical of control, execution, form and technical skill.
The growth of junior big mountain skiing is nationwide, and Tahoe has been a pioneer in developing the more formal programs and bringing more exposure and acceptance to the newer discipline, with results to show for it. For 2015, Tahoe produced the 1st place men's 15–18 skier, Xander Guldman, and many more top finishers. Local mountains with junior big mountain instruction are Squaw/Alpine, Sugar Bowl, Kirkwood and Mt. Rose.
With the option to enter a big mountain track available for kids as young as six, big mountain is rapidly becoming a respected skiing discipline alongside racing and freestyle, and threatens to shift the priorities of young skiers.
"I could either race gates or race moguls, and then big mountain became an option [when I was 12] and it was more my thing. Racing was too competitive and big mountain is just more free," says Ross Tester, 16, who finished 9th overall in the IFSA men's 15–18 category and rides for Squaw's big mountain team.
While coaches support learning racing fundamentals and implement those skills into the programs, they know that the freedom of skiing steep lines can be an easy sell for much of the younger generation.
"The appeal of freeriding can sometimes draw kids away from racing. In addition to the fun of skiing all over the mountain, the margin for competitive success is much less in racing," says Trevor Tanhoff, the head freeride coach at Sugar Bowl Academy. In particular, he points to the girls' side, where there are far fewer competitors in the younger categories for big mountain compared to alpine racing.
"I switched to big mountain the day after my race coach wouldn't let me ski powder on a bluebird day," says Sydney Gradeff, 14, of Truckee. Gradeff skis with Tanhoff at Sugar Bowl, has several first place finishes and her goal is to finish in the top five nationally in 2016 on the IFSA tour. "My favorite part is the rush of jumping off cliffs and slashing powder."
That's not to say it's easy for anyone. Through the fall at Sugar Bowl, Tanhoff's kids workout twice a day for four days a week in a style one might usually associate with prep sports, emphasizing running, weight training, plyometrics and calisthenics. In the winter, they continue gym workouts and are on snow about five days a week, while also going to Woodward Tahoe for trampoline work and traveling for competitions.
On the hill, they practice similar drills as racers to lock in proper body mechanics. They ready themselves for competitions by being put in "pseudo-comp" environments, as Tanhoff describes them, where coaches give them a line to ski top to bottom and assess their performance.
Dropping cliffs into what has been consistent hardpack conditions the last few years in Tahoe and the blistering speeds can elicit concern by parents, but coaches maintain safety is at an all-time high.
"It's safer because of the structure of the program and the guidance from the coaches. What people don't see when they see a 16-year-old hitting a 20-foot cliff is the amount of time training in the gym," says Tanhoff. "We never push a kid beyond their abilities."
Parents seem to agree. "Trevor and the other coaches, they know all the risks involved. They have put together a methodical safety program," says Paul Gradeff, Sydney's dad. Nevertheless, it is a risky endeavor. Sydney dislocated her elbow when she was 12 at Washington's Crystal Mountain  and hurt her back in a tree well, requiring an ambulance ride, at Sugar Bowl last winter.
"It is a little scary with the exposed terrain and the inherent danger, but they are coached well and the kids exercise good judgment," says Dan Tester, Ross's dad.
DesLauriers adds that kids have to prove themselves capable to the coaches before being given the green light for the larger features. "The kids are smart, they listen to reason. There are a few loose cannons, but we have to give kids a lot of credit for their smarts."
Before regimented training programs began sprouting up, big mountain was more of an outlet for talented skiers who didn't fit the mold of racing. Josh Daiek, 32, who rides for Kirkwood and won the overall Freeski World Tour title in 2012, represents the path many took before big mountain programs became a thing. He skied hard all day, got in with ripping locals and learned on the fly.
"I rode everyday, just skiing runs top to bottom until my legs were about to blow out with my friends, and our group of friends would push each other to hit bigger cliffs, and feed off each other," says Daiek.
He moved out west from Michigan after high school, and began riding Kirkwood's steeps at an age where today's younger competitors are aging out of the junior tour. He climbed the ranks to become one of the better big mountain skiers in the country.
This creates an interesting prospect for what will happen once the current junior skiers mature and enter the ranks of adult competition.
"I think it's awesome that kids have these programs to learn big mountain when they're that young," says Daiek. "I wish I had that. Kids who are 16 and 17 are rivaling what the adults can do. I didn't even know how to turn at that point."
---
For more on IFSA and the association's junior tour, including stops at Sugar Bowl (Jan. 7), Squaw Valley (Feb. 4), Kirkwood (Feb. 19) and Alpine Meadows (Feb. 25) visit www.freeskiers.org.