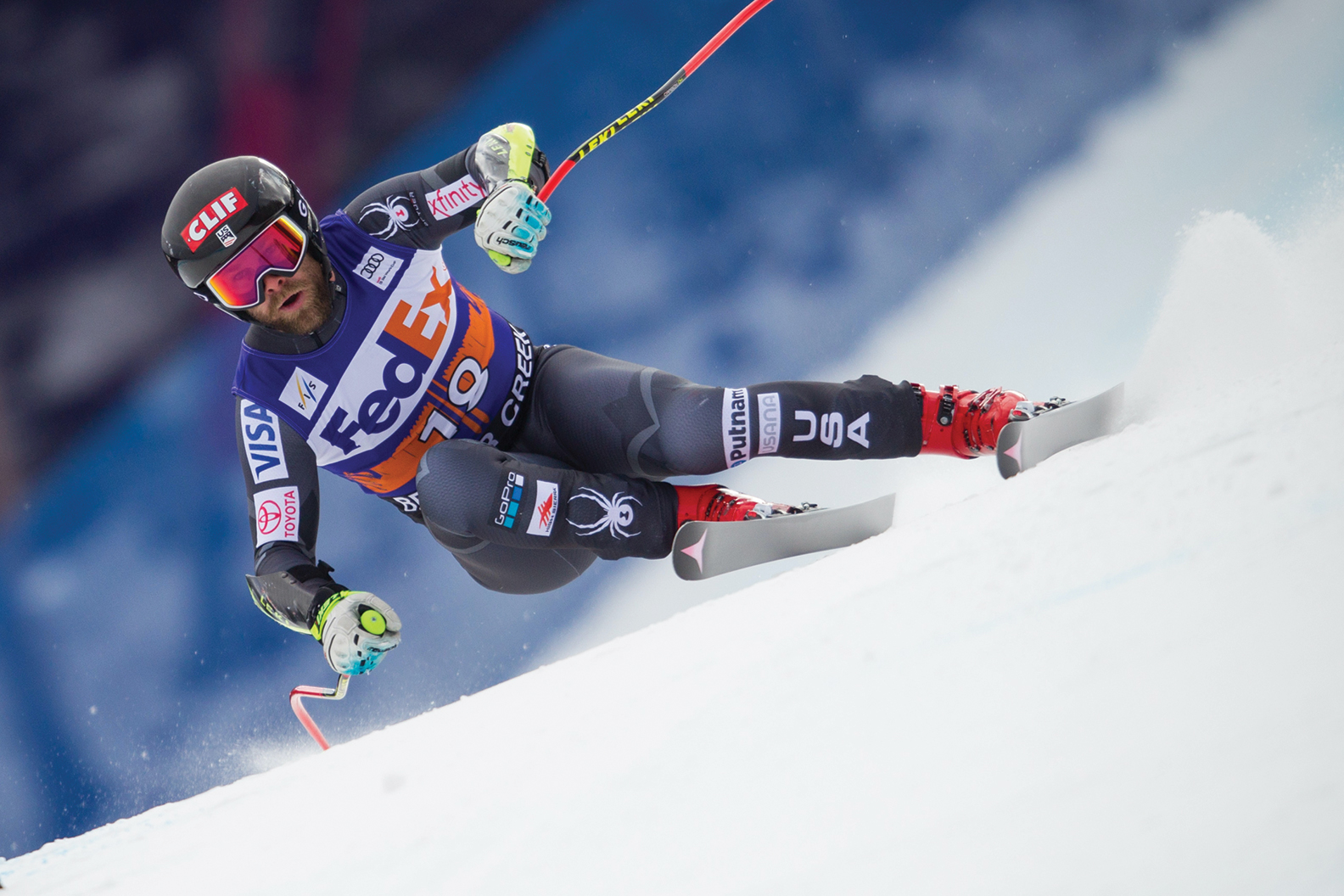 Travis Ganong competes in the 2017 Birds of Prey super G at Beaver Creek, Colorado, photo by Cody Downard, courtesy U.S. Ski & Snowboard
06 Dec

Travis Ganong: The Mind of a Seasoned Speed Skier
From young phenom to experienced veteran, lifelong Tahoe local Travis Ganong has enjoyed a stellar career that's still going strong
With nearly 200 World Cup starts under his belt, highlighted by two downhill victories, four podiums and 37 top-10 finishes, Travis Ganong could hang up his racing skis today and proudly reflect on a long, successful career at the pinnacle of his sport.
Then again, his best years may still be ahead of him.
The 33-year-old Tahoe resident enters his 17th season on the U.S. Ski Team feeling confident, spry and stronger than ever—the result of an effective new training regimen combined with the sage mindset of an accomplished veteran.
While he is reluctant to admit it, Ganong also has unfinished business to address, as an untimely knee injury robbed him of the opportunity to compete in his second Olympics in 2018. (He placed fifth in his first Olympic downhill four years before that, speeding across the finish 0.41 seconds off the gold medal pace.)
The Beijing Winter Games in February provides another shot at Olympic glory. You can bet that Ganong will be ready.
Tell us about some of the highlights of your offseason.
After having a complete World Cup season last season, which was awesome, I enjoyed the majority of the offseason back home in Tahoe. Normally in the spring we try and have a ski camp in Norway, where we test equipment and dial in new ski boots for the following season, but due to COVID we instead had our spring camp down in Mammoth. It was so nice to ski close to home and we had great conditions. After Mammoth it was straight to the gym and dryland training. I also spent a little over a month this fall over in Zermatt, Switzerland, with the U.S. World Cup Speed Team training on the glaciers there, which was awesome. My girlfriend was also over there training with the Canadian team, and I proposed to her on a rainy off day at ski camp, and she said yes! So that was probably the highlight of the offseason.
As a lifelong Tahoe local, have you ever experienced anything like this past summer as far as the air quality, forest closures, etc.?
Honestly, as a kid growing up here, I never remembered having summers that resembled anything like what we have endured for the last few years. Thinking back, I never remember having to stay inside during peak summer season in August because of air quality. It's pretty scary thinking that "smoke season" is potentially a new annual experience. Hopefully through action we can make a difference with how our forests are managed and how we address climate change so that this doesn't become the new norm. 
That said, how stoked are you for the return of winter?
So stoked! I don't know how I could be more stoked. I live for winter.  
Big year with the Olympics in Beijing. How are you feeling health-wise heading into the season?
After blowing my knee out before the last Games, I teamed up with ALTIS trainer Nick Ward in South Lake Tahoe, who completely changed the way I move and train. I honestly feel like I'm 20 years old again and I am a much more functional athlete. Because I am moving better, I was also able to push harder lifting in the gym, which has allowed me to put on a lot more muscle. I'm feeling great and I'm as motivated as ever. 
With a good chunk of the World Cup season taking place before the Olympics in February, how does your approach change, if at all, going into an Olympic year like this?
Yeah, this season the schedule is a lot different. For example, instead of two races in Lake Louise and Beaver Creek, we now have three races at each venue within a 12-day stretch at the end of November into early December. Those six races equate to about one-third of the entire season, and so I am even more focused on peaking right at the beginning of the season. If I can have some early-season results and solidify my spot on the Olympic team, then the rest of the season is way less stressful and I can really enjoy each weekend. 
What do you know about the Olympic race venue?
No one has ever been to the new ski area in China. We were going to have a test event there in February 2019, but then COVID changed everything. The venue has been ready since 2019, but the Chinese team has been the only team able to train there with the travel restrictions in place for the rest of us. I have seen POV and drone footage of the track and it looks super fun. I can't wait to see it in person and get a feel for it. The one thing I have heard is that the location of the ski area is one of the coldest places on earth, and that it is very windy, so the chances of a full-length downhill from the top are very low.
Given that an injury prevented you from racing in the Olympics four years ago, do you feel an extra sense of motivation or eagerness to compete this year?
Yes and no. Since that injury in 2018, I have had a great comeback and have been in the top five multiple times on the World Cup and have fought for medals at World Championship events. I think every time I push out of the start gate I have the same motivational level, but obviously a good result at my second Olympics would be special. I've been on the podium at the World Champs and on the World Cup before, so it would be great to also get to that point at the Games. 
When I talked to you before the 2018 Olympics, you mentioned that the men's speed events (downhill and super G) were as competitive as you had ever seen, with numerous racers who could win on any given day. How would you compare the field back then to now?
Since then, a lot of athletes have retired and a lot of young athletes have proven themselves at the highest level. I think that there are still 15 or 20 guys who are fighting for podium positions any given day and the men's speed circuit is as competitive as ever.
The past four years you've placed higher in the super G standings than the downhill, while the opposite was true early in your career. Would you say the super G has taken over the downhill as your bread-and-butter event?
I've always loved super G because it always fit more with my style of reaction skiing and just playing with the skis and terrain. There are no training runs in super G. You just have to send it race pace first go, and I like that—it's really similar to freeskiing.
Since the Olympics in Tokyo this past summer, with Simone Biles pulling herself out of competition, there's been a lot of talk about the mental aspect of sports and the pressure on athletes to perform. As an athlete whose sport is inherently dangerous, what are your thoughts on the pressure associated with competing in the Olympics? Do you think it adds to the danger?
I have raced in almost 200 World Cups and each and every time I take the same risk. The Olympics are no different. I think because our sport is so dangerous, the pressure mainly just comes from within ourselves. It's very internal. We don't really have these external pressures to succeed, because just making it down the mountain in one piece while pushing our limits is already a small victory. I think the media, fans, coaches and sponsors get that, and so the pressure is a little different than, say, gymnastics.
In relation to the previous question, have you ever pulled out of a race—or at least considered it—because you weren't feeling up to it mentally?
It's always scary standing at the top of a gnarly downhill with the intention to push at race pace. I think it's natural for every downhiller to have a small feeling like that, but then once I start skiing, it's the most fun thing ever and I love every second of it. It's always worth it to me. 
While it goes without saying that you are focused on the current season, have you determined yet if this will be your final Olympics or if you'll make another run in 2026?
I am not really sure yet. I think that if I am healthy and having fun and still competitive, it would be really cool to go four more years and finish my career at the Olympics in Cortina. That is a magical place. 
Getting away from ski racing, the last time we talked you were attending Sierra Nevada University (then Sierra Nevada College), studying ski business and resort management. Are you still enrolled and pursuing that degree?
Yes, I am still chipping away at my degree. I kind of hit a roadblock with my studies, having finished all the classes available to me that were offered online. With my schedule it is impossible to attend in person, but then COVID hit, and the silver lining, pretty much the rest of the curriculum is now online. My professors have been great to work with, and I love learning about the ski industry and the business of running a ski area. 
What are your thoughts on the college's merger with University of Nevada, Reno?
I know for a few years now the university has had declining enrollment, which has caused some troubles financially. Sierra Nevada University is such an amazing school located on the shores of Lake Tahoe. If you are a mountain person, I can't think of a better place to go to university. I am stoked that they have partnered with UNR and can move forward under a slightly different model with a more solid financial foundation.  
How are things going as co-owner of Pacific Crest Coffee Co.?
Like any small business, it has been a challenging last year-plus with constantly changing regulations, not to mention weeks of smoke from the wildfires, and also more people living up here full time. My business partner, Ralph Backstrom, has been amazing in his ability to adapt to whatever situation and keep the shop staffed and running smoothly without sacrificing the high quality that we have been known for.
Let's end on some quick-hits … Favorite mountain bike trail in Tahoe?
OTB to Deer Creek.
Favorite place to grab a beer?
Le Chamois in the winter and Good Wolf in the Summer. 
Best burger in the Tahoe Basin?
Fat Cat. 
Best backcountry ski run in Tahoe?
Not telling. 
Best inbounds run in Tahoe?
Honestly, anything fall line off KT.
Best Tahoe skier of all time?
Snowshoe Thompson and Shane McConkey. 
Super Bowl prediction?
No clue. No time for football. 
---
As a former local sports reporter, Tahoe Quarterly editor Sylas Wright has followed Travis Ganong's career since he was a sophomore at North Tahoe High School in 2006—the same year he joined the U.S. Ski Team.