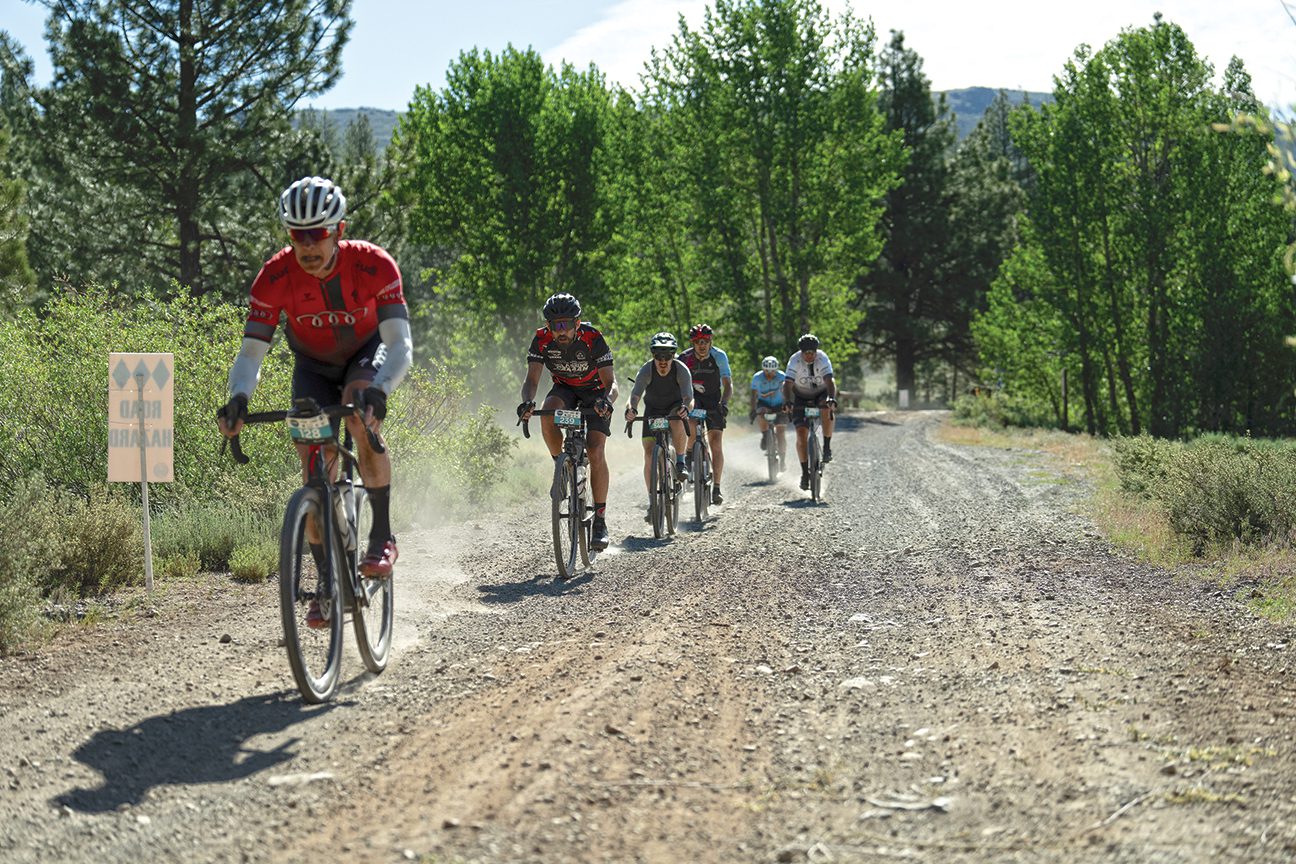 Riders compete in the Truckee Tahoe Gravel race, photo courtesy Truckee Tahoe Gravel
27 Jun

Truckee-Tahoe Goes Gravel
The quickly growing sport of gravel biking is perfectly suited for the region, with versatile new 'freedom machines' providing an array of riding options
I started riding gravel in the spring of 2017 when, on a bit of a whim, I registered for the Lost and Found Gravel Grinder. This 100-mile gravel race was part of the Lost Sierra Triple Crown Series put on by the Sierra Buttes Trail Stewardship, and it took place in the rugged and remote terrain in the mountains and meadows north of Portola, about an hour north of Truckee. I didn't realize it or expect it at the time, but this was the beginning of my love affair with gravel riding.
For those who are unfamiliar with the sport, gravel biking is a lot like road cycling, with the essential difference being that you do it on dirt, or gravel, roads. Of course, it's a little more nuanced than that, but the general idea is simple.
It isn't exactly new, either. People have been riding bikes on gravel roads since these two-wheeled contraptions were invented. The early days of mountain biking in the 1970s and '80s largely took place on dirt and gravel roads, as well (for a cool history lesson, look up the "Repack" race held on the slopes of Mount Tamalpais starting in 1976). But it's only been in the last decade or so that gravel biking has been recognized as its own unique genre of cycling.
In that relatively short period, gravel biking has exploded in popularity, consistently ranking as one of the fastest-growing segments of the bike industry. As you'd expect, bicycle manufacturers have responded by creating bikes and equipment made specifically to meet the unique demands of gravel riding. The market is hot, and these days you can even buy gravel-specific shoes, apparel, saddles and more.
'Freedom Machines' at Their Finest
One of the primary differentiators of gravel bikes are the tires, which resemble a cross between a skinny road tire and a knobby mountain bike tire. There are myriad gravel tire options on the market, with varying widths and tread patterns to suit different needs and conditions. In general, almost all gravel tires have a more aggressive tread than road tires, with the goal of providing enhanced cornering, braking and pedaling traction. They are also wider, usually between 35 and 50 millimeters, and have a higher air volume than road tires, which allows riders to run lower tire pressures to help dampen the ride and create a larger contact patch for improved traction.
Of course, you can ride gravel on just about any bike, but modern bikes made specifically for gravel have been refined over the past several years to work well for their intended purpose. While they closely resemble their road and cyclocross siblings, gravel bikes typically have more relaxed geometries and increased tire clearance for those higher-volume, knobby gravel tires. The frames are often designed to have more compliance to absorb vibration, and some even come with short-travel suspension forks and/or dropper posts to enhance comfort and stability on rough descents.
Just like any type of cycling, there is also quite a bit of specificity in the gravel bike design, with models made for everything from racing to bike-packing and everything in between. Whether you're into racing competitively, casual rides with friends, overnight adventures or all the above, there's a bike to suit your needs.
And one of the best things about gravel bikes is their versatility, as there are fewer limitations on where and how you ride. Some work nearly as well on tarmac as they do on dirt, and many can handle light-duty use on trails better than your first mountain bike.
With fewer constraints, you make the rules, and gravel riding can be anything you want it to be. Bicycles are often referred to as "freedom machines," and that moniker seems especially appropriate for gravel bikes.   
Gravel Bike Hotbed
When I registered for that first race six years ago, I needed the right tool for the job, so I picked up a fairly basic Specialized Crux cyclocross bike from my friends at Olympic Bike Shop in Tahoe City.
I also had virtually zero experience riding gravel save for some adventurous wrong turns on my road bike decades before, so I had some work to do before racing 100 miles of mixed conditions on rough double track, smooth gravel and paved mountain roads. 
Sure, I was a "hardcore mountain biker," but I'd given up road cycling years before, so I needed to put in some serious miles and figure out what this whole gravel thing was all about.
Fortunately, it was a short, easy pedal from my house on Donner Lake to Prosser Dam Road, where countless miles of quiet gravel roads made for the perfect training grounds. I set about exploring the roads between Prosser, Boca and Stampede reservoirs, out to Loyalton, Dog Valley, Verdi, Yuba Pass and points beyond.
I quickly came to appreciate the lack of vehicle traffic, the serenity and beauty of pristine alpine meadows, and the occasional thrill of riding fast on often loose and rough surfaces. Though I had little previous gravel-riding experience, it didn't take long to realize that Truckee was a prime location for my newfound passion.
I'm clearly not the only one who recognized the Truckee area's gravel cycling potential. In 2018, the first edition of Truckee Tahoe Gravel (formerly the Truckee Dirt Fondo) came to town and drew a huge turnout, including cycling royalty like local resident and multi-time Olympian Katerina Nash, mountain bike legend Geoff Kabush and former world tour professional Levi Leipheimer.
Now an annual event, Truckee Tahoe Gravel continues to draw a crowd and showcase the area's incredible gravel riding with three course lengths to suit varying ability levels in a "Fondo"-style format where you can race or just ride for the fun of it. It normally takes place in early June, but after this winter's record-setting snowfall, it was postponed until July 1 to let the course melt out.
In addition to the Lost and Found Gravel Grinder and Truckee Tahoe Gravel, loads of other gravel events are held all over California and Northern Nevada.
Stetina's Paydirt is one such event that took place in Carson City in late May. Put on by part-time Tahoe resident, former world tour professional and one of the top gravel racers in the world, Peter Stetina, this event draws a diverse crowd of riders to the mixed terrain of the beautiful Carson Valley. With three timed segments over the 69-mile course, the emphasis is on fun and camaraderie as riders can ride casually and socialize until it's time to drop the hammer. 
For those interested in trying out gravel riding, Truckee-based Dirt Gypsy Adventures offers rentals so you can take one for a spin before making the leap into a purchase. Dirt Gypsy also offers single- and multi-day guided gravel bike tours so you can forget the map and let someone else show you the way.   
If you're already wanting to scratch the gravel itch, there are a number of excellent local shops that will happily set you up with the gravel bike of your dreams so you can set out on a brand-new freedom machine of your own.
---
Jeremy Benson is the author of Mountain Bike Tahoe and has spent the past 22 years spinning his wheels on the trails around Lake Tahoe and Truckee. When he's not riding one of his bikes, he's typically writing about them as a product tester, reviewer and managing editor at Bikerumor.com.