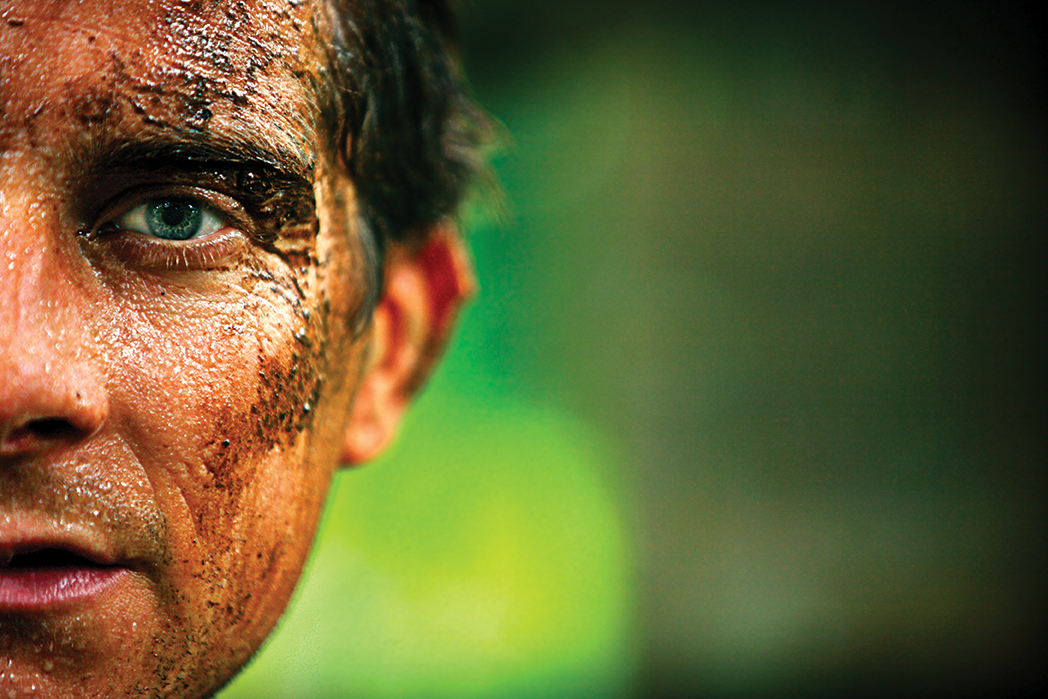 Bear Grylls in Panama on the set of Discovery Channel's Man vs. Wild, photo by Corey Rich
25 Jun

A Life of Adventure Caught on Camera
South Lake Tahoe photographer Corey Rich is recognized as a master of his craft, from climbing with camera in hand to telling the stories behind his famous images
Tahoe-based climber and photojournalist Corey Rich has a long history of winning pull-up contests—and then benefitting from the feat.
Perhaps the most notable instance was as a young teen in Antelope Valley, California, when Rich popped off a school record 35 pull-ups. Witnessing the impressive display, a teacher invited Rich, then a gymnast, on a climbing trip to Dome Rock in Sequoia National Park.
The experience changed Rich's life, introducing him to an exciting new sport that he would pursue passionately as he became one of the world's preeminent adventure photographers.
"I fell in love with climbing immediately," Rich writes in his 2019 book, Stories Behind the Images: Lessons from a Life in Adventure Photography. "It was a physical, mental and emotional experience—challenging in every meaningful way. And it was all taking place in a beautiful wild setting unlike any I had ever seen before."
Another time, on a photo shoot in Panama for the Discovery Channel show Man vs. Wild, Rich got wrangled into a pull-up challenge by the all-British film crew. After whipping them all, including the show's star, Bear Grylls, the new guy with the camera was promptly welcomed into the Brits' clique.
"It not only helped me make better pictures on that trip, but I got to make some great new friends as a result," Rich writes in a "sneak peek" on his book's website, which appears with an artistic, close-up portrait showing only half of Grylls' mud- and sweat-covered face.
The image and accompanying narrative represent one of 56 fascinating tales that Rich chronicles in his book. A glimpse into the action-packed life he has lived, these stories take place in some of the most remote locations on the planet and involve some of the world's most iconic athletes—names like Alex Honnold, Fred Beckey, Tommy Caldwell, Kelly Slater, Chris Sharma, Rebecca Rusch and more.
And yet, Stories Behind the Images barely scratches the surface of what Rich has accomplished in his adventurous career.
A Love Affair with Rock and Camera
It all started with the pull-up contest at Quartz Hill High School, and the serendipitous climbing trip that resulted.
Rich was so enchanted with the beauty and challenge of the sport that he borrowed his father's camera the same week, realizing that photography was not only a way to capture the essence of what it felt like to climb, but a motivator to get out there and climb more often.
"As soon as I fell in love with photography, I consumed as much information as I possibly could. I soaked it up like a sponge," says Rich.
He checked out every photography book at the library, took community college classes, attended seminars, and signed up for the high school yearbook and newspaper. Whenever possible, he embarked on climbing trips with camera in tow.
"I always wanted fresh, surprising experiences," says Rich. "As soon as I'm bored, I'm less creative. I look to be put into experiences that I don't know how or if I can pull it off."
By the time he entered college at San Jose State in 1995, Rich was running a freelance adventure photo business out of his dorm room. He took a semester off to wander around the West in his beat-up Honda Civic, climbing and taking pictures along the way.
Career Pursuits
When Rich returned to college he realized he had a knack for producing amazing images, and while he wasn't sure yet how to make a living, he knew that he wanted a life dedicated to both outdoor adventures and photography. He quit college to pursue his dream.
While he ended up three classes short of his degree in mass communication and journalism, he never looked back. Rich's images were soon appearing on the cover of Climbing magazine and Rock and Ice as he established roots in South Lake Tahoe in 2003.
Meanwhile, Rich continued to travel the world—from Pakistan to Patagonia, Europe to Indonesia, Fiji to India—as his photography career opened the door to one wild adventure after another.
Two decades into his career, his work has appeared on close to 100 magazine covers, including National Geographic and Sports Illustrated. He's worked for the top businesses in the outdoor world, including Red Bull and Patagonia, and serves as a Nikon ambassador and member of the SanDisk Extreme Team.
"He is the hardest-working photographer I've ever met," says friend Chris McNamara, a big-wall climber, former BASE jumper and founder of Outdoor Gear Lab in South Lake Tahoe. "Corey never seems to struggle. He knows how to link together the coolest trips with the coolest athletes. I don't know of a time in the last 20 years when he hasn't been busy."
Rich spoke about the keys to his success at a TEDx talk in Carson City in 2016.
"All of the discomfort that is part of creating world-class images pays off," he said. "Partly in the images themselves, but also in the challenges creating joy in the accomplishments, and in the friendships created in doing it with the amazing group of people who are also dedicated to pushing themselves in the discomfort zone."
Over the past few years Rich has discovered the power of video, and his focus has moved toward managing Novus Select, which creates films and videos for high-end advertising and corporate communications for Fortune 100 companies. It's a new challenge and has meant a cutback in the time he spends traveling the world on photo shoots. But Rich's priorities have changed as he seeks to spend more time with his wife and 6-year-old daughter.
"I can't go to Pakistan every year," says Rich. "I want to have a family and buy a house."
Good Living
Rich's home base on Tahoe's South Shore not only provides climbing opportunities right out his back door, it continues to serve as an ideal launching point for his bigger pursuits, which are often not far from home these days.
"Between Donner Summit and Lover's Leap, and the enormous amounts of bouldering in and around the Tahoe Basin, we have real climbing and we have a fair amount of it," says Rich. "But I think what makes us so unique is that we have very quick access to Yosemite National Park, which arguably is the mecca of rock climbing on the planet, and the entire Eastern Sierra…
"We are neighboring some of the greatest climbing in the world."
For these reasons and many more (Rich is also an avid skier and mountain biker), living in Tahoe is something he does not take for granted.
"I always feel fortunate that I can function at a national and international level and be based here in Tahoe," says Rich. "The breed of folks who live in Tahoe want to ski and mountain bike, but we also want to do our best work. We appreciate the outdoors but are also consummate professionals…
"I want to live in the most beautiful place on the planet. That is Tahoe. I need to never lose sight of this opportunity."
For Rich, climbing and photography are his two passions that will always be intertwined. But in his line of work, that thin divide between life, work, adventure and athletic pursuits has become even thinner over time. And often, it disappears altogether as he pursues those magic moments in the mountains—some captured on film and some simply committed to memory.
"I feel that the older I've gotten, the more life and work has blended seamlessly together," says Rich. "I feel fortunate about that. In my world, I can be taking pictures, skiing, planning the next trip, and it is all part of the same passion. I can honestly say that it never feels like I'm working."
---
Tim Hauserman is a nearly lifelong Tahoe resident who enjoys writing about the inspiring people who call this region home.
---
Not Your Typical Photo Book
Stories Behind the Images: Lessons from a Life in Adventure Photography is an entertaining and thought-provoking look at the world of an adventure photographer, and how he creates the amazing images that readers marvel at in magazines.
The book focuses on some of Rich's favorite and most impactful images, with chapters describing the story behind each one. It's a tale of how hard work, the patience to wait until the lighting is just right and a bit of good luck led to memorable images.
It's also a fun look at the quirkiness of people in the highest echelon of outdoor sports, including Rich's friend Fred Beckey, a climbing legend who, in his 80s, showed up at a fancy event in Seattle wearing a pair of climbing shoes and carrying a chalk bag. On another occasion, Beckey showed up at Rich's house and told him he wanted to have his picture taken holding a cardboard sign reading, "Will Belay For Food!!!" It turned into a memorable Patagonia ad.
While he downplays his ability, Rich is a world-class climber and adventurer who not only has to focus on the technical aspects of the sport, but also how to be in the right place and ready to shoot as others climb.
Aside from Rich's skills, it's evident that another key to his success is his ability to have fun with his friends and photo subjects, which makes them comfortable working with him.
Rich's book is an entertaining page-turner, suited for adventurers and non-adventurers alike. Find it anywhere books are sold.