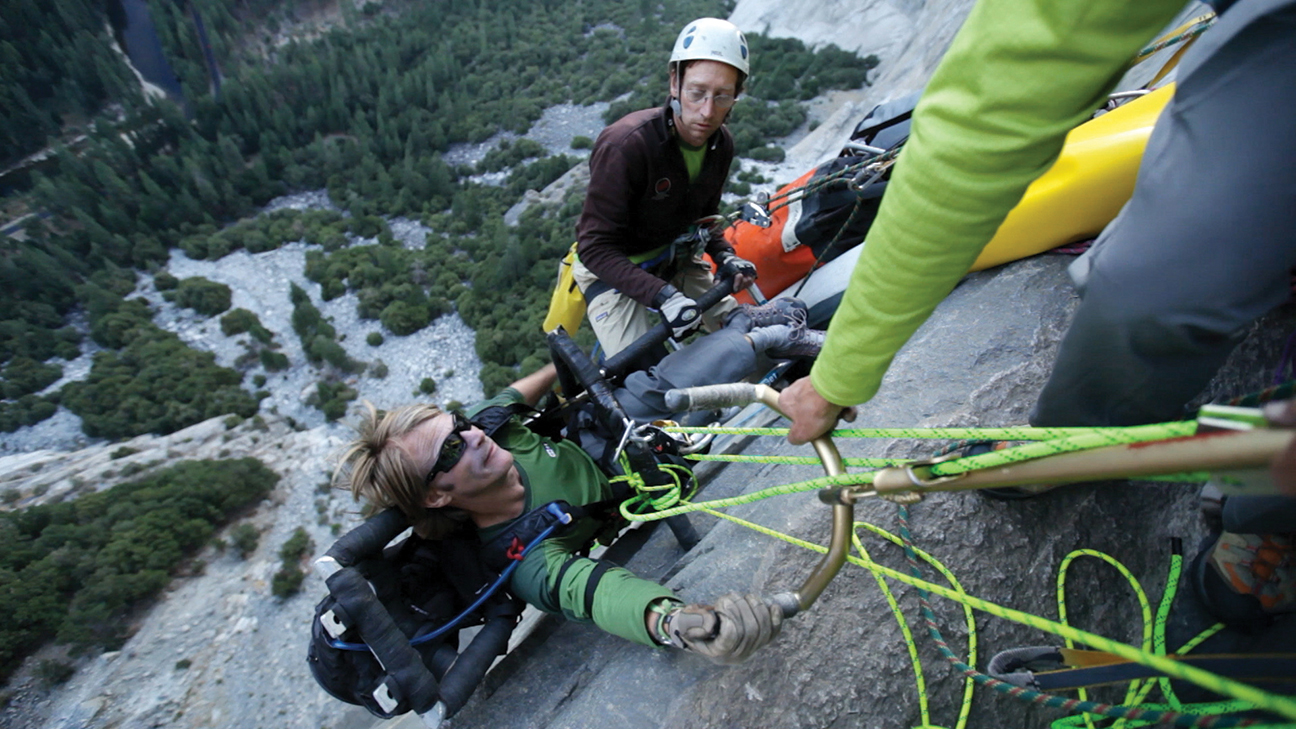 Stephen Wampler ascends Yosemite's El Capitan with support from climbers Dave Lane (white helmet) and Tommy Thompson, photo courtesy the Wampler Foundation
25 Jun

A Life of Lofty Achievement
Stephen Wampler's incredible ascent of El Capitan with cerebral palsy exemplifies his positive spirit and inspirational message that he passes on through his outdoor camp
Imagine looking up at a vertical slab of rock twice the height of the Empire State Building. You're not a climber. You're afraid of heights. And you were born with cerebral palsy, a condition that impairs muscle coordination.
Such were the challenges presented to Stephen Wampler as he stared up the precipitous face of Yosemite's El Capitan, intent on summitting the famous granite monolith through sheer willpower and grit—one grueling tug at a time, one day after another day for nearly a week straight.
"It was six days of just absolute torture, and I would say awe-inspiring too," says Wampler, who owns a home with his wife, Elizabeth, on Donner Summit. "The pure exhaustion of six to eight hours of constant pull-up after pull-up after pull-up, and the bright sunshine and heat, was just unbelievable."
While perhaps his most formidable challenge to date, Wampler's unlikely bid to scale "El Cap"—considered a rite of passage for even the most experienced rock climbers in the world—was far from the only obstacle he has overcome in his life. The well-documented feat was one of countless tests that Wampler has passed with flying colors since childhood, when he developed the infectiously positive attitude for which he is known to this day.
He credits his parents for instilling his can-do attitude from an early age, as well as a confidence-boosting wilderness camp near Lake Tahoe that he attended annually throughout his youth. The camp experience was so impactful, when Wampler learned that it had closed, he set a goal to one day open a camp of his own for children with physical disabilities in the wilds of the Northern Sierra.
Wampler, now 53, has lived out that dream for the past 17 years.
Thanks in part to the attention garnered from his El Capitan climb, which is featured in the award-winning documentary Wampler's Ascent, he and his wife operate the Stephen J. Wampler Foundation, raising funds to send children with disabilities to weeklong summer camps on the shores of Deer Lake on Donner Summit.
Camp Wamp (Wheelchair Adventure Mountain Programs) allows Wampler to provide others with the same opportunities that empowered him to a life of achievement—and to impart his message of living life to the fullest, regardless of challenges.
A Product of Positivity
Wampler was born with a severe form of cerebral palsy, a diagnosis that meant he would use a wheelchair for life. But other than that, he was no different than his four siblings or friends in his Lafayette neighborhood. That was the mindset his parents established during his youth, which set the foundation for what Wampler would become.
"Part of the appeal that is Stephen is that he was just born with a good attitude," Wampler's wife, Elizabeth, says in the documentary film. "And secondly, I think that, since his parents didn't allow him to have any sort of negative attitude about his disability, he didn't. They had an attitude that suggested that it wasn't going to change for him. His disability is permanent, and oh well. Go play. Go have a big life."
From an early age Wampler showed a love for adventure and the great outdoors. Recognizing this, his parents enrolled him in an Easterseals Wilderness Survival Camp in the Lost Sierra north of Tahoe when he was 9 years old. He attended the weeklong summer camp through his teenage years, participating in outdoor activities that challenged him while further boosting his sense of self-reliance.
"A man named Senator John Nejedly bought the land so he could open the camp to kids like me to get out into the woods. I was (9) years old. I had no idea where I was going, but I was going away for a week," says Wampler. "And the camp absolutely changed my life."
The time spent in the rugged outdoors helped Wampler discover a life without boundaries, full of promise and possibility. He came to realize that limitations existed only in his mind.   
A scholarly student, Wampler went on to attend the University of California, Davis, earning a degree in environmental engineering in 1992 and landing a job in Coronado near San Diego the following year. He and Elizabeth crossed paths in the San Diego social scene on several occasions and ultimately discovered that they shared many of the same interests and values. 
After about three months of friendship, Wampler worked up the courage to ask her out. Elizabeth says she knew after that first date that she wanted to spend the rest of her life with Wampler. The couple married in 1995 and raised two children.
Pursuing Dreams
Starting a family did not deter Wampler from accomplishing one of his major life goals—to provide "life-changing experiences" for children with disabilities through his own mountain camp, just as he had experienced himself as a youth.
With full support from his wife, Wampler launched Camp Wamp in 2002.
They initially held the camps at rented campsites throughout the Northern Sierra. But in 2017, thanks to the generosity of an anonymous donor, Camp Wamp settled into a permanent new campus on the shores of Deer Lake, an ideal location that formerly served as a Girl Scout camp for some 55 years.
Camp Wamp offers children a place to sleep under the stars, learn about the natural environment, fish, kayak, sing around a campfire and participate in survival challenges on a private lake. Camp counselors get children actively involved in programs centered around the outdoors while promoting a belief system that they can accomplish anything with the right attitude.
Understanding the financial burden of raising a child with a disability, the Wamplers raise funds through donations to the Stephen J. Wampler Foundation to cover all camp costs for participating families. But while the foundation manages to send more than 100 children to camp each summer, the fundraising challenges are never-ending.
Wampler took it upon himself to bring awareness to the foundation while promoting his message of hope and inspiration in 2010, when he became the first person with cerebral palsy to climb El Capitan.
"This epiphany came to him and he realized he could do something athletic. But not only was it athletic, it was as big as it gets," Elizabeth says on the Wampler's Ascent documentary, which must be seen to truly appreciate the magnitude of the undertaking.
Wampler's Unfathomable Feat
To prepare for his roughly 2,900-foot climb up the sheer face of El Capitan, Wampler worked for 18 months with a personal trainer. He trained up to five hours a day, six days a week, doing 3,000 pull-ups a day along with sit-ups, leg-lifts and weightlifting. He also learned how to use a system of ropes to pull himself upward, knowing he would have to rely solely on his upper-body strength.
Wampler designed a custom climbing seat fashioned from a low-slung beach chair, borrowing ideas from Truckee resident and fellow adventurer Mark Wellman, who was the first person with paraplegia to climb both El Capitan and Half Dome.
Although Wampler initially practiced climbing with some of Wellman's gear, it didn't work out given his unique physical disabilities. His condition required a setup that allowed him to use his hands to pull himself upward in small increments, as he would need to execute some 20,000 pull-ups, 2 to 6 inches at a time, over the course of six grueling six- to eight-hour days.   
Given the circumstances, Wampler required the assistance of two expert climbers, Tommy Thompson of Encinitas and Dave Lane of Mammoth Lakes.
Thompson and Lane proved instrumental to the mission, helping "the Wamp," as they fondly referred to their friend, slowly inch his way up the massive monolith. In fact, the two climbers displayed incredible patience and wisdom throughout the climb, offering reassuring advice and encouragement when needed, but also voicing realistic concerns about Wampler's well-being as he struggled to make upward progress.
Some days were more difficult than others.
On day four, Wampler chose not to chat with his wife and kids via walkie-talkie, as he had done on previous days. He was in ragged shape, exhausted from the tremendous amount of energy he had spent. But he was also focused. He had a goal to attain, and failure was not an option. 
Later that day as he dangled in the baking September sun, Wampler admitted that he could no longer control his left arm because of fatigue. "I don't feel well," he said to his climbing partners. "I think I'm going to pass out."
With the trio more than halfway up the face of El Capitan, well past the point of no return, Wampler's odds for success were looking grim. Yet he powered on, eventually reaching his stopping point for the day in the darkness of night. It was the low point of the climb.
Concerned, Lane and Thompson conceived a plan to sleep in the next morning and cover less distance during the day to conserve energy for one final big push to the top on day six. Come morning, after receiving some words of encouragement over the radio from renowned climber Todd Offenbacher, a rejuvenated Wampler pushed on.
He had tapped into a second wind, and with renewed vigor he continued up the famous granite face until there was no more rock to climb.
Wampler was greeted on the summit by a group of Marine friends, who volunteered to carry him in rotating shifts on the nine-hour hike back to the valley.
While he expected to see the Marines at the top, Wampler was pleasantly surprised when his 10-year-old son, Joe, popped out from behind a rock cairn to congratulate his father. An emotional Wampler broke down and cried as he pulled his son into his weary arms, his improbable goal achieved.
A Lift on Live TV
Just over a decade later in December 2020, Joe, a sophomore at Louisiana State University, surprised his mother and father with a special Christmas gift as the Wamplers were sharing their story on Good Morning America.
Joe and his sister Charlotte, a senior at University of Southern California, appeared on the show from a remote location, which was a surprise in itself for their parents. Then they proceeded to explain the details of their present: They had launched a social media platform to bringing awareness to the Stephen J. Wampler Foundation. After creating the TikTok account with a video describing the foundation, Charlotte and Joe awoke the next morning to discover that the message had gone viral with followers.
But that's not all. In addition to the successful social media account, Joe also entered, and won, a competition hosted by Chipotle and social media star David Dobrik to have a burrito named after his family. His prize was a "Wamp-urrito" on the Chipotle menu and $10,000, which he donated to his parents' foundation.
As the Wamplers took in the exciting announcement in real time, Dobrik appeared on the show to deliver more good news. Chipotle, he informed, was donating another $25,000, plus proceeds from a portion of its sales during the month, which amounted to about $250,000.
"Both my parents work tirelessly to show other parents raising kids with disabilities—and those kids—that a happy and full life is ahead," Joe says on his TiKTok post. "Social media is a great way for them to have happy, hopeful and meaningful conversations with them." 
Inspiring a New Generation
Stephen Wampler doesn't feel the need to climb any more mountains. Instead, he's focused on providing life-changing experiences for children with disabilities through the same outdoor adventures that he enjoyed as a youth.
"The message of the climb and the foundation we developed is to get kids with physical disabilities outside in the great outdoors," says Wampler. "You don't have to climb El Cap, but you need to have dreams, whether you have a disability or not. Everybody can dream. And with the right attitude you can achieve anything you want."
Wampler's life journey has taken him from a modest upbringing to a successful career to the pinnacle of the climbing world, his loving family at his side. The camp he attended as a child opened his eyes to a world of possibilities and hope for what he could achieve—and now, he feels a responsibility to give back and help other children with disabilities on their own journeys in life.
Camp Wamp is his way of paying it forward.
"You may have disabilities. You can be mad about it or sad about it. It's not going to change," says Wampler. "Don't miss out on life. We're only here for a brief period of time. Might as well make the most of what you have."
---
For more information about Camp Wamp or to donate to the foundation, go to stephenjwamplerfoundation.org.
---
Michael Kennedy is a Squaw Valley-based pilot and visual storyteller. He is honored to tell the story of true American heroes.