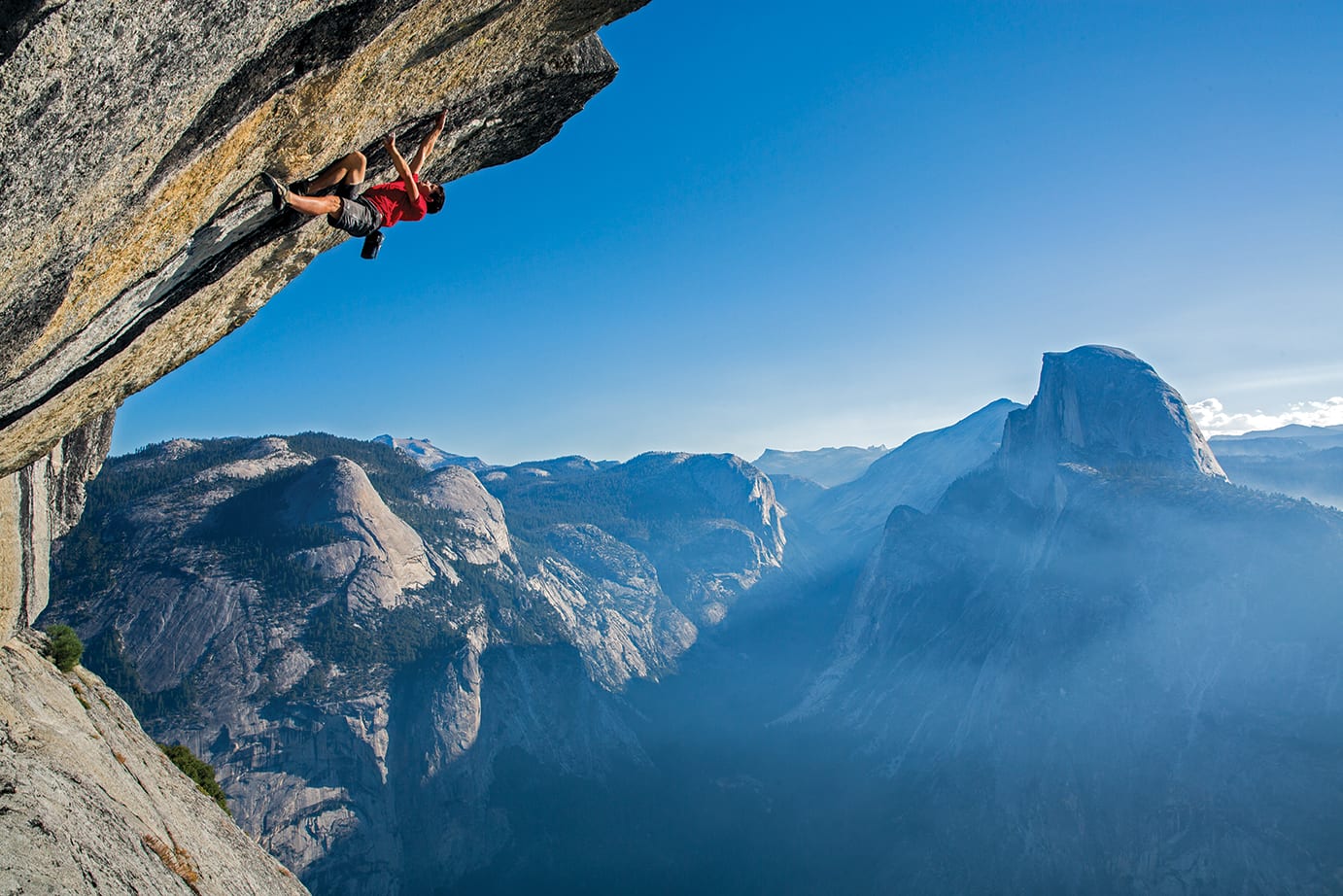 Alex Honnold is known for his daring free-solo climbs in Yosemite National Park, photo by Jimmy Chin
27 Sep

Haven for a Famous Rock Climber
Fresh off his starring role in Free Solo, Alex Honnold is seeking out challenging new routes in the Tahoe Basin with Charlie Barrett
Alex Honnold is hunkered down in an airport in Detroit, preparing for a flight to Seattle. He's been doing a lot of waiting for airplanes to take off and land as of late, going to various events to promote the documentary based on his historic ascent of Yosemite's El Capitan, Free Solo.
The film won an Oscar for best documentary and has since racked up Emmy award nominations.
"It's been a bit of a whirlwind," says Honnold.
While boarding the flight a stranger accosts Honnold, sharing with him her love of the film that captivated millions while earning widespread acclaim.
Honnold has garnered fame since he first started audaciously ascending some of the most daunting rock climbing routes in the world without safety ropes. But his recent starring turn as the subject in a widely praised documentary has brought the soft-spoken athlete even more attention.
"It's nice to hear how much people enjoyed the film, but it can make me a little more self-conscious," Honnold says.
Tahoe Escape
So this past summer, Honnold followed the footsteps of many a California-based celebrity and repaired to the shores of Lake Tahoe.
The already legendary rock climber and free-solo artist has been spotted at several crags on the South Shore, including Cascade Cliffs—a cliff band wedged in between Desolation Wilderness and Cascade Lake marked with dark vertical water streaks. Crowds have gathered at South Lake Tahoe's local climbing gym, Blue Granite, to watch Honnold ply his craft, and the professional climber's Instagram account is strewn with photos of the region's gray granitic cliffs and Tahoe's inimitable sunsets.
"My family has a place right by Stateline and I grew up spending summers there," says Honnold, who was born and raised in Sacramento.
Tahoe not only functions as a haven for Honnold, but the Basin offers climbing opportunities as profuse as they are varied. 
Yet, there is one problem. Despite boasting hundreds, if not thousands, of climbing routes, the Tahoe area has virtually no rock walls that are difficult enough to challenge a climber of Honnold's ilk.
"Tahoe has an incredible amount of casual climbing," he says. "Lover's Leap is one of my favorite places. It's where I learned to free solo. But there's just nothing hard there."
So Honnold has been forced to grapple with solutions. He's come up with two.
The first involved building an indoor training facility in the garage of his family home, something Honnold spent much of his summer doing.
The second solution centered on sifting through the multiplicity of routes in the Tahoe Basin on the hunt for previously undiscovered lines left fallow by previous generations of climbers who lacked the temerity or skill to develop them.
Seeking New Challenges
This is where Charlie Barrett enters the picture.
A friend of Honnold's and a strong climber in his own right, Barrett is primarily known for pioneering some of the hardest bouldering routes in California. He wrote a series of guidebooks highlighting some of the most difficult problems in areas throughout Yosemite National Park and the Eastern Sierra.
Originally from Santa Rosa, Barrett spent the past decade and a half living in the Eastern Sierra, sharing time between Bishop and Mammoth Lakes, before moving to South Lake Tahoe during the past year.
While bouldering is Barrett's primary bailiwick, he is also a strong wall climber, according to Honnold—evidenced most recently by the discovery and development of a route called Mortal Kombat on the Space Invaders wall a couple miles off Highway 50 near South Lake Tahoe.
The route is difficult enough for Honnold to be able to climb at or near his physical limit, an important evolution for a climber who is attempting to expand his climbing repertoire.
While Honnold is famous for the peerless valor displayed during free-solo ascents, he is currently intent on developing his strength and technique to the point where he can climb the most physically demanding routes in the world.
"I'm not necessarily known as a strong climber, I'm known more for psychological strength," Honnold says. "But I'm putting more emphasis on the physical side of the sport."
Barrett says Honnold is underrated as a pure rock climber and is capable of taking on the sport's most demanding lines.
"He's one of the best climbers from the United States," Barrett says. "He's got it all. Just a well-rounded climber."
Barrett sees his recent discoveries of hard routes in and around the Tahoe Basin as serving a dual purpose. On the one hand, it raises his own profile as one of the stronger athletes in the game at present. "I've had a couple of spurts of publicity here and there," Barrett says. "But the people that know, know."
Honnold, for one, agrees: "Charlie is a very strong, naturally talented climber."
Barrett's other purpose at Tahoe is to suss out some of the more difficult lines, routes so hard they haven't been attempted, so he can pass them off to his buddy Honnold to help in his quest to gain sure purchase in the pantheon of pure rock climbing athletes.
Pushing the Limit
Mortal Kombat, the new route at Space Invaders, is rated 5.14a on the Yosemite Decimal System.
First devised by members of the Sierra Club in the 1950s, the classification system is meant to rate the difficulty of walks, hikes and climbs. The first number refers to the class of a walk—with "class one" indicating a flat walk, whereas "class five" is primarily rock climbing. At its advent, class five grading spanned 5.0 to 5.9.
But as technological breakthroughs, particularly related to footwear, continued to advance, the grading system expanded. Today, 5.9 is considered a moderate route that just about any decent athlete with a few weeks of practice could climb.
In the 1970s, the best climbers started to knock out routes previously considered impossible, with Ray Jardine, Pete Cleveland and Tony Yaniro completing routes graded at 5.13 between 1977 and 1979.
When Yaniro put up a route in 1979 he named Grand Illusion at Sugarloaf, a mammoth granite spire that looms over the town of Kyburz on Highway 50, it was considered the hardest rock climb in the world.
Two year prior, in 1977, Jardine became the first person to put up a route rated 5.13a when he climbed The Phoenix in Yosemite, a 160-foot precipitous ascent along a finger-thin crack cutting through sheer and slick granite.
To give an idea of why Honnold is so revered, he free-soloed The Phoenix in 2011, climbing the route once considered impossible in about eight minutes without safety ropes, where one slip, one mistake or one misplaced hand or foot means certain doom.
New Heights
Honnold has his eyes set on the new pioneers.
The first 5.14 was climbed in 1985 in Australia. Today, the best climbers in the world—the elite few like Chris Sharma, Alex Megos and Adam Ondra—are putting up 5.15 climbs.
That type of rarified air is what drives Honnold to build a training facility in his garage to work tirelessly on the physical aspects of his craft.
It remains unlikely that the Tahoe Basin will yield a 5.15 climb capable of attracting the advanced guard of modern rock climbers, but the fact that Barrett and Honnold are discovering climbs with advanced difficulty like Mortal Kombat bodes well for the area's ability to attract elite climbers on the hunt for a challenge.
Meanwhile, two of the foremost climbers in the Sierra are calling Tahoe home for the foreseeable future.
"Tahoe continues to impress," Honnold wrote on an Instagram post in July.
Their continued residence and partnership means more routes like Mortal Kombat are likely in the offing. 
This correspondent talked to Barrett while he was dangling from a belay ledge at Lover's Leap working on a route that has the potential to be the most difficult on the cliff. "It's not tapped out here, and that's all I'll say," Barrett says.
Honnold says he appreciates Barrett's diligence and line-hunting instincts.
"He's been developing more so than me. He's been more exploratory, but he's got more time," Honnold says as he prepares to board his plane.
But the partnership works. Barrett doesn't mind putting in the grunt work of discovery, imagining a line, bolting it, testing it over and over to see if it goes.
And if it does indeed go, and if the moves are difficult and require effort and the vertical line just cries out to be climbed, Honnold is happy to oblige.
---
Matthew Renda is a Santa Cruz–based writer and former Tahoe resident. He rock climbs with a pronounced flair for mediocrity.