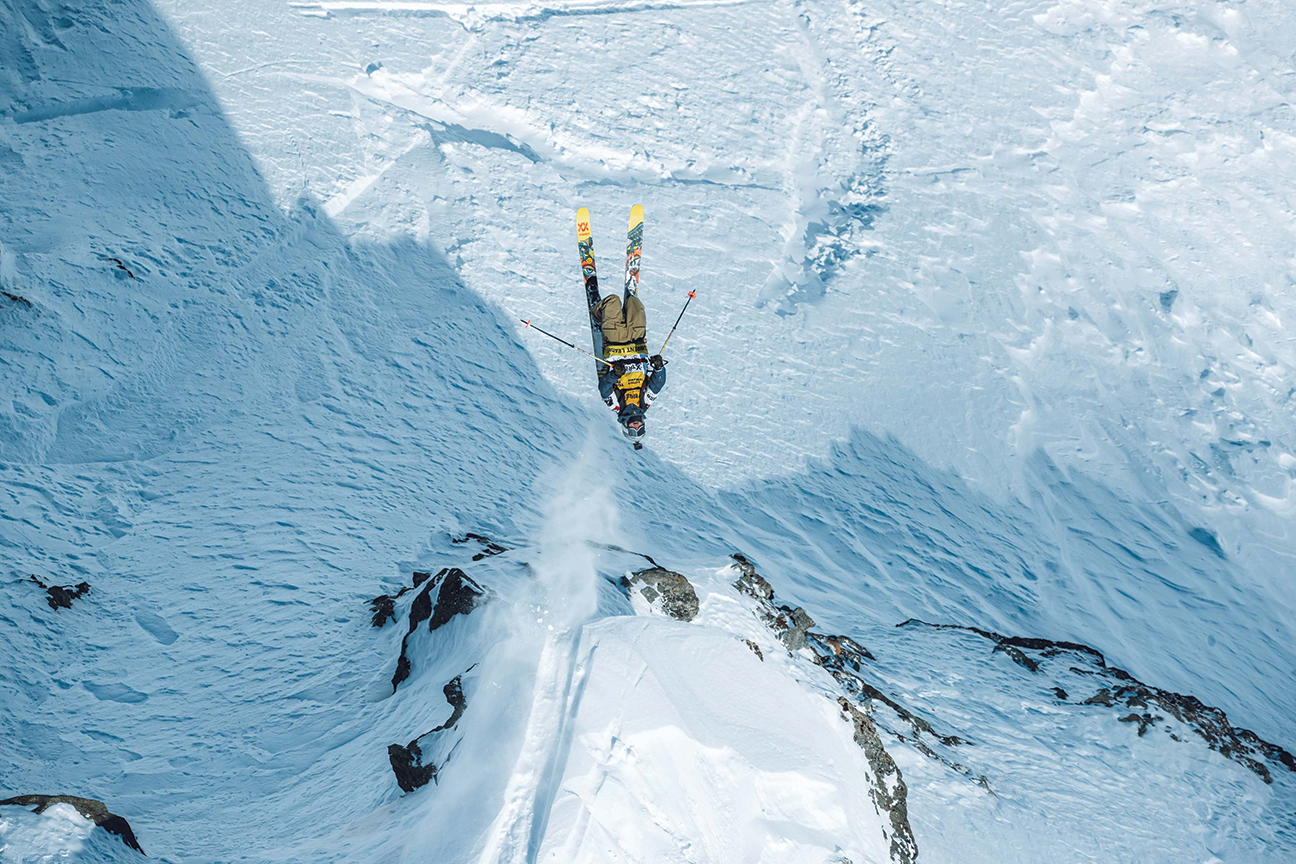 Ross Tester throws a massive backflip on the last stop of the 2021 Freeride World Tour on the Bec des Rosses, photo by Jeremy Bernard, courtesy FWT
27 Sep

It Takes a Village to Raise a Freerider
From the local contest circuit to the pinnacle of big-mountain competition, Ross Tester's rise to elite status can be traced back to the deeply nurturing Tahoe ski community that raised him well
Ross Tester skis with what seems like wild abandon. Huge double backflips and enormous cliff drops punctuate fluid and fast lines that have landed him on the podium of the world's most prestigious freeskiing competitions. But behind the Tahoe-raised skier's daredevil achievements is a calculated mindset and wise-beyond-his-years approach to the sport.
It's this maturity that makes Tester both a young phenom and a mature veteran at age 22, with sensible advice for the next wave of talent coming up behind him.
"I want to make sure the kids know that if they're an athlete, they have to move on to something else at some point. I'm always advocating for kids staying in school," says Tester, an undergraduate student at University of Utah.
Consider what Tester has already accomplished: 50-plus contests, tons of podiums, a junior world championship title, a segment in a major ski film and, most recently, a second-place overall finish on the Freeride World Tour (FWT) in his rookie season.
He's got an old man's level of experience about the ski industry, but with the springy legs and steady confidence of an early-20s Tahoe prodigy who is still on the rise.
"Ross is the classic Squaw progeny—the skier who can do everything," says Scott Gaffney, director of Matchstick Productions, which showcased Tester's ability in the 2017 film Drop Everything.
"He's got serious skills in every freeskiing facet, and he mixes it all with such a playful, smooth, floaty style, whether he's flipping, spinning, buttering or pinning it through gnarly terrain," adds Gaffney. "Maybe that's partly because he goes so big all the time—he gives himself time to float. He operates with a 'full send' comfort level that is both impressive to watch and a little bit scary, but things usually end up just fine because he's so damn good."
A Freeskier in the Making
Tester's parents, Julie and Dan, met in college and moved to Tahoe in 1990. They landed swing shift jobs at Squaw Valley and skied all the time. The couple had Ross in 1999 and his younger brother Alan a few years later. They put Ross on skis at age 3 and enrolled him in the resort's Mighty Mites learning program. He got good fast.
"He could outski both his parents by the time he was 10 and quickly matched the abilities of the older kids," says Tester's father, who works as the VP of business development at Granite Peak Management.
Skiing remained the focal point through adolescence, but Tester had a passion for sport in general. Tall, skinny and athletic, he excelled in cardio-heavy sports. He played soccer, ran cross-country and track, and mountain biked all over Tahoe.
"I love taking any inspiration I can from other sports. Even soccer, for example, can play into my skiing strategy, and how you move down the mountain," says Tester, an all-state talent on his North Tahoe High soccer team before graduating in 2017.
Tester was a successful ski racer in his youth, but he found it "boring." His father says he was "pissed he had to race gates," as he was always a bit of a daredevil and leaned toward jumping off things. Around 9 years old, Tester made a deal with his parents: If he won his upcoming race, he would never have to race again. He summoned a budding ball of competitive fire, won the race and moved on to the steeps, cliffs and general insanity of the big-mountain realm. 
In the winter of 2007-08, former professional big-mountain skier Eric DesLauriers started the Squaw Valley Big Mountain Team, a formalized path for young skiers and boarders to experience an all-mountain ski education while competing in the Tahoe Junior Freeride Series (TJFS). The local big-mountain series appealed to Tester and a generation of like-minded young skiers who didn't want to be confined to racing, or even the terrain park.
At the same time, the junior competition scene was ramping up beyond the Tahoe Basin as well, providing Tester and his teammates the chance to compete on other big, steep, gnarly mountains across the West.
DesLauriers, who spent many years coaching Tester, describes his skiing as "creative, sound and inspiring."
"He always pushed himself, but could temper himself when needed, more so than a lot of the other kids," says DesLauriers, who, like others who have worked with Tester, describes him as coachable and humble—and someone who always internalizes the advice of coaches and peers.
"At a certain level, [coaching Tester] came down to a consulting role," says Allie Donavon, a coach through his earlier years of competition. "It got to a point where he was so well-versed in line selection that he was more running his ideas by us and seeking input on what to do."
And he simply loved it. Donavon recalls a day when she filled in to coach the group of young high-level boys on the big-mountain team. It happened to be pouring rain that day, and she figured the kids might not show up. All the boys canceled except Tester, who was waiting for Donavon at the Funitel, fired up to ski. 
Scoping Tester's Instagram or FWT runs, it may seem like a headscratcher that double backflips, 60-foot cliffs and hyper-aggressive comp lines correlate with being calculated, but that's simply the level he has achieved. That is under control. Even dad agrees.
"I'm comfortable to this day with Ross' training and decision-making, and that's due to the team's emphasis on solid decision-making," he says. Even so, he admits that he gets stricken with anxiety, and a touch of nausea, when watching his son compete.
Rising Talent
Tester ascended through the junior freeride scene, gaining recognition as an early standout and becoming a recognized name worldwide among the junior ranks.
He picked up numerous sponsors, such as Volkl, Marker, Dalbello, Backcountry Access and Flylow, while he hopes to gain sponsorship this season from Arcade Belts. The latter would connect him to local big-mountain legend and Arcade Belts co-founder Cody Townsend, one of Tester's ski heroes along with Elyse Saugstad, Tanner Hall, the Gaffney brothers, Shane McConkey, Erik Roner and others.
Tyler Curle, 23, a fellow big-mountain competitor and friend from Tahoe, remembers Tester consistently vying for the top spot in his competitive TJFS age division, which included Sugar Bowl Freeride Team standout Xander Guldman, as well as Curle.
"He's soft-spoken but has a huge inner competitive drive to achieve self-satisfaction," Curle says of his friend.
Toward the end of his grommet years, at 17, Tester gained international acclaim by winning the Junior Freeride World Championships in Andorra, an invite-only event reserved for the best junior skiers and boarders in the world. Kerry Lofy, Tester's coach during his later teenage years, was at the bottom of the venue with a radio. He relayed to Tester that most kids were crashing due to the low light and funky snow.
"I told him to just do his thing, keep it mellow, and he'd win," says Lofy, who encouraged Tester to back off the big tricks and features he'd been obsessing over for days.
Naturally, Tester wanted to go full bore on what was his biggest stage yet, but he decided to oblige his coach, and ended up winning the day.
"At first he was bummed about it, and he didn't think he deserved to win, but later came to see that he skied the best out of the field that day," says Lofy.
After turning 18, Tester battled it out for a few years on the Freeride World Qualifier (FWQ) circuit, the feeder series for the pinnacle of big-mountain competition—the Freeride World Tour. He took a few too many crashes and didn't place well initially, but he found his groove again in the 2020 season and was in first place in the overall North American rankings when COVID-19 cut short the last events, thereby punching his ticket to "the big-boy tour."
"Through my upbringing, through the freeride scene, I definitely felt confident that I could make the tour. It lined up well, I guess," says Tester in a chill and humble Tahoe tone of voice. He sometimes adds "I guess" at the end of a sentence, which doesn't come across as flippant, but more that he's still making sense of how lucky he is.
A Year to Remember
During his first year on the FWT, Tester faced heaps of adversity. Snow levels were low in Europe, the events in Japan and Canada were canceled due to COVID and restrictions made traveling difficult. Additionally, he had to switch from on-venue inspection—the standard in all comps he'd done thus far (except for Junior Worlds)—to visual inspection. In the latter, competitors don't get to ski on the venue beforehand to survey the features and the snow quality. This conserves snow conditions and makes for a better, powder-laden show, but also requires an intense self-trust to know where you are going.
Tester's peers remained optimistic about his odds.
"He's just competing against himself when he's on," says Curle. "He's basically in that category of athletes where if he doesn't fall, he will win."
At his first FWT event in Andorra, Tester blasted a technical 360 at the top of the line into a pinpoint landing between rocks, then rounded out the run with powerful skiing and stylish airs. He placed first. He crashed at the second event, but came back to win again at the third stop in Fieberbrunn, Austria. Three stops in, his crash-or-win record was flawless.
The FWT always concludes in Verbier, Switzerland, on a rocky, globally feared face called the Bec des Rosses. The athletes started from an alternative start gate in 2021 due to low snow, but it was still serious business.
Entering Verbier, Tester was ranked first overall, and if he finished anywhere on the podium, he'd be guaranteed the overall tour win. He had a line picked out but had to change plans mid-run. Winging it, he found a clean ramp and threw about as big a backflip as anyone on the tour did all year, with a flawless four-point landing.
"I briefly scoped out a cliff slightly to the right of where I was going but bagged it because it looked too big and flat. But when I found myself pointed straight at it, I thought it would be the wow factor I needed, so I went for it," says Tester.
He earned fourth, missing third by .67 points (out of a 100-point scale), and thus finished the season in second place to Kristofer Turdell. Tester was named Rookie of the Year.
Onward and Upward
Tester is psyched to go back on tour in 2022 and has ramped up training in his new home of Salt Lake City this summer and fall. He entered a grueling 7-mile trail race in July, his first running event in 10 years, and finished 26th out of 500 runners. He bikes and hikes around Salt Lake and Park City as well, and uses the gym and Park City Woodward's trampoline facilities. It's casual intensity.
"I try to keep to a semi-formal plan, but obviously freeride has that aspect to it where things are constantly changing, so you have to prepare yourself for that too," says Tester, who also started a freeride club at University of Utah.
Tester wants to do more tricks in his runs this season and up the freestyle influence that is progressing every year. He hints that if he accomplishes his goals for 2022 on the FWT, he may want to move on to other objectives outside the competitive realm, but he is without set details. He is also close to finishing a degree in strategic communication, and is pondering where college might take him.
Whatever the future holds for Tester, the support that started on day one and got him where he is now isn't going anywhere.
"At one point I was hoping he'd get into Nordic skiing," says his dad half-jokingly, relishing the safety of staying on the ground. "But I just want him to be happy. If skiing is his dream, we support that, and we say, 'Get after it.'"
---
When learning about skiers like Ross Tester, Tahoe-based writer and snowboarder Dave Zook feels both inspired to get rad on the slopes and also very old.