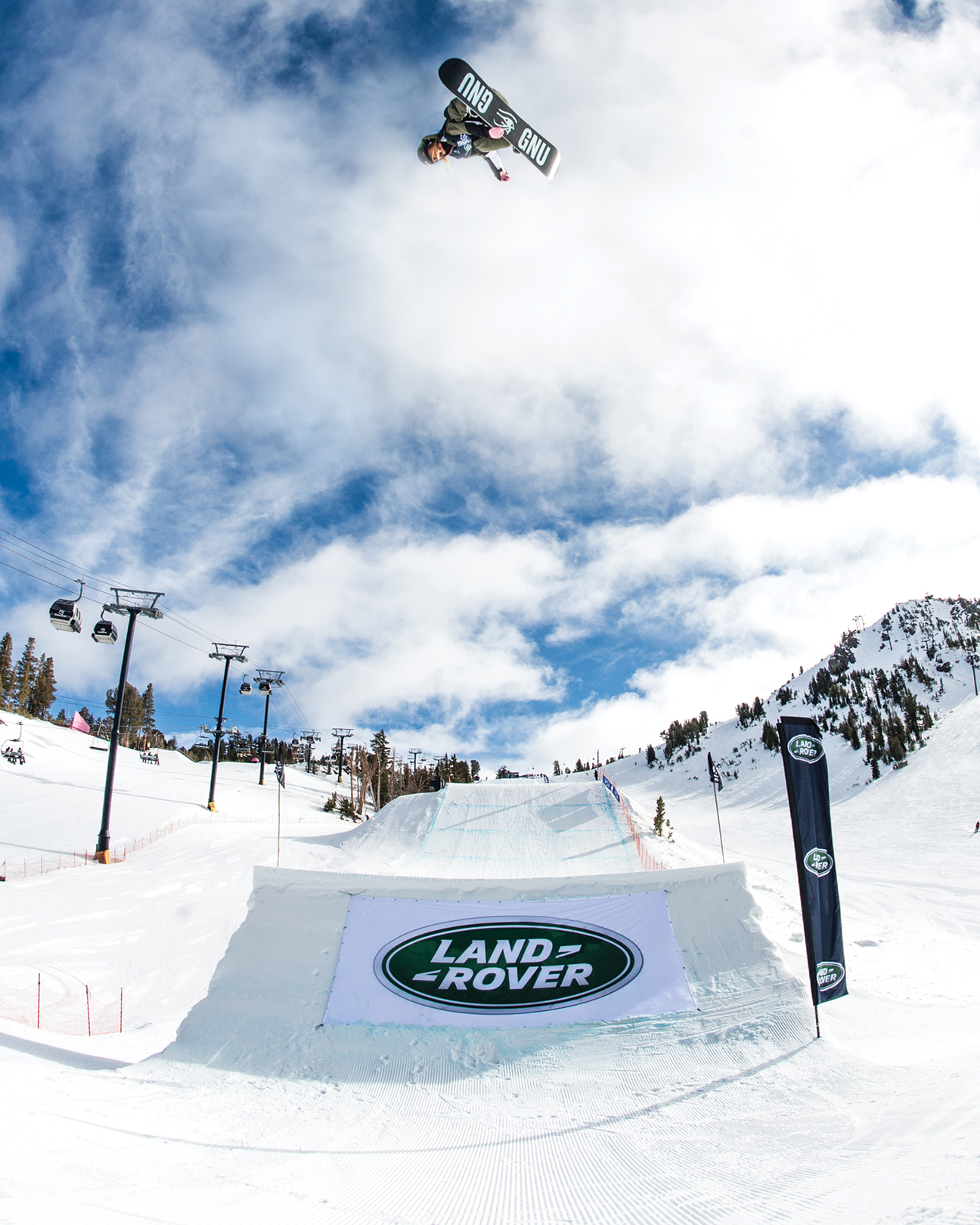 Jamie Anderson takes flight in the slopestyle qualifier of a U.S. Grand Prix event at Mammoth Mountain in 2020, photo by Mike Dawson, courtesy U.S. Ski & Snowboard
06 Dec

Calm Like a Bomb: Jamie Anderson's Uncanny Ability to Excel in the Clutch
The South Lake Tahoe snowboarder's passive intensity has guided her to unparalleled success as she looks to defend her status as the world's best female slopestyle rider
Jamie Anderson didn't win 19 X Games medals and two Olympic golds without extraordinary talent. But the South Lake Tahoe snowboarder's skill in staying chill—that is, the ability to maintain Zen at the world's most tightly wound, high-stakes athletic events—is what sets her apart from her competition.
In fact, the intangible quality has practically brought her a celebrity of its own.
Even talk show hosts Ellen Degeneres and Conan O'Brien lightheartedly mocked Anderson's California-cool vibes after her first Olympic gold in 2014, while those who intimately know the grit and grind of pro snowboarding continue to marvel at her innate propensity to perform under pressure.
"She is in control of her mind and can pull herself into a space where she's completely mindful. She can rise above," says veteran professional snowboarder and Truckee native Kimmy Fasani.
Anderson is into yoga, Ayurvedic medicine, crystals, tree-hugging, clean-eating, meditation and more, which she has credited in part for her success—plus a soul-deep love for the sport, the mountains and fresh air.
But nearly 20 years after she first donned a competitive jersey, how does she maintain this relaxed focus year after year—pressure-filled contest after contest—at such a high level?
"There are just so many variables that are out of your control, so this year, being a little bit older, and having more wisdom from the year's past, I'm just going to try to enjoy the process," says Anderson.
Perhaps even the "how she does it" question is missing the point. There likely isn't a singular secret, other than the tried-and-true technique of working incredibly hard at something for almost two decades. Anderson is a snowboarder having a great time. That is what matters.
Blossoming From Sierra Roots
Anderson has lived in Whistler, British Columbia, with her boyfriend for the past five years, but her roots are entrenched in Tahoe. She is the fifth of eight children, born and raised in Meyers. She spent her youth home-schooled, and her family drenched themselves in the outdoors, with one place in particular—Sierra-at-Tahoe—holding a particular draw.
"I still think it's my favorite place to snowboard in the whole world. As a kid, we spent every single day there at the mountain," says Anderson, who learned to ride on a hand-me-down snowboard at age 9.
Sierra-at-Tahoe served as the family's daycare facility, and sponsored the Anderson sisters, as her older sisters Joanie and Stacie competed as well. John Rice, the mountain's general manager (back then and currently) helped the 10-person family with much-needed financial assistance, which allowed them to compete and gain recognition. They all impressed, but Jamie, in particular, skyrocketed.
Anderson first competed in the Winter X Games in 2004 at age 13—then the youngest athlete at the elite action-sports event. Two winters later she was the youngest athlete to medal, earning bronze. She has since podiumed in slopestyle every year she has competed, including 2021 (when she was the oldest competitor in her field).
She won the gold medal in slopestyle's 2014 Olympic debut, stomping a clutch final run in a dangerously huge terrain park that intimidated some of the world's best snowboarders—including Shaun White, who pulled himself out of the competition due to safety concerns. Anderson then repeated her gold-medal feat in 2018. (Her sister Joanie won an X Games gold in boardercross in 2007, the same day Jamie won her first gold in slopestyle.) 
Fasani knew Joanie and Stacie from the competitive circuit and remembers first meeting a 13-year-old Jamie—and being instantly convinced.
"She just had such style and grace as a little girl. I knew snowboarding was in good hands from that point on," Fasani says. "There's simply no one else in the industry that has had her consistency." 
Anderson has competed in rail events, halfpipe, boardercross and more, including the 2021 Red Bull Natural Selection—an event that combines freestyle features with natural terrain. Some years she's gone undefeated, as recently as 2020. To boot, Anderson has won three ESPY awards for Best Female Action Sports Athlete and competed on Dancing with the Stars and Celebrity Apprentice.
"Jamie has a world-class skill of being able to focus clearly no matter what the circumstance," says professional snowboarder Leanne Pelosi, who has spent many years riding with Anderson. "She is one of the greats, up there with Kelly Slater, Steph Gilmore and Shaun White. Her mental fortitude is what sets her apart."
The Human Side of an Elite Professional
Given her casual demeanor, and grocery-receipt-long list of wins, one might think Anderson is always stress-free, whistling in the breeze, all the way to the organic salad bar. But, she is real, and susceptible to the taxing pressures of anyone who flings themself in the air over 70-foot jumps under the watch of a worldwide audience and international media.
"She's not free of the stress and pressure, but she can overcome it, and she carries a childlike joy around the mountain," says Andy Finch, a former Olympic halfpipe snowboarder and Truckee resident whose competitive career overlapped with Anderson's.
Anderson recalls days when things were internally wonky during competitions, but she still dropped in.
"I've had times when I haven't been in a good headspace, and I probably should have pulled out of events, but I decided to push through, and I've had terrible crashes and accidents," Anderson says. She ruptured her spleen in 2009 during practice at the U.S. Open, for example. "Thankfully, I've learned from these situations, but it's so hard to know when to push and when to pull back."
Her story brings to mind Simone Biles and her much-publicized withdrawal from the team event at the Olympics this past summer, citing concerns for her safety. While Biles' decisions created a maelstrom of press and opinions, Anderson can relate closer to her situation than 99 percent of the population, as she knows the exhausting demands of Olympic competition.
"I think mental health and your overall well-being is so fragile when you're in the limelight and competing," she says. "You're beating your body down, and not just physically, but mentally, emotionally and spiritually."
At 31, her competitive career has no objective signs of slowing down, but park contests have never been her only pull.
"I'm excited for my next chapter of snowboarding," she says. "I really want to create more content. I want to film in the backcountry, and I want to travel to beautiful places and share a different perspective." She mentions Tibet, Nepal, India and Japan as potentials, but she doesn't have set plans.
The backcountry has always been part of her love for snowboarding, even if she is most known for her competition success. She explored areas like Blue Lakes and Blackwood Canyon in Tahoe during her formative years and has since filmed with the all-female cast of the seminal 2016 movie Full Moon (she appears in several other backcountry films as well).
"We brought her out to the backcountry when she was 15, so she's put in some serious time," says Pelosi, who produced and directed Full Moon. "Even if you're the best in the world, the backcountry takes some time getting acquainted with. As far as freestyle backcountry goes, she's extremely strong. She still has a lot to learn in big mountains and I have no doubt the more time she spends out there the better she'll become."
A Concerned Citizen
The Caldor Fire this past summer, which burned more than 220,000 acres and caused the evacuation of South Lake Tahoe and much of the West Shore, was especially hard-hitting to the Anderson family. Jamie's brother Luke is a firefighter. Her dad Joe is a retired fireman. Additionally, the blaze burned through the Andersons' beloved home resort of Sierra-at-Tahoe, postponing its opening until at least early 2022 as the resort repairs damaged chairlifts and removes burned trees that pose dangers.
"I'm sad about the fire, and those trees, and all the moss, and I'm a little sad to see the aftermath of the Caldor Fire," says Anderson, whose family evacuated to Southern California when the smoke enveloped the Tahoe Basin. (Her dad, however, stood his ground at their Meyers home, and even put out a small fire that sprung up on the back deck with a garden hose.) Anderson is working on ways to raise funds for the fire victims and is planning a gala around the holidays—as well as an auction for some of her Olympic gear.
Her connection to the earth and Mother Nature has been a driving factor in both her passion for snowboarding and her charitable causes off the hill. "It's so surreal seeing how hot our planet is getting and how dry California is getting. It's something to be mindful of and really do our best to take care of," says Anderson.
Stemming from the desire to see young athletes snowboard and find inspiration from the natural environment, she set up the Jamie Anderson Foundation in 2013. The nonprofit was founded "as a way for Jamie to give back to youth, by supporting their athletic dreams and inspiring them to be community and environmental leaders," according to her website, jamieandersonsnow.com. The organization offers financial assistance and access for young athletes to participate in winter sports.
Since Anderson was a youngster herself, the sport has progressed in strides. Her peers praise her significant role in influencing younger generations, in particular younger female athletes.
"Jamie has absolutely been an inspiration for female snowboarders all across the globe," says Elena Hight, a fellow pro snowboarder and two-time Olympian from South Lake Tahoe. "She has been able to continue to progress and continue to push women's snowboarding for decades, and done it in a way that is true to her. She has been a beautiful representation of what is possible to many."
Anderson says she is amazed by the talented young female riders out there, such as American Hailey Langland and 17-year-old Kokomo Murase of Japan, even as they look to dethrone the two-time defending champ at the 2022 Beijing Winter Games.
But Anderson knows that it's not just the tricks that make for a champion, and will likely be bopping around the starting gate jamming out to tunes, honing in on the positive-vibes-only way of life that was groomed on the mountains of Tahoe.   
"I think there's more to winning than just what meets the eye," says Anderson. "Taking care of yourself and being in a good space is invaluable. It's the most precious thing you can do."
---
As a judge for a feature that ran in TQ's 2020 Ski & Ride issue, Dave Zook ranked Jamie Anderson as the fourth-best Tahoe snowboarder of all time. He now wonders if that was about three positions too low.