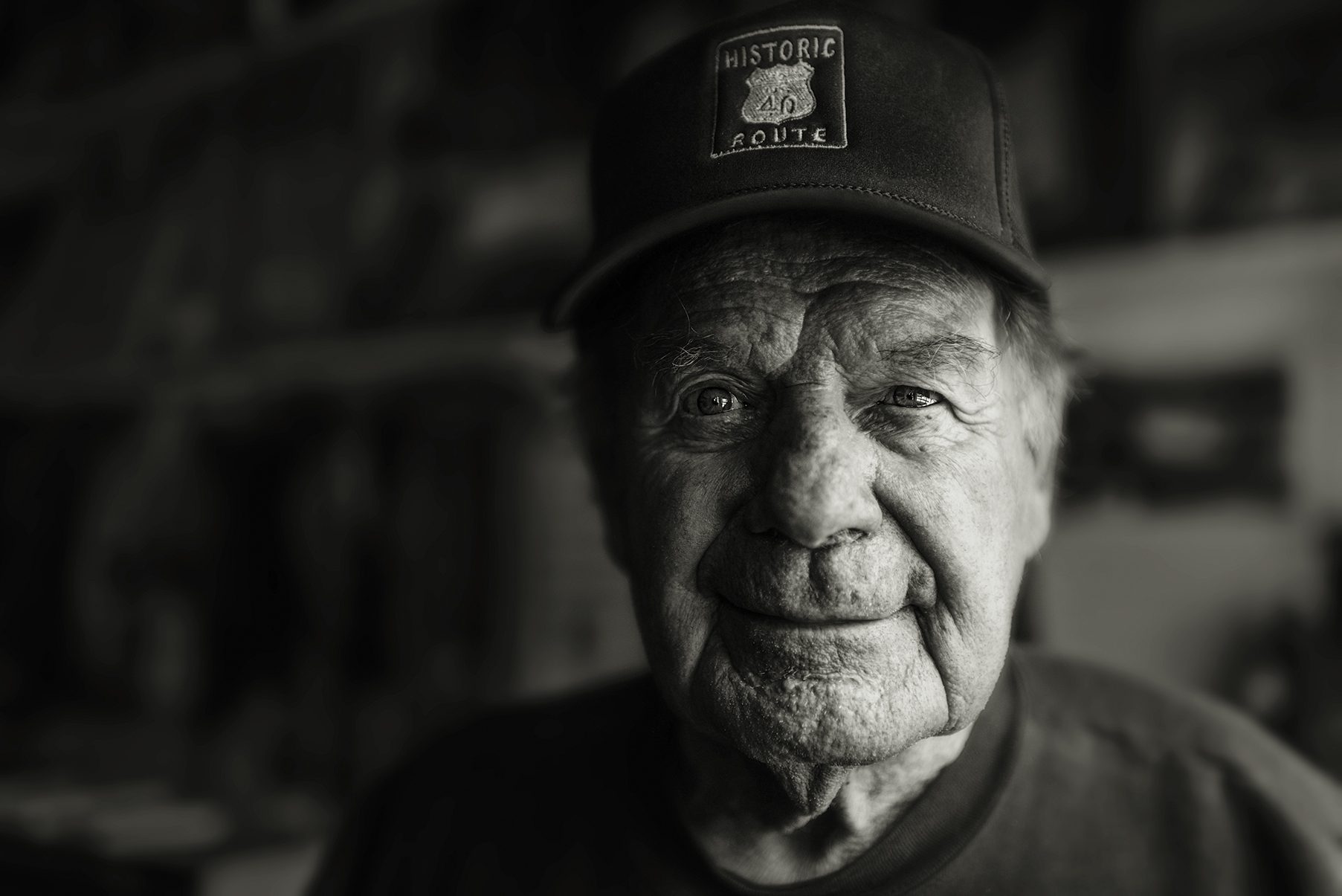 27 Jun

Man on the Mountain
Rebel raconteur: Norm Sayler holds court on Donner Summit
There are ways to take the measure of a man. The years in his life; the life in his years.
Two thousand one hundred twenty-five feet is as good a measure as any when it comes to Norman L. Sayler.
The number isn't about him directly, but it surely helps define the man. A quick tally is 2,125 feet—just shy of a half-mile deep—of snowfall on Donner Summit over the past 70 years, and a good bit of that snow Norm, 89, saw, skied, plowed, blew, cheered and/or cursed.
For those keeping score, yes, that's a round number for snowfall from 1955, around when Norm moved to the Summit from Sacramento's Oak Park, to right now. Give 30 feet here, take 50 feet there over a span of seven decades—call it artistic license. Need the cold hard numbers? Go check out the Central Sierra Snow Lab website.
The point being that this is a story, a story about Norm Sayler. And if you know Norm—or know of Norm—you know that his work, his exploits, his life—his stories—are what have injected more than one life into his years, and most of those have been atop the Summit.
Plus, 2,125 feet makes for one helluva Sayleresque snowbank—and one helluva Summit story.
Rebel …
"I guess you could say I was a rebel," Norm says, seated on an old barber chair, a throne, of sorts, for the King of the Mountain. "I've had a good life here in Soda Springs."
Running Donner Ski Ranch for nearly half a century is a start. Then there's Norm's oft-cited incubation of snowboarding and extreme sports at the "Ranch." Like other resorts, Norm saw business withering to some 20,000 skier visits a year as the 1970s gave way to the '80s. The birth of bro-brah pushed that to 60,000 visits thanks to snowboarders.
"I don't care what anyone says," Norm expounds. "Snowboarding saved the ski industry."
That's the "rebel" in Norm. When the fancy resorts wouldn't let snowboarders in, Norm welcomed them with open arms—as long as $10 spots were slapped in his open palms.
When the fancy resorts wouldn't let freeskiers be free, Norm let them flip, fly and hang their freak flags high at the Ranch.
Amazing feats on snowmobiles and motorcycles followed at the Ranch, as did rock crawling and mountain biking.
"All that stuff came out of the word 'extreme'—all that started at the Ranch," Norm says.
When the experts said it was time to demolish Rainbow Bridge on Old Highway 40, it was Norm's contrarian streak that saved the span, now a historic point of interest and a dream photo op for any chamber of commerce.
But along with the rebellious upside of life, there's usually a downside. Norm is the remaining eyewitness to the heyday, and decline, of Donner Summit as the winter destination in Truckee-Tahoe, no thanks to Interstate 80.
Call him what you will: Ski bum. Waterman. Builder. Logger. Collector. Historian. Racer. Raconteur: Norm's the OG in the All-Mountain Mountain Man category.
… With a Cause
If the old barber chair is a throne, then the room in which it sits is the royal hall.
Mildly musty and dusty, as any old home-grown museum ought to be, the Donner Summit Historical Society Museum sits steps from the lonely blinking signal in Soda Springs. It holds an eclectic collection of 4,000 items curated and/or hoarded by Norm over decades.
There are countless black-and-white photos of Summit people and places, vintage ski gear and resort regalia, rusty road signs, yellowing documents, dog-eared books, retro wool clothing, archaic logging contraptions and rusted iron implements. One man's trash is another man's … history.
It is flotsam and jetsam from years past that surfaced on Donner Summit, each item with a story and place and people, many having a tie to the Summit, Truckee, Tahoe and the west slope.
And in the middle of it all—knowing it all—sits Norm holding court from his barber chair. And on this day, he's a bit testy. His toppling piles, bulging files and hanging artifacts are being sorted, rearranged and cataloged by the well-meaning history nerds who make up the historical society.
It's some bittersweet combination of an end to an era and a start of a new one. On reflection, and for posterity's sake, Norm concedes the need for the official reorganization.
"It's an overwhelming amount of stuff," he says from the barber chair. "I'm kind of like a hoarder."
Lucky for us.
Slow Your Roll
This is when stories involving Norm and Donner Summit history turn into the usual chronological tellings of Chief Truckee, the Donner Party, monumental snowfall, cannibalism, the Transcontinental Railroad and the like. Those are all worthy historical nuggets that can be found online easily enough. So too can retellings of Norm's many accomplishments.
If you're in a hurry, turn on your computer. If you value a story in real, human time, head to Soda Springs. There you'll find Norm.
Sharp, engaged and only slightly ornery at nearly 90 years old, with about 70 of those years spent on or around the Summit, the beauty of Norm is that he's not only a repository of information, but an audience with him is a live, interactive podcast—surrounded by living color.
Norm is a direct link to an era and community that existed before Interstate 80, now mostly extinct. A link to rope tows, slow lifts and warm taverns. A link to a time when, as Norm says, a handshake was the contract and a pile of cash on the bar was payment. A link to when, he says, people "weren't in such a goddamn hurry."
You can Google all there is to know about the 1960 Squaw Valley Olympics. But why? Slow your roll, take a seat next to the barber chair and ask the Man on the Mountain.
Flaming baton in hand, Norm skied from the Summit down to Donner Lake as part of the Olympic Torch Relay. And like most things Norm, that Norm story begets another Norm story: February 18, 1960, Norm would have attended the opening Olympic ceremonies had he not been smothering flames engulfing an old hotel on the Summit with snow thrown from his burly wheeled rotary blower.
For Better or Worse
Vestiges of Norm's Summit remain. Rainbow Lodge, Clair Tappaan Lodge and the Oakland Ski Club Donner Lodge are communal and convivial throwbacks, the antithesis of interstate travel.
The lodges were the survivors after the final section of Interstate 80 opened in 1964 from the top of Donner Summit to Truckee. That's when the speed genie was let out of the bottle, never to be put back in.
The slow road with soul, Highway 40, was out, replaced entirely or made a wayside of I-80, itself engineered to be as bland, predictable and safe for big rigs and the high-speed masses as possible.
And that, says Norm, is when the dominoes started to fall. Grooming machines, high-speed quads and vert catered to travelers bombing up I-80 to disperse into second homes or short-term rentals.
The old mountain lifestyle, where summer's loggers and builders became winter's resort operators, morphed into faux Alpen villages owned by corporations.
"Donner Ski Ranch was just me and my friends. I was just a ski bum," Norm says. "It went from a way of life to a day of entertainment. It was just different."
It's hard to fault Norm for his love of the old Donner Summit. Or to question his prowess as a champion waterskier getting towed on Donner Lake by a buddy in an airplane, or pulled by the Thunderbird Yacht on Tahoe with George Whittell at the wheel, resplendent in his captain's hat.
And, of course, those Norm stories beget more Norm stories, to when Tahoe attracted the Hollywood elite and he showboated his waterskiing skills for the likes of Sinatra, Danny Kaye and the Karloff daughters. Then the nonchalant kicker: "Eartha Kitt," Norm says. "I dated her occasionally."
Or when after a hot day of logging on Tahoe's East Shore, a neighbor lady sauntered over to Norm with an iced tea … "Rita Hayworth," Norm says.
Old-Timers
Regret and poignancy are separated by only a slight difference of pangs or flutters in the gut or heart. Norm, as we all do, surely has regrets as he looks back on his years, or the life in his years.
The loss of the old Donner Summit community is poignant, as is the passing of time and friends. If Norm has any regrets he shared from his old barber chair, it's about not prodding the Norms of his day more about the past as they saw it.
And in these days of social media cell phone self-absorption, that's a regret we each can preclude. Put the phone down and go ask the Man on the Mountain while he's still here.
"I came up here in '54. I'd go to bars. I was partying and having fun with the old-timers. Looking back now, the mistake was that it wasn't just bar talk," he says wistfully. "Now I know what questions to ask."
---
Jamie Bate's love for all things Sierra began about four decades ago during family treks on rawhide-strung snowshoes above Lake Tahoe. Somehow they always made it back to the car and never had to eat each other to survive.
---
THE SUMMIT ACCORDING TO NORM
Washoe petroglyphs and grinding stones; the Donner Party and the Emigrant Trail; the Dutch Flat-Donner Lake Wagon Road; the Transcontinental Railroad; nitroglycerin; China Wall; the first transcontinental telegraph; the Lincoln Highway and Highway 40; the design and construction of Rainbow Bridge.
And don't forget Norm Sayler, the guy who helped bring snowboarding to the masses at Donner Ski Ranch atop the Summit.
"That square mile at the top of Donner Summit is about the most important square mile in the U.S.," Norm says.
Progress?
In 1964, the steep grade between Donner Summit and Truckee was the final section of Interstate 80 to open to traffic. For nearly a century up to then, the east-west throughway was essentially Highway 40, or what's now Donner Pass Road.
Prior to '64, thousands of cars and trucks plied Highway 40 over the Summit each day, delivering customers to the five hotels, thriving bars and restaurants, gas stations, markets and resorts that lined the road.
"When Interstate 80 opened, we had none of that. All of a sudden our community was gone. It changed the whole way of life," Norm says. "From Sacramento to Truckee took no more than two hours. In the old days it took four to six hours."
The slow road fostered a thriving economy along the 20 miles of Highway 40 from Nyack in the west to Donner Summit in the east. The transformation occurred because transportation evolved. Depending on one's point of view, the interstate system was either a malignant force or a must have of modernity.
"We looked at Interstate 80 as progress, and that it would be better. But it made it too easy to get to Truckee and Reno," Norm says.
Today, other than winter at Sugar Bowl, Royal Gorge, Soda Springs and Donner Ski Ranch, Old 40 on the Summit is a quiet place, save for the rumbling of trains and blasts of their horns.
Norm did his best to keep the Ranch, and the Summit, relevant in summer when commerce slowed to almost nothing. He hosted motorcycle weekends and rock crawling events at Donner Ski Ranch, which he managed for 46 years.
"We had something going on every weekend because traffic slowed down and disappeared," Norm says.
Speaking of Snow
"Architects know snow is white—sometimes," says Norm, who as a builder laid the foundations for hundreds of cabins and homes around Donner Summit and Serene Lakes, where it's not uncommon for residents to enter their homes via the second floor due to prodigious Sierra snowfall.
The jab at architects' need to manage rather than know snow comes from a calloused-handed tradesman crossed with a mountain man's deft sense of the seasons, not from a snow load calculator or CAD software.
"The one thing I know about snow is, yes, it's white," says Norm, "but it has so many forms. There are so many kinds of snow."
Norm worked at, managed or owned Donner Ski Ranch for nearly 50 years. He still owns a snow removal business on the Summit. Suffice to say, Norm knows snow.
Come next winter, just shut up and listen. Wet snow drops heavily off pine and fir boughs. Dry snow moves silently but for the hissing off a metal roof.
Norm's take on the State of Sierra Snow? Of late, he says it's more Champagne Powder than Sierra Cement.
"In the old days when it snowed, you could hear the snow 'plop' out of the trees. The last six or seven years it's been drier snow," he says. "Now the winters have been colder than what I remember in the past. It's a colder, drier, more Colorado-type snow. It packs hard. Lots of air."
Which means less liquid content. That concerns Norm.
"That's when we got our water," he says of the wet winter storms off the Pacific. "The water recovery isn't happening."
As far as climate change and Norm's view, well, he's a self-proclaimed "Trump man," so infer what you will.
As the Q&As with Norm bounce from past to present, however, the stories carry anecdotal bits and pieces that may be less burdened with current politics and more tempered by actual experience.
"Spring skiing used to be big time," says Norm, recalling skiing well into summer during the '50s. "But then it just dropped off and disappeared."
While weather forecasting today is amazing, Norm says, he and his cohorts in Tahoe ski ops back in the day weren't entirely at the mercy of Mother Nature and her old man, Winter. They had a bona fide Ski God in their midst.
From the middle of World War II to the early '70s, Wayne Poulsen flew for Pan Am. He also happened to be the founder of Squaw Valley.
"Wayne would fly through storms near Hawaii and radio ahead," Norm recalls. "We got our weather reports from guys like Wayne Poulsen."