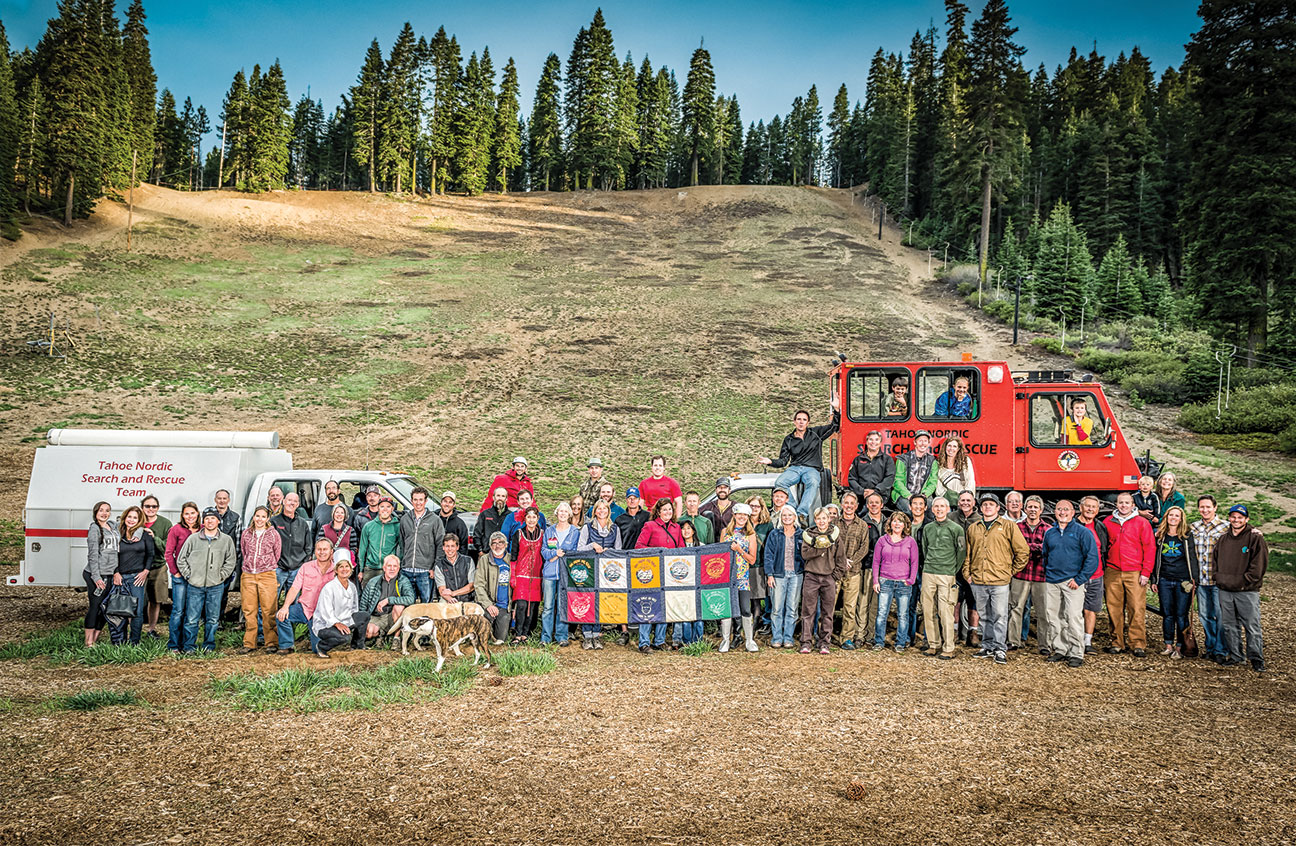 The Tahoe Nordic Search & Rescue team includes dozens of members who volunteer their time and expertise to save lives
01 Dec

Tahoe's Unsung Heroes
Founded in 1976, Tahoe Nordic Search & Rescue continues to serve a crucial role in saving lives
The call often comes in the middle of the night and in the midst of a blizzard. The Tahoe Nordic Search & Rescue team has thrived in such conditions for the past 44 years, using teamwork, selfless determination and sheer physical stamina to find lost skiers and hikers—expecting nothing in return except for the satisfaction of bringing people safely home to their families.
"If it weren't for Tahoe Nordic Search & Rescue, there would be somewhere around 200 lost people who likely would have died over the last 40 years, and the bodies of some 40 people who passed away might never have been found and returned to their loved ones," says Dirk Schoonmaker, who has participated in over 150 searches as a 26-year veteran of the Tahoe Nordic Search & Rescue team, or TNSAR.
While the harrowing searches conducted by TNSAR require a certain level of valor, as members routinely risk their own safety to help others in need, such rescue missions deep in the backcountry also require a significant amount of skill, knowledge and teamwork to execute. This combination of aptitude and camaraderie is what makes Tahoe Nordic Search & Rescue such a valuable asset to the community, from local law enforcement to those who may one day require rescue themselves.
"There's a tremendous amount of intelligence, experience and genuine can-do attitude," Scott Meyer, TNSAR's board president, says of the team. "It's more of a family than a team."
Heroic Needs
Tahoe Nordic Search & Rescue began in 1976 in response to the death of a local teenager, Lance Sevison. When Sevison got lost in a snowstorm off the back side of Northstar, there was a group of talented backcountry skiers who could have headed out to save him, but there was no organization to set the process in motion. By the time a group was assembled, it was too late to save the teen.
As a result, the group of backcountry skiers launched TNSAR along with Sevison's father Larry, vowing to do what they could to reduce the chances of a similar tragedy happening to another family. Several of the original founders are still deeply involved with the organization today, serving as mentors to a steady stream of new volunteers who have joined their ranks.
From the beginning, TNSAR was unique in its incredible level of Sierra backcountry knowledge. The team includes highly skilled skiers who have spent much of their lives playing in the places they search. They know where and when avalanches occur, and, more importantly from past experience, know where a lost skier is likely to go. This expertise is informally being passed down from the longest-serving searchers to the newest members in dozens of training sessions each year.
"We are loosely organized but highly efficient, which is the opposite of many organizations," says Andrew Osterreicher of the TNSAR board.
As Tahoe Nordic Search & Rescue grew—the team now includes over 100 members—the need for funding became apparent. In 1977 organizers launched a fundraising event called The Great Ski Race, which sends participants on a 30-kilometer course over Starratt Pass from Tahoe City to Truckee. The event began with 60 participants and has since become one of the largest Nordic races west of the Mississippi, with over 1,000 participants some years.
Team Effort
What makes the men and women of TNSAR risk their own safety—often in the darkness of night during powerful Sierra storms—for the benefit of others?
"We have a lot of good-natured folks who appreciate the backcountry and like to help the community," says Meyer. "They are the same people who pull over to help someone with a flat tire."
All TNSAR searches start at the desk of David Lade, supervisor of search and rescue with the Placer County Sheriff's Office.
"Tahoe Nordic is my first line of attack," says Lade. "They are the people who live and breathe backcountry skiing and have such a strong desire to help people in the community, which is why they are so good at what they do."
A rescue often begins with a phone call from a relative of the missing person. Lade then researches whether the person really is missing, and if so, gives rescuers the information they need. The sheriff's office will look for a car, talk to people who might have last seen the missing person and alert TNSAR that a search might be needed.
"We research what kind of skier they are and ask their friends and relatives, 'Would they continue to move or hunker down and build a shelter?' Whatever information we gather can be relayed to the search and rescue team," says Lade. "The main thing is to get people out of the situation as soon as possible. It's a combined effort of us gathering information and TNSAR's expertise in backcountry transport. It's a great team effort."
While the searches present their challenges, members say they enjoy the thrill of the chase—and, ultimately, the find. To succeed, they must work together to solve the puzzle of where the missing person went, and then race to get there.
"You work as a team trying to guess where they are most likely to go, then start traversing across the mountain looking for their tracks. Once you find the tracks, it now becomes a nighttime cross-country ski race in a storm where the other guy has a 12-hour head start," says Steve Twomey, who has been involved in over 100 searches in the 25 years he's been active with TNSAR.
While some searching organizations call off rescues at night, TNSAR often heads out in the darkness at the peak of a storm's wrath.
"We feel that the tracks are going away. They will get covered with snow. You got to get out there now," says Twomey.
Knowledge Passed On
Tahoe Nordic Search & Rescue is not only about the crack "A Team" of experienced backcountry searchers on skis. There is also a B Team of searchers who are learning the ropes.
There are teams of snowmobilers, snowcat operators, and people involved in communication and logistics. There is media support and other volunteers helping to run the organization as members of the nonprofit board of directors. Members include doctors, contractors, nurses, firefighters and just about every other profession—and they are all volunteers.
A newer member of the A Team and a TNSAR board member, Sarah Krammen is now in her fifth year with the organization. She is also a teacher at Truckee High School, where she is a part of TNSAR's second-most important duty: educating people to reduce the need for future searches. She arranged to bring Andy Anderson of the Sierra Avalanche Center to teach a backcountry awareness program to local students entitled, "What to know before you go." It focuses on understanding the snowpack, bringing the right equipment and how to make good decisions.
"The biggest thing we are trying to get out there for both kids and adults is to be aware of your impact on the community when you go take big risks," says Krammen. "We love going on searches, but we don't want to have to. Especially with COVID."
While Krammen enjoys helping students learn about snow safety, she became a member of Tahoe Nordic Search & Rescue for the community of volunteers.
"I love training with them," she says. "I have an incredible bond with the team members. I can go out with this crazy awesome group in the middle of the night. We trust each other and know how to find who we are looking for." 
The pandemic has impacted the organization not only by increasing the challenges and dangers of conducting searches, but also in keeping the close-knit group of friends apart.
"This has been very strange. We have all missed the training and the meetings," says Schoonmaker, adding that, despite the canceled meetings, the need for searches has only intensified. "Once the ski areas closed (in March 2020), there were lots of amateur backcountry skiers out there. It was scary because they don't know avalanches."
In addition to searches, TNSAR has recently begun assisting with helicopter rescues, while continuing to educate local students on backcountry safety. Although most of the action happens in the winter, the rescuers operate 365 days a year.
For Schoonmaker, the searches often amount to "hard, nasty weather and crazy terrain," but the efforts are worth it in the end. 
"I'm doing it with people I trust, people that are my best buddies that I do things with year-round. It's a passion and is awfully satisfying," he says. "When the alarm goes off, if there is a chance I could go, I go. When you have been out there four to five hours yelling and whistling the whole time and someone finally whistles back, that is an amazing feeling."
---
Tim Hauserman is a nearly lifelong North Lake Tahoe local and freelance writer who has appreciated the efforts of Tahoe Nordic Search & Rescue members for decades. 
---
FUNDRAISING HELP
Tahoe Nordic Search & Rescue is a nonprofit, all-volunteer organization that is supported by grants, donations and its biggest fundraiser, The Great Ski Race. Unfortunately, the race has been canceled five times in the past decade due to a lack of snow, limiting a significant source of revenue. For more information about how to donate to the organization, go to tahoenordicsar.com.