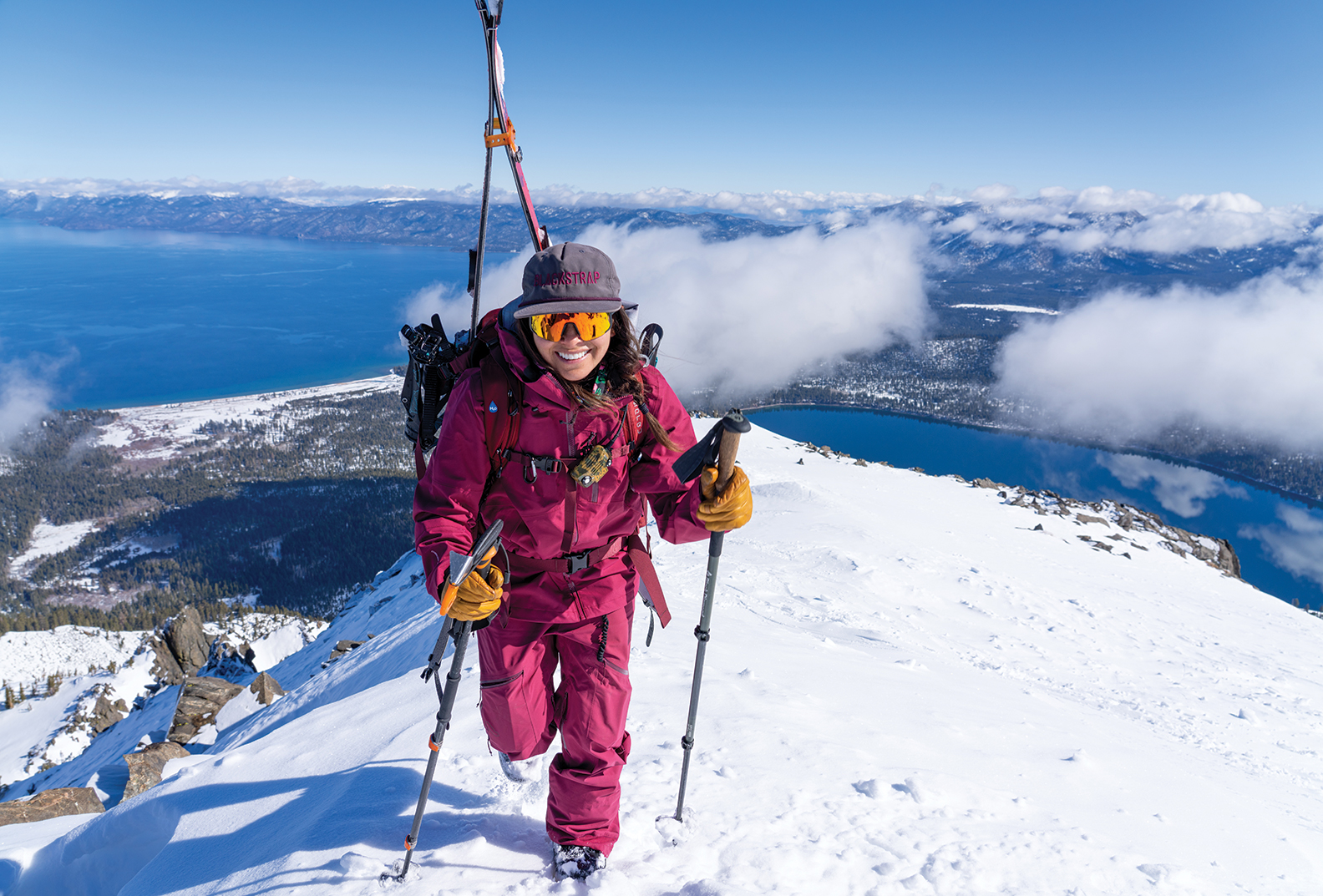 Claire Hewitt-Demeyer can often be found in the Tahoe backcountry, flashing her signature smile, photo by Anthony Cupaiuolo / First Tracks Productions
06 Dec

The Call From the Wild
South Lake Tahoe snowboarder Claire Hewitt-Demeyer is known for her infectiously positive spirit—a characteristic that helped a loved one heal in a time of need
Claire Hewitt-Demeyer had just unloaded a chairlift when she got the call.
On this particular Friday afternoon in February 2021, the South Lake Tahoe snowboarder was taking advantage of the lifts at Kirkwood to get as many runs in as possible, rather than venturing out to her usual backcountry haunts. Tahoe had just experienced a hefty snowstorm that blanketed the terrain in lush powder. Like most mornings, Hewitt-Demeyer was up early—yoga, coffee and breakfast—before hitting the slopes.
"People call me exhausting," she says with a laugh. "I'll wake up at 6 in the morning for a sunrise hike, then go for a bike ride, and then I'll have to go for a kayak ride, or a paddleboard at sunset. I'm obsessed. There's just so much to do, especially in the Tahoe area—I feel like I have to take advantage of it."
Friends and fellow riders are familiar with Hewitt-Demeyer's "can't-stop, won't-stop" attitude, as well as her ability to shred massive lines in the backcountry. But the 34-year-old's positive energy and ready smile stand out as perhaps her most defining qualities, says Josh Daiek, a Tahoe-based professional skier and close friend.
Like so many others in her life, Daiek feeds off Hewitt-Demeyer's jovial vibe and spirited determination. He recounts the first time he saw her ripping around Kirkwood, her ambition and passion exceeding her skill level at the time.   
"Honestly my first impression was, 'Man, this chick is loose! She's fired up!'" Daiek says with a laugh. "It's cool. I like that because I can relate. She's passionate about snowboarding, and she's passionate about everything outdoors. She's very motivated, driven, and gets after it."
It was Daiek who had to make the difficult phone call that afternoon. It was brief and to the point: Kyle Johnston—Daiek's cousin and Hewitt-Demeyer's boyfriend of four years—was severely injured in an avalanche and had been airlifted to Renown Medical Center in Reno.
"When I got the phone call, the whole world stopped," Hewitt-Demeyer recalls, pointing out that she would have undoubtedly missed the call had she been in the backcountry that day.
As is her nature, Hewitt-Demeyer remained calm and focused. She tucked her phone away and raced to the bottom of the mountain. Upon arriving home, she rummaged through her belongings, grabbing clothing, sleeping bags and her and Johnston's dog, Buddy. Daiek's wife, Casey, met her there, and the two sped toward the hospital to be with Johnston.
Nearly three hours had passed between Daiek's call and their arrival in Reno. They were 10 minutes from the hospital when Hewitt-Demeyer received another phone call. It was Johnston.
Her steely focus dissolved into a stream of tears.
"It was pretty crazy," she says. "We both just cried on the phone, and I told him that I was close, and I was going to be there, and everything was going to be all right."
Life Imitates Sport
Talking to Hewitt-Demeyer about such a profound experience in her life, it's immediately clear that she is, as friends describe, a positive force—the kind of person you want as company on a Type II tour (those rough days in the backcountry that aren't appreciated until later).
Anthony Cupaiuolo runs the film company First Tracks Productions. He's a 20-year Tahoe resident, and an accomplished snowboarder in his own right. Cupaiuolo has ventured into the backcountry with Hewitt-Demeyer on numerous occasions. He recalls a particularly grueling day bushwhacking through manzanita and patchy spots.
"Claire is super gregarious, super positive out there," he says, "which is one of the reasons I enjoy touring with her. It doesn't matter if snow conditions are [bad]. She's just always making jokes and having fun, and super optimistic that things are going to work out. She recognizes the absurdity of the experience."
Hewitt-Demeyer's Instagram bio might capture it best: "Always searching for adrenaline and beautiful places. Some say I have a contagious smile so watch out!"
She's been scooped up by more than a dozen sponsors over the past few years, including Colorado-based Weston Backcountry (which recently named her its Rookie of the Year), as well as Sierra-at-Tahoe and Tahoe Courage, which helps children with anxiety and depression experience the outdoors.
Whatever Hewitt-Demeyer does in the outdoors, it seems, whether surfing, mountain biking, rock climbing or her favorite activity, attacking backcountry lines on her splitboard, she does it with fearlessness and zeal.
Hewitt-Demeyer grew up in Carbondale, Colorado, outside of Aspen, a town so small it had only three stoplights at the time. Although surrounded by some of the best snow in the country, she says her family only occasionally took advantage. Hewitt-Demeyer didn't start seriously hitting the slopes until her teens. Over the next few years she won a handful of USASA contests, earned her first sponsor by her junior year in high school and won the Downtown Throwdown in 2009, an invite-only competition held in Denver.
Competing wasn't all it was cracked up to be, though. In fact, she broke nine bones over the course of eight years. Hewitt-Demeyer moved to Tahoe in 2010, but she admits it wasn't until five years ago, after stepping away from competing, that she finally found her place.
"Once I did that, I realized this was my true passion," she says. "It really opened up my eyes to what the mountains were, and what they meant to me. And that there's more if you just walk a little bit further." For Hewitt-Demeyer, real life can sometimes mirror life in the backcountry. "It was a really long journey to get to where I am now—a fun one—but I took a lot of different turns."
Healing Help
Hewitt-Demeyer wasn't sure what to expect when she entered the intensive care unit that Friday afternoon before Presidents' Day weekend.
When she arrived, Johnston had just come out of the first of two lung surgeries. Tubes protruded from his chest. A brace and a respirator were fastened to his neck and face. Per COVID restrictions, Hewitt-Demeyer was the only one allowed in the room.
The avalanche that nearly crushed him to death left Johnston with eight fractured vertebrae, four broken ribs (and one dislocated), a punctured right lung and a bruised left lung. In addition—and perhaps most concerning—he experienced a small brain bleed.
Johnston has no recollection of calling his girlfriend that day. Hewitt-Demeyer says he sounded scared, but surprisingly coherent.
That day she got to spend three hours with him. She stayed the next two nights in her car outside the hospital, walking Buddy in the morning before heading up to feed Johnston and help him heal (family put her up in a nearby hotel for the next nine days).
"Claire was the first person I'd see in the morning and the last person I'd see at night," says Johnston.
He began walking just two days after the accident, which, considering the severity of his injuries, amazed the medical staff.
While Hewitt-Demeyer was at her partner's side every day, she says Johnston was equally inspiring.
"To be honest, it never really got dark for me," she says. "There was definitely fear, but seeing how motivated he was to get better, I came into the hospital room every day with positivity and a big smile on my face."
Eleven days after coming face-to-face with death, Johnston was released from Renown. Amazing unto itself. But the fact that he left the mountains with his life is nothing short of a miracle.
A Raging River of Snow
Daiek and Johnston got an early start the morning of February 12 for a backcountry mission near Blue Lakes, an area both experienced South Shore skiers know well. The Michigan natives, who have been skiing together for well over 15 years, were enjoying the fresh conditions when their good fortune turned.
As Daiek waited along a small ridge near the base of the peak they were skiing, Johnston dropped in from the top. The mountain immediately gave way. Engulfed in a river of snow, Johnston managed to stay on his feet and navigate out of the slide. But he was directly above a large cliff band and closing fast. With no better option, he pointed his skis toward the sheer rock face and launched toward a blind landing.
He remembers thinking, "Oh no, this is really big." And then, nothing. 
The impact from the roughly 100-foot drop knocked Johnston unconscious. The avalanche followed him over the cliff, sweeping him another 200 yards down the mountain. Daiek, who watched the entire horrific event unfold from his vantage point below, rushed to reach his cousin.
It took somewhere between five and 10 minutes for Daiek to traverse the debris and get to Johnston. Any longer, and perhaps this story has a different ending. Additionally, Daiek says if the two had been another 500 to 1,000 feet downslope, he would not have had cell reception, and there wouldn't have been a stable spot for the helicopter to land. In yet another bit of luck, Johnston's left arm from the elbow up—glove still on—protruded from the snow, allowing Daiek to quickly locate him.
Daiek dug his cousin from the snow—his body contorted in a splits position, his right knee pressed against his left shoulder—and cleared his airway.
"He's a good dude. That's all I can say," says Johnston. "There's a reason I enjoy skiing and spending all my time with him. I owe my existence to him."
A Little Ray of Sunshine
While a series of fortunate circumstances helped save Johnston's life, his real lifeline has been family and his Tahoe community. For her part, Hewitt-Demeyer has been pivotal in his road back to active life. ("He was so motivated to heal," she says. "He's kind of like me … we just don't know how to sit still.")
By early March, Johnston went on his first mile-long walk since the accident. He and Hewitt-Demeyer went camping in April. In late May he was riding a bike and wakesurfing. This past August, they went surfing together.
While his recovery was not without its pain and difficulties, Johnston credits Hewitt-Demeyer and her infectiously jubilant spirit for helping him get through it.
"She's a gem of a human," he says. "It sounds corny, but she's a little ray of sunshine. She's Claire. She's happy. She's smiley. She's just good energy. She's a good person. I'm really thankful to be surrounded by that."   
While they both crave adventure, however (their first date was spent in the backcountry hiking up peaks in their touring gear), their styles couldn't be more different.
"I love sharing my excitement of what I did that day, and he's like, 'Really, another photo? You need to take another photo? Stop taking photos of me!'" says Hewitt-Demeyer with a laugh. "I'd say we're extreme opposites in that way, but our passion for the outdoors is completely level."
In 2007 Cupaiuolo co-directed Linescore: A Freeskiing Documentary, which featured Daiek, who he says is arguably one of the top three freeskiers in the world. Cupaiuolo says Johnston isn't far behind, having also competed on the elite Freeride World Tour.
"He's really not interested in coming out when we're shooting, because that's just not his jam. He's more of a low-key ripper," Cupaiuolo says of Johnston.
As with Hewitt-Demeyer, Johnston's comp days are behind him. Their true love lies far from lifts and crowds—an optimal choice during the past 18-plus months of the pandemic. And while the Caldor Fire threatened to take that all away this past summer, there is still a lot of rugged terrain near their South Shore home that they have yet to explore. Right now, Johnston is focused on getting stronger (he's still working through some minor hip pain), and admits that he's going to have to work up to getting out in the backcountry again.
The events in February have consumed the lives of these backcountry enthusiasts for the better part of a year (including reliving them for this story). The incident made local news and national headlines. Johnston was even featured in an episode of HBO's Real Sports with Bryant Gumbel in April, which focused on the uptick in avalanches in 2021 (it's the worst year in recent memory, with 37 deaths nationwide). 
But it hasn't kept Johnston and Hewitt-Demeyer from getting back to normal. They're both back to work (Johnston runs and instructs at KJ's Watersports in South Lake Tahoe, where Hewitt-Demeyer also works) and resuming many of the outdoor activities they love doing together.
"Claire really stepped up and took care of Kyle when he was injured," Daiek says. "You know, it really showed how much she truly loves him. She kicked ass for Kyle. That makes me feel good because he's one of my best friends."
Hewitt-Demeyer has never been more active, or involved with her sponsors, than she is now. Her current focus is getting more women out in the backcountry, something she says is possible despite the typical obstacles, or anything else that might stand in one's way.
"I'm really tiny (4-foot-11). When I go out on the mountain with guys that are like 6-foot, I feel like I hike half a mountain more than them," she says with a laugh. "It can be a little intimidating getting into the backcountry, especially in my case, where the only people willing to hike were men. But I want to show women that with proper avy education and a never-give-up attitude, it doesn't matter what size you are. You can enjoy the majesty of the mountains away from the crowds and access terrain you'd never find at a resort, and ride the same rowdy lines that they do."
Hewitt-Demeyer says her eyes get wider every time she rides the backcountry; her appreciation for what awaits right in her backyard only grows. It's no doubt been a wild year for Hewitt-Demeyer, one filled with peaks and unexpected valleys. But none of it has altered her course—or dampened her positive spirit. 
"I feel like that's the only way to really go about life," she says. "I mean, if you focus on the rough road ahead of you, I feel like you won't get anywhere. If you see the light at the end of the tunnel, then there's always something to look forward to." She pauses. "It works in a lot of different ways."
---
Mark Lore is a journalist based in Portland, Oregon. He's also a stay-at-home dad of two, and a DJ. Most of his adventures involve getting lost in record shops around the city. See what he's up to at TheDaysofLore.com.