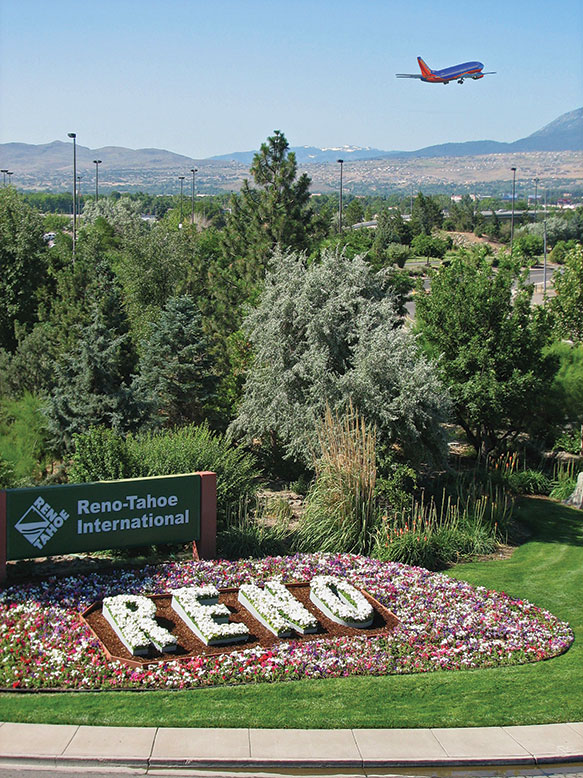 Photo courtesy Reno-Tahoe International Airport
Inside Reno-Tahoe International Airport: The Fight for Flights at RNO
Major League Baseball isn't the only industry to see a switch to a highly analytics-driven business model in recent years. The airline industry is playing its own version of Moneyball in the sky.
Baseball's use of obtuse analytics seeks to wring hidden value out of overlooked players, while the airline industry's version attempts to wrench maximum profit from each plane in the sky.
Like many similarly sized airports in the U.S., Reno-Tahoe International Airport has been forced to evolve in this dramatically altered airline landscape. The airport, which has an estimated $2 billion annual economic impact on the region, has seen a significant drop in flights over the past decade and is making strides to reverse the trend.
"Going back to about 2007, 2008, we saw the economy take its real downturn," says Brian Kulpin, vice president of marketing and public affairs for the airport. "What happened is you had the economic downturn that forced the airlines to change their business models and we've seen numerous mergers and bankruptcies and such a matter of incredible change in the airline industry that it has really hit airports all across the country very hard, especially airports that are called midsized airports. That's Reno-Tahoe, that's places like Boise, even Oakland has been hit extremely hard."
About 1.4 million yearly scheduled domestic flights were cut in the U.S. between 2007 and 2012, according to a 2013 report from the Massachusetts Institute of Technology (MIT).
Small and midsized airports account for the largest drop in flight numbers.
"We've probably lost about 35 percent of the flights that we had going back to about 2007," Kulpin says. "So we're striving to replace that—working diligently with the airlines as they are today, which is a different airline world."
The airlines' new strategies have been driven by high gas prices and place a premium on high-profit, high-capacity, long-haul flights.
"It's really changed the model. Even though New York has lots of air service, they're pulling airplanes out of other markets to add more service to New York because the number of corporate business travelers, especially, drives a high airfare out of a market like New York," says Chris Baum, CEO of the Reno-Sparks Convention & Visitors Authority and chairman of the Reno-Tahoe Regional Air Service Committee.
"It's not a fact that people haven't been doing their jobs and we've lost air service here," Baum adds. "It's a fact that we had a recession, the airline industry almost went out of business, they reinvented themselves with a new model and that new model is not good if you're not a top-tier city. That's just a reality of the world."
Cuts at Southwest Airlines have had the most dramatic impact on Reno-Tahoe's flight volume. Southwest cut nearly 10 percent of its domestic departures from 2007 to 2012, according to the MIT report. Southwest's market share at Reno-Tahoe sank from 55.6 percent in 2011 to 50.7 percent in May 2014. The loss of Southwest passengers was felt as recently as May.
"Southwest Airlines is the only airline seeing a decrease in total passengers, carrying  20,914 fewer passengers in May 2014 compared to the same period last year,  representing a decrease of (12.7 percent)," according to a May report from the airport, the last available online. "The loss of Oakland, coupled with Portland and Phoenix frequency reductions, decreased the scheduled monthly totals by 111 departures with 15,757 departing seats. Overall, Southwest's scheduled departures were down (15.2 percent) in May 2014 versus May 2013. On the positive side, Alaska Airlines, Allegiant Air, Delta Air Lines, US Airways and United Airlines saw year-over-year May increases in the amount of 8,645 combined total passengers."

Reno-Tahoe International Airport's recently-renovated interior
Reno-Tahoe is competing with about 450 airports around the U.S. for additional flights. Getting airlines interested in an airport has come down to knowing the numbers and making bullet-proof pitches to airlines, Kulpin says. The pitches often happen at speed-dating style conventions where the bottom line is king.
"It's very, very competitive," Kulpin says.
Although traditional marketing may have been enough to woo an airline in the past, those offers are no longer enough.
"What the airlines are really looking for these days is insurance," Kulpin says. "They want to know that if they move their aircraft into your community it is going to be successful. They're asking communities to share in that risk somehow, whether it's outright buying seats on every flight, whether it's supplying hotel rooms through some type of vacation package on each one of those flights that can be offered by the airlines to their customers, whether it's buying a year of pledged dollars to market both in Reno and the destination. They're looking for creative avenues like that to help guarantee the success of that flight. So they really are looking for an insurance policy, essentially."
This concept of insurance is where the Reno-Tahoe Regional Air Service Committee could play a role. The committee, a collection of marketing groups and resorts from the region, sets aside about $500,000 per year to advertise the area and run promotions to help air service that needs a bump, Baum says.  The committee has also discussed the possibility of risk mitigation for airlines to help ensure certain routes succeed.
Tourism and airport officials are also planning to approach Nevada during the next legislative session in the hope of developing a state fund dedicated to attracting and maintaining air service in the state.
Flights to Canada and Mexico are among the desired flights for Reno-Tahoe. Returning nonstop service to the East Coast, which hasn't been available for years, is also high on the priority list. Convention business, tourism and the ski industry will all benefit from having that direct connection, Baum says.
"If we want to expand our ski market, the East Coast is where there are a lot of skiers and a lot of money. In their mind, it's a lot easier to ski Vail or ski Park City than it is to ski Lake Tahoe," Baum says. "And we've got to get on an equal playing field for our ski operators to be able to tap into their databases in the northeast. Nonstop service will make that possible. That will be a game-changer for skiing."
A ski summit at Squaw Valley in July yielded buy-in from Tahoe resort officials in terms of supporting the airport, Kulpin says. Additional summits are expected.
"The idea of bring together the mountains and the valley in a united effort is something people have talked about for years but haven't been able to do," Kulpin says. "We are hoping that we can do that around air service and that everybody wins, whether you're at 4,500 feet or 6,300 feet [Reno and Lake Tahoe's elevations, respectively]."
With $100 million in improvements to the terminal, runway and ramp overhauls and a new control tower, the airport is in good shape in terms of infrastructure. The airport can probably handle 60 percent more traffic than it does today, Kulpin says.
"We are really well-positioned from an infrastructure and facilities perspective," Kulpin says. "We are where we need to be right now. This is a very modernized, very user-friendly airport, whether it's from the aviation side or the passenger side. "
Now the region just needs to win the fight for more flights.
"We've developed a program where we're going to be approaching government, we are going to be approaching communities, the business community and the resorts, whether they're casinos or ski, and how we can pull together, pool all of our resources as a community to try to attract air service, whether it's through revenue guarantees, whether it's through enhanced marketing dollars," Kulpin says.
"What will it take to help bring more air service to this community? We cannot do it alone as the airport."
---
Adam Jensen is a South Lake Tahoe-based writer.