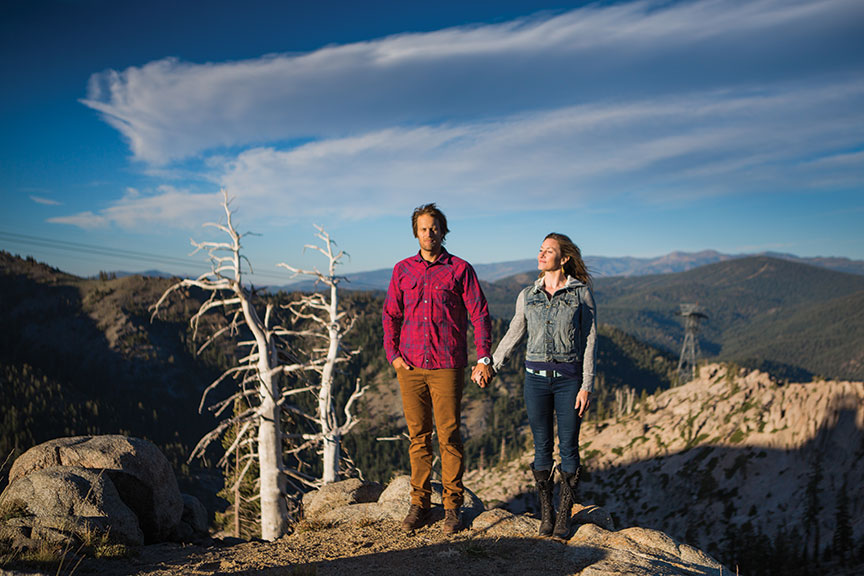 Cody Townsend and Elyse Saugstad atop Squaw Valley's Shirley Canyon, photo by Jen Schmidt
30 Nov

Winter Dreamscape
As professional skiers, Squaw Valley's Cody Townsend and Elyse Saugstad have seen their dreams come true; as independent filmmakers, their dreams are just beginning
On a casual afternoon ten years ago, mere months after Squaw Valley professional skier Cody Townsend broke into the industry with a Warren Miller movie scene, he was looking at a Canadian road map and, like he often does, day-dreaming. His hand walked over the map and, close to a town called Bella Coola, his fingers stopped.
"Hey," he said. His girlfriend, pro skier Elyse Saugstad, was listening nearby. "I found a Mt. Saugstad." It was one of the few mountains listed on the map, and he shrugged it off as a coincidence.
"That's my great-great grandfather," she said.
"I thought that was crazy," Townsend says ten years later as he tells the story from his office at the base of Alpine Meadows. Townsend and Saugstad are since married, living happily near Lake Tahoe and coming off their first independent movie release, Conquering the Useless, in September. For the adventure film, the couple traveled to British Columbia and traced the Saugstad family's historic steps to Bella Coola, landing a helicopter near the spot Townsend had noticed a decade earlier—Mt. Saugstad.
Saugstad's great-great grandfather, Reverend Christian Saugstad, took a slightly different route. In the 1890s, he led a group of settlers 1,900 miles from Minnesota's Norwegian villages to Bella Coola Valley, now home to some of the world's most famous and remote skiing. The Saugstad name is a fixture in the Bella Coola Valley Museum and, like today, synonymous with being a survivor.
"That was pretty special for her to connect with something that close to her family," Townsend says.
For Saugstad, it was more complicated. Her grandparents, "proud Saugstad Norwegians," she says, died a couple years earlier. "This would have meant a lot to them," she adds.
For Conquering the Useless, they didn't ski off the Saugstad summit (9,540 feet), and Saugstad says she never would, although "Cody has a death wish to ski the gnarly stuff at the top," she half-jokes. That "gnarly stuff" is a set of 55-degree spines overhanging a snowfield that drops into a 1,000-foot plummet over a sheer icefall.
Saugstad plainly states: "Cody's stoke is different than mine."
Two Skiers, One Dream
Townsend is a dreamer, a comic showman and one of the world's best skiers. Raised a racer-turned-freestyler in Santa Cruz, he grew up chasing legends around Squaw Valley on weekends before moving to Tahoe and breaking into films—first with Warren Miller and then with locally-owned Matchstick Productions. In 2010, Townsend started a clothing accessory company, Alpine Meadows–based Arcade Belts, and famously won Ski Line of the Year in 2014 with his drop through "The Crack" in the Alaskan wilderness. Footage of the descent went viral, landing Townsend on late-night talk shows and racking nearly 8.5 million YouTube views.
It's all part of the dream that started when he was a kid, and has stayed with him throughout his life. While figuring out how to earn a paycheck as a skier, Townsend finished a four-year degree from UC Santa Cruz and majored in linguistics science, a subject he calls "absolutely fascinating."
He summarizes: "I can break down Finnish and not understand a single word of it… but all I've really wanted to do is be a skier. I sit here in the summer and I go to bed at night and start dreaming about winter and dreaming about skiing. I realize if I'm in the middle of summer dreaming about it, that's probably what I'm going to do. If it's the line like 'The Crack' or ski mountaineering stuff like this year, I dream of it first."
Saugstad is stoic, a consummate professional—still hilarious, daring and every bit the athlete Townsend is—but also an outspoken advocate determined to bring more safety, and women, into the dangerous, male-dominated genre. With a decade-long film résumé, a degree from the University of Nevada, Reno, and a World Freeride Championship on her mantle, the Girdwood, Alaska, native's notoriety reached the mainstream after she survived a historic skiing tragedy in 2012. Washington's Tunnel Creek avalanche in the Cascades killed three of her friends, and nearly killed Saugstad. The New York Times memorably reported: "Saugstad was mummified. She was on her back, her head pointed downhill. Her goggles were off. Her nose ring had been ripped away. She felt the crushing weight of snow on her chest. She could not move her legs. One boot still had a ski attached to it. She could not lift her head because it was locked into the ice."
Fair or not, this is often how fame from action sports is achieved. Saugstad crawled out of the snow to face the world and explain what happened. After several media interviews where she still looked stunned, embarrassed and in mourning, she returned home to Tahoe. Here, instead of hiding, she studied the accident. She let her mind recycle those critical, whiplashed seconds over and over until she broke the whole event apart into smaller, independent clues. She collected all the pieces and put them back together and, like a crime investigator, discovered a narrative—good groups can make bad decisions, bad luck has no conscience and, because of her knowledge and experience, she must demonstrate more leadership. She started a speaking tour about avalanche safety, addressed a
San Francisco Ted-X audience
, became the ski community's biggest advocate for inflatable avalanche backpacks (which she credits for saving her life), won IF3's Best Female Freeride Segment in 2014, and this year was named among ESPN's Top 50 Women in Action Sports.
"The talks really made me take a step back and look at the avalanche objectively," Saugstad says. "I really had to figure out why we got caught. And I owned that."
From Ski Stars to Producers
Last fall, Saugstad and Townsend decided it was time to team up professionally. Both are in their 30s—fairly old for professional skiers, or any professional athlete—and Saugstad says they understand that to stay legitimate, they have to continue to evolve and reinvent themselves. Townsend, meanwhile, never planned for this—"All I had ever thought about was making films with Matchstick," he says—but in the summer of 2014, he caught himself dreaming again. He thought about his progression, the industry's progression, and wondered if he was doing enough—if they were doing enough.
Townsend learned from starting Arcade Belts that self-employment can be stressful, but not as stressful as working for someone else. And, he learned the mechanics and effort needed to create a startup. By doing so, he achieved his goal of gaining more creative control of the films where he was putting his life on the line. Saugstad was ready, too. Her career arc positioned her as one of the planet's most successful and marketable big mountain skiers, while also leading to new curiosities, of "doing more than just getting rad in front of the camera," Saugstad says.
"It was definitely a joint decision," Townsend says. "It was late in the summer, and we said, let's do this… and that's why we've been together for more than ten years. We share the same passions, and it's really easy to communicate."
They said goodbye to their former film companies and started their own. Last winter, they released a short digital piece—where they mockingly went out to find "this thing called 'the backcountry'"—and found an audience. This year, they partnered with Matt Sheridan and Team 13 for Conquering the Useless.
Sheridan—whose most popular film is 2012's Birdmen, a documentary about the enigmatic society of wingsuit jumpers—had stopped shooting ski films years earlier. Still, when Townsend called him in 2014, "time made me forget how difficult they are," Sheridan says. "Cody came to me and said, 'Here's a budget and here's what I want to do,' and that's like a gift handed to you. It's hard to say no to that."

Elyse Saugstad, photo by Cody Townsend
Sheridan shot the landing on Mt. Saugstad's shoulders, and filmed as Townsend and a crew navigated Mt. Frank Mackie on the last days of a ten-day adventure near Stewart, British Columbia. To get to the Frank Mackie glacier, they lugged snowmobiles and hundreds of pounds of gear and fuel hundreds of miles into the wilderness, where they weathered heavy doses of valley rain and traversed melting, cavernous glaciers to reach peaks topped, after immeasurable toils and troubles, with variable snow.
"The whole winter was hard, wherever we went," Sheridan says.
As it miraculously tends to happen with adventure and ski films, one line and one experience saved Useless and gave it a climax to build up to. The day before they were set to depart camp, pro skier Dave Treadway shared a line he'd spotted, and led the group on a 1,500-foot ascent on a trail angled around glacial abysses. The skiers ventured out first on the sleds before returning to let the camera crew know it was safe to continue. When they finally reached the spot just below the 1,700-foot face, the professional athletes departed and the cameras stayed behind. While the crews dug in to film the ascent, Treadway and Townsend climbed over the bergschrund (German for mountain clef) and up to the summit, and as the sun lowered in the sky and clouds threatened, Townsend and Treadway dropped in and saved the movie.

Bella Coola Spines, photo by Cody Townsend
"When they got done skiing, it was 7 o'clock, and it was just in time. It was definitely dramatic," Sheridan says. "It's always a good feeling when you know you got a line that will make the film."
In a traditional ski film, all the viewer would see is the 15-second descent. For Conquering the Useless, the film's producers pitched a focus on the approach, the day-to-day challenges and the build-up to the line. This became the culmination of the dream Townsend had a summer earlier, and the symbol of a commitment to this new direction for his career—into adventure films, and away from just ski porn.
"After he won line of the year last year, Cody got offered a bigger heli budget this year, and refused that," Sheridan says. As a result, "shots we could've bagged in one day took five."
Sheridan continues, "He wanted to do it the correct way, and not cheat, and filming is all about cheating. It's getting in a helicopter and making it look better than it is. And Cody stuck to his guns and did it the right way."
Both Saugstad and Townsend—Sheridan calls them "unique in their drive and motivation"—say this direction is a correction, a self-imposed change that was half-based in boredom and survival. Following the same path would have meant always climbing bigger peaks, skiing steeper lines and compounding the risk, over and over—until what?

Saugstad and Townsend on a snowmobile, photo by Cody Townsend
"There was a pressure that comes with those kind of accolades and that kind of success," Townsend says of what came after skiing "The Crack." "For one, that dream, that line, it had been something in the back of my head for the last five years. I didn't have another dream that would top that. And if I went down the same path, I would be a failure on a professional and personal level. It becomes a job, and not what I want to do. If you're treating it like a job, it shows on film. We have a very short time period as a pro athlete."
As a film producer, the playing field stretches a bit farther. Saugstad talks about this idea too, about "staying in the industry." One strategy Townsend employs as a producer follows the "mom" theory, meaning that if his mom is calling him telling him he has to watch a film—the way she did with last year's adventure climbing film Valley Uprising—then he knows it has definitely crossed into the mainstream.
"We talk about progressing the sport, and it's related to how many spins or flips you can do, but I talk about reaching mass audiences," Townsend says.
For Saugstad and Townsend, they defined their future—the dream—virtually the same: it meant staying alive, staying in control, staying together and doing what they've done for a decade—progressing at everything.
---
Ryan Slabaugh is an editor and freelance writer based in Boulder, Colorado. Previously, he was the editor of several publications in the Lake Tahoe area, and wrote last year's Ski and Ride cover piece about Truckee pro snowboarder Jeremy Jones.