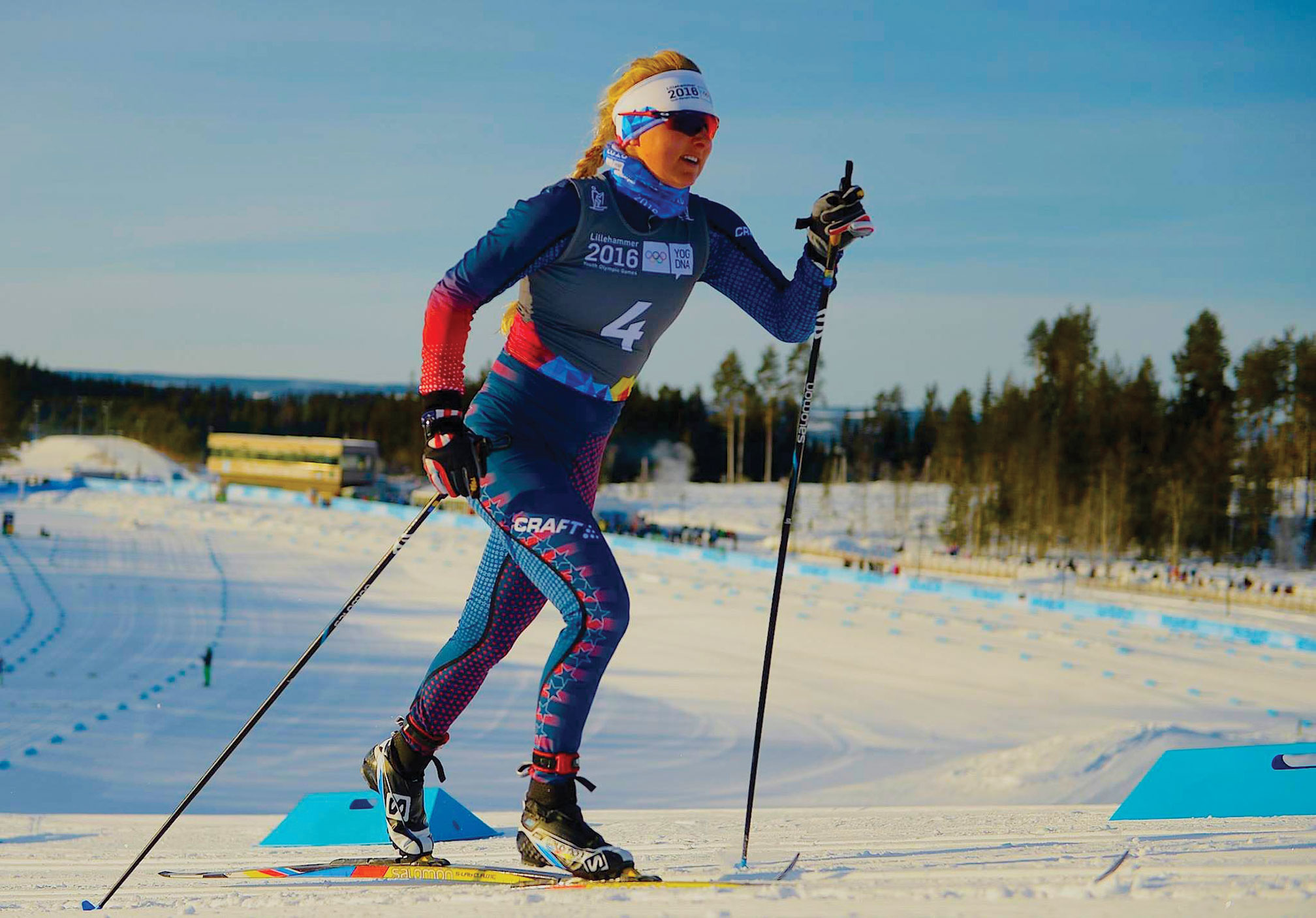 Hannah Halvorsen competes in the classic sprint at the Lillehammer 2016 Youth Olympic Games, photo courtesy FIS
05 Oct

Ski Training Like a Pro
Two of Tahoe's elite winter athletes share insight about how they stay fit in the off-season
As Tahoe's long summer days fade to chilly fall nights, Tahoe's residents and visitors can't help but dream of the snow-laden adventures that await. But before hitting the slopes, it's important to make sure the body is as ready as the mind.
U.S. Ski Team racers Travis Ganong and Hannah Halvorsen offer these tips for the off-season to ensure they are at their best come race time:
Setting Goals
The common consensus is to stay active, while also not overdoing it. Ganong and Halvorsen advise finding a balance between pushing toward a gain and listening to the body's needs.
"You've gotta maximize your time by including rest in order to make the body that you want," says Ganong, an Olympic downhill specialist from Squaw Valley.
A Nordic skier, Halvorsen says she approaches her off-season training by first setting a goal that's ambitious but also attainable. She then focuses on how she's going to reach it.
"That's the most effective way to get where you need to be. It's all about perspective; if you focus on the end result, you're never going to get there," says Halvorsen, who recently joined the U.S. Cross Country Ski Team's Development Team following a standout junior career attending Sugar Bowl Academy.
After setting a goal, Halvorsen adds, commitment is crucial. Whether running, swimming or biking to improve endurance, an athlete has to stick to a routine. Otherwise, the body is not going to be able to sustain proper development.

Travis Ganong competes in Colorado's Birds of Prey downhill in 2014, photo by Eric Schramm, courtesy USSA
Strength and Endurance
Running and other endurance workouts can be difficult for everyone, even the pros.
"I'm not a natural at running, but it definitely makes me a better skier," Halvorsen says. More than the infamous roller skis? "Even more than the roller skis. It's more productive and easier to accomplish financially."
Endurance comes into play whether skiing Nordic or alpine. As an alpine racer, Ganong gets outside every day during his off-season to jump in The Lake or on a bicycle. "Living in Tahoe, there are a million things you can fit in that will blow your mind," he says.
Although endurance is imperative for consistently good skiing, strengthening muscles separately with some good old-fashioned weightlifting or bodyweight training will make those turns tighter.
A circuit workout is ideal for building the muscles that need special attention. Instead of focusing only on the ski legs, put together a set of strengthening exercises that work the entire body.
Ganong recommends starting with some leg work before moving up to the core. Lastly, focus on the upper body before circling back to the legs. That allows one part of the body to rest for the duration of two separate body workouts.
Another suggestion from Ganong that's a little out-of-the-box is slacklining. This past summer, the U.S. Alpine Ski Team trained with specially designed slacklines from Europe that measure about the width of a ski—and when strapped side by side between two trees, can improve balance in a fun way.
For those who don't have slacklines, both Halvorsen and her Sugar Bowl Academy coach, Martin Benes, suggest focusing on the hips, where a lot of strength is necessary for balance. From a plank position, move the hips in an inward and backward isolated movement to attain neutral hip positioning.
"As minuscule as it sounds, it really makes a difference in being able to stabilize yourself, and I can feel that it improves my skiing," Halvorsen says.
Going the Distance
Strengthening the body before winter isn't just about preparing for that mock-cheetah run down Headwall come December; it's about preventing injuries each and every day. To increase the odds of staying healthy, both Halvorsen and Ganong stress the importance of flexibility, which maximizes the body's ability to handle a mishap or fall. It only takes a little time out of each day and can be achieved in a multitude of ways. Halvorsen says she uses a roller on those extra tight hip flexors, while Ganong takes advantage of the many yoga studios in the Tahoe area.
"I also do a five- to ten-minute warm-up every morning that includes a quick stretch and core activation to turn on the muscles before skiing," Ganong says.
What if you start to feel an injury coming on and are worried it will lead to an early "end of season?"
"Listen to your body and do something else so you don't irritate it," Halvorsen says. "I use acupuncture as an injury prevention as well as a recovery step. It relaxes the tighter areas that would've otherwise probably been useless."
Adds Benes: "One of the biggest things that we do is try to build a 'warm-up' and 'cool-down' into each session."
What athletes do after a workout can be almost as important as the workout itself. Eating after a workout helps stop the muscle breakdown and starts the recovery process.
"It's more about wholesome than super healthy," says Halvorsen. "The more variety, the more nutrients your body is receiving. I usually have oatmeal with yogurt, fruit and granola before a race and a peanut butter and jelly sandwich for after."
Halvorsen stresses the importance of staying away from crash diets. "It's OK to want to be lean, but you need to be healthy about it," she says. "There's nothing you can do short term for long-term results. You have to put in the time and be consistent with what works for you."

Hannah Halvorsen competes in the Firecracker Mile in Truckee this past Fourth of July, photo by Sylas Wright
Keep it Light
While few have the ability to commit to the lifestyles of Ganong and Halvorsen, the results of two of Tahoe's elite winter athletes should provide enough incentive to heed their training tips.
Off-season training will make it easier to get back on the slopes. Still, it's important to stay cautious when the season begins.
"It's all about timing," says Halvorsen. "You need to be in control of your body and mind."
While Ganong advocates training, he also cautions not to take it too seriously.
"Staying lighthearted on the slopes is what keeps it fun," he says. "As kids, we used to hit the terrain parks in Nordic skis. And even though back then we were just fooling around, it's part of what made me a better, more well-rounded skier."
---
Natalie Ellis Barros is a Tahoma-based adventure writer who is looking forward to returning to the slopes this winter.