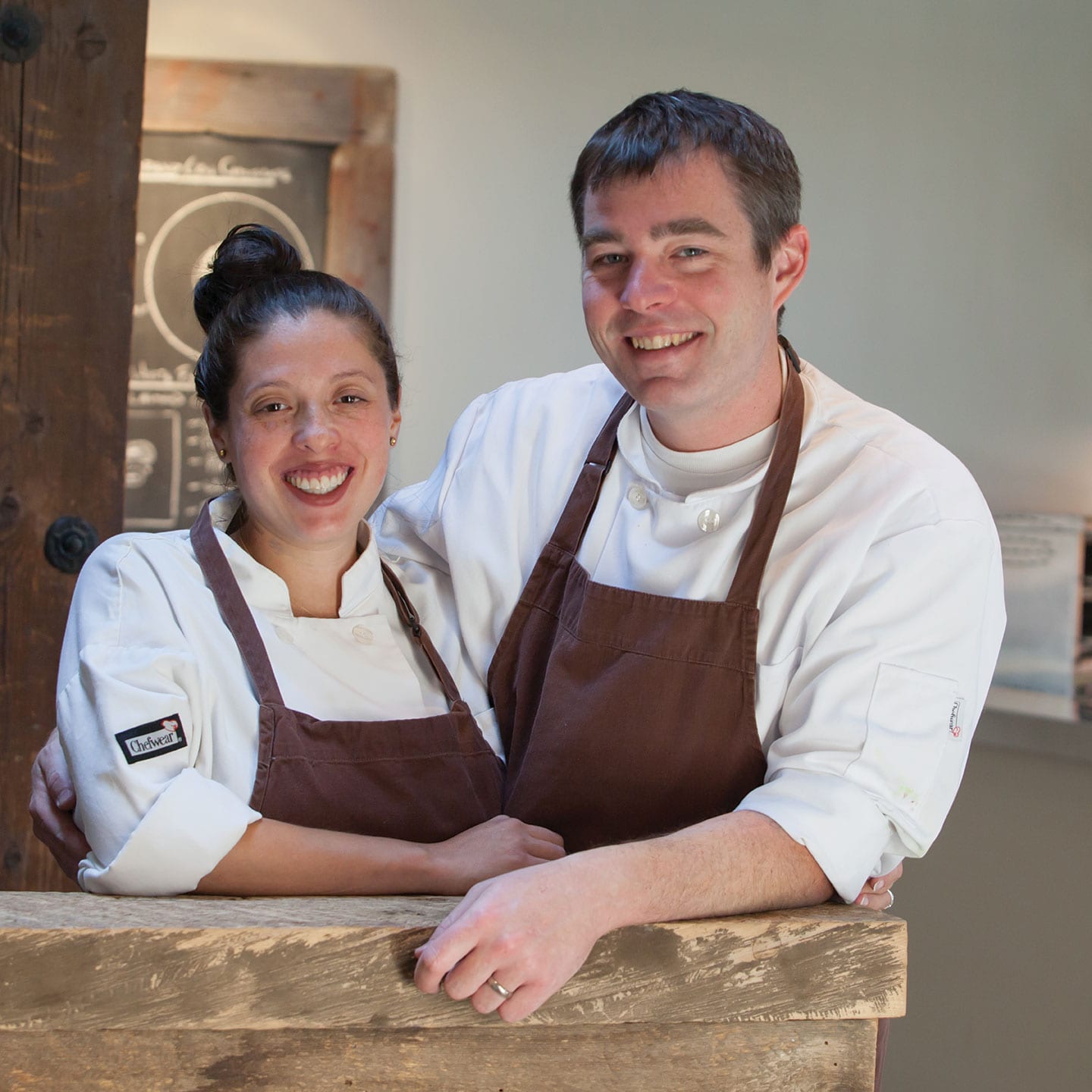 29 Sep

Chopping Block: Q&A with John and Nyna Weatherson of Restaurant Trokay

John and Nyna Weatherson, chef-owners of Restaurant Trokay in downtown Truckee, moved from New York City in February 2011 and opened Trokay Cafe, expanding two years later to their current 80-seat dinner-only space just down the street. A top graduate from the Culinary Institute of America in Hyde Park, New York, John honed his skills under David Bouley and Christian Delouvrier and worked for Daniel Boulud at his three-Michelin-star restaurant, Daniel, in Manhattan. Nyna was head cheesemonger of the premier Murray's Cheese in the West Village. The couple have a 4-year-old daughter, Arielle Jean Weatherson. John chats with us here.
Where were you born and raised?
I was born in Bethesda, Maryland, at the Naval Hospital. Because of my dad's Navy career, we moved frequently, almost every two years. I grew up in Springfield, Virginia; Norfolk, Virginia; Jacksonville, Florida; Battle Creek, Michigan; Staten Island, New York; Sunapee, New Hampshire; Houston, Texas; Iowa City, Iowa; and Poughkeepsie, New York, before moving to New York City to further my career. Nyna hails from Houston. We met in high school there and both graduated from the University of Iowa.
Earliest culinary memory?
A family-run authentic Italian restaurant in Staten Island, New York. I was probably 7 years old, but ordering braised octopus. The family would close the restaurant four months out of the year to go back to Italy to visit family. For Nyna, it's pickled raspas, which is like Hawaiian shaved ice, Texan-style. She says that the pickle juice raspa is the way to go.
What brought you from New York to Tahoe?
Daniel Boulud once told me that the best thing we could do as chefs in the United States is to take the skill and experience that we've acquired and to go to places where those don't exist, and in doing so, we as chefs improve the caliber of cuisine in this country. Nyna and I had dreamed of relocating to Truckee for years, and when we saw the opportunity, we knew the timing was right.
How did you name the restaurant?
Nyna and I moved here from very far away, and even though we'd visited plenty of times in the past, we wanted our restaurant to be a peaceful greeting to the area, an extension of our hospitality. The word 'Trokay' is Paiute, and the use of the word by the Paiute chief was intended to generate peaceful discussions with the arbiters of Manifest Destiny. The chief used the word Trokay to assure them that they were safe, and that all was well. Operating a restaurant like Trokay requires a lot of passion, and even more hard work. The offering we provide is our peaceful greeting.
Describe Trokay's cuisine/culinary style.
Restaurant Trokay is a modern new-American fine dining restaurant. We source ingredients that are sustainable, local and organic, and always seek the highest quality. We serve multi-course dining experiences that are meant to tantalize both mind and body.
What's your inspiration/process for creating menu items?
The experience of artistic expression. Every flavor that you'll taste at the restaurant is an expression of a moment in time in which I thought about that flavor, and wanted to share it with you. The inspiration is autobiographical, and the process is based on the application of a broad range of techniques that we can employ to modify the flavor or texture such that we're creating the desired experience.
How do you source your ingredients, including cheeses?
Close personal relationships with farmers, fishermen and artisanal craftspeople. Without these, our product sourcing wouldn't represent our finest work. The farmers and fishermen are excited to provide the highest quality of product to our restaurant because they're genuinely excited for their work to be well represented. For cheese sourcing, we work primarily with Tomales Bay Farmstead Creamery and Murray's Cheese.
Go-to kitchen tool?
Siri. The talking timer is the best. You can even set multiple labeled alarms, like, "Hey Siri, set a bacon alarm for 15 minutes from now."
What's in your home fridge right now?
Food for the kid. I don't really cook at home.
Food you miss most from New York?
One restaurant: Hakata Tonton. Inexpensive, regionally specific Japanese udon soup/hot-pot. A must-go for anyone in Manhattan. I've said before, and I'll say again: I would literally fly there just to eat, then board a plane and fly back to Tahoe.
Favorite ski or snowshoe spot or trail?
Tower 16 or Broken Arrow at Squaw on a storm day, where the tram doesn't open until 2 p.m., and you've been skiing KT all morning.
---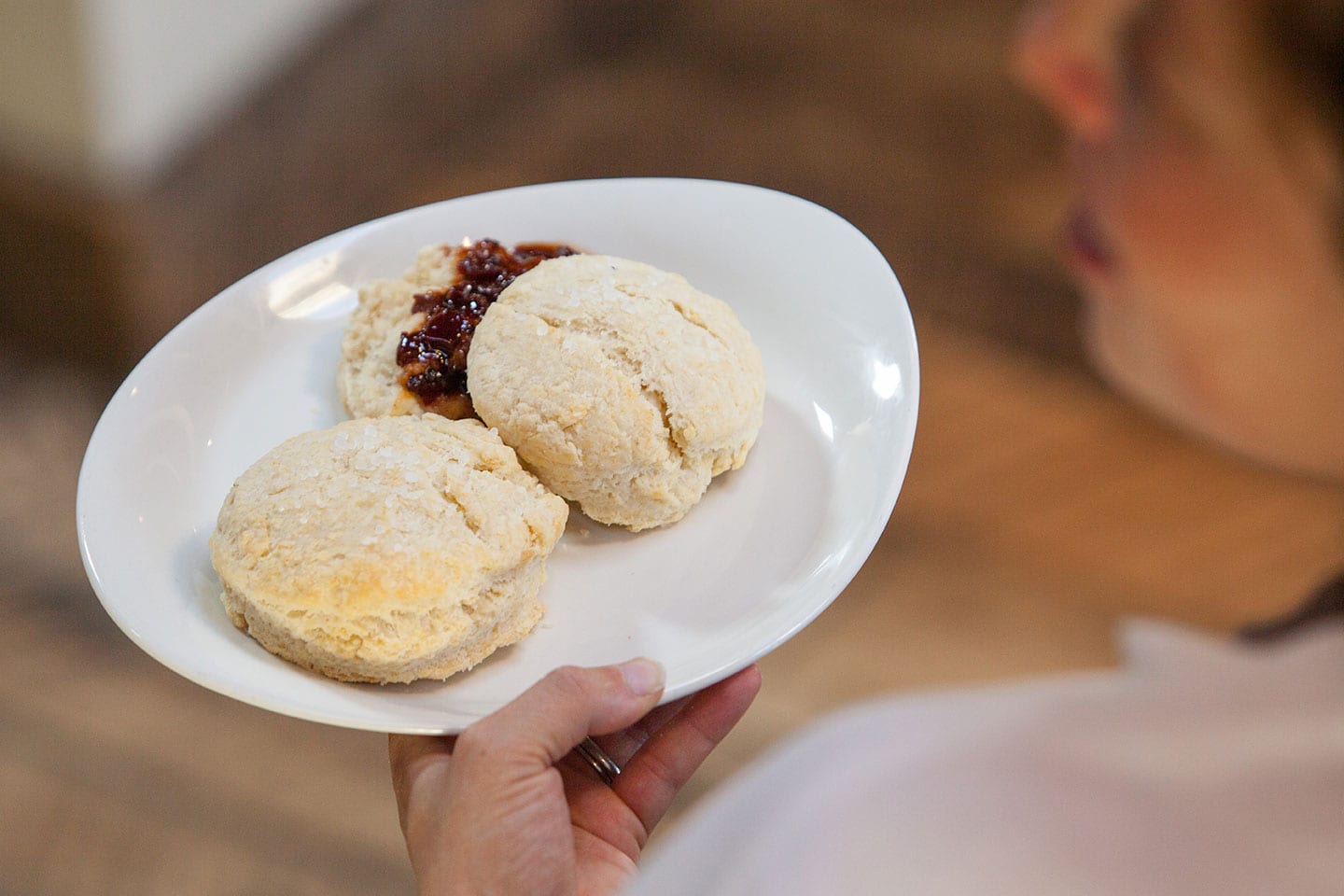 Chef John Weatherson's Recipe for

Buttermilk Biscuits and Pepper Jelly
These house-made biscuits and jelly are part of the hors d'oeuvres that diners receive to start their meal at Restaurant Trokay.
Biscuits
Ingredients:
5 cups all-purpose flour
1 tbsp + 1 tsp baking powder
1 tsp baking soda
1 tbsp salt
9 oz butter, cold
As needed buttermilk
Directions
Mix all dry ingredients (flour, baking powder, baking soda, salt) together. Grate butter into the dry mix, incorporating it into the mix as you grate. Work chilled butter into dry mix with your fingers until mixture resembles a fine meal. Once butter is fully incorporated, add the buttermilk slowly into the center of the flour and butter mixture, until the mixture just comes together. Form dough into a large circle with a thickness of about 1/2 inch (for smaller biscuits go for 1/4 inch). Cut into desired shape. Coat with melted butter and sprinkle with finishing salt. Hold in freezer until needed. Bake in convection oven at 350°F for 20 to 28 minutes or until golden brown and delicious
Pepper Jelly
Ingredients:
16 oz chopped peppers
2 cups cider vinegar
3 tbsp yellow pectin
1 tsp citric acid
1 tsp salt
6 cups sugar
Directions
Chop all peppers (you may use a mixture of peppers or one varietal). In a large saucepan, add peppers, vinegar, citric acid and salt. Gradually stir in pectin. Bring to a full rolling boil that cannot be stirred down over high heat. Stirring constantly, add sugar into mixture. Return mixture to a hard boil for 3 minutes, stirring constantly. Remove from heat and skim foam as needed. Let cool, and enjoy.