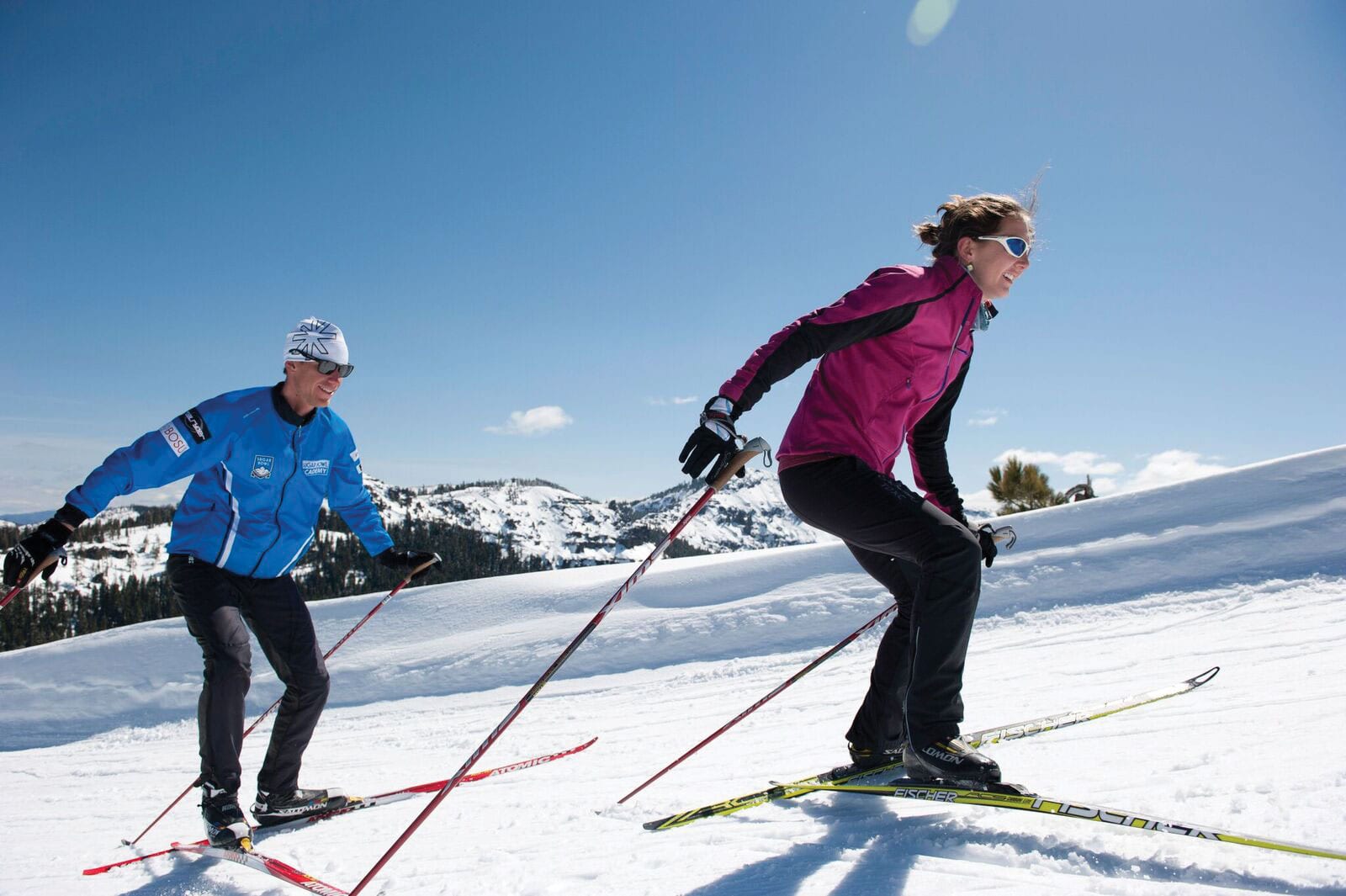 Skate skiing at Royal Gorge, photo by Cathy Howard, courtesy Sugar Bowl
29 Sep

Cross-country for Cross-training
Athletes increasingly engaging in both downhill and Nordic skiing
Tahoe's downhill resorts—totaling some 24,000 skiable acres—may get most of the excitement, attention and crowds. But with hundreds of miles of groomed trails at cross-country resorts around The Lake, Nordic skiing provides not just an alternative, but also a complement to its more extreme counterpart.
"They are both really fun activities," says Tahoe City resident Doug Couture. "For me, skate skiing makes me a much better downhill skier. If I skate ski in the morning, it puts me over my skis, then when I'm on my downhill boards, I react better."

Kern Barta enjoys a powder day at Sugar Bowl, photo by Grant Barta, courtesy Sugar Bowl
Full Body Benefits
Cross-country skiing provides an aerobic workout that tones and strengthens the entire body, which is beneficial to downhill skiing.
"Personally, I think Nordic is a great cross-training tool for downhill skiers," says South Lake Tahoe's Dr. Terrence Orr, who is head physician for the Men's U.S. Alpine Ski Team. "The exercise and conditioning from Nordic skiing gives you more aerobic fitness. It's also another way to enjoy the winter outdoors and get the benefits of a good workout."
Orr says that cross-country skiing can be an especially appropriate winter addition for runners and cyclists who miss the type of aerobic workouts they get on the pavement or dirt.
Couture, who often skate skis early in the morning at Tahoe Cross Country before heading up to Mt. Rose Ski Tahoe for the steep stuff, says that he loves the fitness that skate skiing brings. "It allows me to do a lot more things," he says. "Skating puts me in physical condition that transfers over to the summer for mountain biking. Flexibility and balance, cardio and strength are all addressed with skate skiing. It's an outdoor gym."
Sally Jones, director of Tahoe Donner Cross Country Ski Area, says she has seen an increasing number of people taking up cross-country as an adjunct to their downhill habit.
"We get quite a few folks who have a passion for staying in shape," she says. "They want a workout, so they come to us, then they downhill ski. They also come to Tahoe Donner to avoid the downhill places on the weekends."
There's an added bonus, as well. Jones often hears complaints that downhill skiing is too expensive. Cross-country day tickets and rentals are more affordable, so many visitors will downhill ski only one day of their vacation and cross-country ski the rest.


Dawn Gaffney drops into a steep run at Squaw Valley, photo by Scott Gaffney
Skiing Double
Each sport has its own element of appeal.
"Downhill skiing is more, 'Woo-hoo! Wow!' Crazy and exciting. But Nordic is more about being in the wilderness and getting your exercise," says Dawn Gaffney of Tahoe City.
Gaffney is part of a family of downhill skiers. Her husband, Scott, is co-director of ski film company Matchstick Productions, and her brother-in-law, Robb, wrote the book Squallywood: The Guide to Squaw Valley's Most Exposed Lines.
"I never thought I would be a Nordic skier until I became a mom," says Gaffney, who is a mother of two boys. "We are super busy and a skate ski can be done in a short time. It's kind of like running; you can get really good exercise."
Like most winter athletes in Tahoe, Gaffney says she enjoys the thrill of downhill skiing on a powder day. But as a triathlete, she also relishes the aerobic exercise of skate skiing—one of two disciplines of cross-country, along with classic skiing. She introduced her kids to the sport through Tahoe Cross Country's Strider Glider lessons, a weekly after-school cross-country skills program that includes equipment and group instruction. She says her kids have grown particularly fond of biathlon, which combines skate skiing and shooting.
While many cross-country skiers are downhillers looking to branch out and try alternative ways of sliding on snow, Truckee's Patrick Johnson went the other way. He grew up cross-country ski racing in Alaska. After high school, Johnson went on to become an All-American at Vermont's Middlebury College, a Nordic racing powerhouse. He also competed for the U.S. Junior World Team and is a regular top contender in Tahoe-area cross-country races. Last year, he took third place in the Great Ski Race, covering the 30-kilometer course from Tahoe City to Truckee in just over 1 hour 45 minutes.
  "Up there in Alaska, it is cross-country skiing everywhere," Johnson says. "You can ski at night, and it helps that you are skiing at sea level."
Johnson moved to Truckee four years ago to race for the Far West Nordic Elite Team for a winter. Then, like many Tahoe-area residents, he never left. On a whim, Johnson bought a downhill season pass and started skiing.
"It's a fun sport. It's nice to have a lift up the hill, even though it's fun to ski up the hill, too," he says. "They are good cross-training for one another."
While Johnson's Nordic skiing helps his balance and stamina, downhill has improved his ability to power through the descents on his cross-country skis—a sometimes-challenging endeavor without the benefit of metal edges.
"A lot of the fundamentals are the same," Johnson says. "Balancing on the ski, shifting weight, they really do have a lot of similarity."
If it's dumping snow, Johnson can likely be found at Alpine Meadows. But he prefers skate skiing during dry spells. Johnson says he got in about 45 downhill days at a resort last winter, and perhaps 20 backcountry days. But Nordic skiing still wins the prize, with at least 100 days last year.
For those whose goal is simply to ski—whether taking advantage of downhill's heart-pounding steeps or cross-country's smooth groomers—Johnson sums it up succinctly: "Doing both can help you improve both."
---
Tim Hauserman is a Tahoe City–based writer whose favorite place in the winter is the Silver Trail at Tahoe Cross Country Ski Area. He also teaches and runs the Strider Glider kids program at Tahoe Cross Country.