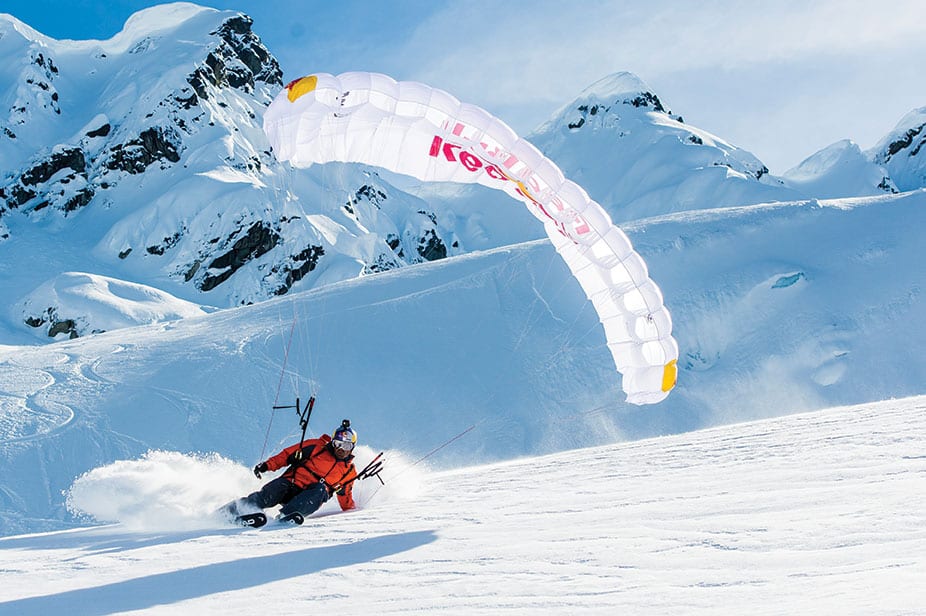 JT Holmes speedrides in Pemberton, British Columbia, Canada, in April 2017, photo by Blake Jorgenson, courtesy Red Bull
29 Sep

Home Sweet Holmes
A Squaw Valley skier, BASE jumper and stuntman reflects on the highs and lows of his extreme lifestyle
"Wet the whistle a little bit," says JT Holmes, talking into his GoPro camera as he bites into a clump of snow.
Pausing, Holmes lets out a deep breath. Though the Squaw Valley skier is essentially in his backyard, he's about to tackle new terrain.
"I'm a little nervous," he admits. "Never ridden this line before."
It's a bluebird day in April 2017 and Holmes, clicked into skis and strapped with a parachute, is seconds away from attempting to speedride—a hybrid of freeskiing and paragliding—down Donner Peak, which looms over Donner Lake in the Truckee backcountry.
After hiking an hour and a half up the mountain, Holmes eyes the obstacles below him. He exhales hard before giving himself a 3-2-1 countdown.
"Ready…
"Set-y…
Another hard exhale.
"Spaghetti."
Holmes drops in, shredding fresh powder down a steep spine leading to a 150-foot cliff. He flies off the ledge, using his parachute to pull hard right, and glides back onto snow—"soft like a feather; no harder than stepping off the sidewalk," he says.
Speeding down, Holmes readies and jumps over an old train tunnel, landing on a pillow line, where rocks step down like staircases. Bouncing his way down the rocky slope, Holmes skids to a stop, kicking up snow just before a swath of trees.
The heavy breaths return—but now they're packed with excitement, not nerves.
"Holy smokes, that was fun," Holmes says as the GoPro video fades to black.
The Squaw Valley skier's entire run down Donner Peak—the spine, the cliff, the train tunnel, the pillow line—lasts 60 seconds.
It's a line Holmes says he wanted to speedride for more than five years. But the conditions had to be perfect—little wind, tons of fresh snow—just as they were that bluebird day in April.
"When I'm up on something like that, I just feel like I'm about to feast on excellent snow conditions," Holmes says. "I don't feel like I'm doing something super crazy or hardcore. I just feel like I'm scoring fresh tracks.
"And no one's going after my tracks… because there's a huge cliff there."
Simply put, Holmes was just savoring another day at play in the Sierra Nevada.
"I was just completely content," Holmes says. "I was just happy to be there; feeling lucky that my whole plan came together."
Truth is, the pro skier/BASE jumper/stuntman knows all too well what it's like when plans fall through on the mountain.


Squaw Valley skier JT Holmes is among the premier speedriders in the world, photo by Blake Jorgenson, courtesy Red Bull
Buried in the backcountry
On January 14, 2016, Holmes was with friends in the backcountry near Truckee, skiing knotty terrain between Tinker Knob and Donner Lake.
The group started slowly before building up to some tougher north-facing slopes.
One by one, the skiers hit the run, skiing out to a safe zone on the right, where everyone agreed to meet. Holmes took his turn, dropping in as he'd done countless times before.
This time was different, however. On this day, for the first time in his life, Holmes triggered an avalanche.
Though he nearly escaped it, Holmes was enveloped in the slide. He tumbled to a stop under three feet of snow. He couldn't move. Couldn't breathe.
Nearly seven minutes passed before Holmes, completely unconscious, was dug out by members of his group, which included two professional mountain guides and an EMT.
He regained consciousness without the need of CPR. Holmes, who says he remembers "pretty much everything," walked away from the incident with a new appreciation for backcountry terrain.
"I learned a lot," he says. "I learned how dangerous terrain traps are—because it wasn't a huge avalanche, but it was enough to put me in a near-fatal situation. The lesson to learn is don't ever underestimate terrain traps and be constantly aware of what will happen if the snow releases.
"I was lucky I was with a great group," he adds. "If I hadn't been, I wouldn't be here today."

JT Holmes at home at Lake Tahoe, photo by Corey Rich, courtesy Red Bull
The lows of high-risk sports
Holmes' brush with death was another stark reminder of the risks involved with being an extreme athlete. Though he's experienced the highest of highs—speedriding mountains all over the world; appearing in more than 15 ski films; soaring between Chicago skyscrapers in a wingsuit for the movie Transformers 3—Holmes has seen firsthand the lowest lows of high-risk sports.
Perhaps none more than on March 26, 2009. Holmes was with his best friend and mentor, Shane McConkey, when he was killed during a ski BASE jump in Italy's Dolomite Mountains.
McConkey was a trailblazing Squaw Valley freeskier and BASE jumper. In fact, McConkey and Holmes helped pioneer the combining of the two sports—skiing straight off cliff faces with a parachute.
"Shane had a profound impact in that he made skiing more fun than it ever was before," Holmes says of McConkey, who, in addition to his skiing and BASE jumping talents, was also known as an infectious, charismatic goofball.
Moreover, McConkey contributed to the design of modern fat skis; the widely used reverse sidecut and reverse camber skis were his brainchildren.
"He developed ski technology that every single ski company is using to this day," Holmes says. "That makes people capable of skiing longer, having more fun, having more control… covering more ground more efficiently and skiing more interesting mountains with more ease.
"His legacy is evident in everyone who skis."
In celebration of McConkey, the Shane McConkey Foundation hosts an annual event at Squaw Valley called the Pain McShlonkey Classic. The high-spirited and hilarious tribute includes competitions between professionals and amateur athletes on snowblades, a costume contest and a Speakeasy-theme gala.
"I just feel lucky that I got to spend so much time with such a talented guy and share all those moments," Holmes says of his late friend.

Miles Daisher of the Red Bull Air Force and JT Holmes BASE jump from the tower known as Titan, part of the Fisher Towers near Moab, Utah, in October 2014, photo by Michael Clark, courtesy Red Bull
A bond with Squaw Valley
Indeed, McConkey was an integral figure in fostering Holmes' development as a boundary-pushing athlete. Holmes first clicked into skis at age 3; his family moved from the Bay Area to Squaw Valley in 1995 when he was 15 years old.
It was during his first year at Squaw that Holmes realized skiing was growing into more than just a hobby. The snow. The mountains. The rush of it all. Holmes was at home on the slopes—especially when cliffs were involved.
"I remember at a certain point, I realized I really got a kick out of jumping off bigger cliffs," says Holmes, who became a member of the Squaw Valley Freestyle Team. "And I just really felt a bond with Squaw Valley as my playground; it was a source of joy, and it was one activity that I was participating in that I never got bored of."
McConkey and Scott Gaffney, a pro skier, filmmaker and Tahoe City resident, immediately took notice of the new kid on the slopes who didn't shy away from shredding with the pros.
"He would pretty much tag along between Shane McConkey and me as we were skiing around the mountain—just this young bumper with a mouthful of braces, but he kept there right on our tail," Gaffney recalls.
"He was just a pretty mature skier for his age. As far as studying lines, there's a certain maturity that it takes to be able to read them well and ski them well, and he was ahead of the game at a young age."
In fact, in 1998, Gaffney brought Holmes to Alaska as part of a heli-skiing expedition and video shoot for his film company, Matchstick Productions. The film was called Sick Sense.
"That was unheard of at the time, taking a 17-year-old into that kind of terrain," Gaffney says. "It was a lot of commitment, but he charged it."
As one might expect, Holmes, removed from the comfort of his home mountain, was initially a tad intimidated by the towering Alaska peaks. Gaffney, however, remembers a specific moment when he helped calm the young skier's nerves.
"He was on top of these rowdy spines and I told him, it's just like the Fingers at KT [at Squaw Valley], only bigger," Gaffney says. "And I think that calmed him right down, and he railed them."


JT Holmes co-founded the B.A.S.I.C.S. program, which promotes action-sports safety and awareness through coaching and educational documentaries, 
photo by Blake Jorgenson, courtesy Red Bull
Giving back
Now, 20 years later, Holmes is playing the role of mentor to aspiring adventure athletes. In fact, for six years Holmes has been the director and co-founder of the B.A.S.I.C.S. program, which promotes action-sports safety and awareness through coaching and educational documentaries.
In addition, he works with and supports the High Fives Foundation and Project Airtime. The former provides rehabilitation support to athletes with life-altering injuries, while the latter teaches wounded veterans and people with spinal cord injuries how to paraglide.
"We're role models to the younger kids, so it's important to guide people on their path and be a good source of advice, and serve as an example," Holmes says. "And the bar has been raised to new heights in so many action sports that there are a lot of accidents and fatalities. So there is a message you can spread about safety, so that people who look up to you can learn how to do these things in a way that will let them do them for their whole lives."
Capitalizing on an
epic snow season
Holmes practices what he preaches every time he's soaring through the air or sliding down a mountain.
Last winter, like many local skiers and riders, he took full advantage of the record-setting season in Tahoe, when some areas received nearly 800 inches of snowfall.
He won't soon forget it.
"Just those epically deep Squaw Valley days—memories on Red Dog where there was so much snow you honestly had issues with breathing while you were skiing," Holmes says. "People talk about [using] a snorkel as a joke, but in this case, there were some days when it would've been useful."
Holmes says another highlight was skiing at Squaw in June and July. And so, when asked how last season stacked up with previous epic snow years at Tahoe, Holmes doesn't hesitate.
"My best ever… without question," he says, adding that he got on the hill about 100 days. "As a Squaw Valley local, I'm happy I got to ski so many days in such a historic year."
This winter, Holmes hopes to spend just as much time on the slopes.
He's taking part in a project with Red Bull, his sponsor, in which he'll speedride some of the "postcard" mountains at iconic ski resorts in the western United States, such as Mount Superior near Snowbird, Utah, and Cody Peak at Jackson Hole, Wyoming.
Holmes also has plans to work with longtime professional photographer Blake Jorgenson on a ski trip to British Columbia. (While not included in that trip, Holmes says his bucket list includes speedriding a line on Mount Currie in British Columbia.)
It's safe to say that Holmes doesn't have any immediate plans of slowing down. However, he is starting to prepare for a future that doesn't include wingsuits and parachutes.
"I've been developing sources of income that aren't directly reliant upon high-risk activity," he says. "That way if I choose to take a step back, then I can do it without feeling my livelihood is attached with it."
---
Kaleb M. Roedel is a Reno-based writer.