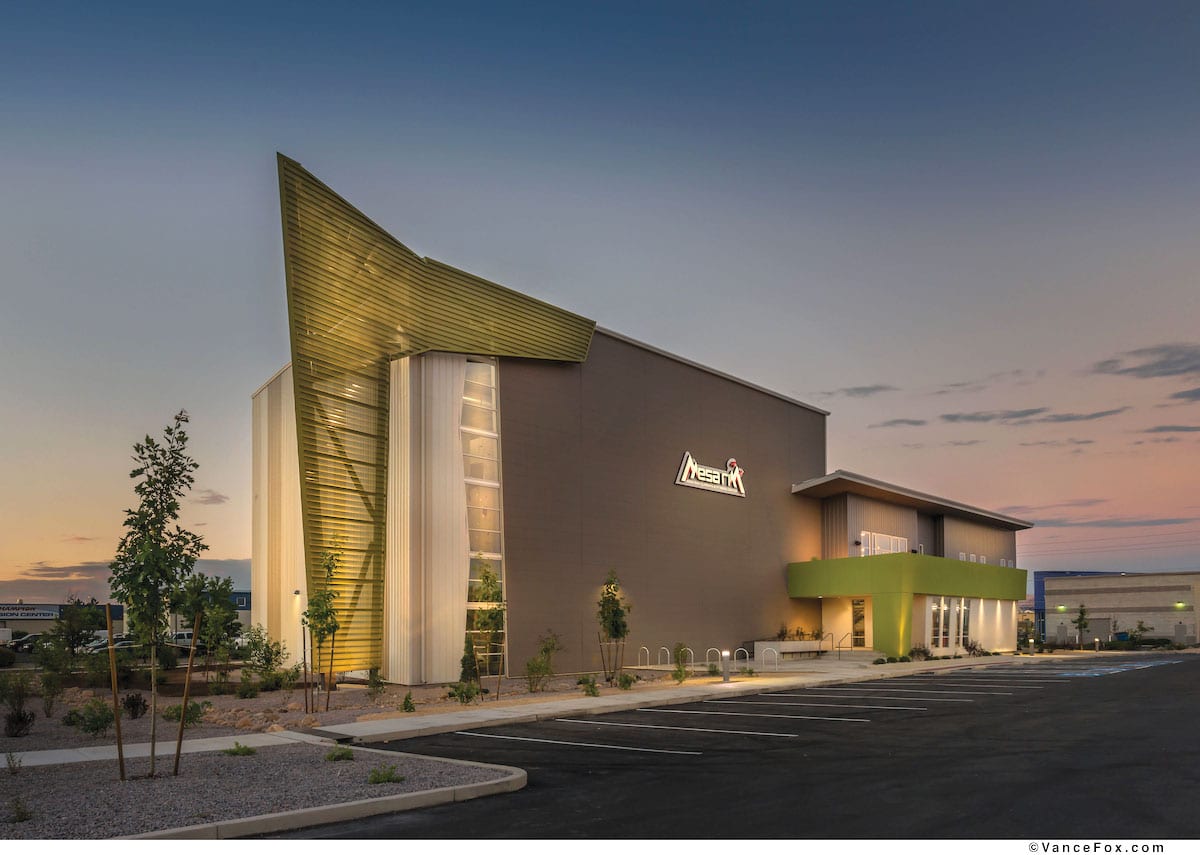 The exterior of Mesa Rim's new 24,000-square-foot building in Reno, photo by Vance Fox, courtesy Mesa Rim
29 Sep

Mesa Rim on the Cutting Edge
Reno adds a world-class indoor climbing facility
Climbers are moving indoors. The sport of indoor rock climbing is in steep ascent, underlined by the fact that it will make its Olympic debut at the 2020 Tokyo Summer Games.
"There is a change of philosophy from when the first climbing gym opened in Seattle," says Marlowe Kulley, co-founder and owner of Mesa Rim Climbing & Fitness Center in Reno. "Back then the only question was, how do we train for the outdoors? But the demographics are shifting and some people who climb indoors don't even go outside anymore."
Kulley ought to know.
She is the editor of Climbing Business Journal along with her partner, Mike Helt, and the pair have made a career out of studying trends in the climbing industry and how those trends have affected the more than 3,000 indoor climbing facilities worldwide.
A working familiarity with those trends also led the pair to their latest venture, Reno's Mesa Rim climbing center.


Mesa Rim in Reno features climbing walls up to 52 feet high, photo courtesy Mesa Rim
Taking the Outside In
The first Mesa Rim facility was founded in San Diego by avid climbers Bob Kain and Ian McIntosh in 2010. Kulley and Helt became acquainted with the duo during their travels on behalf of their climbing business publication and grew to admire both the businessmen and their model.
After doing some research, the four climbing enthusiasts decided Reno was ripe for a gym of the Mesa Rim caliber. Kulley and Helt, who had been traveling around the country in their Sprinter, living the "climbing bum lifestyle," moved to Reno fulltime to embark on the project.
"There are hundreds of thousands of people [in the Reno area] and they don't have access to a modern facility like this one," Kulley says. "It's one of the last large markets in the West that doesn't have a facility where everything is under one roof."
So the ownership group built a 24,000-square-foot facility from the ground up.
The commodious building—located just west of Highway 395 near the Grand Sierra Resort and Casino—has 23,000 square feet of climbing terrain, including climbing walls up to 52 feet replete with dihedrals, overhangs, four separate crack systems, lead-climbing opportunities and a designated bouldering area.

In addition to its climbing walls, Mesa Rim includes a designated bouldering area, photo by Vance Fox, courtesy Mesa Rim
But that's not all.
Cardio equipment, free-weights, exercise facilities, a private event room, community space and a retail shop full of rock climbing equipment round out the club experience at the newly minted facility.
But indoor climbing at its most accessible and creative is the centerpiece of the gym.
"For this gym, it is owned by a bunch of route-setters," says Helt, who is renowned for his creative arrangements of climbing holds that demand unique approaches and movements. "It's what we do as a profession, and we take it seriously."
Like Kulley, Helt believes creating engaging routes that are challenging and fun is more important than creating routes that simulate an outdoor experience.


From left to right, Mesa Rim co-founders Bob Kain, Mike Helt, Marlowe Kulley and Ian McIntosh, photo by Sylas Wright
"Indoors, we can be so much more creative then we can outside," Helt says.
While conceding that being part of the outdoor experience is an instrumental part of the lure of outdoor rock climbing, from a pure kinetic or movement perspective, Helt says indoor climbing is superior.
"A 5.8 outside is pretty straightforward, left-right, left-right, and then you're at the top, which is great," Helt says. "But indoors you can get the body moving in ways that are unique."
This doesn't mean that indoor routes are harder, necessarily, as Helt says the key to being a quality route-setter means giving all climbers with all different body types equal access to unlock the secrets of a given route.
"People want creative flow, but they want it to be fair—to be the same for a tall person as it is for a short person," he says.

Mesa Rim features creative arrangements of climbing holds that demand unique approaches and movements, photo courtesy Mesa Rim
Climbing to Dreams
Jason Burd, owner of Incline Village's High Altitude Fitness, agrees that all climbers should enjoy equal opportunities. He opened his gym as a standard fitness and exercise gym but added a climbing wall about two and half years later.
"Even for myself, I opened a climbing gym so I could get super strong and climb more outdoors, but most of my climbing is done inside," Burd says.
For Burd, part of the attraction is the burgeoning field of competitive climbing. He has a team of youngsters pulled from the local school districts who travel around and compete at various competitions.
"These kids get so strong so fast, I almost had to quit coaching because it takes them about six to 12 months before they are stronger than me," Burd says with a laugh.
Burd has filed an application with the Town of Truckee to build a 27,000-square-foot climbing facility. A part of his pitch is that the area can produce Olympians as more and more competitors are drawn to the sport of climbing.
"We have all kinds of skier and snowboarder kids up here, and I think it would translate well into climbing," he says.
The emergence of local facilities that can foster the development of those kids would be a key factor in realizing that dream.
"Most of the kids my teams compete with come from gyms that have 25,000-square-foot facilities," he says. "I have 2,400."
Helt also acknowledged competitive climbing has given rise to the interest, particularly among the younger set.
"Climbing isn't inherently competitive like ball sports or field sports," he says. "But there are climbers who are attracted to that element."
But Helt and Kulley say their gym aims to be all things for all people, from young athletes with dreams of Olympic gold to middle-aged folks looking for a quick workout to parents seeking a positive place to host a birthday party. 

Cardio equipment overlooks Mesa Rim's spacious interior, photo by Vance Fox, courtesy Mesa Rim
"People use gyms like this as their home away from home," Kulley says. "You have families with one kid on the climbing team, and the other doing his homework while he waits for his mother to finish her yoga session."
Mesa Rim is open year-round, but come winter, when the winds howl and the rocks are snow-covered, it's nice that athletes of all ages have the option to come indoors and climb.
---
Matthew Renda is a Santa Cruz–based writer and climber.