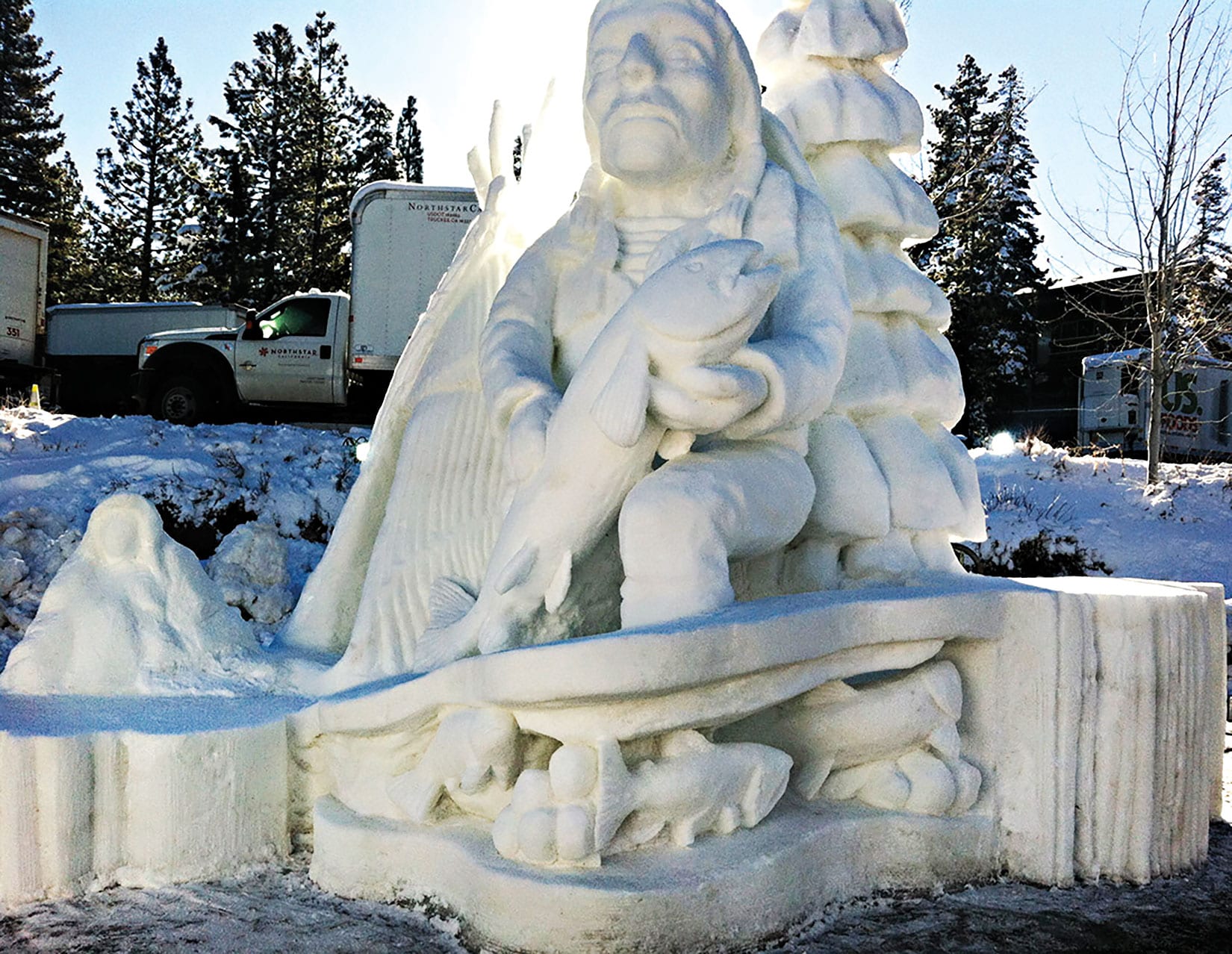 The Fisheaters, photo by Ron Richman
29 Sep

Monument Man
Longtime sculptor counts snow as one of his many mediums

Ira Kessey, photo by Ron Richman
Ira Kessey is a busy man. In his studio in Tahoe City, he's currently at work on multiple projects in multiple mediums. One is a bust of Captain George Whittell Jr., made of Italian oil clay, that Kessey plans to have cast in bronze for the East Shore's Thunderbird Lodge. Another is a granite boulder from a friend's property near Truckee's Donner Canyon that Kessey is sculpting into a large lake trout. There are about five other works-in-progress, including one of naturalist John Muir. At almost two feet tall, the sculpture depicts Muir sitting on a rock while gazing up at El Capitan.
"I started him six or seven years ago," Kessey says. "It's one I've been wanting to do—not a commission—so he's been forced to sit on shelf a little bit."
Muir will have to remain on the shelf a while longer. Kessey describes his career as "feast or famine," and despite noting that he "learned to cook potatoes really well," the artist is currently hard at work plying his many trades.

Ira Kessey working on his Muir sculpture at the Thunderbird Lodge, photo by Ron Richman
Many Talents
Kessey's interest in art began during his childhood in San Francisco. His mother was an architect and artist, and the family surrounded themselves with artistic friends, including renowned Bay Area sculptor Benny Bufano.
Kessey received his first wood carving kit as a child and excelled in art classes in school. He especially enjoyed art history—a subject that would fascinate him throughout his life—and would find inspiration in the works of artists like Pablo Picasso.
Though Kessey earned a scholarship to the California College of Arts and Crafts (now California College of the Arts), he says he got "sidetracked" after high school, and elected to go out on his own instead. At age 23, he started his own art glass studio in Oakland, and would often sell his works on the streets in San Francisco.
"I just dove in, like I've been doing all of my life," he says. "Any time I want to learn something, I work out my own way of doing things. The world is my school, and I know that if I want to figure out how to do something, I will figure out how to do it."
Kessey operated his glass studio for 15 years, creating sandblasted, stained and chipped glass works. He found the work interesting—and always different.
At one point, he was commissioned by the Children's Hospital Oakland to create a piece to give to former Soviet leader Mikhail Gorbachev and his wife, Raisa, in honor of the Heart to Heart International Children's Medical Alliance, which smuggled children out of Russia to receive life-saving heart operations. It was 1990, the same year Gorbachev was awarded the Nobel Peace Prize.
"It was a piece of very thick glass, which I hand-chipped at the outside edges like you would an arrowhead, but in the shape of a heart," says Kessey, who engraved the piece with a child sitting in a cupped hand and the words "Mutually working together for our children" written in Russian on the base.


Glass heart sculpture presented to Mikhail and Raisa Gorbachev, photo by Ron Richman
About five years later, Kessey closed his glass studio and took up rock. Working at Turlock Marble and Granite, in California's Central Valley, Kessey learned the monuments trade. One piece that stuck with him was a memorial to a couple who had immigrated from Norway in 1825 on a sloop called the Restoration. Kessey, who is of Norwegian descent, says it was "sort of like Christopher Columbus, but for Norway; it was the first ship to come over."
The couple landed on the East Coast and migrated across the country, following the Oregon Trail and homesteading in the Napa Valley in 1845. The couple's great great grandson wanted to honor his ancestors' memory and had a two-ton boulder shipped over from Norway. With it, Kessey created a seven-foot-tall monument, which included a depiction of the Restoration's voyage, to mark the couple's gravesite at Napa's Tulocay Cemetery.
The Restoration was a chance to combine Kessey's two passions: art and history. The two often overlap, a fact especially noticeable in Kessey's later works as he explored new subjects and mediums and, in turn, veered to less traditional—and more weather-dependent—sculptures.

Restoration commemorates a Norwegian couple who immigrated to America in 1825, 
photo by Ron Richman
Sculpting Snow
Kessey's first foray into the world of snow sculpting competitions was somewhat accidental. It was the winter of 2012–13, the first year of Carve Tahoe, a now defunct international snow-carving event held at Northstar. Kessey had been living in North Lake Tahoe for more than a decade (having grown up frequenting the region with his family, Kessey says that "my dream as a kid in the Bay Area was to be in the mountains"), and though the Carve Tahoe organizers had already filled all available team slots, Kessey wanted to give it a try.
"I got a hold of the organizers and said I wanted to be involved," Kessey says. "At the last minute, the Russian team couldn't make it."
He and two friends put together a Tahoe–Truckee team. They had only a week to plan—as opposed to the months of preparation given to subsequent snow sculptures—and their resulting creation was mostly designed by one of the other sculptors around the concept of rising oceans. Kessey describes it as a man sinking in the water, "this giant head with a hand coming out of the ground, waves lashing against the backside of him."
They won the people's choice award for their sculpture, titled Rising Tide. "It was a dramatic piece," Kessey says.
Rising Tide, which won people's choice at the 2012–13 Carve Tahoe event, photo by Keoki Flagg
The next year, Kessey took the lead on the snow sculpture. As a history buff, Kessey had always been fascinated by the story of Chief Truckee, the Paiute tribe leader who helped wagon trains over Donner Summit in the two years before the ill-fated Donner Party.
Kessey wanted to make sure he had his information correct. He spoke with Paiute elders and visited museums and historical societies.
"They [the Paiute] were known as the 'fish eaters' because they lived at Pyramid Lake, which was prolific with fish," Kessey says. "Chief Truckee fed the settlers that were coming through all these wonderful fish after they'd crossed the desert. He envisioned these people coming were the lost children of Paiute Indians, so he wanted to help them."
Kessey designed a maquette, or a dimensional model that he generally makes out of oil clay or even Styrofoam. "It solves a lot of problems ahead of time," he says.
The ultimate snow sculpture is multifaceted and detailed. Chief Truckee kneels at a river, a large fish in his hands while others swim among rocks in the water. He's backed by a tall tree and a traditional stick dwelling. "We ended up getting the people's choice, third place and artists' choice, which was great considering all these other teams—world-class teams—had been doing these things many more years."
Snow sculpting is different from other types of carving, in which the artist is simply subtracting material, as snow can also be added back to the sculpture. In competition, each team gets the same sized cube—a roughly 20-ton block of snow, so densely packed that it's more akin to ice.
But, says Kessey, it's also very fun. Late last December, to celebrate the opening of an ice rink at Tahoe City's Winter Sports Park, he and the two local members of his team donated their time and resources to create a snow sculpture of Santa, who is sitting in his sled with an empty sack as he returns home after delivering presents. "We sculpted it for all the kids," he says. "It was a fun event; everyone loved it."
The following month, in January 2017, Kessey and his team traveled to Colorado to compete in the Breckenridge International Snow Sculpture Championships, a highly exclusive event (Kessey had been applying for three years to compete) limited to 16 four-men teams from around the globe. Representing Iceland (the fourth team member is a Scandinavian woodcarver who recently moved back to his home country), the team was given a time limit of 65 manhours over a period of five days to work on their piece. The conditions were difficult: Breckenridge sits at an elevation of 9,600 feet, and two of the team members dealt with altitude sickness for two days. The first day of carving, the temperature reached negative 14 degrees. "And it's all done by hand," Kessey says. "No power tools."
Designed by Kessey, the sculpture, Ancestry in Ice, depicts a Viking warship lurching in the waves. The team worked with giant chisels, snow saws and masonry trowels, and modified garden tools, like shovels and picks. "No store out there sells snow sculpting tools," Kessey says, noting that teams need to get "creative."
And perhaps it's because of this—the fact that snow sculptors are an anomaly, spending dozens of hours on sculptures that won't survive the winter—that Kessey calls the event the friendliest competition.
"It's the most amazing thing," he says. "Many teams don't speak the same language, like the Mongolian team, but it's the most fun thing because everyone who's there has one thing in common: They are all sculptors."
There's no monetary prize, no trophies: Competitors attend because they love to create.
"People are trading tools, everyone is getting feedback from each other—you make friends from all over the world," Kessey says.
Kessey working on Ancestry in Ice in Breckenridge, Colorado, 
photo by Ron Richman
Always Creating
Kessey hopes to compete in the 2018 event at Breckenridge, but in the meantime, he's got plenty to keep him busy. He volunteers at the Thunderbird Lodge, where he spent time this summer in the gazebo on the water's edge working on the bust of Whittell. "It's the most beautiful studio you could ever have," he says.
In addition, Kessey skis, hikes, gardens, fishes and kayaks, and he tries to create art every single day. "I've always been passionate about creating things," Kessey says. "I wake up excited to have a new idea and create something I've never done before."
Since starting with wood carving as a child and moving to glass, then rock, metal and snow, Kessey, now age 60, doesn't rule out picking up new mediums in the future. That's something he is sure of—that he will continue to learn and create for a long time.
"I never plan to retire because I love to be creative. Why would you want to stop doing what you love?" he asks. "All my best works are still ahead of me."
---
Select pieces of Ira Kessey's work can be found at James Harold Gallery at Tahoe City's Boatworks Mall. Learn more or contact the artist at www.kisesculpture.com.
---
Writer and editor Alison Bender lives in Reno with her family, www.alisonobender.com.