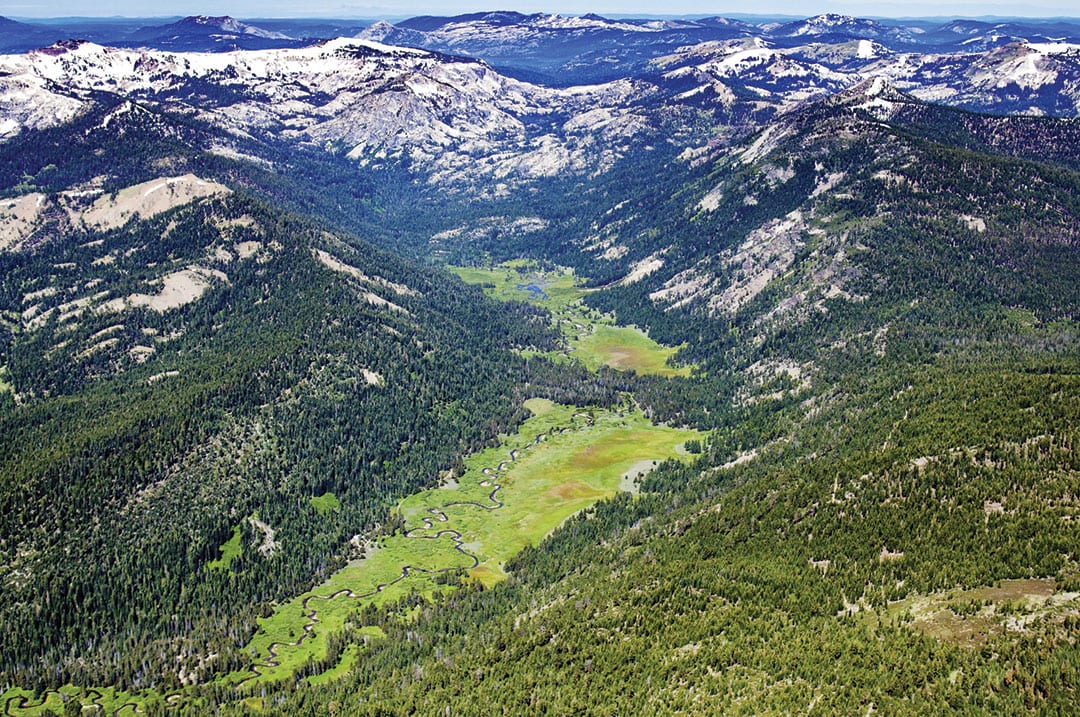 An aerial view of Carpenter Valley, photo courtesy Truckee Donner Land Trust, photo by Tom Lippert
29 Sep

Preserving the Sierra's Secret Garden

In Tahoe, where seemingly every peak, forest and lake has been explored by a willing and adventurous public, the 1,320-acre Carpenter Valley just north of Truckee's Tahoe Donner subdivision is an anomaly. The valley and its incredible scenery has remained closed and relatively untouched as it passed down and sold over the generations as private property.

It hadn't escaped the notice of conservationists, however, who have eyed Carpenter Valley for its pristine meadows, natural waters, rare and diverse wildlife, and recreation potential for more than a decade.

"I first saw this property in 2002," says Perry Norris, executive director of the Truckee Donner Land Trust. "It was in the fantasy category of conservation—one we didn't think we'd be able to pull off."

So when the Truckee Donner Land Trust, Northern Sierra Partnership and The Nature Conservancy brokered a deal to acquire 600 acres of the valley in the summer of 2017, it garnered plenty of local and national attention, with headlines heralding the opening of a "secret garden" in the Sierra.

"When you see it, you see why it's been such a high priority for us," says Lucy Blake, president of the Northern Sierra Partnership. "It's one of the most intact mountain meadows, with a stream that hasn't been manipulated, and it hasn't been grazed in more than 30 years."


Prosser Creek meanders through Carpenter Valley, photo courtesy Truckee Donner Land Trust, photo by Elizabeth Carmel
Rare water formations, called fens, underscore the valley's delicate nature and support some of its most unique wildlife, including carnivorous plants that wrap hapless flies in curling tendrils or suck passing aquatic insects into their underwater root systems.
"The Nature Conservancy has been prioritizing hot spots of biodiversity, and Carpenter Valley is one of the top hot spots," says Kristen Wilson, an ecologist with the conservancy.
It isn't lost on these groups that Carpenter Valley's isolation and secretive nature are the very reasons it's such a pristine example of Sierra wilderness as they prepare to open the property to the public. Over the next two years, they'll work to find ways to share the valley's beauty while also preserving it.
Carpenter Valley features a meandering fork of Prosser Creek that was never manipulated, willow thickets critical to endangered species, and more than 300 species of plants, Wilson says, adding that the valley also provides habitat for fish, beaver, waterfowl, deer, bears, raptors, badgers, American martens and Pacific fishers.
Wilson says the state's lone wolverine is also thought to have moved through the valley, while the conservation group Trout Unlimited is studying to learn if the threatened Lahontan cutthroat trout is present. Wildlife cameras have documented mountain lions, bobcats, coyotes, skunks, cottontail rabbits, grouse and other mountain species.
One of the truly exciting aspects of Carpenter Valley are the fens, or spring-fed bogs, that create unique habitat for creatures like sundew—a carnivorous plant that attracts flies with dew-like drops, only to trap them in curling leaves—and the lesser bladderwort, which grows cups on its underwater roots that suck in aquatic insects in one one-hundredth of a second, Wilson says.
"These fens may take hundreds if not thousands of years to form, accumulating the floating mat of mosses and other plants on them, which could be destroyed by grazing or people walking on them," Wilson says.
In the winter, Carpenter Valley presents countless backcountry skiing and snowboarding opportunities, with ridges to the north and south and a rocky buttress that allegedly caught the eye of Alex Cushing before he built Squaw Valley.
"At 6,200 feet, the valley is similar to the base of Squaw," Norris says. "We skied out there a number of times last winter, and the access to Carpenter Ridge, Independence Lake and other faces make the touring potential pretty high."


The 1,320-acre Carpenter Valley north of Truckee features pristine meadows and a rare assortment of wildlife, photo courtesy Truckee Donner Land Trust, photo by Elizabeth Carmel
"It's like entering a winter paradise," agrees Blake, adding that the property has the potential to fit into a backcountry ski hut network that the Truckee Donner Land Trust has in the works. "The trees are bigger, enormous boulders left by glaciers dot the valley and you see the Sierra Crest in all its beauty."
Carpenter Valley was first settled by dairy farmer William Carpenter and his wife in the late 1800s. The Carpenters' descendants were unable to agree on a use for the property and eventually sold it to local newspaperman James B. McClatchy and two of his friends in the 1970s, Norris says. After McClatchy's death in 2006, the other two owners disagreed for years about whether to conserve the property, sell it or keep it.
In 2017, "it literally almost came down to binding arbitration with a mediator, but they called us the night before and we struck a deal," Norris says.
While the land trust typically takes two years after an agreement to raise the necessary funds—this time $10.24 million—in this case, they had 60 days.
"Thankfully, a friend of the land trust and a great conservationist stepped forward and basically bought the property, giving us two years to buy it back," Norris says.
Since then, Truckee Donner Land Trust, Northern Sierra Partnership and The Nature Conservancy have worked together on fundraising efforts, getting funding from the California Wildlife Conservation Board and other public and private sources from across the country.
"This project wouldn't have happened without these groups collaborating, pooling hundreds of donors," Wilson says. "It really speaks to the span of people who are interested in the mission of protecting and conserving nature."
While Carpenter Valley is both beautiful and ecologically important, its acquisition is important to a bigger picture for conservation organizations.
"This is a key puzzle piece that fits into 10 years of work putting together the Little Truckee and Truckee River watersheds," Norris says. "It abuts property that we've already protected, and properties we're still working to protect, and it's a critical link for wildlife habitat and recreation alike."
Adjoining and nearby properties preserved by the land trust and others include Euer Valley, Crabtree Canyon and Independence Lake.
"This place is rare and spectacular, and would be worth protecting all by itself, but it's also a part of an important landscape-scale effort," Blake says. "Little by little, we're putting the landscape back together again, opening it for public enjoyment and creating continuous habitat for wildlife to move around in."
Compared to the Southern Sierra, where 90 percent of the land is public, the Northern Sierra is closer to 60 percent, she says, cut into checkerboard pieces of public and private when the transcontinental railroad was routed through.
While unfettered public access is still two years away as the conservation groups plan access in a way that it doesn't impact the valley, guided tours are available and docent-led ski tours are planned for this winter, Norris says: "We have 35 to 40 earnest and dedicated volunteers leading these hikes, and each hike has been waitlisted because they're so popular."
---
To learn more about the property, go to www.tdlandtrust.org.