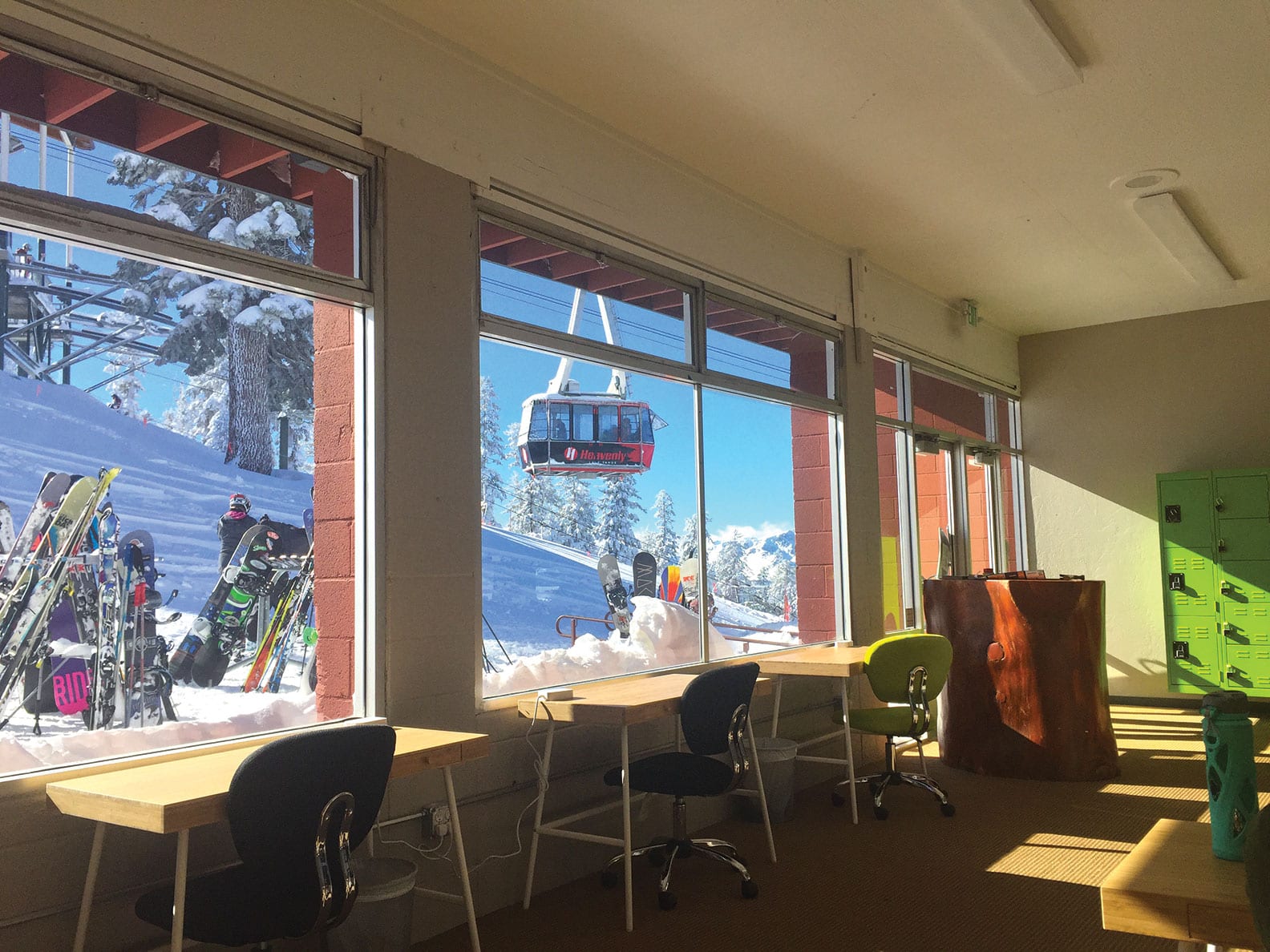 Tahoe Mountain Lab at Heavenly, courtesy photo
29 Sep

Tahoe Mountain Lab Brings Coworking Space to Heavenly

Imagine riding a chairlift to your office on the slopes of a world-class ski resort. Inside, desks face windows that open to the snow-covered mountain, and likeminded entrepreneurs conduct business while sharing stories of epic powder days.

This is the Tahoe Mountain Lab coworking office at Heavenly's Lakeview Lodge—the first "ski in, ski out" shared workplace in the world.

"Any person who loves to ski or snowboard will want to have this experience, because we believe that people who get into the outdoors and set that positive mindset perform better at work," says Tahoe Mountain Lab cofounder David Orr.

Orr understands how working in an urban environment can adversely affect your health.

Before founding Tahoe Mountain Lab with his wife, Jamie, the 33-year-old worked at start-up companies in the Silicon Valley. From a tiny office, Orr toiled constantly but had trouble staying in shape. So in 2013, he and his wife moved to South Lake Tahoe and traveled to the Bay Area for work. The commute wasn't ideal, but it was the best option for a healthy lifestyle while still pursuing their careers.

"In the Silicon Valley, the work/life balance just wasn't there," Orr says. "Quality of life brought me to South Lake Tahoe. Now, I could be totally stumped on something, then go snowboarding and have an 'aha' moment. So there is something to be said for exercise and business."

After moving to Tahoe, the resourceful couple turned their empty Bay Area house into a "Hacker Home" and rented out the rooms to young entrepreneurs. It was a space where business people could both live and work and was immensely popular from the start.

"Everyone from small startups to Google and Digital Garage were renting a space from us," Orr says. "This experience triggered my interest in starting a shared workspace in Lake Tahoe."
Tahoe Mountain Lab members work from the 
coworking office at Heavenly's Lakeview Lodge, courtesy photo
Tahoe's economy was still recovering from the Great Recession at the time. Many local businesses were struggling. So when Orr met with the South Lake Tahoe Chamber of Commerce and asked what the community needed, one of the things they discussed was a coworking space to create business longevity.
"Coworking is the idea that there's an office space that everyone shares. You can have multiple businesses under one roof," Orr says. "One of the cheapest ways to run a business is with a coworking space, and given the business environment in Tahoe at the time, it was the easiest route."
In 2014, Tahoe Mountain Lab opened its first coworking office in South Lake Tahoe before moving to a larger building off Harrison Avenue in May 2016. It expanded last winter to include the second location at Heavenly.
The two Tahoe Mountain Lab offices are shared by 65 businesses. The spaces are an inexpensive way for new companies to get off the ground, and members are provided with everything from office supplies to catered lunches once a month. Impromptu group ski outings are not uncommon, either.
Beyond enabling fledgling businesses to save money on rent, Tahoe Mountain Lab provides a communal setting where its users can work together and share ideas.
"More than anything, Tahoe Mountain Lab has helped my business because I have a place to go where I'm not by myself. I have people to bounce ideas off of and the collaborative part has really helped my business," says Tahoe Mountain Lab member Carissa Bisnar.
Bisnar was a competitive snowboarder who rode over 265 days a year before starting her career as a business consultant. When she heard about Tahoe Mountain Lab's new office space at Heavenly, she packed her bags and moved to South Lake Tahoe. At Tahoe Mountain Lab, she found equilibrium between her work and her passion.
"Trying to balance a career and still snowboard every day is difficult," Bisnar says. "But Tahoe Mountain Lab makes it a possibility. We're all busy and it takes a lot of time and effort to build a successful career. Tahoe Mountain Lab provides people with a work lifestyle. I can go snowboarding every day for an hour and still have a good career."
The office's first year at Heavenly was not without its challenges, however. Large snowstorms throughout Tahoe's record winter shut down the entire resort numerous times, making it impossible for members to access the office, and Internet and cell phone connections were often spotty due to bad weather.
But then again, those same storms provided epic ski and snowboard conditions. This winter, Orr says he looks forward to taking Tahoe Mountain Lab members on even more slope-side adventures when they feel they need a break.
"Members will get their work day done and then do the best skiing they've ever had in their lives. We already have people signing up to be Tahoe Mountain Lab members because they like the idea so much," says Orr, who adds that the innovative workplace is not only bringing more businesses to South Lake Tahoe, it's also changing the town's image. "It's been a game-changer for the South Shore."

Tahoe Mountain Lab members Carissa Bisnar, Kamyar Samimi and Joshua Goldstein prepare to drop into Avalanche Bowl at Heavenly, photo by David Orr
Steve Ardagh, founder of Eagle Protect PBC—an environmentally conscious company that produces disposable gloves for the food and medical industries—moved his business from New Zealand to South Lake Tahoe to become a member of Tahoe Mountain Lab. One of the main draws was the new coworking space at Heavenly.
"I loved it," he says. "It's a wonderful environment to work in. Everyone is sitting in their ski gear. You just turn up and get your computer going. It's so convenient."
Tahoe Mountain Lab is also creating opportunities for young people by partnering with Lake Tahoe Community College (LTCC) to provide paid internships.
Entrepreneurs who want to become members at Tahoe Mountain Lab can rent an office space by the day, week, month or year. Members have access to both the Lakeview Lodge workspace at Heavenly and the Harrison Avenue building in South Lake Tahoe.
"I'm sold on this business model," Orr says. "I've always dreamt of being able to recreate as much as possible, while still being effective at work. Now, my commute to work is literally a chairlift in the winter. It's a dream come true."


Tahoe Mountain Lab members James Broad and Kevin Joyce of FullFunnel take a conference call in the sun, courtesy photo