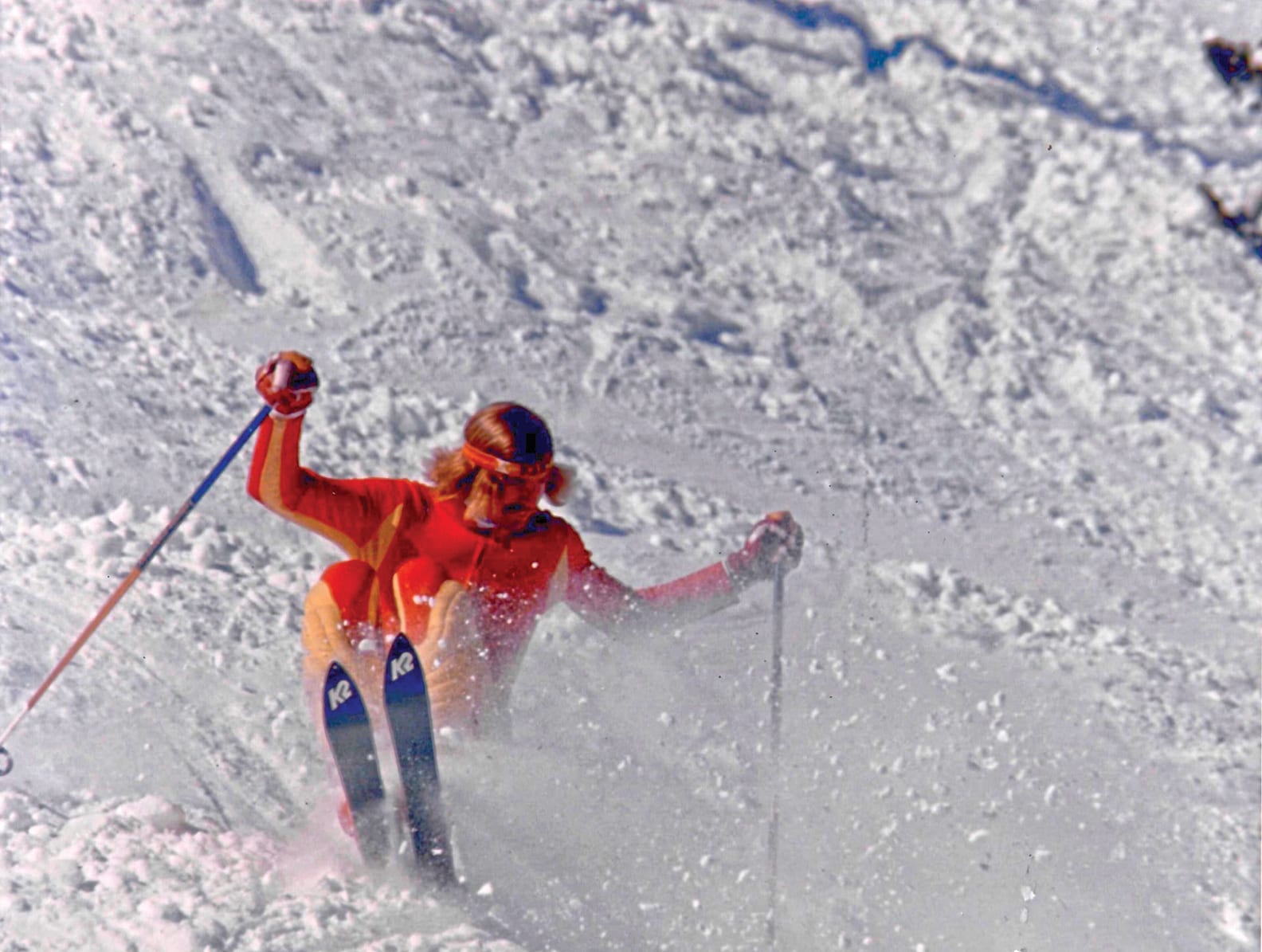 Troy Caldwell shows off his 1970s freestyle form, courtesy photo
04 Oct

Hotdoggin', a Dinner Roll and Zipper Lines
From its wild, free-spirited beginnings, mogul skiing has evolved into a sport of near flawless perfection, and Tahoe athletes have been there every step of the way
Watch an up-and-coming Tahoe teenager ski moguls today and you can see the past and present of bump skiing inextricably linked.
The courage and skill required to smash down the steep fall line of a mogul course can be traced back to the early hotdoggers who invented the discipline. The giant cork 1080 aerial stomped mid-run is a direct result of Jonny Moseley's unprecedented, and borderline illegal, "dinner roll" in the 2002 Olympics.
Despite the clear links, however, competitive mogul skiing is almost unrecognizable from its early years. Gone are the spontaneous airs off naturally shaped bumps, the wipeouts and score-boosting recoveries, the innovative styles and timeless flair. Once commonplace at Tahoe resorts, these are elements of a bygone era in competitive freestyle skiing, replaced over time with manufactured bumps, uniform courses, impeccable form and high-difficulty (but predictable) airs.
"It's evolved a lot over the years," says Robbie Huntoon, a 1975 national mogul champion and stunt double in Hot Dog… The Movie. "In the early to mid 1970s, mogul skiing in the pro ranks was pretty much a free-for-all. You just went down the course and if you crashed and recovered you got extra points. If you did a dumb-looking air you got extra points. The more wild and crazy you were, the better you did.
"Nowadays, if your finger comes off your ski pole you get deducted. It's become very technical."
Through all the changes over the decades, Tahoe remained at the forefront, producing some of mogul skiing's most recognizable and influential figures. Talents like Moseley, Glen Plake, Shannon Bahrke and Brad Holmes mastered the craft here, while countless other Tahoe bump skiers left their mark locally, both in the competitive arena and in recreational lore.
And despite the expanded options in youth skiing programs and competitions, Tahoe's remaining mogul coaches say participation is strong and the pipeline loaded with youthful talent.
"In terms of young up-and-comers, there are so many of them that are showing promise that it's hard to name names," says SquawFree coach Jake Hickman, who trained with the same freestyle program in his youth. "A lot of the young girls are absolutely amazing skiers and really excelling in the moguls. Unfortunately, the mogul scene is a little younger right now because a lot of the older athletes are going more toward the big mountain scene, but we have a lot of awesome young athletes."

SquawFree product Phillip Baldwin follows a long line of high-end mogul skiers from the Tahoe area, photo by Matt Bansak
Freestyle Beginnings
Competitions aside, Tahoe skiers have been known to hammer through mogul fields for the simple joy of it. A certain level of ability—and disregard for potential harm—is required to ski aggressively down a run of Volkswagen-sized bumps. Especially with any semblance of style.
And that was the attraction from the beginning.
Combined with ski ballet and aerials, this early form of freestyle skiing, originally termed "hotdogging," emerged in the late 1960s and flourished in the Tahoe Basin. Pioneers like Wayne Wong, now a Reno resident, helped popularize the discipline, performing tricks on snow with a panache all his own.
In Tahoe, bands of flashy young skiers took their talents to the steep, mogul-filled runs of Tahoe's iconic resorts, where they earned monikers associated with the bumpy slopes they attacked—Heavenly's "Face Rats," Squaw Valley's "West Face Boys."
These were the skiers who left an impression on a young Glen Plake. The spiky-Mohawked South Lake Tahoe native, who ascended to fame with a starring role in Greg Stump's Blizzard of Aahhh's (1988), grew up ski racing at Heavenly before switching to freestyle as a teen in the early 1980s. Despite making a name for himself on film in big mountain terrain, Plake never strayed far from the freestyle discipline and remains one of mogul skiing's most vocal supporters.
"When I was a little kid I'd watch the Face Rats and go, 'Man, I wish I could ski like that,'" says Plake. "Because let's face it, I don't care what you claim to be as a skier—a big mountain skier or racer or whatever—when you see someone ripping a bump line, you want to be able to do that."
With the emergence of freestyle skiing came contests. Often raw, grassroots events, the early competitions were as Huntoon describes—"free" in every sense, with athletes showcasing their style and ability through makeshift courses, placed wherever a resort had a natural mogul field. The events drew large crowds, whose approval of skier performances factored into the judging.
The freestyle movement gained traction throughout the 1970s and by 1980 was adopted by the International Ski Federation (FIS), which created the Freestyle World Cup circuit.

Former national mogul champion Robbie Huntoon performs a stunt during the filming of Hot Dog…The Movie, photo by
Larry Prosor, courtesy Robbie Huntoon
The Middle Years
Having its own World Cup circuit brought credibility to the relatively new discipline, which is depicted (perhaps not entirely accurately) in Hot Dog… The Movie.
Filmed at Squaw Valley the winter of 1982–83, Hot Dog became an instant cult classic, with a plot involving a protagonist and antagonist who clash after arriving at Squaw Valley for a freestyle competition. A number of Squaw locals were cast in the film, namely as stunt doubles. Huntoon, for example, who moved to Squaw from Vermont in 1980 to coach freestyle, performed most of the skiing stunts for the lead role. (Huntoon went on to ski in nine Warren Miller films as well as a number of commercials and movies, including True Lies and True Colors, among others.)
Had it not been for the success of Hot Dog, Moseley may never have switched from youth racing to freestyle in the mid 1980s.
"That was a healthy time in freestyle skiing," says Moseley, who followed his two older brothers over to the Squaw Valley Freestyle Team at age 9. "By that time there was a Far West circuit, so there was some organization locally. We competed at Squaw and Heavenly, Dodge Ridge, Boreal, Donner Ski Ranch, we drove as far north as Shasta, and even Bear Valley and Mountain High down south."

A young Jonny Moseley, far right, joined the Squaw Valley Freestyle Team with his older brothers at age 9, courtesy photo
Moseley says every resort back then had its own "freestyle crew," many of whom were training to make the World Cup. Freestyle skiing also was on the cusp of becoming an Olympic sport, providing extra incentive for promising young hotdoggers.
Local dual mogul competitions had formed by this time as well, pitting competitors side-by-side. Moseley recalls open-format "king of the hill" duals in which participants paid to enter and could win prizes. Bob Daly, longtime owner of Shoreline of Tahoe, says his shop sponsored a number of dual mogul competitions at Sierra-at-Tahoe.
"It was a far better format," says Daly. "The athletes liked it and it was more entertaining to watch head-to-head. You could see who was faster, who got more air, who did more turns."
The introduction of duals was only the start of major changes to come. The free-for-all format of the early contests gave way to a more structured scoring system that combined turns, time and jumps.
"When they added time, which was maybe 1988 or so, that caused controversy because people would skip moguls for a better time," Moseley recalls. "The initial scoring was 50 percent turns. They called it turns and line, which meant how well did you ski the fall line. And that was a skill when it was natural bumps, because sometimes you'd have to skip over a couple of bumps to get back in the fall line; otherwise you'd get veered off of the course."
Along with the new scoring system, courses began to morph from natural mogul fields to slopes with larger, uniform bumps built by machines or people. Two set jumps—previously relegated to aerial contests—were added midcourse, effectively eliminating spontaneous airs off moguls. The manufactured moguls, meanwhile, created specific rut lines, or "zipper lines," straight down the course. While these changes simplified judging, they also pushed mogul skiing further from its more free-form origins.
"It made it very robotic, very mechanical," says Daly.
Although transformative, the changes didn't happen overnight. Moseley says there was a stretch from the late 1980s into the '90s where the two types of courses, natural moguls and manufactured, overlapped. Mogul skiing debuted as an Olympic event in 1992 with a machine-made course (it was a demonstration sport in the 1988 Olympics), and the natural courses were soon phased out altogether.

A modern mogul course at Deer Valley, Utah, with large machine-built bumps, photo by Steven Earl Photography, courtesy USSA
The Moseley Influence
Moseley was destined to change the face of mogul skiing. Commuting weekly with his family from their Tiburon home, he showed promise from an early age with Squaw Valley Freestyle Team (now SquawFree) and went on to win the Freestyle Junior Nationals in 1990 and '91. He was promptly selected to the U.S. Ski Team after graduating high school in 1993.
By the time the 1998 Olympics rolled around, Moseley was the world's best mogul skier. He proved as much in Nagano, Japan, where he won Olympic gold with a dominant run highlighted by a big, clean, 360 mute grab on the bottom jump—a progressive trick in moguls at the time.
Moseley's gold medal made him a household name. With his goal achieved, he set out to pursue his other skiing passions outside the mogul course, despite disapproval from the U.S. Ski Team and FIS. Up to that point, athletes were not allowed to compete in professional events. Moseley challenged the rule by competing in the 1999 Winter X Games, where he was edged by Canadian JF Cusson in a classic slopestyle showdown—with Moseley performing his new "dinner roll" (essentially a cork 720) and Cusson a switch 720.
As Moseley continued to compete in professional freeskiing contests, paving the way for other U.S. athletes to do the same, he also tried his hand at filming in big mountain terrain. In Matchstick Productions' Ski Movie, released in 2000, he stars alongside Shane McConkey, Seth Morrison and Brad Holmes. Coincidentally, Holmes was one of Moseley's childhood freestyle heroes at Squaw.
After venturing away from the moguls, Moseley returned to the U.S. team in time for the 2002 Olympics in Salt Lake City. He had his eyes on a second gold medal, this time with his dinner roll. A difficult trick to pull off in the moguls, it also bordered on illegal and was a hot topic of controversy heading into the Olympics. The FIS did not allow inverted tricks at the time, and Moseley's dinner roll, in its purest form, blurred the line between upright and inverted.
"The one I did at the X Games is really the one I wanted to do in the Olympics, but it's such a nasty trick I could never get it to work in the moguls," Moseley says. "There was too much torque. So I had to tone it down a little to what was a cork 7, which is an easier trick."
It didn't matter in the end. Moseley—to minor controversy and various opinions—placed fourth. Nevertheless, the trick, like his 360 mute grab four years earlier, changed the game. Variations of the cork 720 became staple jumps thereafter, progressing the sport and inspiring a new generation of mogul skiers.
"When I started there were no inverts allowed, and then after 2002 with Jonny Moseley doing the dinner roll, or cork 7—whatever you want to call it—that kind of ushered in a new era in terms of the competition airs," says Hickman, the SquawFree coach, who was an elite mogul skier himself before stepping away from the sport. "And so all these guys who were older than me suddenly started doing these tricks, and it was really, really impressive as a young guy. It was like, 'Wow, I want to do that.'"

Jonny Moseley, pictured with comedian Tom Green, became an international star after his Olympic performances in 1998 and 2002, courtesy USSA
Tahoe Talents
Moseley's star appeal was at an all-time high. He had become an international icon, hosting Saturday Night Live and gracing the pages of People magazine, which named him one of its "Fifty Most Eligible Bachelors."
"Jonny put mogul skiing on the map," says Huntoon.
While Moseley retired from freestyle skiing after the 2002 Olympics, Tahoe mogul skiers continued to thrive throughout this era and beyond.
The South Shore produced talents like Travis Ramos, Chris Hernandez and Travis Cabral, who at age 19 became the youngest to win the World Cup moguls title in 2003. Cabral placed ninth in the 2006 Olympics and retired with four World Cup victories.
On the North Shore, Shannon Bahrke reluctantly joined the Squaw Valley Freestyle Team as a 12-year-old and then fell in love with the sport. She went on to win a silver medal in the 2002 Olympics and bronze in 2010. She retired with six national titles.
There were many others, some of whom never realized their full potential as the result of injury.
Sho Kashima, a standout mogul skier from Heavenly, won three national titles from 2006 to 2009 and was on fire at the start of the 2009–10 Olympic season. Just weeks before the Olympics, however, he went down with a season-ending knee injury. Another untimely knee injury four years later knocked him out of contention for the Sochi Winter Games.
Hickman also enjoyed his share of success as a teen, excelling along with other Squaw Valley teammates on the local Far West Freestyle circuit. But in December 2011, after likely earning a World Cup start at the U.S. Freestyle Selections the previous days, Hickman suffered a severe spinal cord injury during a training run. Although he was back on snow in six months and returned to competition the following year, he gave up competing to pursue a college degree.
"I competed the next year and ended up doing pretty well, but then I kind of got hurt again in summer training and just decided that it wasn't necessarily worth it for me to keep grinding my body into the ground," says Hickman, who graduated this past year from Cal Poly with a degree in event management and marketing. In addition to his coaching gig at Squaw, Hickman is now an avid kiteboarder.

Former SquawFree mogul skier Jake Hickman, who is now a coach with the program, reaches for a grab during the 2013 U.S. Freestyle Championships at Heavenly, photo by Kirk Paulsen
Tahoe's Current State
The success of the Tahoe Junior Freeride Series (TJFS)—as well as expanded options across the board for young skiers—could lead one to believe that mogul skiing is a dying discipline in Tahoe. That is not true, says SquawFree director Jimeel Ferris. At least not on Tahoe's North Shore.
"There are other options now and our TJFS is really big. But our mogul team is still pretty strong. I would say our numbers are pretty close, if not more, than what they were," says Ferris, who estimates that about half of SquawFree's 100 to 120 kids are mogul skiers. Among that contingent, he adds, many in the younger age groups are performing particularly well.
The same is true at Northstar. While the North Shore resort has never been known for producing mogul skiers, former SquawFree director and head mogul coach Nat Schirman started a mogul program there the 2015–16 season. From the one skier he had that first year, the team has grown to 19 entering its third season.
"So far it's been going really well," says Schirman. "We actually swept one of the podiums last year in the U11s (under-11 age group). That's kind of our thing, we have a lot of young kids—a lot of girls—who are really into it."
Although the numbers are encouraging at both Squaw and Northstar, the Tahoe Junior Freeride Series has undoubtedly pulled some talented skiers away from the moguls. But participation is robust across Tahoe's youth skiing scene in general, and there's room for both.

SquawFree's Chloe Nicolaou competes in a Far West Freestyle event at Squaw Valley, photo by Matt Bansak
In fact, SquawFree embraces training across the multiple disciplines it offers, including freestyle (moguls and aerials), freeride (big mountain) and freeskiing (slopestyle and halfpipe). Kids typically begin with mogul training as a base and then have the option to span out across different disciplines as they develop.
"They can kind of duck in and out," says Moseley, whose 10-year-old son participated in both moguls and slopestyle last winter with SquawFree. "A lot of big mountain skiers are the ones with good mogul backgrounds. They're used to turning in tight spaces and taking huge airs and landing in tight spaces. So they kind of go together. The amount of training the mogul skiers do on aerial stuff is helpful if you're a big mountain skier."
Moseley also understands the draw to the freeride format, which reminds him of how mogul competitions used to be.
"It's kind of what moguls were a long time ago—just sort of put the course where the run is and show off your stuff," he says. "In my mind, it makes a lot of sense. It's also easier to produce from an events perspective, as opposed to building a mogul course with full-on aerials sites in the middle of it."
Therein lies the challenge. Mogul courses require a significant amount of time, effort, money and space to build and maintain. Schirman, for example, would never have been able to start a program at Northstar without such support. 
"Having a mogul run all the time is a harder thing than you could imagine, and Northstar has been more than accommodating," he says. "If you don't have a venue, you don't have anything, and that's a problem."
The problem is all too real at Heavenly, whose once world-class freestyle program folded after the 2015 season.
The fact that a resort with such a rich freestyle skiing history—not to mention one of the best venues in the country overlooking Lake Tahoe—no longer trains up future freestylers remains a tough pill to swallow for many. This includes Crawford, the Heavenly Foundation founder and longtime coach.
"I would like to see it come back," says Crawford, whose program regularly produced elite mogul skiers and hosted high-profile contests. "But down here there's not enough interest, and they have to give up a lot of acres on the mountain to have it. It's pretty hard to have a dedicated area. But Heavenly used to be the mecca of freestyle back in the '70s."
Without Heavenly's freestyle team in the mix, Ferris says SquawFree lost its main source of competition in Far West Freestyle contests. For years the two programs went head-to-head, along with other programs that have since folded (namely Alpine Meadows). As a result of this void, Ferris says the team instead does more traveling to places like Utah and Idaho to compete against other strong programs.
"We try to make sure these kids can see who's out there and what's going on to try to push them a little bit more, like joining a travel soccer team," he says.

Dino Ambrosi of SquawFree performs an inverted trick in a competition this past April, photo by Matt Bansak
Perfection Over Progression
Today's top-level mogul competitions are nothing like the contest of old. As Ferris describes 2018 Canadian gold medalist Mikael Kingsbury: "It's like thunder coming down the course. There are no mistakes; his body position is perfect."
"The biggest changes I've seen are the airs and speed," says Huntoon. "I went to Deer Valley last year for a World Cup mogul event, and they were coming down the course in 20 seconds, and it was a long course. You can't believe how fast that is."
And then there are the jumps. Expanding on what Moseley introduced in 2002, mogul skiers now regularly perform high-flying cork 1080s and flips (inverts became legal in 2003), sticking their landings with skis pinned neatly together.
Despite the extreme level of difficulty, however, critics complain that the sport has become stale, boring and predictable. They say judges are holding it back by awarding perfection over progression and style. Athletes don't perform their hardest tricks for fear of getting docked.
It has become the antithesis of freestyle's early days.
"Jonny (with his dinner roll) changed our sport forever, and changed it for the better, I think, because now we can do all these crazy tricks. But I feel like the sport still needs to keep up," says Bahrke, who remains bitter about judges not rewarding her for performing a variation of the dinner roll—instead preferring a less difficult trick executed perfectly. "Nate Roberts was training double backflips, and they still haven't allowed that into our sport, which is silly. You can do double backflips in a halfpipe, which to me is twice as dangerous, and they won't let us do it in the moguls. The athlete ability is there, and I feel like our sport is not keeping up with that."

Former Squaw Valley mogul skier and two-time Olympic medalist Shannon Bahrke, photo by Gary Dickey, courtesy USSA
Ferris says this sentiment is shared by many in the sport, and has reached a point where change is imminent.
"There was a lot of concern after this last Olympics," he says. "They're trying to save a sport that used to be super exciting that's now kind of looking like the same. I think they are going to start awarding grabs and more progression on the air. So you're probably going to see a lot more grabbing of skis on the World Cup, instead of pinned-out airs. Trying to make it more exciting."
Dual moguls, currently not an Olympic event, may also be accepted, Ferris says. "Personally, I like the idea of putting duals in the Olympics. I think it's more exciting… they're talking maybe 2026."

South Lake Tahoe native Glen Plake remains a vocal supporter of freestyle skiing, photo by Miles Weaver
For The Love of Freestyle
Plake is perhaps mogul skiing's biggest supporter, and certainly its most recognizable figure. He likes to point out that many of the best freeskiers and big mountain skiers in the world have mogul backgrounds. Like Tanner Hall, Candide Thovex, Moseley and others.
In fact, after achieving fame for his freeride film exploits, thanks to Greg Stump—a fellow mogul supporter—he teamed up with the producer in the mid 1990s to produce a video dedicated to mogul skiing. They called it Fistful of Moguls, starring Moseley and his American teammates as they trained for the 1998 Olympics. Plake, never one to filter his opinion, says he wanted to shine a light on the freestyle discipline, which he felt was being overshadowed at the time by all the hype around the big mountain freeride scene.
"They were winning World Cups and were literally the best skiers you could be, and then you had a bunch of frickin' big mountain extreme skiers who were half the skiers these guys were, and they were getting all the press and all the promo and magazine covers and interviews, and I was just like, 'This is bullshit,'" says Plake. "Nobody knew anything about them, and it really made me mad."
Plake, who is too young to be an original Heavenly Face Rat (although he is a Face Rate, to be sure), has put in his time over the years on the resort's double-black-diamond mogul run. Dropping more than 1,500 vertical feet, with a chairlift and tram overhead, The Face is as iconic a mogul run as there is—with a steep pitch, enormous moguls and stunning views across Lake Tahoe's deep blue expanse. The run splits halfway down, with Gunbarrel to the looker's right and East Bowl to the left.
This is where the Face Rats earned their name. Although fewer in numbers these days (Crawford is among the remaining), skiers who frequented the run created a social scene of sorts as they pounded bumps under the lifts. To honor this tradition, Plake thought up an event called the Gunbarrel 25, in which participants attempt to ski 25 laps on the run. Started some 15 years ago, Plake thinks, the Gunbarrel 25 remains a popular annual event.
"I just wanted to have some sort of mogul event that emulated what we did on The Face," says Plake, who now spends most of his time in Mammoth or Chamonix. "I love the social aspect of it. I love that you're just kind of hanging there and riding the chairlift and if someone rips a bunch of turns, you give them a hoot and a holler, you showboat a little bit because you feel the eyes upon you. It celebrates the social camaraderie that mogul skiing is."
The fact that recreational mogul skiing is not popular with the younger generations saddens those who helped bring the discipline to the forefront. But it doesn't stop them from enjoying the bumps themselves. Plake, Huntoon, Moseley and Bahrke can be found bouncing through a mogul field on any given winter day.
"I don't just go out and hammer moguls like I used to on my own, but if my buddies are skiing moguls, I'll ski moguls," says Huntoon.
"I love skiing bumps," says Moseley. "That's the thing, I think the people who ski bumps, they like the actual physical joy of trying to figure out how to get through the moguls well and get some air and the thrill of it. That, to me, has not left at all."
---
Tahoe Quarterly editor Sylas Wright can hack through a mogul field if absolutely necessary. But, as a snowboarder, he would prefer to leave the bumps for the skiers.