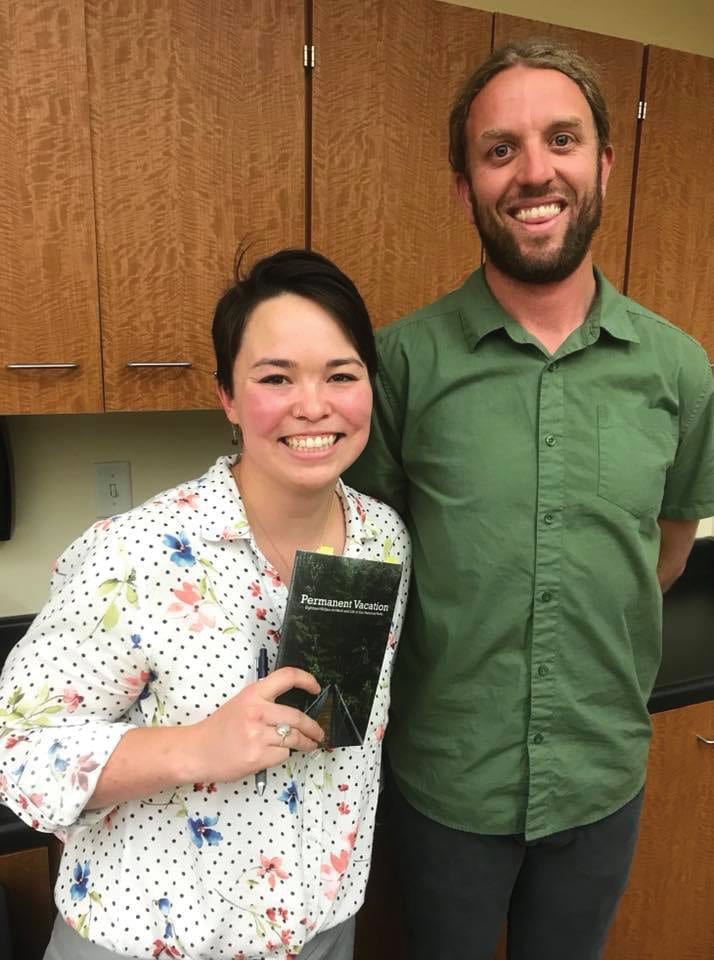 Publisher Maeko Bradshaw and writer Joe Flannery attend the Permanent Vacation, Volume 2 book launch
01 Oct

The Literary Side of The Lake
South Shore's Bona Fide Books acts as a hub for Tahoe's growing literary arts scene
In Andrew C. Gottlieb's essay The Elusive Ghost Moose on Isle Royale, he relates a story of running into a hiker on an isolated island and asking her if she was ever scared hiking alone. "No," he writes. "I don't get scared, she said. I trust nature. More than I trust people."
This intimate relationship with nature is apparent throughout the 18 stories within Permanent Vacation, Volume 2, the most recent release by South Shore's Bona Fide Books. Set in locales ranging from Cape Cod to the Gulf Shore to Hawaii's Moana Loa, the stories detail experiences by authors who previously worked or lived in America's national parks.
"Permanent Vacation, Volume 2 explores more of the stories from people who have a deep connection with the national parks," says Maeko Bradshaw, who took over the role as publisher from Bona Fide founder Kim Wyatt this past spring. Stories include pursuing endangered northern spotted owls in Olympic National Park, paddling through the Everglades with alligators and leading a group of Outward Bound students through Kenai Fjords National Park in sea kayaks.
"There seems to be an underlying thread through these essays where the authors learn about themselves through the isolation and seclusion in many of the parks," Bradshaw says.

Permanent Vacation, Volume 2
Emotions span the range from primal fears to joy, annoyance to anticipation, sadness and searching. In one, an adopted 23-year-old woman accepted a job as an interpretive ranger on the south rim of the Grand Canyon, where the layers of rock inspire her to find her biological parents. "As I learned the trails, their geography told me their history," writes Andrea Ross. "But my own history had no such markers, and that void in my identity bothered me." She began her search while living and working at the park. "Perhaps, I thought, it would be similar to a series of canyon hikes, a search that would loop closer and closer to the truth about my origins until I found what I was looking for."
Gottlieb explores his father's death and unsuccessfully searches for moose while spending three weeks as the "writer-in-residence" on Lake Superior's isolated Isle Royale. He writes: "Our human sense of control, our predetermination. So flawed, mythical. How little was actually within our control. The more I wanted to see the moose, the less likely it was. I could no more bring my father back to life than I could know if I, too, were about to drop dead at any given moment."
Truckee writer Joe Flannery's piece, A Cold Spring Night, is about his time in Yellowstone National Park, where he worked three seasons not long after graduating from college. A female bison gets stuck in mud off the highway. He was, as he put it, assigned to "babysit" the bison—to watch it from a distance and make sure visitors didn't come too close.
"Most modern agencies that manage wildlife, they don't try to rescue species," Flannery says. "Most wildlife biologists let nature take its course."
On the first night, he shone his flashlight on the bison to check her condition.
"She turned her head but did not acknowledge the light," he writes. "Puffs of steam swirled from her mouth. I clicked the flashlight off, ashamed at my intrusion into her agony."
The bison took four days to die.
Flannery's imagery is stark and raw, much like nature itself. "By the end of the month, I would not be able to tell where the bison carcass ended and where the earth began," Flannery writes. "As she leached and rotted and folded down the riverbank, the Gibbon [River] carted her away, bit by bit."
A biologist by trade, Flannery enrolled in writing classes several years ago at Lake Tahoe Community College, where his teacher at the time was Suzanne Roberts.
"She and Kim Wyatt, they were the hub of this growing literary community in Lake Tahoe," Flannery says.
Roberts read Flannery's essay and, he says, asked if she could submit it to Bona Fide for this first collection. While Flannery wasn't sure that it would be accepted—it was, after all, the first piece he'd ever written—he agreed. His piece, The Grizzly Country, not only made the cut, but the readings allowed him a platform to talk about conservation, biology and natural history.
"Bona Fide Books has been an incredible resource for writers and artists," Roberts says. "Kim Wyatt's vision was to create a literary community and offer a place where writers could gather, read their work and hold workshops. And Maeko Bradshaw is doing a wonderful job continuing the tradition."
The first Permanent Vacation, released in 2011, was well reviewed, and reactions to Permanent Vacation, Volume 2, released this past May, are positive. "This volume lends itself to a wide audience," Bradshaw says. "Certainly, those who have worked in the parks can probably relate to some of the essays, but also visitors who love traveling through the parks will find interest in the stories."


A Book Arts event celebrates crafting and literature
Small Press, Big Impact
Founded by Wyatt in 2009, Bona Fide Books has grown to become a staple of the Lake Tahoe community. Located in Meyers, off Lake Tahoe's southwest corner, the company has released a dozen books over the years, from a collection of flash fiction to poetry and novels to reflections on farming.
"Publishing new writers and showcasing new artists was the lifeblood of Bona Fide Books," Wyatt says. "I believe in the power of story and art to change lives and it was my mission to help new writers find their readers—each publication was a great moment."
Bradshaw is a South Lake Tahoe native who originally wanted to be a marine biologist. "I spent two years at Lake Tahoe Community College, and never thought I'd have any interest in the English classes beyond what was required for a degree," she says. "I ended up with some really fantastic English instructors and that influenced my decision to pursue a bachelor's degree in English literature."
She finished her degree at San Francisco State University, then attended graduate school at Portland State University before returning to Tahoe. She'd met Wyatt a few years earlier, and previously worked at Bona Fide as an intern.
"When I moved back to Tahoe last summer, Kim and I had a discussion about the future of Bona Fide and I knew I'd regret it if I didn't accept the opportunity to own my own business and learn what it means to be a publisher for a small company," Bradshaw says
Permanent Vacation, Volume 2 is Bradshaw's first release since taking the reins at Bona Fide. The process, she says, took about eight months from the call for submissions to getting files to the printer.
"It certainly was not easy, but I wanted Bona Fide to have a new book out this year and this project was one I was excited about," Bradshaw says. "I'm proud of all the contributors who are part of this book, and it's the perfect read if you are stuck inside on a rainy or snowy day."


Steve Robison hosts a Tahoe Letterpress workshop
Beyond Books
Bona Fide has always been about more than just titles, which is one reason Bradshaw was drawn to the company.
"I also loved all the classes Kim offered at Bona Fide, specifically Book Arts, and appreciated a space where people in our community could come and create art with like-minded individuals," she says. "I hope to expand that in the future."
One monthly offering is Tahoe Letterpress, a class and open studio time to learn the craft of letterprint. Instructor Steve Robison leads the workshop, which includes 10 vintage printing presses along with more than 100 typefaces. Bona Fide also hosts Tahoe Writers Works, an open workshop for writers of all levels and genres, every other Tuesday, and after a summer hiatus, will resume offerings like Book Arts and Correspondence Club in the fall.
WordWave is an annual live theater event with roots at Bona Fide. Co-founded by Wyatt and California author Jennifer Basye Sander, it is a one-act play competition performed at the Valhalla Boathouse Theatre in South Lake Tahoe. "The first year was a success, drawing hundreds of writers," Wyatt says of the event, now in its fourth year.
Literature at The Lake
Bona Fide is an obvious hub for Tahoe's current literary arts scene, but it's far from the only option. Squaw Valley has, since 1969, hosted annual summertime writing workshops. In Incline Village, Sierra Nevada College offers its Writers in the Woods speaker series during the fall and spring semesters, offering free Friday night author readings to the public; Saturday workshops cost $50 and allow the community to meet and learn from the guest writers.
Roberts, whose writing work includes poetry collections, a memoir and dozens of published articles, ran a similar program at Lake Tahoe Community College for 17 years. With her recent resignation from the college, the fate of the program is still unknown. "However," Roberts says, "I'm hoping to continue to build literary community both in partnership with Bona Fide Books and as my new role as the El Dorado County Poet Laureate."

Permanent Vacation, Volume 1
As the poet laureate, a two-year post that honors Roberts' award-winning work and her engagement with other writers and poets, Roberts will host workshops, readings and retreats.
Wyatt also will continue with the literary community. Beginning in October, she'll facilitate the Veterans Voices Writing Workshop, a free program for area veterans run through the El Dorado Arts Council through a grant from the California Arts Council. "I'm really excited about getting this program up and running," Wyatt says. She also continues to write independently and was recently published in Best American Travel Writing.
"What I sense is a growing literary and art community on both the North and South Shore," Flannery says. "I think we're starting to get some talented folks who are sticking around. I'm honored to be part of it."
For Flannery, the dedication of mentors like Roberts, at Lake Tahoe Community College, and Wyatt, with Bona Fide, has had a lasting impact.
"Those two women absolutely changed the course of my life," Flannery says. Since his first essay in 2011's Permanent Vacation, he's continued to write and publish. That work, he says, gave him the experience and reputation to work with a local production company to write, direct and produce a film, The Last Herd, about bison in southern Utah. "It's the same thing," he says of the production process. "It's storytelling."
Flannery plans to show the film at environmental film festivals, giving him an even wider audience for his messages of conservation and natural history. "It's all because of Bona Fide and Kim and Suzanne, and Maeko—I think she'll do great," he says.
As for Bona Fide, Bradshaw hasn't yet planned her next release. "I'm thinking it could be a continuation of the Tahoe Blues book, possibly a collection of flash fiction about wintertime in Tahoe," she says. "We do get quite a few manuscript query letters, so maybe something great will come out of that. Right now, my focus is getting the books we already have out there, especially to audiences who haven't heard of us."
Permanent Vacation, Volume 2 is available at outlets around Lake Tahoe or online. Readers are encouraged to buy directly from Bona Fide rather than a third-party seller like Amazon (which results in Bona Fide only receiving 45 percent of the profits). Learn more at www.bonafidebooks.com.
---
Writer Alison Bender enjoyed reading Permanent Vacation, Volume 2, though she is still biased to Bona Fide's Tahoe Blues, in which her short story "The Fourth Friend," is part of the collection.
---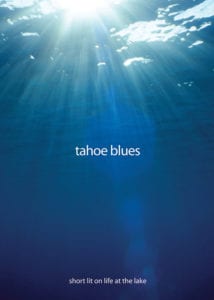 Local Literary Events
Writers in the Woods, Sierra Nevada College
• October 12–13: Lidia Yuknavitch
• November 9–10: Claire Vaye Watkins
• February 8–9, 2019: Jeremy Evans
• February 22–23, 2019: Alice Anderson
• March 1–2, 2019: Lee Herrick
• April 5–6, 2019: Natalie Baszile
Tahoe Letterpress, Bona Fide Books
• October 13
• November 3
• December 1
WordWave, Valhalla Boathouse Theatre
• October 20