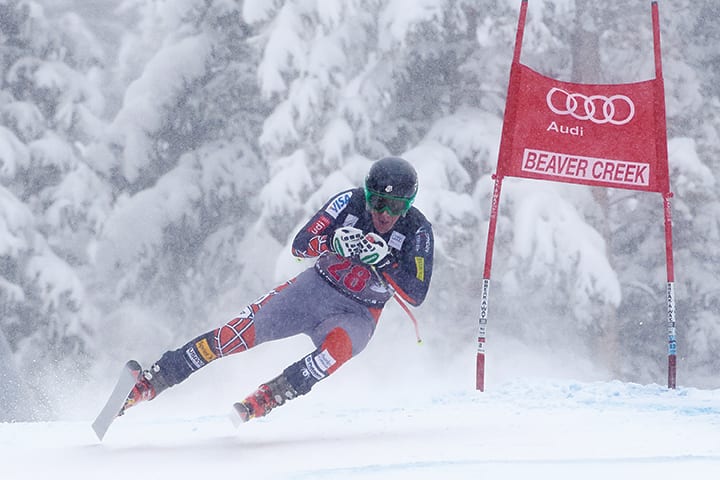 Marco Sullivan of Tahoe City competes in a snowy Birds of Prey downhill in 2013, photo by Jack Affleck, courtesy U.S. Ski Team
04 Oct

Marco Rocks
After 15 years and a U.S. record 105 downhill starts, Tahoe alpine ski racer Marco Sullivan is enjoying retired life

Best known for his 15-year alpine ski racing career, Marco Sullivan also filmed in the big mountains of Alaska with Warren
Miller Entertainment, photo by Court Leve
Cordial, articulate and adept at rocketing down icy mountains, Marco Sullivan was both a fan favorite and media darling throughout his 15-year World Cup career. Even his rivals enjoyed his company.
"I always tried to be the guy who helped lift everyone's spirit," Sullivan said in a U.S. Ski Team interview following his final World Cup race.
That was March 2016, a day after Sullivan set a U.S. record with his 105th career downhill start—eclipsing longtime teammate Bode Miller's 104.
The Tahoe City native went out in style a week later at the U.S. Alpine Championships. Flashing winter-white legs under a snazzy brown lederhosen, Sullivan cruised down the super G course with his signature good-natured smile, stopping on numerous occasions to hug and high-five coaches and course workers en route to the finish.


Sullivan sports a lederhosen in his final race at the 2016 U.S. Alpine Championships in Sun Valley, Idaho, photo courtesy U.S. Ski Team
"Going down the course, I knew a lot of the course workers, coaches—they've had a hand in my career helping me up along the way. I was just giving thanks to them and saying that it's been a great ride," he explained after.
The classy gesture encapsulates Sullivan's career. What a career it was.
Sullivan, who has ski racing in his genes as the nephew of legendary Squaw Valley coach Mark "Sully" Sullivan, was destined to compete at the highest level of the sport. He showed promise from age 7 as a Squaw Valley Mighty Mite and quickly developed into one of the nation's top young talents.
A four-event racer, Sullivan earned a bronze medal in slalom at Junior Worlds in 2000 before honing his focus on speed events. He made his first World Cup start in 2001, a year in which he won NorAm titles in the downhill, super G and overall. Sullivan competed in his first Olympics a year later in Salt Lake City, posting the top U.S. result with a ninth-place finish in the downhill. He then returned home to win the national super G title at Squaw Valley.
But while Sullivan appeared to be on the fast track to stardom, injuries would test his fortitude. Following his Olympic performance, he missed nearly two full seasons with knee injuries before returning to the World Cup circuit in 2005. By the time he retired in 2016 he had successfully battled back from three major knee injuries, as well as a severe concussion in 2011 that ended his season prematurely.
Sullivan ranks his gritty recoveries from injury among his career highlights, right up there with his 2002 Olympics and World Cup downhill victory in Chamonix in 2008.

Sullivan flashes his signature smile during an interview after winning a World Cup downhill in Chamonix, photo by Doug Haney, courtesy U.S. Ski Team
These days, Sullivan can be found ripping turns down Squaw Valley slopes, socializing in local watering holes or mountain biking near his Tahoe City home—happily retired. He's now an ambassador of the sport he enriched with his presence, passing on his expertise to future generations of downhill ski racers.
If you see him around, don't be afraid to say hello. He's an approachable guy. Here's what he had to say in a recent interview with TQ:

The Marco Sullivan fan club makes its presence felt at a World Cup event at Beaver Creek, Colorado, photo by Tom Kelly, courtesy U.S. Ski Team
Two and a half years after hanging up your race skis, what do you miss the most—and least—about life as a World Cup ski racer? 
I miss being a part of the big show every weekend in the winter. Traveling to world-class ski resorts, staying in swanky hotels and racing against the world's best. That part of it is glamorous, but after 15-plus years of doing that, I was ready to not repeat that same race circuit every season. 
What have you been up to in retirement? 
The main thing I have been doing is answering this question! I don't feel retired. I feel like I am figuring out the pieces to form a second career, or at least shape the next years until I am actually at retirement age. I have a lot more free time now to chase my hobbies. Still lots of skiing in the winter. I started a small business named American Downhiller LLC; we run ski camps specializing in the speed disciplines. 
As a homeowner in Tahoe City, do you care to boast about any new home improvement projects or anything of the sort?
I always have a few projects going on at the house. A new skill I have been working on is making concrete countertops and furniture. I have done a few kitchens for friends and also built the new bar top at Le Chamois in Squaw Valley.
Growing up ripping around Squaw Valley, which has produced its share of world-class skiers over the decades, you must have had some local ski heroes when you were young. Who were they, and why did you look up to them?
I remember really resonating with my own peer group at Squaw. We had a great group of skiers all the way from Mighty Mites until we went our separate ways after high school—Mike Prado, Ryan Adams, John Lange, Dax Willard, Jesse Valdez. The list is a lot longer, but we all just spent a ton of time ripping around the mountain. We were kind of oblivious to the pro scene happening around us for some reason. I guess we were just having a lot of fun within our own realm. We were into skiing as fast we could and as much as we could.
That was a time, the 1990s, when snowboarding was booming in popularity. Did your crew ski around with snowboarders, too, or did you consider them knuckle-draggers who were to be avoided?  
I had a few friends in high school who were snowboarders, but honestly, we never spent much, if any, time together on the hill. I had nothing against snowboarding, but we were the competitive racer bunch and they were the nonconformists of that generation. I don't think we intentionally avoided each other, but there was not a whole lot bringing us together.  
Ski racers from Squaw often credit not only the resort's coaches and programs, but the opportunity to freeski on its famously challenging terrain. Describe some of your standout memories of freeskiing feats as a

kid at Squaw.
I remember when we were still Mighty Mites our coach Dick Banfield led us off the diving board on Granite Chief. It's probably a 15- to 20-foot cliff, but at the time we were so stoked to be catching air. There was a winter when I was about 14 that our whole racer crew got really into jumping cliffs. One memorable powder day I remember five of us, including April Mancuso, dropped off Adrenaline Rock on Cornice II. That is about a 50-foot drop and we were all high-fiving after that one. Lots of our formative years revolved around chasing the coaches down Chute 75, Headwall, Palisades, Cornice II. I remember skiing recklessly trying to keep up, but then there came a point when the coaches could not keep up with us anymore. We would always train in the gates for a bunch of runs until the ruts got really big and then we would go and freeski until the lifts closed. 
When did you decide that you wanted to pursue ski racing as a career?
I knew I wanted to be a ski racer since I was a little kid. I am not sure I ever viewed it as a career, but it was something I loved and I was lucky to make some money doing it.  

Sullivan races down the Birds of Prey downhill course in Beaver Creek, Colorado, in 2015, photo by Eric Schramm, courtesy U.S. Ski Team
What's the best advice you ever received on racing?
My late uncle Sully always maintained that skiing is simple. It is just a few key movements that you have to master. Whenever I was overthinking things when I was on the World Cup, I would have to remind myself to just chill and take it back to the basics.
Speaking of your uncle Sully, who is nothing short of a legend in these parts, what, in your opinion, made him such a great coach?
Sully had a legendary sense of humor and, in my opinion, he did not take the job too seriously. He was famous for saying that the mountain, and particularly KT-22, was the head coach, not him. He was a huge advocate for getting the kids skiing as much as possible, whether it was in the race course or not. He used to have me go train with the mogul team a couple times a year if he thought I was bored with gate training. As his health deteriorated he was not on the hill very much, but in the '90s he was always the first on the lift and kept a very watchful eye over his program. It was important to him that there were good vibes both on the hill and in the locker room, and he was the first one to pull a prank on one of the other staff members if he felt things were getting too serious. Even though he very rarely coached me directly, he was definitely instrumental in defining the path of my early racing career. 
On the World Cup circuit, you and your American teammates essentially lived on the road in hotels. I'm guessing you guys wound up hanging out a bit with some of your competitors from other countries during the evenings. What was the "after hours" scene like?
We would spend a lot of time with the Canadians because we were often holed up waiting for the next races while our European counterparts were taking a few days off at home. We traveled with our skates and played a lot of hockey, in which we always got schooled by the Canucks. During the race weeks a lot of teams kept to themselves, but on Saturday or Sunday nights when the racing was done we would often meet up for beers. Almost all the World Cup stops have a bar that was annually an unofficial meeting place for the racers who wanted to have a post-race party. The Italians were always up for a good time, the French were all great guys but a super tight-knit bunch who always hung together. The Scandinavians were some of our closest friends on the hill, but I don't remember seeing them after hours very often. The Austrians were very serious about their racing, but if they had something to celebrate they could blow the doors off of a party!
Kitzbuhel in Austria is regarded as the most feared and challenging downhill course in the world. Because few people reading this, if any, will ever experience such a thing, could you describe what it's like racing down that course at 90 miles per hour?
I am not a good enough storyteller to really put it into words, but there are a few sections on that course where it is really rewarding just to get through them without ending up in the fence. I always enjoyed the challenge of Kitz because as an athlete at the top of your game, you relish those moments that really test your ability to the limit. I used Kitz as my yearly barometer to make sure I was still fired up on racing. In 2016 there were a couple of big crashes on one section of the course right before I ran. When I got to that section, I skied safe to make sure I would not also end up in the fence. That is when I knew it was time for me to retire.

A retired Marco Sullivan rounds a gate as a pacesetter at a NASTAR event at Squaw Valley, photo by Ben Arnst, courtesy Squaw Valley Alpine Meadows
What's the fastest speed you have ever reached on a pair of skis?
One year in Wengen (Switzerland) the snow was particularly fast, and at one section of the course I went 99 miles per hour. One of the French racers hit 100.6 miles per hour that day, and it was the first time that a racer had ever been clocked over 100 in a World Cup racecourse.
Not only have you raced on the world's gnarliest downhill courses, you've also filmed with Warren Miller in the big mountains of Alaska. Which scared you more?  
Filming in Alaska was tons of fun! It was intimidating in a completely different way than racing for me. The actual technical skiing I experienced in Alaska was not difficult. It is very steep, but the snow is soft and the biggest concern is staying away from sluff and knowing where you are going. In racing you have a better idea of where you're going, but the decision-making is very fast and you are pushing the limits of your strength trying to maintain the line. I think Alaska is scary because of the uncertainty and downhill racing is scary because you know what the consequences could be.
Then there's Arctic Man in Alaska, where you get towed behind a snowmobile at 85 miles per hour. You and your teammate, Tyler Aklestad, have won seven times, including the last two years. What's your recipe for success in that event?  
Back in 2007 we had U.S. Nationals at Alyeska. My ski technician at the time was Alaska local Brian Burnett and he convinced me to stay for another week to check out a race I had never heard of called Arctic Man. He knew this badass local snow machiner who needed a partner, and so that's how it started. Getting towed at 85 miles per hour going uphill behind the sled took a couple of runs to get comfortable, but once we found our mojo we were pretty successful. It is a fun atmosphere. Somewhere around 10,000 people show up. Everyone is living in RVs or camped out some other way for the week because it's not near any towns. The prize money was really good, usually about $30K for the winning team, so it turned into a yearly pilgrimage.  

Sullivan is pulled behind the sled of teammate Tyler Aklestad during an Arctic Man competition in Alaska, photo by Brian Montalbo
Tell us about AmericanDownhiller.com.
I bought the website when I was still racing as my own personal site because I did not think it was cool to have a site named after myself. I quickly realized that the name had a nice ring to it and it encompassed a lot more than just me. The American Downhillers is what we started to call our group on the World Cup. Since I stopped racing I have started to organize speed camps for young racers where the entire coaching staff consists of current and former Olympians and/or U.S. Ski Team coaches. It has been a great way for aspiring ski racers to spend time with the best racers in our country. Some of our coaches this year included Daron Rahlves, A.J. Kitt, Steven Nyman, Alice McKennis, Julia Mancuso, Travis Ganong and many others. It is my small way of helping to give back to the sport.
Future plans? 
I am taking it day by day. I am loving living in Tahoe City with my wife Anna. We plan to keep on skiing, biking, traveling and working on our house.  

Photo by Anna Sullivan
Favorite restaurant in Tahoe?  
Being from Tahoe City there are not too many to choose from, but we just went to the new Pioneer Cocktail Club the other night and they had a really tasty burger.
Best ski video of all time?  
Hot Dog.
Favorite place to grab a beer in Tahoe? 
Is Truckee considered Tahoe? I think Alibi Ale Works in Truckee has some good beer, and it's got a nice space to sit and catch up with friends.
Walk-up song if you were a baseball player?  
We used to listen to Danzig's Mother before high school football games. I remember running out of the locker room so fired up for the game. If I were a pitcher, I would want that playing as I walked out of the bullpen to save the game.  
Super Bowl champion prediction? 
I can never bet against the 49ers.
---
As a former Tahoe sports reporter, Tahoe Quarterly editor Sylas Wright always appreciated how Marco Sullivan carved out time from his busy schedule to take care of the local media. 
---
Marco Sullivan Career Highlights
OLYMPICS
Teams: 2014, 2010, 2006, 2002
• 9th, downhill, 2002
• 23rd, super G, 2010
• 30th, downhill, 2014
WORLD CHAMPIONSHIPS
Teams: 2015, 2013, 2009, 2007, 2003
• 17th, super G, 2003
• 24th, downhill, 2003
• 25th, downhill, 2009
WORLD CUP
• 105 downhill starts (U.S. record)
• 3 top-10 downhill finishes, 2015
• 1st, downhill, Chamonix, 2008
• 2nd, downhill, Lake Louise, 2007
• 3rd, downhill, Wengen, 2009
• 4th, downhill standings, 2008
U.S. CHAMPIONSHIPS TITLES
2009, downhill, Alyeska
2007, downhill, Alyeska
2002, super G, Squaw Valley