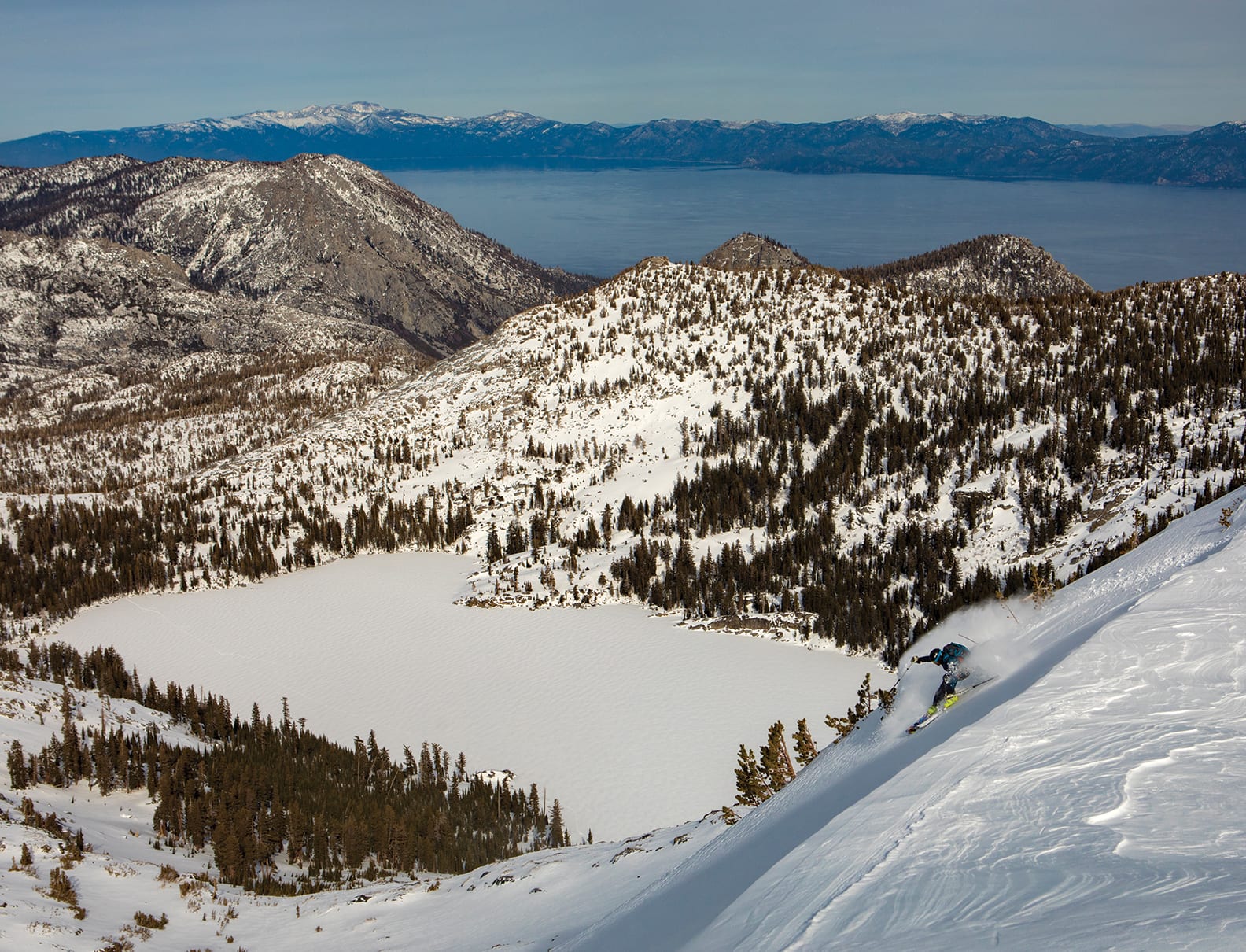 Brennan Lagasse skis down Dicks Peak in Desolation Wilderness, photo by Ryan Salm
03 Oct

Skiing the Depths of Desolation
A hiking hotspot in the summer, Tahoe's prized wilderness area transforms into a serene backcountry paradise come winter
I hook the tail of my climbing skin on my ski and toss it up on the snowbank next to the other one. "What time do you have to be at work?" I ask my ski partner.
"I've got to be in by 4," he replies. "You?"
"Same. I think that should be plenty of time."
It's 7:30 a.m. and we're gearing up at a plowed pullout by the Bayview Trailhead on the south side of Emerald Bay. We step into our skis and stride into the forest, beginning the first of several ascents. We have a relatively big day planned—a backcountry ski tour to Dicks Peak in the center of Desolation Wilderness, summiting and skiing three peaks over the course of roughly 12 miles and around 6,000 vertical feet.


Descending Janines Peak in Desolation Wilderness, photo by Jeremy Benson
Prime Wilderness
Situated on the southwest shore of Lake Tahoe, Desolation is one of several federally protected wilderness areas around the lake. This pristine area is comprised of granite peaks and valleys, subalpine forests and more than 100 lakes, all framed by the Crystal Range to the west and iconic mountains like Tallac, Maggies and Jakes, which rise steeply from the shore of Tahoe, on its eastern boundary.
Desolation was designated as a wilderness area in 1969 and is managed by the U.S. Forest Service Lake Tahoe Basin Management Unit and Eldorado National Forest. In summer, the 63,960-acre area is one of the most heavily used wilderness areas per acre in the United States. When snow blankets the region each winter, however, travel into Desolation becomes more involved, and it quickly transforms into a quiet slice of a backcountry skiing paradise.
That's why we're here, of course, to get off the beaten track in the windswept expanse of Desolation and enjoy a whole bunch of quality skiing in the process.

Rylan Cordova and Eric Bryant take in the scenery on Maggies Peak at the edge of Desolation Wilderness, photo by Ryan Salm
Into the Wild
Our tour begins by following an old skintrack up through the forested slopes of Maggies, one of many easier-access "roadside attractions." Several peaks and backcountry ski objectives lie just within Desolation's eastern boundary, towering directly above State Route 89 between Rubicon Bay and Camp Richardson. Classics like Rubicon, Jakes, Maggies and Mount Tallac are among the most popular spots for backcountry skiers from both ends of the lake, offering a wealth of outstanding skiing on a variety of terrain and aspects. With little to no approach, these roadside peaks offer some of the best bang for your backcountry skiing buck in the entire Lake Tahoe area. Laps on these mountains can be completed in just a few hours, and those with energy and time to burn can easily spend an entire day hiking up and sliding back down.
Of course, it's hard to pass up the ease of access and quality of terrain we're hiking through, but we've come for more than just a quick lap. There's a lot more of Desolation to be skied, and once you get out of sight and earshot of the road is when you truly get the chance to experience its tranquility and solitude. That's the beauty of it: You can choose your own adventure. Whether that's a quick run before work or a full multiday tour deeper into the wilderness, there's something out there for everyone.
As we ascend we're treated to constant views of the neighboring peaks, Lake Tahoe and Emerald Bay, which lies directly beneath us. Our day is just beginning and we've got a long way to go, so we try not to get too distracted by the view as we push on past Granite Lake toward the saddle between Maggies Peaks North and South summits. About an hour from the car, we traverse onto the broad west ridge of Maggies to a prow that affords us a view deeper into the wilderness.
From our vantage point, the top of Dicks Peak rises up behind the broad ridge of Janines Peak, our first and second summits, respectively. Despite the fact that it hasn't snowed in over a week, we see only a handful of tracks and not another soul. It's early spring and the day is picture-perfect California—temperatures moderate, not a breath of wind and a sky as blue as can be, a stark contrast to the expanse of snow-covered mountains before us. We pull our climbing skins and let gravity do the work as we cruise on a long, rolling traverse west. The skins return for a climb up a gradual valley to Dicks Lake.
After a short break, we skin across the frozen lake and begin our ascent up the massive bowls that make up the northeast face of Dicks Peak. The farther and higher we travel, the smaller and sparser the trees become until eventually there are none. At 9,974 feet, Dicks Peak is the third highest point in Desolation, just 9 feet shorter than Pyramid Peak (9,983 feet) and a foot shy of Mount Price (9,975 feet). Its relatively central location offers a stunning 360-degree panorama with virtually all of Desolation Wilderness in view, including the Crystal Range across Rockbound Valley to our west, Lake Tahoe to the northeast, and the peaks of Carson and Ebbetts passes far to the south.

Romolo Marcucci skins across a frozen Dicks Lake on the approach to Dicks Peak, photo by Jeremy Benson
Déjà Vu
As we take it all in, I'm flooded with memories of my first big ski tour into Desolation some 17 years ago, standing in this same spot, looking at this same view. I'd just moved to Tahoe the winter before, so I was still a newcomer to the area and the local backcountry skiing scene. I'd been getting my feet wet in the shallow end of the Desolation pool, slowly ticking off the more easily accessible peaks, figuring things out as I went. I often found myself looking deeper into the wilderness, but those peaks remained a mystery to me until a friend proposed that we head out to ski Dicks Peak.
Our route then was similar to this day, though at the time it was the biggest single-day backcountry skiing mission I'd ever undertaken, and one that I'll never forget. It took us all day, from sunrise to sunset, with our mediocre technique, poor route-finding skills and archaic backcountry skiing setups. But that day we jumped in the deep end of Desolation for the first time. We finished the day absolutely crushed from the effort but brimming with newfound excitement about the endless skiing possibilities in this quiet and untrammeled wilderness.
Plenty of time has passed since that first foray into Desolation, but the view still captivates us like the first time we saw it. As we stand atop the summit, we feel like kids in a candy store, pointing out peaks and ski lines, talking about what we've skied and we'd like to someday.
Eventually, we snap out of it and get back to the task at hand. We've come all this way to ski, after all.

Eric Bryant skis Maggies Peak at sunset, photo by Ryan Salm
Rewarded Efforts
We decide to drop down the southeast face of Dicks Peak, an uninterrupted 1,800-vertical-foot pitch from the summit down to Half Moon Lake, one of the best runs in all of Desolation. As we'd hoped, this aspect has ripened into a creamy layer of perfect California corn, a smooth carpet of velvet for us to lay clean arcs to the frozen lake far below. As we ski, the peace and quiet in this faraway spot is broken by our hoots and hollers. But there's no one else around to hear, except maybe a marmot or two.
Half Moon Lake is an idyllic spot, almost completely surrounded by excellent ski terrain, including the slope we just skied and the flanks of Jacks Peak (9,856 feet) rising sharply from its shore. Given more time, it'd be a perfect spot to spend a night or two while nabbing descents in this more difficult to access area. This day, however, we don't have that kind of time, so we transition back to hiking mode and zigzag our way up the slope above us to Dicks Pass and then on to Janines Peak.
While not officially named on maps, Janines is the prominent high point, 9,579 feet, on the ridge above Kalmia Lake at the head of the Cascade Creek drainage. Janines ridge extends north from the summit for nearly a mile with excellent moderate east- and northeast-facing ski terrain down to Azure Lake.
Considering it hasn't snowed in a while, our expectations for northeast-facing snow quality are low. But as we drop in we're delighted to find shallow wind-textured powder still holding on from the week prior. The surface is smooth and consistent, far better than we could have imagined, as we link another 1,800 vertical feet of effortless turns down to the frozen surface of Azure Lake.
After a quick round of high-fives and a snack, we put our skins back on for our last ascent of the day to Maggies South summit. From the 8,699-foot peak, we're rewarded with one of the most amazing views of the entire journey. Lake Tahoe sits before us in all its glory, as blue, if not bluer, than the sky above, with Emerald Bay, Granite Lake and Cascade Lake spread below us. The east face of Maggies South is a near vertical cliff face that is home to some of the more extreme descents in the area, but those aren't on the menu for today.
We pull our skins for the last time and drop into a sheltered north-facing tree pitch toward Granite Lake. We're treated to cold, soft, unconsolidated snow as we snake through the hemlocks down to the lake below, exceeding our snow quality expectations yet again. Eventually, we rejoin our ascent route from the morning and ski back down to where our adventure began. We reach the car at 2 p.m., our mission accomplished with plenty of time to spare to get back to our evening jobs in Tahoe City.
"That was a great day," I say. "I remember that being a whole lot more difficult the first time I did it."
A lot has changed since my first trip into Desolation Wilderness. I'm definitely older, probably not any wiser, but fortunately, these steadfast mountains remain the same as the first time I laid tracks down them. Desolation's combination of beauty, ski terrain, challenge and enjoyment still captivates me just like it always has. I've lost count of how many times I've skied out there, but it just keeps calling me back.
We've only just finished our day, yet as we drive up the West Shore, we're already planning our next adventure back into Desolation.
---
Truckee resident Jeremy Benson moved to Lake Tahoe in 2001. Since then he can typically be found on a skintrack or singletrack, depending on the season. He currently works for OutdoorGearLab.com testing and reviewing mountain bike gear, and is the author two guidebooks published by Mountaineers Books: Mountain Bike Tahoe andBackcountry Ski and Snowboard Routes: California.