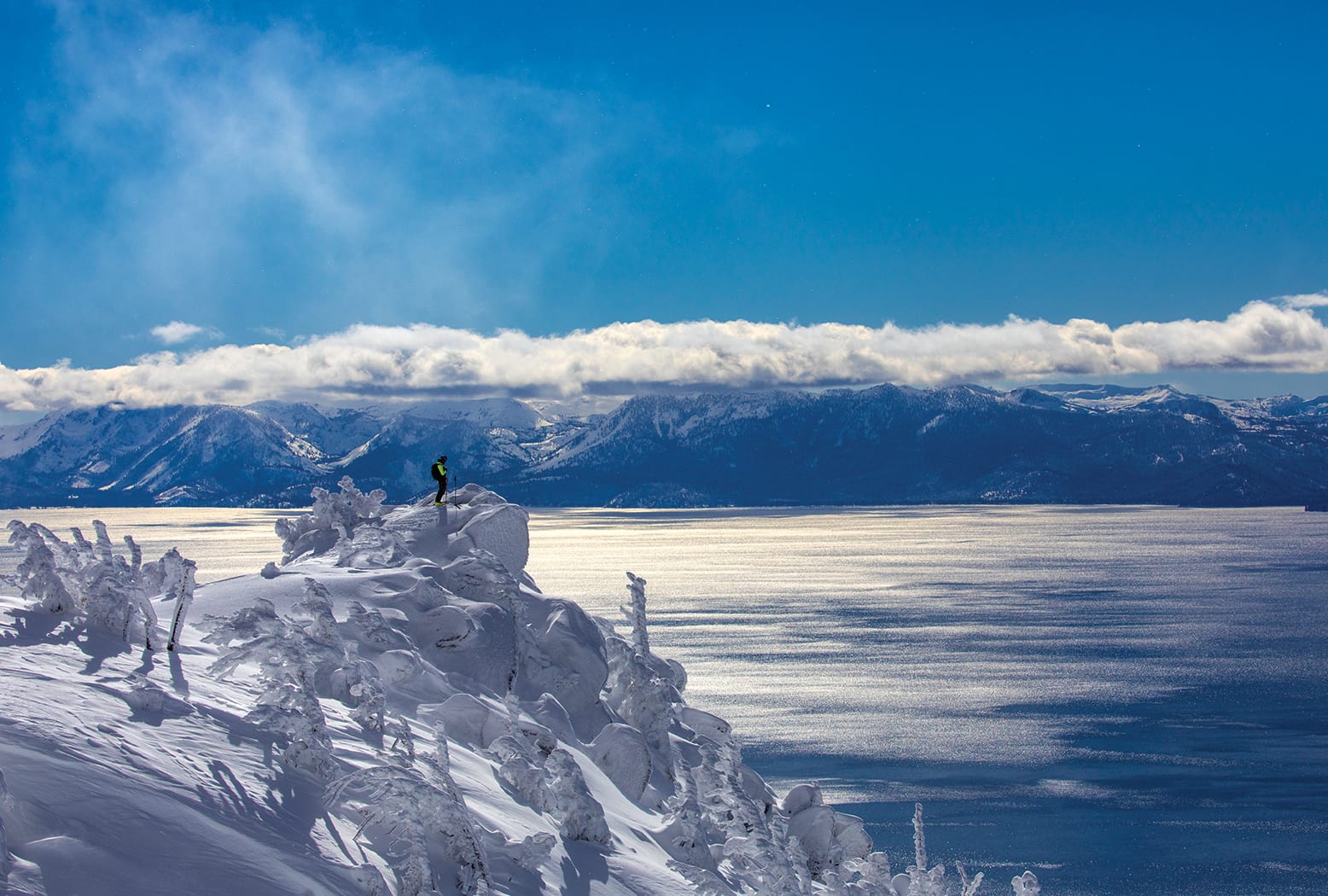 Author Brennan Lagasse admires the view of Lake Tahoe from above the East Shore last winter, photo by Ryan Salm
27 Sep

A Season to Remember in the Range of Light
The Sierra is often slighted by hardcore skiers, but as last winter showed, when Mother Nature unleashes on the mountain range, there is nowhere better to be
Last winter I found myself in a familiar conversation with a friend who lives in the Rocky Mountains. We were working an international ski expedition together as guides, and as we got to know each other, he asked a question I've heard more than a few times in such settings.
"It's really cool you get to work so many crazy ski trips around the world, living in the Sierra and all. It must be nice to escape that heavy Sierra cement you get all the time. We never get that in Colorado. Seems like you'd be happier somewhere else. Why do you live in Tahoe, anyway?"
It's funny how one simple train of thought can bring up such a myriad of reactions. Of course, my first thought was, he doesn't get it. Which is fine. Many Tahoe residents relish living in the veil of the so-called Sierra cement myth.
I did not jump on him like I have with others in the past, listing the massively influential skiers and riders who have chosen to call Tahoe home for decades, relaying what it is like to measure storms in feet as opposed to inches, or explaining the reality of being able to ski steep lines in the middle of winter with a largely stable snowpack instead of waiting for spring each season.
All I needed to remember was what I just left back home in Tahoe, what ended up being a season to remember no matter how long one has lived in the Range of Light.
Game On
The state of the Tahoe backcountry was lean early last season. While resorts were spinning lifts before the new year, and our local high-elevation access points such as Carson Pass and the Mount Rose backcountry provided some decent access, it wasn't until January that things got real—very real.
January 8, the forecast called for lingering snow showers the next few days. Temperatures were cold and the winds calm, with potential for the sun to poke out. Avalanche danger was moderate, with several nuances to keep backcountry users on their toes. The snowpack was stabilizing as well, despite the fact that it had just snowed 2 to 3 feet at lake level and 4 to 5 feet in the high country.
In a way that is special to the Sierra, and Tahoe locals know well, conditions can go from subpar to "game on" in a matter of hours. With the early-January storms, the Tahoe backcountry started to open up at all elevations. And the best was yet to come.
A four-day storm rolled in about a week later, blanketing the Tahoe Basin with 6-plus feet of powder at upper elevations and almost 4 feet at lake level. And just like that, by mid-January we had 20 feet of snow. With one more storm dropping up to 2 feet before the end of the month, it was game on, indeed! 
Our region transforms when snow fills in the lower elevations, with all shores of the lake offering their own unique flavor of skiing and riding. By late January backcountry users could find dependable ski touring and generally great conditions almost anywhere. Skin tracks off Castle Peak, Tamarack Peak and Elephant's Back were soon well trodden, while new skin tracks up lesser-skied lines off Little Round Top, Flagpole Peak and in Ward Canyon started appearing as well.
If February didn't provide, we would still have great backcountry conditions for several weeks. But what if February did provide?
Februburied
There was no other option but to go for it. So I strapped my boots together, raised them over my head and sent it.
I was simply trying to get from my front door to the driveway. If lucky, I thought, the driver-side door would not be frozen shut and I would make it inside my truck without bringing in copious amounts of snow with me. I had failed at this same act a few times over the past several days, and fresh snow in the boots is not the best way to start a backcountry ski day.
This scenario defined February in Tahoe last season.
The snow hose turned on in January and never turned off through all of February. For comparison, Killington, Vermont—a respected East Coast resort—averages 250 inches of snow a season. In February 2019 alone, the mountains around Tahoe received well over 300 inches.
As much as many of us live for moments like this, shoveling became a default sport of choice. In fact, it became a hugely time-consuming, physically demanding endeavor that could seriously eat into ski time if attempted before heading out. More often than not, I chose to break trail and ski first, then have at it when I returned home already in ski gear.
My street on the West Shore was buried enough that skinning from the front door through the neighborhood for ski tours became a nice break in between all the shoveling.
Those who didn't stay up on the snow removal paid the price. With a 5-foot dump ushering in the month, followed by another 3- to 4-footer a week later, then another few feet mid-month, a handful of vacation rentals and old cabins in my neighborhood vanished, completely covered in snow with massive snow banks guarding the main street.
It was a sight to behold. But, of course, the real story was out in the mountains.
Winter Wonderland
On February 19, I returned home from a trip in time to witness backcountry terrain come into play that had not seen action in decades.
Aside from the sheer amount of snow Tahoe received in February, most of the storms were cold, offering a particularly desirable quality of snow for skiing best described as "blower." This is snow that is so light and dry, when you scoop a handful up and blow on it, the snowflakes immediately float out into the air without resistance.
The next morning started like many others with the "how to get out of the driveway" scenario. Luckily, a friend who was headed down the West Shore was willing to swing by and pick me up. This meant I could boot-up inside the house and essentially walk out to the road and jump right in his rig. That's what happened, although it wasn't easy trudging out through the waist-deep snow.
My friend was eager to hear about my trip, which was guiding from a yurt-style basecamp in the Tien Shan Mountains of Kyrgyzstan. It was a dream trip, for sure, and while the snowpack over there took some getting used to, powder skiing was on tap every day of the adventure.
I shared a few quick stories then asked my friend where he had been skiing lately. Mostly the West Shore, he said, but getting a parking spot could be hit or miss. "I forgot to tell you to bring a bigger shovel," he said. 
I soon understood the comment. State Route 89 had not been plowed yet. Even in a beefy truck with solid clearance, as we rounded the bend in Meeks Bay we started questioning if we might actually get stuck in the middle of the road. But the snow was too light to bog us down. Instead, the windshield wipers came on as we were blinded by "face shots" of fresh powder.
Feeling better about our situation, and giggling like a couple of adolescents, we decided there was too much snow for our original objectives, which were too low angle for the conditions. On days like these, there is always a place to safely ski, but remaining hyper-aware of avalanche danger was the primary concern of the day—beyond digging out a place to park.
We settled on a well-traveled West Shore run that has a lower pitch and is relatively free from hang-fire, meaning clear from snow releasing overhead. It had just the right pitch to be fun and was anchored strongly by trees.
Breaking trail in these instances takes on a whole new meaning. I find it one of the more enjoyable activities possible—making your own trail up a mountain with the intent to slide back down. This was the kind of physically demanding session where a team of three, four or even five or more people would be the most efficient way to ascend.
Although we had no such help at first, two friends caught up to us about 45 minutes later. We collectively took turns carving our way up the mountain, creating a trench-like skin track to follow that was thigh to waist high for most of the climb. As I slid my ski up and pushed down to break the trail, a soft explosion of snow would fly into my face. It's not every day that you get face shots while driving and breaking trail.
At the top of our run the world was silent. The day had already been adventurous, but now we had the definition of a pristine powder run in front of us. No one else was around, the snow stability was good given our choice of terrain, and there was really nothing left to do but soak it all in.
As a somewhat large person, who in powder conditions employs a pretty fat pair of skis (136 millimeter underfoot), the style of skiing I enjoy most is more aligned to surfing the mountain than making lots of turns. But when the snow is as deep as this day, and density is 4 percent or less, there's really not much turning to be done. You just point your skis downhill and float on a cushion of fluff, taking each opportunity as you unweight a turn to sneak a breath of air, as each time you sink back down you are completely immersed in a powder-drenched white room.
Although it goes by quickly in the greater scheme of things, it is one run like this, or even one segment of it, that sticks with you for a lifetime. I have probably skied this run a few hundred times, and yet the run and the few laps we took thereafter were something else, worth every ounce of effort it took to get there and then some.
A Different Kind of Miracle March
You don't have to live in Tahoe for long before legendary stories of "Miracle March" come your way. The month can often make or break a ski season, no matter if it's a drought year or average winter.
Last season there was no need for a Miracle March to save anything. The higher elevations had already seen 600-plus inches of snow by the end of February, and with Tahoe as snowy as ever, March had the potential to usher in something historic.
Although the month was active in terms of snowfall, the pummeling snow hose that was February sputtered a bit. But it turned out this particular March had a different sort of miracle in store for the backcountry community.
Slowly but surely, the snowpack stabilized. With less intense storms, but a consistent flow of cold precipitation, lines that hadn't seen tracks became rideable for the first time in years. Coupled with quality skiing throughout the Tahoe Basin and surrounding zones, this was a time backcountry skiers and riders could truly appreciate what is possible in our greater backyard.
The classics were as filled in as they get. You could head out of town toward Sierraville, Gardnerville and even Markleeville and find powder-soaked lines that at times approached 5,000 vertical feet, some of which hadn't been rideable since the 1990s. And right at home, esoteric, obscure lines dominated the minds of many frothing locals. The options seemed infinite, and no matter where you ended up going, the choice was likely a good one. 
Although the storms tapered off through April and May, the memories of Februburied were solidified, and the window of exploratory skiing that took place well into spring will be remembered as an all-time slice of time for those lucky enough to have experienced it.
I skied a new-to-me zone almost every day for a few weeks during this period—random tubes on the East Shore that funneled right down to Tahoe's shoreline, thin corridors of snow surrounded by granite walls on Maggies Peaks, even the Big Bird Couloir on Tallac. Just about anything in and around the Tahoe Basin went, and conditions were phenomenal.
A Satiated Summer
After a winter like that, as much as I love snow and never want it to stop, I understand why so many people get over it. Beyond the shoveling and stories of people forced to hang from climbing ropes to remove crushing snow pillows off rooftops, Tahoe is also a pretty pleasant place to enjoy the summer—especially when skiing remains an option.
At the end of June, a friend and I walked up and rode down Tahoe's highest peak, Freel, in near perfect spring conditions. In late August, I casually paddled across Round Top Lake with my wife and 1-year-old before climbing up and skiing down Sister 2 from just below the summit. Both summer missions were accentuated by bike rides, wildflower hikes and swimming.
The opportunity to combine such an array of activities is yet another example of why Tahoe is in a league of its own. This is why we live here. My friend from the Rocky Mountains may never get it, but at least we do.
This past winter was a great example of how, when the Sierra is on, it's as good as anywhere in the world.
---
Tahoe-based freelance writer Brennan Lagasse is an expedition ski guide and a professor of sustainability at Sierra Nevada College. He maintains that the Sierra Nevada is one of greatest mountain ranges in the world for skiers and riders.