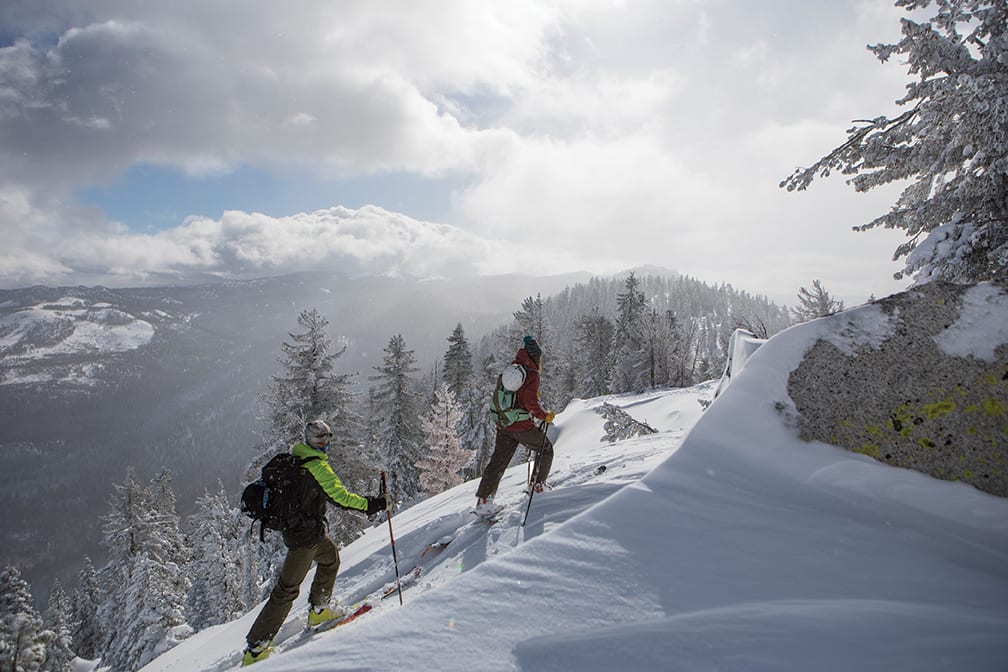 Ever-aware of backcountry safety, author Dillon Osleger, right, and Brennan Lagasse traverse a ridge above Tahoe's East Shore, photo by Ryan Salm
27 Sep

Brushing Up on Backcountry Basics
Those tempting backcountry slopes should be enjoyed with a healthy dose of avalanche education and awareness
Laughter, stemming from disbelief at the amount of snow falling on this late-January day, was the only sound along a socked-in road on Tahoe's West Shore as our group worked with avalanche shovels to clear a parking space. It was clear that the usual parking spot up the neighborhood road toward Rubicon Mountain was not an option, just as it hadn't been for much of the prodigious storm cycle.
As beacons beeped to life and standard equipment checks were performed, discussion turned to the snowpack with respect to long-term and short-term patterns of instability. Snow fell fast and steady, covering any potential skin tracks that may have been set by parties before us.
We set off through old-growth forest of towering sugar and ponderosa pines with a lower canopy filled in by white firs. Dangerously large tree wells set the precedent that we would look after each other and stop often throughout the day. Nearing the steeper, open summit slopes, the upper layer of fresh storm snow was so deep that upward travel was slowed to a halt, which, when combined with low visibility upslope, resulted in a conscious decision to skip the summit, choosing to ski a few laps along the lightly forested mid-slope instead.
Ill-Prepared Company
Several hours into our day, we began our transition to uphill mode again with the intention of skiing a third lap, when we noticed our skin track appeared to be freshly packed. We soon heard voices, all talking over each other, immediately instilling our group of four with a sense of disappointment in the loss of tranquility that a storm-day forest provides.
Ahead of us, we found a group of roughly 12 people on the heels of a second group of six who were having trouble traveling uphill through the fresh snow. It was clear that few, if any, of the individuals were familiar with skinning technique or the basics of how to use alpine touring bindings. We were obliged to politely pass by them in search of a less crowded zone.
But as we set a new skin track, saying our respective greetings to the parties, I couldn't help but notice that one of the members was attempting to tour in telemark bindings in "downhill" mode, inhibiting his range of motion during uphill travel. I stopped and quietly offered some advice so as not to alert his partners to a simple gaffe.
Yet it was during these few moments of explaining how to change his binding setting that our group began receiving questions pertaining to geography, snowpack and gear. It was the first time since my freshman seminar on snow science—Montana State is a unique university—that I had encountered a group of people in the backcountry with essentially no preparation.
After giving the gist of the day's avalanche report, pointing out the direction of the summit, and giving a concerned warning of tree wells and keeping each other in eyesight, we left these parties with advice to attend an avalanche safety course and practice with their equipment before attempting ski tours without a guide.
Legitimate Dangers
As I watched my ski tips dance and float above a surface of glittering fresh dendrites on our way down the mountain, I thought about my years in the backcountry, learning from mentors, paying my dues through education and many snow pits, and losing friends to the mountains.
The friends lost had all paid the same respect to the mountains that I had been taught to give, they knew the dangers that lurked under the soft, untouched waves of white. It was their acceptance of that risk, and the proper attention they had paid to conditions and safety, that made accepting loss and appreciating life easier. I couldn't help but think of the hard "rules" being broken by the parties we had left, the heuristic traps that existed, unbeknownst to them, and how they would process loss if luck didn't fall on their side that day.
I checked in on the Sierra Avalanche Center's website that night and the next morning hoping not to see an accident report involving one of the parties we encountered. I stressed over the safety of individuals I did not know, only remembering the soft blur of faces and friendly voices that carried a sense of nervous excitement, hoping for their well being.
Such is the reality of the rapid expansion of winter backcountry use driven by social media and the availability of affordable equipment in just about every ski or outdoor shop. While backcountry skiing was once a niche activity, times have changed. Now, people with ski resort day passes aren't afraid to venture into the sidecountry simply because they have the equipment.
User groups such as the Tahoe Back­country Alliance have gone from focusing on critical land use access to plan­ning and implementing expanded parking spaces to accommodate the increasing number of skiers and snow­boarders venturing into the backcountry around Lake Tahoe. Beyond the need to educate users about issues affecting backcountry recreation such as gate closures or parking needs, there is a need for outreach to those who aren't aware that such groups exist or that education resources are available to them beyond the backcountry skiing guidebook they bought.
Anyone considering venturing outside of resort boundaries should know what resources are available to help keep them safe in the backcountry.
Avalanche Safety Courses
Education should always come before gear. The shiny new equipment showcased in magazine buyer guides has a lot of appeal, but before reaching for that $2,000-plus touring setup, consider spending $500 for education first, which often has the option of renting gear to make sure you enjoy the backcountry experience before investing heavily. 
Teaching complex snow science is not of key importance here. What is important for starters is being conscious of surroundings and to focus on developing good decision-making skills. Taking a safety course or avalanche class will not instantly make users safe in the backcountry or resort sidecountry, but it is the first stepping stone toward awareness.
The American Institute for Avalanche Research and Education and the American Avalanche Association have helped forge a standard for education in the form of avalanche safety courses employed by providers around the lake, including Alpenglow Expeditions and Alpine Skills International. The Sierra Avalanche Center has additionally stepped up to provide certified avalanche courses aimed at motorized snowmobile safety.
These courses are multi-day and involve course work, reading and outdoors applied practice, ensuring that you get a complete picture of avalanche safety, both physical and psychological. This psychological education pertains mostly to what is known as "the human factor" of avalanche safety, specifically, tenants described under the acronym FACETS (Familiarity, Acceptance, Consistency, Experts, Tracks/Scarcity and Social Facilitation).
If the parties we encountered on the West Shore that stormy day had taken an avalanche course, they would know that they had broken several of these rules of safety before they even left the car.
Gear Up
After learning the ropes of backcountry safety, it is time to buy your own gear. At a minimum, you will need skis with touring bindings or a splitboard, an avalanche beacon, probe, collapsable shovel, backpack and suitable clothing.
Many retailers in the Tahoe Basin will be able to help you select suitable gear. However, you should be honest with yourself and the shops you buy from in selecting gear that is appropriate for your level. The idiom that comes to mind is, "The best tool is the one you know how to use." This applies to all backcountry equipment regardless of cost. Buy intuitive beacons such as a BCA Tracker 3 rather than more expensive options. If emergencies do occur, you will appreciate the simplicity in place of a complex device that only adds confusion to a stressful event. 
Many users do not consider getting new clothing or gear when shopping for backcountry equipment, but layering is a key component to backcountry preparedness. A basic kit should include breathable yet waterproof outer layers like those offered by local company Flylow Gear, as well as merino wool or non-cotton layers that can be taken on or off to regulate body temperature. 
Guided Tours
Exploring the unknown is part of the backcountry skiing and snowboarding experience, from ever-present yet seldom-visited peaks and valleys to the constant changing environment presenting unique snowpack, fluctuating topography and varying weather.
A guide service is a fantastic way to take hold of this exploration experience in that it provides a safe physical and mental space through the expertise of the guides. Tahoe is home to countless world-class athletes, many of whom are certified guides working for companies such as Alpenglow Expeditions, the Hideout Lodge, Alpine Skills International and others.
Book out a day tour exploring untouched powder in National Geographic Bowl near Squaw Valley with Alpenglow, or spend five days touring around remote basins while staying at a five-star cabin like the Hideout Lodge.
Beyond all else, during an emergency is not the time to learn how to use your skills or equipment. After learning from courses or guides, practice at home or at designated "beacon parks" in order to keep yourself and your backcountry partners safe.
  Use mapping and planning applica­tions like Gaia to better prepare yourself for outings, check the Sierra Avalanche Center's avalanche report before heading out, and make sure to always let several people know of your plans and when you expect to return.
---
Dillon Osleger is an avid backcountry skier and ski guide based in Truckee. Starting with his backcountry ski endeavors in the Tahoe Basin as a child, he chased his passion to two degrees in snow science, many early mornings with forecasting services, and hundreds of days in the mountains on personal expeditions and with clients.