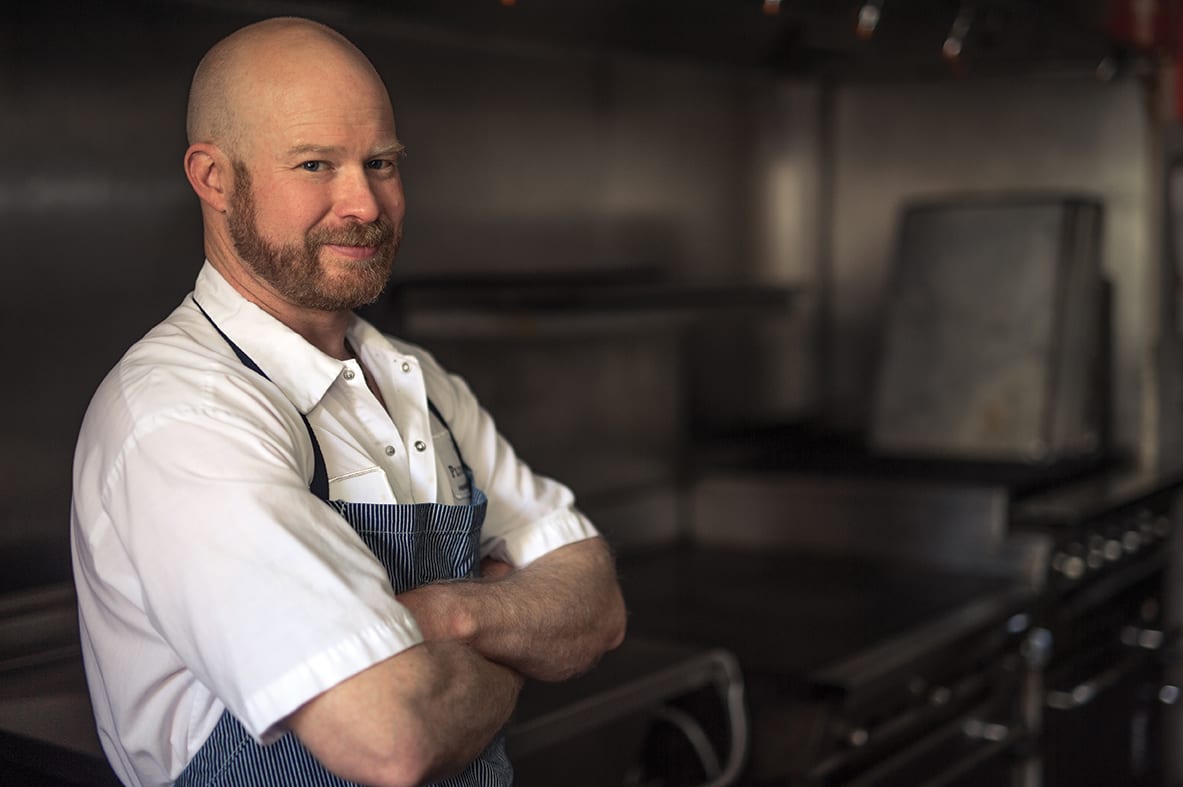 Chef Jack Connell, courtesy photo
27 Sep

Chopping Block: Q&A with Jack Connell of PlumpJack Cafe

PlumpJack Cafe Squaw Valley has long been a favorite for both its buzzy bar's aprés ski scene and intimate upscale dining room. Executive chef Jack Connell, who has a lengthy history with the restaurant, oversees its innovative seasonal New American menu.
Where were you born and raised?
I was born in New Paltz, New York, then moved to Bloomington, Indiana, at age 3 for the balance of growing up.
Earliest culinary memory? 
My mom could make some delicious desserts and that really got me going. She encouraged me to get into the kitchen; it was a fun way to explore and spend time with her. At a fairly young age, I could make a mean cheesecake along with a pretty good mess of the kitchen.
Schooling?
I graduated from Xavier University in 2000 with a major in criminal justice and a minor in studio art, and from the Culinary Institute of America, Hyde Park, in 2008 with an associate degree in culinary arts.
Previous chef gigs?
In my early years I cooked on the line at Scholar's Inn in Bloomington (Indiana), the Maisonette in Cincinnati, with Rick Tramonto and Gale Gand at Tru, and Paul Kahan at Blackbird, both in Chicago. I moved to Lake Tahoe and landed as a line cook and later sous chef at PlumpJack Cafe. After studying at the CIA, I returned to Squaw Valley as the chef de cuisine at Bistro 22 and was a part of the opening culinary team at the Ritz Carlton, Lake Tahoe. From 2010, I was back at PlumpJack as sous chef until spring of 2015 when I became executive chef.
What inspires your menus?
Seasonal ingredients, the opportunity to travel and taste, and my commitment to acquiring and reading cookbooks.
Purveyors with which you like to work?
Habeger Produce, Sierra Meats, Earthy Delights.
Longest running item on the menu?
Seafood cones.
What makes those poke cones so darn tasty?
Quality ingredients and keeping the concept simple, fresh and seasonal.
Go-to kitchen tool?
Vitamix.
How often does Governor Newsom (co-founder of the PlumpJack Group) drop by?
He and his family definitely come up. They love to ski in the winter. They enjoy the chance to get away, get outside, relax and spend time together as a family.
What's in your home fridge right now?
Cured meats, steaks, fresh vegetables, a myriad of hot sauces and every other condiment imaginable. Cold beers.
Favorite ski trail?
Late afternoon Red Dog ridge off KT-22 at Squaw Valley.
Other interests?
Music, lasers, thrift store shopping, antique bicycles and adding to my expansive cookbook collection.
---
The PlumpJack Squaw Valley Inn and PlumpJack Squaw Valley Cafe are slated for a full redevelopment in spring 2020. Stay tuned for details.
---
Susan D. Rock is TQ's longtime Food & Wine editor.
---
Chef Jack Connell's Recipe for Pepitas Dip
Called "sikil pak" in the Yucatan region of Mexico, this dip is sort of a hummus made with pumpkin seeds rather than garbanzo beans.
Ingredients:
• 4 cups pepitas (pumpkin seeds)
• 14 oz. can roasted tomatoes
• 2/3 cup fresh squeezed orange juice
• 1/3 cup sesame tahini
• 1 serrano chili charred and peeled
• 1 Fresno chili charred and peeled
• 1/3 cup extra virgin olive oil
• 3 cloves garlic
• 2 tbsp honey
• 2 each scallions
• ¼ bunch cilantro
Preparation:
Add pumpkin seeds, tomatoes and orange juice to a pot and simmer to soften the pumpkin seeds. Add remaining ingredients and blend until smooth (it may be hard to blend but you really want it smooth, so be patient). Season with salt and pepper to taste.