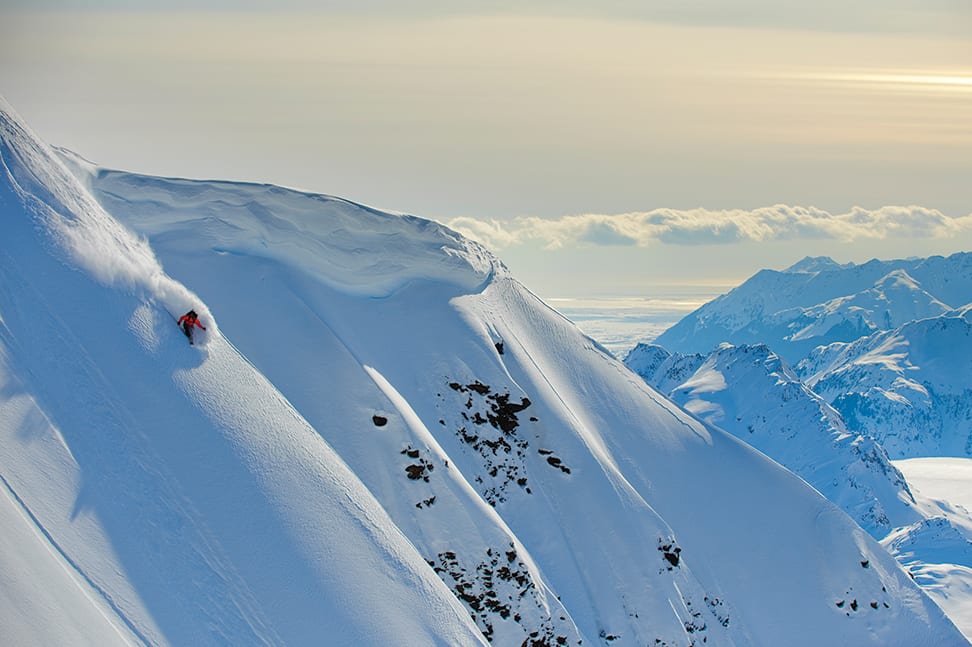 Kip Garre in Cordova, Alaska, with Points North Heli-Adventures
27 Sep

EYE TO EYE with PHOTOGRAPHER Court Leve
Fate led the Truckee-based photographer to his profession, which now involves working with the most talented skiers and snowboarders on earth
How Court Leve, an art history major from the Midwest, ended up an elite ski and snowboard photographer is pure serendipity. "It was meant to be," says Leve, who, by a stroke of luck, stepped into a recently vacated photography position shortly after moving to Truckee in 2001. He had only recently gotten serious about photography. Yet, with a knack for the art form—combined with exceptional mentors and friends who own Points North Heli-Adventures—Leve quickly rose to the top of his profession. His stunning images now grace the pages of magazines across the country, Tahoe Quarterly included.
Where were you born and raised, and what sort of things were you into as a kid?
Born and raised in St. Louis, Missouri. As a kid I was always active playing, soccer from an early age and then later basketball, and then I started mountain biking around 16. My family went on ski trips to Colorado, but I really didn't start skiing regularly until around 1995 when I moved to California.
How and when did you get into photography?
Photography was an interest at an early age, but it didn't come full circle until about 20 years ago. My dad had a Nikkormat camera that I would try to use as a kid and learn about photography. In high school I took a photography class, but it wasn't until around 2002 when I picked up one of Nikon's first high-end DSLRs that I started getting more serious about it.
What was your first camera?
My first camera was a Nikkormat from the '60s that my dad had. I still have it!
Where did you go to college and what did you study?
I was an art history major at American University in Washington, D.C.
When did you decide that you wanted to pursue photography for a living?
Shortly after I moved to Truckee I became more serious about photography. My neighbor asked if I would shoot the Big Blue Adventure race for his startup magazine. While shooting the race over the weekend I met the photographer for the Tahoe World newspaper. I was talking to him about the job and it sounded amazing and I was curious if they might be hiring. As luck would have it, he was putting his notice in on Monday. I had a job later that week with the paper, and the rest, as they say, is history. It was meant to be.
Was there any photographer in particular (or photographers) who inspired you early in your studies or career?
Working with local cinematographer Tom Day and being friends with Keoki Flagg were big influences. Being friends with both of those guys was like a huge cheat sheet in the ski/action photo world—but more than that. I learned about the art, skill and, most importantly, how to see light and work with people. And I also got a taste of the lifestyle. Photography is far from a nine-to-five.
When did you move to Tahoe and why?
Before moving to the area, I was working in San Francisco as a corporate recruiter for a number of years. Before SF, I lived for a minute in Jackson Hole, Wyoming, and knew I wanted to get back to the mountains. When the dot-com world started to implode, I fired myself and moved here full time.
What's kept you here all these years?
The community, people, lifestyle and being able to call this beautiful place home year after year.
You've done a significant amount of ski and snowboard photography over the years, both in Tahoe and bigger mountains around the world. Was becoming an accomplished ski photographer a conscious goal of yours or more of a natural progression in your career?
I sometimes joke, as many do, that skiing ruined my life. The biggest mistake was going to Alaska after meeting Kevin and Jessica Quinn, owners of Points North Heli. They turned me on to the big mountains and a different way of life. It certainly wasn't planned, but year after year I became more involved with what they had going on and they introduced me to shooting skiing/riding on a bigger level—and, as time went on, to some of the best athletes and filmmakers in the world. Honestly, it would be nearly impossible to have planned this. 
What's your favorite aspect of ski photography?
Without question, the people you get to work with and experiences you share. You may only have a few days or even moments with people, but you'll remember them for the rest of your life. The actual skiing part is secondary compared to the friendships and memories you create. 
What's your least favorite aspect of ski photography?
I don't have to give that question a second thought: Cartwheeling down a 45-plus-degree slope for hundreds of feet with a 50-pound photo pack. I can tell you the exact day I got my first gray hair.
For as much as you've shot skiers and riders on technical big-mountain terrain, have you ever gotten yourself in any precarious situations on the mountain while on a shoot? Explain.
Oh, yeah! The best camera angle is almost invariably found by standing in the sketchiest place on the mountain.
How much has your own skiing ability benefited from your line of work?
Being from Missouri, I have lots of room for improvement. Between living here full time and gradually spending more time in Alaska, I have come a long way and feel I'm still learning the sport. I don't think I'd be the skier I am today if my camera didn't take me to so many amazing places though. It pushed me harder than if I was simply skiing at the resorts. 
Do you have a favorite skier to work with on the mountain?
Kip Garre. His energy, stoke and genuine love for people and the mountains was amazing.
How about a snowboarder?
Seth Wescott. We have a decade-plus shooting/working together all over the world.
What's the most spectacular location you've ever shot skiing?
I am really fortunate that this is a tough question to answer. Alaska, Svalbard, Antarctica. But I think Warren Miller said it best: "The best place in the world to ski is where you're skiing that day."
What's the most spectacular location you've shot skiing around Tahoe?
For work, Squaw Valley. For fun, runs on the East Shore looking down into the lake. Tough to beat that view.
Did you get to spend much time skiing in Tahoe last winter, and if so, where do you rank it on your list of best Tahoe winters?
I spent more time going slow in the backcountry versus the resorts last season. Resort-wise, it wasn't my personal favorite.
Do you ever leave your camera behind so you can ski equipment-free, or do you keep it on you at all times?
That's one of the hardest things to do as a photographer, skiing or otherwise. It's hard to see "the shot" and not want to capture it. It is nice to simply enjoy the moment though sometimes. But I feel naked without a camera somewhere close by.
Nikon or Canon? Any reason in particular?
Nikon. Simply because that's what was handed down to me. 
If you could only own one lens, what would it be and why?
70-200. It's an essential lens that is great for sports, portraits, wildlife—you name it.
What's your favorite sport to shoot outside of skiing?
I shot the Reno Air Races for several years. As part of the media you can enter a lottery to be placed at the outer pylon, which puts you as close as possible to the action. You have P51s flying 300 miles per hour only 200 feet overhead. It's probably the most challenging sport I think I've ever shot given the speed and intensity of it. 
Let's end on some quick hits… Favorite inbounds run in Tahoe?
Dead Tree. Especially when it's closed.
Favorite backcountry run?
Bear Scratch.
Best ski flick of all time?
Not sure that it is possible to name one. But Warren Miller's Dynasty is a personal favorite because it highlighted some of the Points North Heli crew, who are like family to me, so I felt really connected to that movie and segment in particular. Pretty awesome to see your friends on the big screen.
If you had a segment in a ski movie, what song would you ski to?
Mountain Song. Jane's Addiction from Nothing's Shocking.
Favorite restaurant in Tahoe/Truckee?
Moody's Bistro.
Favorite local bar?
Moody's Bistro.
Favorite local band?
Dead Winter Carpenters.
World Series champion prediction?
SF Giants! Sorry, St. Louis.
Super Bowl champion prediction?
Anyone but the Patriots. And now half of Tahoe hates me.
Winter prediction: boom or bust?
"Somewhere between "I can't see the Manzanita in my yard" and "I don't have to shovel my roof!"
---
Years ago, Tahoe Quarterly editor Sylas Wright reeled in Kokanee salmon with a guide on Donner Lake as Court Leve documented the moment for a local newspaper article.