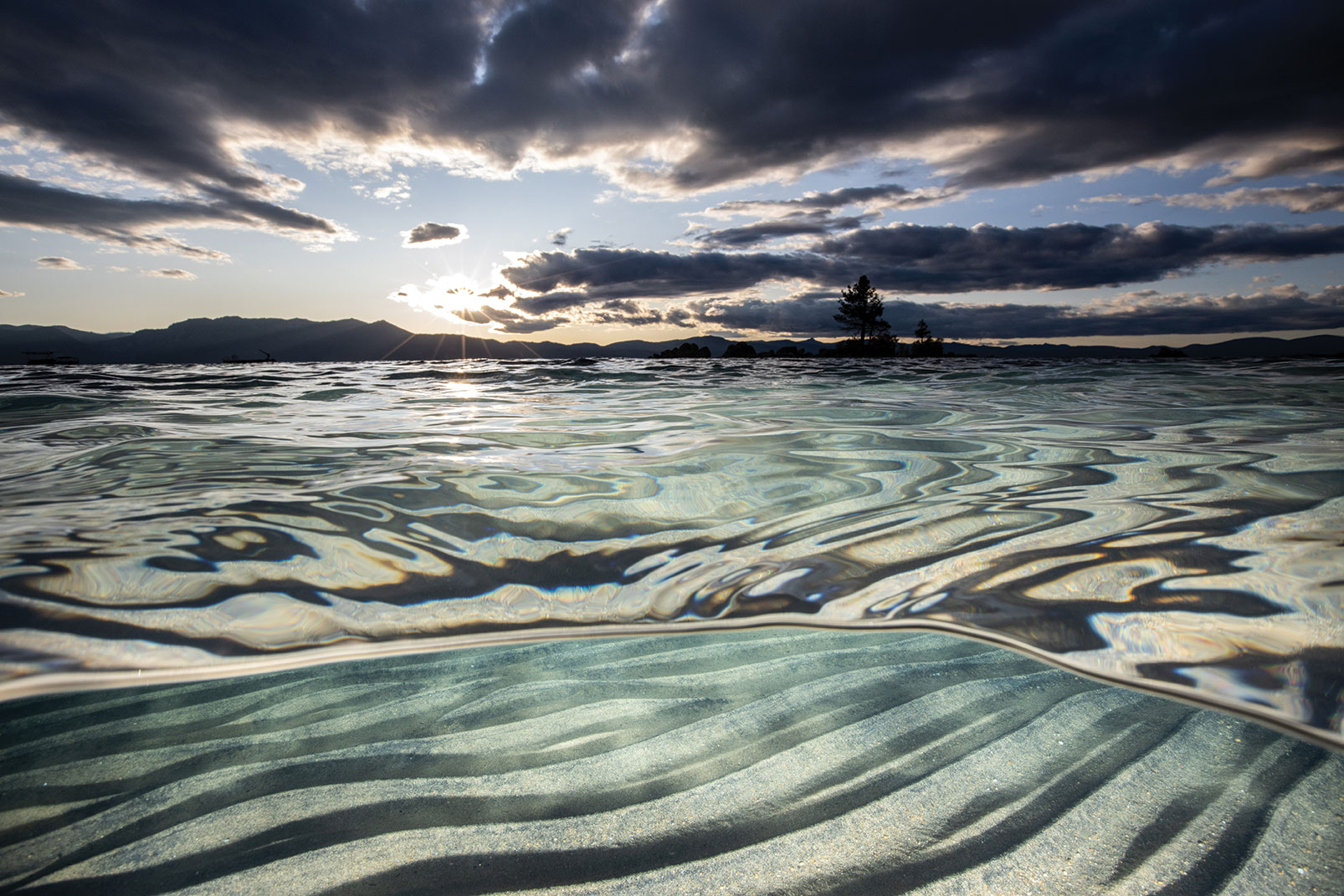 24 Sep

The Book That Takes You Beneath Big Blue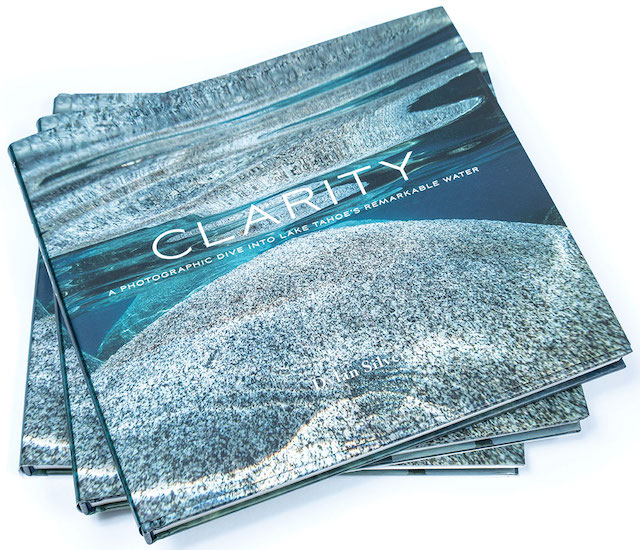 Clarity. For Lake Tahoe, it's a word that evokes pride in Big Blue's crystalline waters. It's a measuring stick for the lake's health, tested regularly as a gauge for all that's happening to the region's environment. It's a source of wonder for those who stare into Tahoe's depths from the railing of a boat or a stand-up paddleboard.
For Dylan Silver, it's a source of inspiration to make art, and the title of his new book that catalogues his photographic journey beneath the surface.
Lake Tahoe and its surrounding peaks, verdant meadows, green forests and cool streams attract more than their share of talented, passionate photographers. Just flipping through this publication provides ample evidence of that—whether they are landscape photographers capturing a gold and pink sunset reflected in the lake, or action shooters memorializing a perfect ski turn.
For Silver, however, the lake and his camera took him down a different path—one that meant diving beneath Tahoe's waters countless times with camera in hand. Silver captured the lake in sun and in snow, from popular beaches to hard-to-reach places, all in the process of creating something entirely unique.
"One of my main motivations was that I didn't see anybody else doing it. I thought it was crazy that we have one of the most famous lakes in the world that's renowned for its water clarity, and very few people had dedicated a lot of time to taking their cameras underwater," says Silver. "There are a ton of amazing photographers at Lake Tahoe. But I didn't see anybody focusing solely on the water or the underwater landscape."
Even within the practice of underwater photography, typically revolving around sea life like coral reefs or kelp forests and all the unique critters teaming in those environments, Silver's focus on the interplay of Lake Tahoe's clear water, light, rock and sand stands apart.
"One of the most common questions I get asked when I'm at the beach shooting is, 'What did you see down there?' It's kind of hard to explain that I'm just taking pictures of rocks and water," says Silver. "Strangely, I get a lot of people who ask if I found their lost sunglasses."
As a writer and journalist who had spent much of his life around Lake Tahoe, Silver was handed a camera at the Tahoe Daily Tribune in South Lake Tahoe to take pictures for his news stories. His love of the lake quickly resulted in news assignments that took him underwater, shooting fish plantings in the lake and invasive weed removal in Emerald Bay with basically a glorified plastic bag to protect his camera.
"Because I'd snorkeled and swam so much in the lake, I knew how beautiful it was underwater," says Silver. "But it wasn't until I started to understand photography and I was able to buy a decent camera and underwater housing that I could capture what I had been seeing."
Silver didn't set out to create his book, Clarity: A Photographic Dive into Lake Tahoe's Remarkable Water. Instead, he focused on experimenting and honing his craft over the course of many years and thousands upon thousands of shots.
"The easiest part is shooting the photos. Even when it's snowing and storming, all I want to do is get in the lake and swim around with my camera. The hard part for me is sharing the photos and dealing with some of the tedious aspects of running a business. But I've grown to enjoy that, too," says Silver.
He began posting pictures on Instagram under the handle @tahoeclarity, developing a strong following and receiving helpful feedback as he learned through trial and error the best equipment and techniques to hone his craft.
"I'm not naturally extroverted, so it feels like it takes a lot of work to post (on Instagram) regularly," says Silver. "It's cool to hear from people who find a photo calming or intriguing."
A little help from his graduate school, University of Nevada, Reno, by way of the university's InNEVenture Fund turned Silver's passion into a project, supporting what would eventually become his coffee table book available today.
Over the course of 160 pages and more than 180 photos, Silver's book explores underwater landscapes, split-level shots showing both above and below the surface, waves frozen into glassy shapes by his camera's shutter, swimmers, divers, hidden secrets and wildlife. He shows the litter unfortunately left behind, and invasive species that threaten the lake's clarity and health.
"The book is a way of bringing the water to people," says Silver. "I want every reader to interpret the images however they want. For some, the water is relaxing. Others find it invigorating. Some people are moved to protect the area. Others just want to enjoy it. But no matter how you see Lake Tahoe, the water is timeless."
Looking at the photos that made the final cut and the pages of the new book, a few stand out to Silver as favorites, with their own memories attached.
"There are a few images that kind of jump out to me. The first is called Teal on page 32. It's a pretty simple shot in about 3 feet of water, but I like the nuance of the color and the splotchy light on the bottom. It was one of my first keepers from the East Shore," Silver says.
"Another photo, Cobra, on page 61 was a complete surprise," he adds. "After I'm done shooting, I usually flip through my images in the car. When I came across this one, I did a total double take. It was abnormally perfect. The shape was so unique. I knew I couldn't recreate it in a million years. That's what's so fun about shooting waves. You never really know what you'll capture."
Silver, now based in the Monterey Bay area, would like to eventually release a second edition of the book as he adds to his collection of underwater Lake Tahoe photos, as well as one focusing on the rivers of the West Coast.
---
Clarity: A Photographic Dive into Lake Tahoe's Remarkable Water, published by Schiffer Publishing, is available at tahoeclarity.com and in numerous shops around Lake Tahoe.