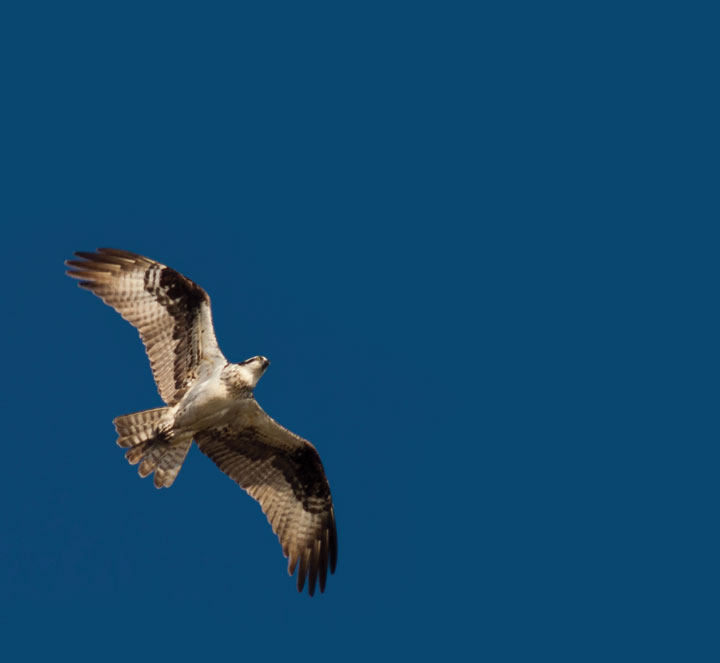 An osprey in flight over Lake Tahoe, photo by Martin Gollery
Birding Takes off at Tahoe
Most birders will say one sighting flipped the switch.
For Will Richardson, it happened back in high school, when a flash of brilliant blue caught his eye. The color belonged to a bird so magnificent Richardson reasoned it must be an escaped pet.
He went home and dug up his old Cub Scout field guide anyway, and lo and behold, there was his bird. The indigo bunting was perched right on the cover. Astounded, Richardson started wondering what else he was missing. Once he began flipping through those pages, there was no turning back.
"Now, I'm never not birding," Richardson says.
He's not alone. Richardson and Kirk Hardie, co-founders of Tahoe Institute for Natural Science (TINS), know firsthand how addictive bird watching becomes once people open their eyes and ears to the recreational sport. Birding is the ultimate environmental catalyst, connecting people to nature with migration patterns ushering in the changing seasons. Bird watching also has the power to turn an average hike into a scavenger hunt and a family vacation into a wildlife safari.
"When you start paying attention to birds, you start paying attention to the vegetation around you. You start paying attention to the season. It's something you can take with you no matter where you go," Richardson says.
For those like Richardson, once the bird switch is flipped, there's no turning it off, which explains why bird watching is still alive and well amidst an era of seductive electronic distractions.
About 46.7 million U.S. residents observe and photograph birds annually, according to the most recent National Survey of Fishing, Hunting and Wildlife-Associated Recreation. Another 17.7 million travel at least one mile to watch birds.
"In today's world, there's the computer, the Internet, all these distractions really," Hardie says. "But I think in the long run we came from nature, we're a part of nature. We've largely removed ourselves from it so people are finding ways to reconnect and there's been a national trend of more and more people bird watching."
In Tahoe, it usually starts with the male western tanager, the parrot of these parts. Hikers will suddenly catch a glimpse of yellow, red or orange they didn't expect to see in the forest.
"They're really quite common here in the summer, but if you're not paying attention, they're easy to miss," Richardson says. "But when you do see them, and realize they've been here all along, it's a real sort of awakening for people."
The western tanager is among more than 300 species of birds recorded in the Tahoe Basin. About 50 of those have no business being in the mountains, which just adds to the birding allure. Richardson has seen a Russian sandpiper after a long flight over the Pacific Ocean, or gulls that typically migrate miles out of sight.
"They're usually way out over the ocean, but under the right conditions they are usually somewhat predictable to turn up off Tahoe City on a windy day in September," Richardson says.
Knowing when and where to look comes with time and experience—experience bird watchers like Richardson and Hardie are happy to share. TINS leads free bird walks all summer.
Lake Tahoe Community College also offers classes on birds of the Basin with instructor Sheryl Ferguson.
"You start with birds and then you start to see the other things. Maybe it's a snake or a track in the mud," Ferguson says. "Get out for a 20 or 30-minute walk and you'll see nature happening, whether you see a coyote crossing the street or that the robins are back in town. Find out who lives in your neighborhood this time of year."
---
Find upcoming bird walks and more information on the Tahoe Institute for Natural Science website, www.tinsweb.org.