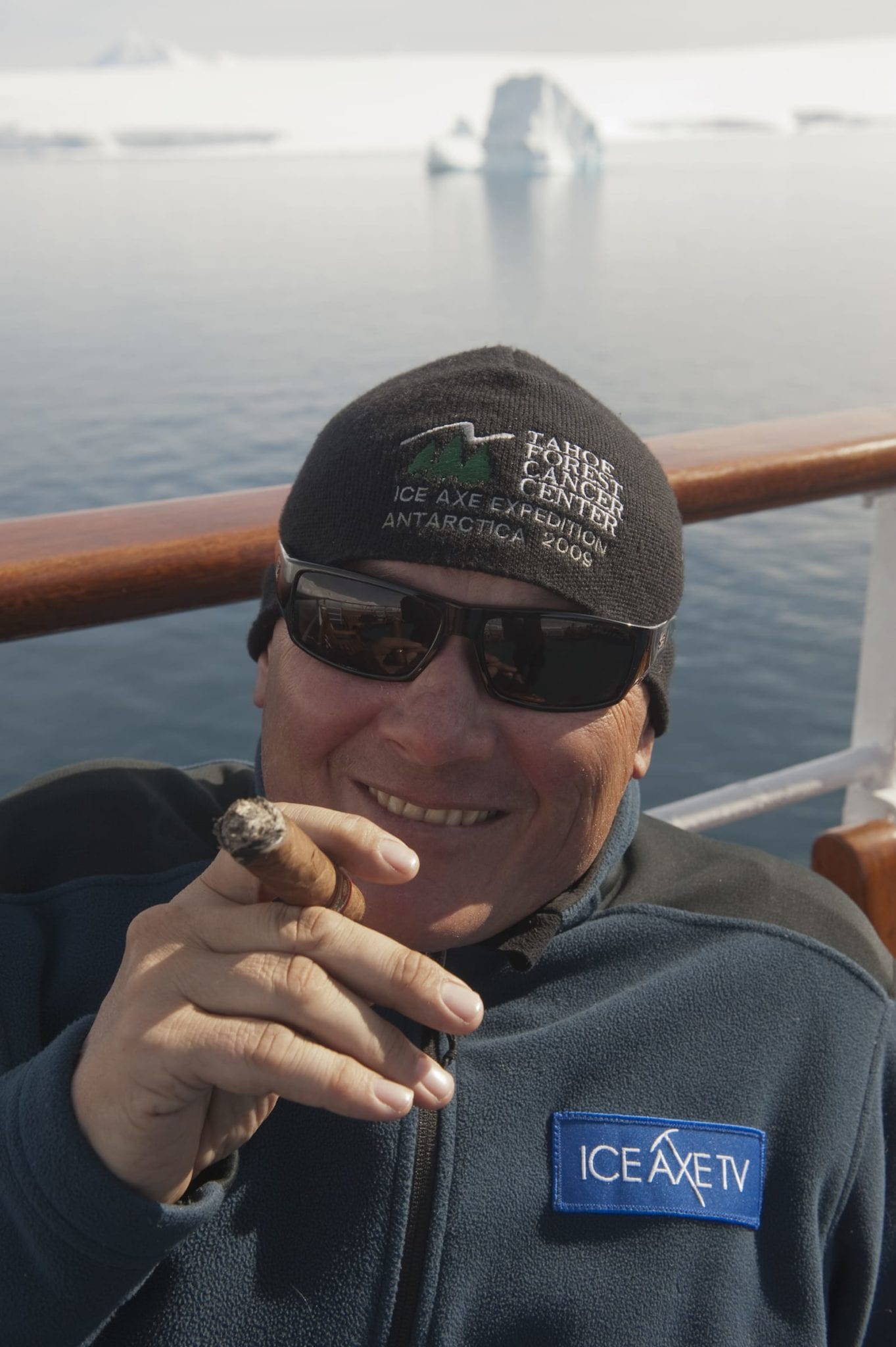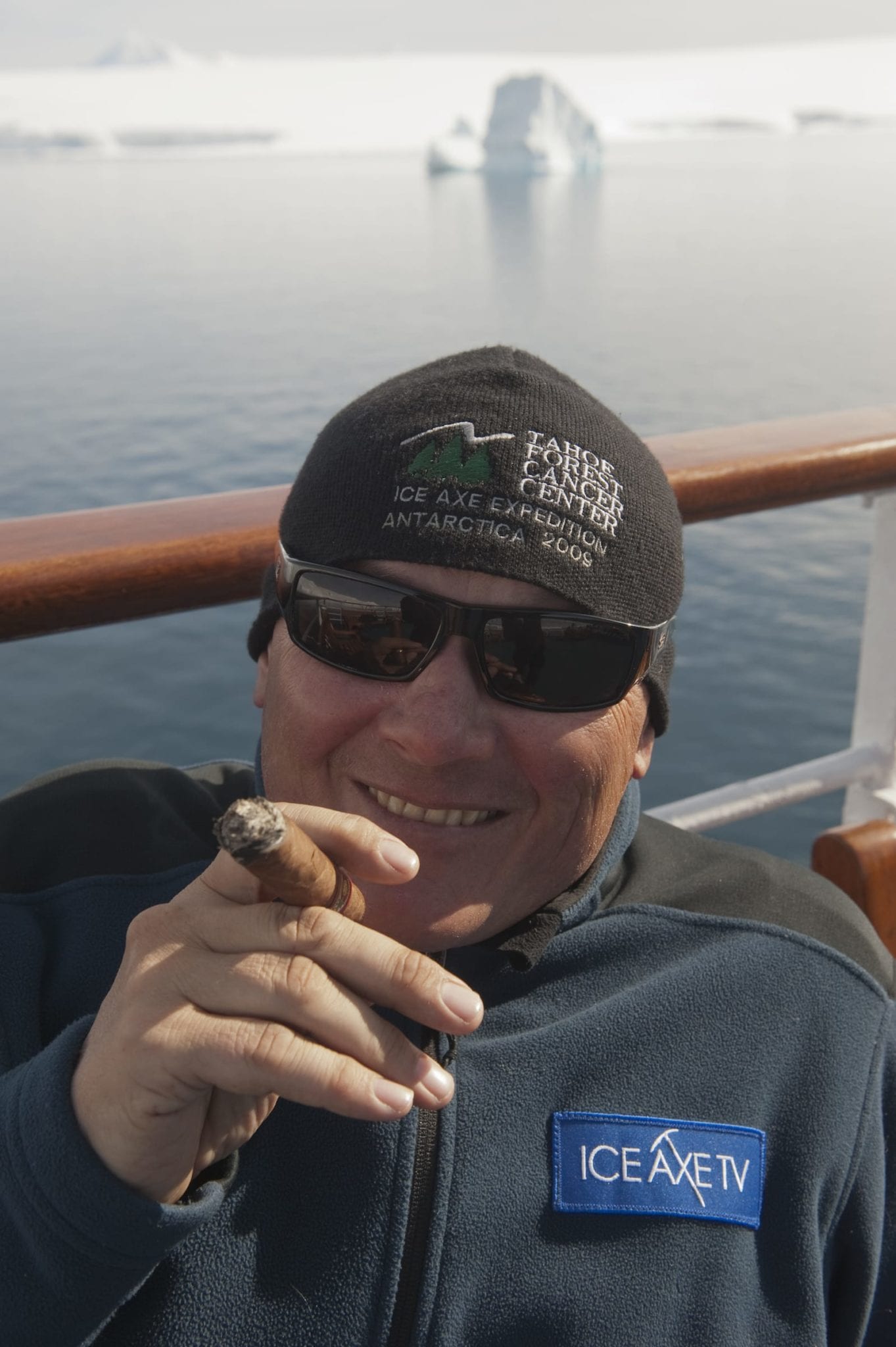 Robert "Fro" Frohlich relaxes with a cigar during a trip to Antarctica, photo by Keoki Flagg
30 Jan

Finding Fro

"Let me grab a flashlight," says Norm Sayler as he stands poised at the brink of Donner Summit Historical Society's shadowy basement. He retrieves the light and we descend the stairs.

Even when the overhead lights flick on, they are feeble enough that the flashlight is needed. Sayler illuminates racks of rental skis, filing cabinets and a vacuum cleaner in the underground room of his Soda Springs building before swinging the beam across the wall and spotlighting what I have come for—rows of boxes holding the life's work of a writer I have admired for years. I walk to the first box and begin leafing through labeled folders, handwritten notes and unfinished prose. This stack of written material chronicles nearly four decades of the insatiable curiosity and deep local knowledge of Robert "Fro" Frohlich, legendary Tahoe author and journalist.

The fact that this high-altitude ski museum has become the final resting place of Frohlich's writings is not haphazard. Before Frohlich died of cancer in October 2010 at age 55, he called Sayler and told him he wanted his writings and historical skiing material to be handled by the former owner of Donner Ski Ranch, who at 79 is going on 60 years living on Donner Summit.

In Sayler, Frohlich saw a kindred spirit—a passionate collector and someone who deeply valued the stories that make up the fabric of Tahoe's past.

"Fro was afraid that if it went to some other group it would not stay intact," says Dave Wilderotter, a long-time friend of Frohlich's. "He figured that Norm was crazy enough to hold onto everything."

One by one, I grip the boxes and lug them upstairs. Under the museum ceiling, festooned with ancient lanterns, historic sleds and lumberjack saws, I sit and begin reading.

The collection itself is remarkable and diverse. There is an unpublished novel, short stories about Caribbean sailing, dozens of boxing articles and, of course, a mountain of ski history.

"He was a collector, a lot like I am," says Sayler.

There are dozens of binders of published articles, dating back to the 1980s. The earliest writing, in a set entitled "Old, Horrible Stuff," includes fiction he wrote for The Squatchberry Journal and Soldier Spy Adventure Fiction.

The breadth and depth of the writing is a product of a "Fro" character trait I admired immensely. In a Tahoe region known for its transience, where seasonal ski workers relocate after mere months and journalists last only a little longer, Frohlich stayed put. He put down roots. He looked beneath the surface, learned the history and explored the untold stories.

"He lived the life he wrote about," says Bill Jensen, publisher of the Squaw Valley Times, who met Frohlich in 1976. "No one else could have written these stories the way he did."

Two products of this process were his books—Mountain Dreams: Visionaries of Sierra Nevada Skiing and Skiing with Style: Sugar Bowl 60 Years.

I leaf through Frohlich's copy of the manuscript "Red's Story," an unpublished memoir by Norman "Red" Rockholm, one of the men who built Sugar Bowl's first chairlift in 1939.  I read through a transcribed interview with Harriet Henderson, a Donner Summit ski pioneer who helped found Sugar Bowl Resort. She talks about the earliest Sugar Bowl lodge housing an illegal slot machine and the majestic mountain hemlocks at the top of Mt. Hemlock (renamed Mt. Disney after Walt Disney invested in Sugar Bowl).

"He was somewhat of an unofficial historian," says Jensen. "There is nobody that has chronicled that era, the late '70s, '80s and the '90s, like he did."

Many of Frohlich's writings mix the meditative with carefully crafted humor, such as a column entitled "Botulism on the Tuna of Life" or a story about a recent trip to Antarctica, when he knew his cancer was life-threatening, entitled "In Retrospect, I Guess We Might Have Resorted to Cannibalism a Bit Early."

As I am reading, a couple from Reno walk in the door, fresh from skiing Royal Gorge, and compliment Sayler on his museum. Sayler answers with self-deprecating appreciation.

"It's hodgepodge, but I like it like that. It's my style," says Sayler.

History—that vast, disorganized, disjointed lurch of time—has met its Zen interpreter here on Donner Summit. Sayler, with his Historic Highway 40 evangelism, razor-sharp historical recall and obsessively compiled photo collection, is the high priest of an unvarnished version of a hardscrabble past.

In that way, Sayler is the perfect historian to interpret and display the life's work of Frohlich, the prolific writer who hated to be edited—who wanted his words, however imperfect, to stand on their own.

Thanks to Sayler, who is working to compile and display the works, Frohlich's stories live on as an important piece of the historical timeline of the evolution of Tahoe mountain culture.
---
Robert Frohlich wrote for Tahoe Quarterly throughout its first decade in existence.
---
David Bunker is a Truckee-based writer and editor.