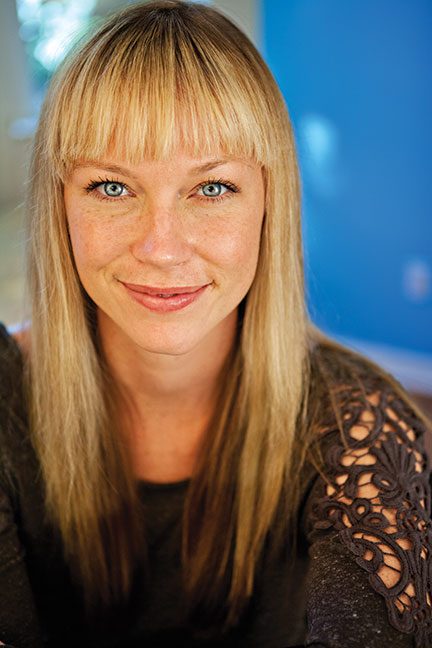 Stephanie Dodds, photo by Steve Rosenfield
28 Jan

Sierra in the Raw

When hearing the phrase "raw food," one may visualize iceberg lettuce, cherry tomatoes and baby carrots—in other words, rabbit food. But going raw means much more than simple salads. The rapidly growing whole food movement is creating strong nutritional awareness and the raw food niche is also piquing public appetite. Fortunately for the Sierra, tour guides like Nevada City's Evan Strong and Squaw Valley's Stephanie Dodds wield powerful raw intelligence and are excited to have you along for the adventure.
Making the Change
Raw food is simple, Strong says. An avocado is simple. Fruit Loops? Far more complicated. By definition, raw food is uncooked, unprocessed, and includes microorganisms and enzymes not found in cooked food. They consist of vegetables, fruits, nuts, seeds, meats suitable to be eaten raw and unpasteurized dairy products. A diet rich in raw foods cleanses toxins, helps maintain a healthy weight and infuses energy efficient nutrition into the system.
Strong, now 26, is living proof of the healing power of raw food. Growing up as a surfer and skateboarder in Hawaii, Strong landed his first skateboarding sponsorship at 13. By 17, he was set on a career as a professional skateboarder. While riding his motorcycle, Strong was struck by an SUV in a head-on collision just ten days before turning 18. The accident resulted in partial amputation of his left leg and extensive damage to his side and femur. Strong was hospitalized for one month and his long healing process thereafter now defines him.
Faced with the overwhelming task of regaining his energy, Strong ate a strict raw food diet for two years. A self-described "superfoodist," Strong not only bounced back as an athlete but returned stronger and healthier, with more endurance. He's now the most decorated para boarder cross racer on the planet; his mantra: "Let food be your medicine and medicine be your food."
Strong now ranks number one in the world for para boarder cross. He competes in X Games skateboarding and snowboarding, has taken gold at more than a handful of World Cups and regularly places first in able-bodied mountain biking and snowboarding competitions. Strong's most recent big news: In April, he signed on to the U.S. Paralympic snowboarding team.
However, Strong's talents extend beyond the slopes. In 2009, he and his wife, Mariah, opened a restaurant in Nevada City called The Fix for Foodies, a raw-centric eatery serving up soups, salads, sandwiches, pizza, smoothies, coffee, kombucha and raw desserts.  "This is not a fast food restaurant," says Strong's father, Roger. "This is really a slow food restaurant."
A 100 percent raw diet is difficult when running a business but is great for occasional cleanses, says Mariah, a superfoodist herself. She does 30-day raw cleanses periodically and incorporates a high percentage of raw foods in her daily diet.
Mariah's raw food dedication is expressed in the love and detail she puts into the preparation of the dishes she serves.
Transitioning to a raw food diet, even for a strong-willed athlete, is difficult. Strong went through three major periods of detox, whereby he experienced flu-like symptoms, edginess and negative thoughts and emotions that required he return to cooked food shortly to help ease the reaction.
Strong has plenty of advice for those looking to transition to a raw food diet. He encourages people to feel validation in their decision. As animals, we know when we are lacking nutrients. Education and making the process fun is what ultimately leads to a sustainable, healthful diet. "Just when you think you're there," he says, "you're not." There's always another level to health, he notes, never a final destination.
Food is information we give our bodies, Strong says. Trading processed foods for raw changes the information; it reprograms your operating system so this process needs to be slow and graceful. He recommends the Internet and YouTube as resources as well as books by his raw food hero, activist David Wolfe.
Cleansing and Curing
Another raw food tour guide, Stephanie Dodds concurs quitting cooked foods cold turkey is not optimal for everyone. "When you are eating really pure foods, like 50 to 75 percent raw vegan foods, this is an extremely cleansing diet," she says.
A holistic nutrition consultant and Squaw Valley local, Dodds transitioned to a raw food lifestyle in 2008 after being diagnosed with allergies to wheat, gluten and dairy. Out of this experience arose a desire to educate others about the benefits of raw food. Dodds now teaches classes on raw living, is a nutrition coach and a personal chef.
Dodds notices an immediate change in the eyes and skin of the clients she sees, followed by changes in their bodies. From curing acne, eczema, relieving stress and anxiety, promoting mental and emotional health and even curing cancer, Dodds touts the benefits of raw food. Her vegetable and fruit-packed CSA box costs $22 per week, which is less than what one would pay for processed foods at the store, she says.
She also writes a blog where she gives nutrition advice, provides recipes and shares helpful resources such as books, articles and interviews with other foodies. Dodds is set to publish an e-cookbook full of tasty and nutritious recipes.
Building a healthful lifestyle requires patience and commitment. While no diet is a cure-all for everyone, there is no doubt that it's healthful to incorporate nutrient-dense foods into our daily diets. Raw food advocates are squashing the age-old assumption that vegetables are boring and tasteless; in point of fact, they can be more delicious than indulgent comfort foods. Just ask your tour guides, they'll show you the way.
---
Julia Mueller grew up in Incline Village and is now a Sonoma-based food blogger; find her work at
www.theroastedroot.net.