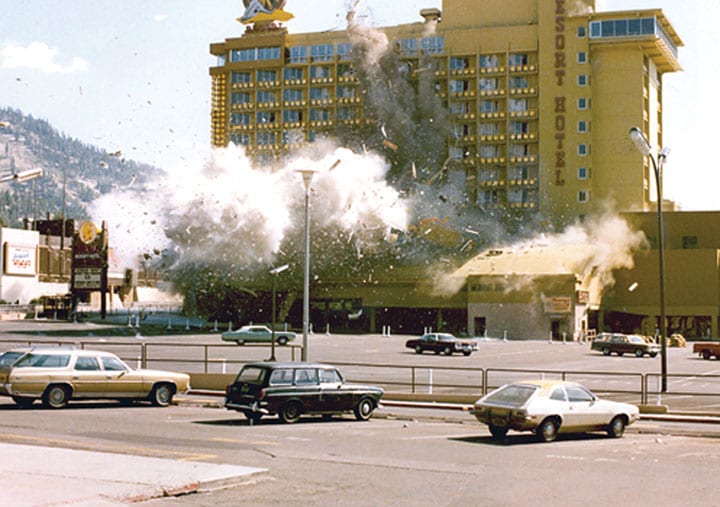 After authorities evacuated Harveys Casino and the surrounding area, experts attempted to disarm the bomb, but their efforts were unsuccessful and the bomb exploded, photo courtesy the Federal Bureau of Investigation
14 Dec

The Man Behind the Bomb
Harveys' bomb remains a teaching tool for FBI more than 30 years after the blast
In the early morning of August 26, 1980, three men dressed in blue worker's coveralls wheeled an object roughly the size of a copy machine through a side entrance of Harveys Resort Hotel at Stateline, Nevada, perched on Lake Tahoe's placid shores.
They used a service elevator to move "the machine"—as they called it—to an unoccupied second-floor executive office.
"The machine"—covered by a cloth with a crudely rendered IBM logo on the side—was an elaborately constructed bomb, replete with more than 1,000 pounds of dynamite attached to a complex network of triggering mechanisms.
Next to the bomb, one of the men placed an envelope containing a three-page, immaculately written extortion note entitled "Stern Warning to the Management and Bomb Squad" and demanding $3 million in "unmarked, unbugged and chemically untreated" $100 bills.
The signoff read: "Happy Landing."
The group's leader placed toothpicks and glue in the doorways to prevent someone from wandering by and accidentally triggering the large device and the three men furtively drove off in a white van. About 20 minutes later, a graveyard shift slot manager contacted casino security after noticing the tampered locks and the large device.
A dramatic case ensued, with local, state and federal law enforcement officials working against the clock to defuse the bomb.
The effort proved unsuccessful: The device detonated 33 hours after it was planted when agents failed to neutralize the triggering mechanism. The explosion occurred at about 3:43 p.m. in front of a retinue of television cameras, journalists, casino employees and tourists, blowing a five-story crater in the evacuated 11-story building. No one was injured and in fact many of the onlookers in proximity cheered loudly, toasting bottles and reveling.
Meanwhile, the culprits bungled their way onto the road of suspicion, capture and incarceration.
The Mastermind
Officials later identified the three men as John Birges Sr., Willis "Bill" Brown and Terry Lee Hall.
Brown and Hall were simply delivery men; each paid in the range of $100 to $2,000, according to varying accounts, to help Birges Sr. accomplish one isolated phase of his brazen plan to extort the South Shore casino.
Born in Hungary in 1922, Birges Sr. boasted of flying World War II military missions for the Luftwaffe, the veracity of which remains unclear. However, he unequivocally acquired and honed pilot skills while fighting Soviet forces occupying his native Hungary.
Soviet military captured Birges Sr. on April 27, 1948, sentencing him to 25 years of hard labor in Siberia. Released after eight and a half years, he was recaptured in November 1956 while fighting Soviet forces in his hometown, Kecskemet. Birges Sr. was nearly shot on the spot, but spoke elegant Russian and managed to talk his way out of the graveyard. Sprung three days later by fellow revolutionaries, he journeyed west across Europe as a Red Cross interpreter.
Immigrating to the United States in May 1957, Birges Sr. and his wife, Elizabet, landed in New Jersey. They quickly secured work with a California corporation, and Birges Sr. would go on to work in various fields, including steel manufacturing, landscaping and as a Fresno-area restaurateur.
He and his wife had two sons, John Waldo Jr. and James, but Birges Sr.'s attempt at the suburban American lifestyle was ill-fated.
In a 2010 memoir, John Birges Jr. revealed his father's mercurial and intermittently violent character. Birges Sr. often beat Elizabet within inches of her life, hectored his sons and used them as free labor when they reached adequate maturity. He divorced his wife in 1973, but she lived in a trailer on Birges Sr.'s property until 1975, when she committed suicide by overdosing on alcohol and valium.
In the wake of his ex-wife's suicide, Birges Sr. neglected his businesses and devoted effort and time to sporadic trips to Lake Tahoe, where he would play blackjack, sometimes for hours on end. In 1978, his restaurant burnt down, and he funneled the $355,000 insurance settlement into blackjack tables. In October 1979, Birges Sr. rented a studio apartment in Stateline, where he transformed his pattern of occasional gambling binges into a sustained, low-intensity crawl toward bankruptcy.
That winter, he casually informed his sons he planned to build a bomb to extort money from the casino that was becoming the repository of all his earnings. In June 1980, Birges Sr. enlisted them to aid him in the heist of nearly 1,000 pounds of dynamite from Helms Power Plant in the mountains just east of California's Shaver Lake. Birges Sr. spent the intervening period between the burglary and August 26 in his garage building an unbeatable bomb.
Ticking Clock
"We had never seen anything quite like (the bomb)," says retired FBI special agent Chris Ronay in an interview nearly 30 years later.
Ronay was an explosives expert summoned to the second floor of Harveys along with other experts after the bomb's discovery.
The band of federal agents—led by special agent William Jonkey of the FBI's Carson City office—convinced casino owner Harvey Gross to institute a fake payoff arrangement in the hopes of forestalling the detonation of the bomb and ensnaring the perpetrators. Due to ineptitude likely on Birges Sr.'s part, the payoff attempt in the forest outside of Lake Tahoe Airport failed, and the heat was on the FBI's defusing efforts.
The Bomb
The bomb squad, holed up in an empty room on the second floor of the deserted casino on the morning of August 27, 1980, more than 24 hours after the bomb was discovered, engaged in some rigorous problem-solving exercises.
"Harveys' bomb was probably for me the biggest event, or the biggest bombing case I was ever involved with," Ronay says. "This device was a pretty sophisticated, quite complicated piece of machinery unlike anything we'd seen before, or anybody in the bomb disposal business had ever seen before."
Ronay and others gathered in the desolate casino came to the consensus that building a shape-charge tool could disrupt the device by separating the two boxes that x-rays demonstrated comprised the overall "machine"—essentially lobotomizing the bomb by removing its brains from its body.
The term used in bomb squad vernacular for defusing operations is called "render safe." This became the main goal.
"What we know about it afterwards is that it was virtually undefeatable," Ronay says. "There were eight fusing systems, as it turned out."
Yet, on that day, explosive experts with scant confidence and no illusions asked Harvey Gross permission to attempt to render the device safe, while apprising the owner of the likelihood of failure. After much deliberation, Gross, who had started the casino in 1944 as a cabin with a blackjack table and a couple of slot machines, reluctantly consented.
At about 3:45 p.m., with the casino and surrounding area evacuated, the explosive experts remotely detonated the shape charge. That action inadvertently activated one of the many triggers attached to the bomb, puncturing a crater in the side of the casino as onlookers cheered.
"Looking up from ground level," Ronay says, "You could see TV sets swinging on electric cords and toilets hanging on by pipes. Debris was everywhere."
John Birges Jr. says his father—crestfallen after the botched payoff—perked up when he saw the explosion, feeling he had done well.
Manhunt
The FBI interviewed 500 suspects and hundreds of witnesses over the next several weeks.
The agents' big break came from Nancy De Minico, owner of South Lake Tahoe's Balahoe Motel, who provided them with a license plate number of a suspicious white van.
Birges Sr., Brown and Hall stayed at the motel the night before planting the bomb and untoward comments made by one of the men toward De Minico caused her to jot down the license plate number.
The van registration information led investigators to John Birges Jr.'s home, but when agents descended, he was found living with five housemates amid a litter of empty beer cans and bags of marijuana—not the profile for an intricate bomb-building mastermind.
However, a later lead led to Birges Sr.'s arrest.
Birges Jr. was dating an unidentified young woman, with whom he shared information regarding the failed plot, including the fact that his father was the mastermind.
When the couple broke up, the woman began dating another man and disclosed that Birges Sr. was the individual behind the bomb plot. The new boyfriend called the FBI, provided the tip, and agents mobilized and set up a complex surveillance project ending in the arrest John Birges Jr.
The FBI caught the young man lying about his whereabouts during August 26 and 27 and threatened him with perjury and jail time if he didn't roll over on his father.
Birges Jr. told the agents everything.
On August 15, 1981, almost a year after planting the bomb, Birges Sr. was arrested. A day later, delivery men Bill Brown and Terry Lee Hall were arrested. They were eventually convicted and served time in federal prison.
Birges Sr. was convicted of federal extortion and bombing charges on October 22, 1982. He was sentenced to life in prison without parole. At 74, Birges Sr. died of liver cancer at the Southern Nevada Correctional Center, exactly 16 years and one day after the bombing.
---
Matthew Renda is a Nevada City–based writer.