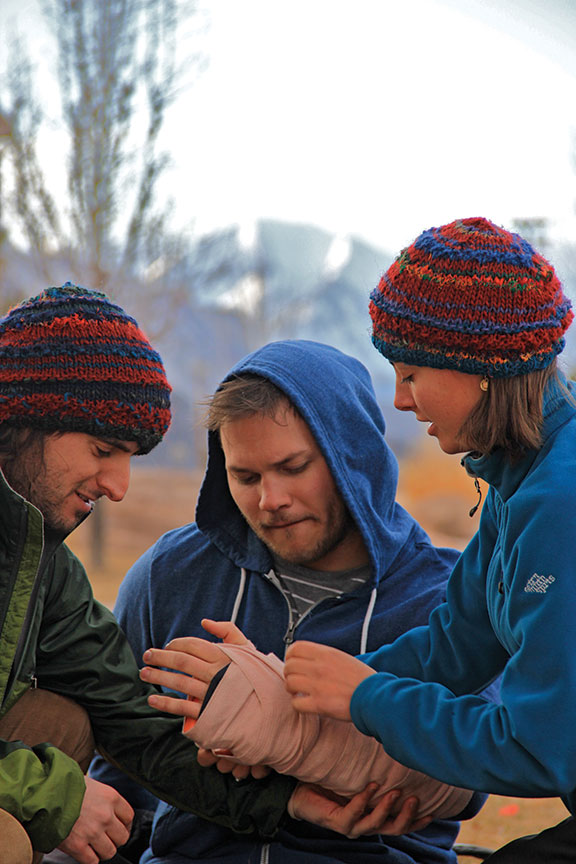 Students practice during a 10-day wilderness first aid class, photo by Gareth Tate
17 Dec

Backcountry Readiness Begets Safety

Planning ahead, bringing the proper supplies and having knowledge of wilderness first aid contribute to safe outdoor adventures. Whether you're backpacking or out for an afternoon hike, preparedness is essential to ensuring your party gets home intact. We went to two local experts—Gareth Tate and Mikenna Dudley—and asked them to share their experiences with wilderness first aid and provide useful advice for those venturing into the Tahoe backcountry this summer.
Safety First
Tate, a Truckee resident, teaches Wilderness First Aid and Wilderness First Responder classes for National Outdoor Leadership School (NOLS). An advocate of proper preparation, Tate maintains that anyone from a casual day hiker to a seasoned outdoor enthusiast can benefit from the courses. For instance, conditions such as altitude sickness and hypothermia often exhibit similar symptoms. Being able to differentiate between the two helps one identify the severity of a situation and gives him/her the ability to treat it.
The most common injuries that occur in the wilderness are blisters and abrasions, mild hypothermia and athletic injuries such as sprains and strains. In preparing for the unknown, Tate recommends packing first aid supplies before venturing out. He suggests taking a minimal, yet efficient approach by focusing on a few items with multiple uses. Pack gauze and tape to treat any size wound, and a tarp to serve as shelter and protection from hypothermia. Bring a pump with a filter for water and backup iodine tablets in case the pump goes out. In addition, Tate recommends carrying two sources of light, plenty of food and water, and a personal GPS device.
In Event of Emergency
While some injuries are treatable in the backcountry, there are circumstances you can't fix on your own regardless of preparations. Tate and his friends were kayaking near Mammoth Lakes last summer when he hit a rock and broke his ankle. His friends made a splint out of their supplies and called for a helicopter evacuation using a satellite device. In similar situations, it is not only crucial to know how to use your resources properly, but to also know what resources are available should you require additional help.
Mikenna Dudley, outdoor education program coordinator for the Tahoe Rim Trail Association, organizes the types of classes Tate teaches. As a certified first responder, Dudley is no stranger to emergencies in the backcountry. She led backpacking trips for children in Yosemite for two summers, and explains that treating blisters, abrasions, mild hypothermia and altitude sickness was standard procedure during the adventures. While small mishaps are commonplace, Dudley has also experienced deadly situations.
Rarely, weather in the Sierra Nevada can turn unpredictable in the summer. Sun and warmth can turn into afternoon thunderstorms and torrential downpours. During a storm, Dudley explains, aim for areas that either have even-height trees or are completely open. Maintain a safe distance from other people, and stay far away from all metal objects. Dudley experienced an unexpected two-hour lightning storm with a dozen ten-year-olds in Yosemite a few summers ago. The group sat on their foam thermorests and made lighthearted conversation in order to remain calm during what would have been a frightening situation.
Preparing for yourself can also benefit others. If you are on a trail and come across someone who didn't bring enough food or water, donating your extra stash could make a big difference to your fellow hiker. During an overnight camping trip, Dudley and her friends came across a hiker who had set out for a half-day's hike but overshot the route. He was unsure how to make it back to his car. The sun was descending and the hiker had another six miles to go, which meant hiking past sunset.
Dudley gave the hiker her extra headlamp and was hopeful that he would make it back to his car safely. When she and her friends finished their hike the next day, her headlamp was on the windshield of her car with a note thanking her for her generosity. A simple gesture of passing your resources to someone in need helps prevent dangerous situations.
Aside from wilderness first aid, Dudley urges hikers to respect the "Leave No Trace Seven Principles." These principles are: plan ahead and prepare, travel and camp on durable surfaces, dispose of waste properly, leave what you find (and if you pack it in, pack it out), minimize campfire impacts, respect wildlife, and be considerate to other visitors. In this sense, it is not only important to take care of your own wellness in the backcountry, but also to take care of the backcountry itself.
Learn from those who have experience: pack for weather changes, bring supplies and be aware of the route you're taking. There is ample opportunity to get lost on the network of trails in the Tahoe area. Having an understanding of the elevation gain of the trail you're on, how long it should take you and what time the sun goes down could be the difference between a pleasant day hike and an emergency situation.
The biggest takeaway from Tate and Dudley's experiences is preparedness begets prevention. You never know when your extra jacket will save yourself or a fellow hiker. Have fun, and above all, be well in the backcountry.
---
Julia Mueller is an Incline Village–based writer and blogger. Find her work at www.theroastedroot.net.