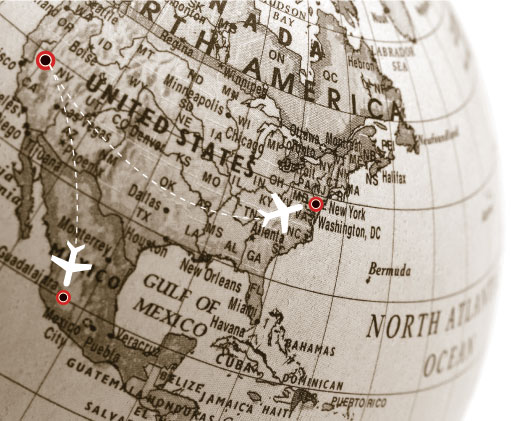 06 Jul

The Fight to Land Flights at RNO

Sometimes it takes more than a pilot to land an airplane at Reno-Tahoe International Airport.

In the hyper-competitive world of air travel, bringing new flights to the airport has required passenger numbers that make business sense buoyed by a supportive community and, sometimes, incentives valued in the seven-figure range.

"Like anything, there are a lot of different parts," says airport spokesman Brian Kulpin. "It's numbers, it's relationships, it's showing what your community has to offer. It's good faith and integrity. There's a lot that goes into it."

Faced with declining passenger numbers, a group of business leaders from Lake Tahoe and the Reno area, centered around the airport and the recently incorporated Reno-Tahoe Regional Air Service Committee, have worked over the past few years to bring new air service to Reno.

They've had some success, but it hasn't come without turbulence.

Between October and January, airport officials announced new connections to New York City; Guadalajara, Mexico; and London, England.

Flights to and from Mexico began in December 2014 and air service between New York City and Reno began this past May. But the flight to London set to begin in December 2015 and run through the ski season was cancelled before it got off the ground.
London
The London flight, through Manchester-based Thomas Cook Airlines, was scheduled for Wednesdays and Saturdays during upcoming ski seasons.
In May, Thomas Cook announced it would not follow through with the flight, citing lengthy delays in the customs process for travelers entering the U.S. through Reno.
"This is as a result of information we have received from the U.S. Customs and Border Protection [CBP] that, despite their number of staff being increased at the airport, our customers are likely to still receive substantial delays of at least three hours to clear U.S. Customs," said Nick Sandham, spokesman for Thomas Cook, in a statement announcing the cancellation. "Such inconvenience for our customers and the impact on our fleet and operation that would take place in accepting these delays means that we are unable to operate the route at present."
The twice-weekly Mexico flights, through Tijuana-based Volaris, have also experienced issues with the speed of customs at Reno-Tahoe International Airport.
"The only issue that we're facing is that we still need a little bit more staffing at the airport to process international flights," says Holger Blankenstein, chief commercial officer for Volaris. "When you arrive in Reno and want to pass immigration, passport control, that's a three-hour process. Customers have not been very happy with the airport, and especially CBP. We need more agents to help us expedite passport control and customs. It's certainly an issue and it's affecting our customer service scores, though it's not a Volaris issue, it's an airport and government issue."
The slow customs process presents a problem without easy solutions. The addition of another customs agent did not see times improve, Kulpin says.
"Essentially, we're working very closely, and have been for several months, with our congressional delegation, so that's senators [Dean] Heller and [Harry] Reid and congressman [Mark] Amodei, and they've been working with us, but it's a federal agency when you're dealing with U.S. Customs, and it's a challenge," Kulpin says. "There's a budget crunch in Washington right now and to try to get things through requires more funding. It's very challenging as more staffing requires more funding."
While the loss of the London flight is a setback to the momentum of those working to bring new flights to Reno, a pair of successes have filled important gaps in air service to and from Reno, which has experienced a steep drop in passengers since 2005–2006 and, prior to the Volaris flight, hadn't seen scheduled international service since 1999.
New York City
For years, New York City has been a prime market for those looking to bring additional flights to Northern Nevada. Its large population, wealth and importance in the business world are among the factors contributing to New York's appeal. Reno certainly wasn't the only one looking to land the Big Apple.
"We're competing with about 400 other communities to get air service," says Marily Mora, president and CEO of the Reno-Tahoe Airport Authority. "We finally got the traction, certainly with Volaris to bring that flight in December, and again with JetBlue in order to bring that flight starting on May 28 to New York. It's a huge deal for us, particularly on the JetBlue flight because we've not had East Coast service except for five months a number of years ago with Continental Airlines. It's really been our number one market that has not been served out of this airport."
The JetBlue flight is a result of roughly two years of discussions between the airline, the airport and Reno-Tahoe representatives. It's the first-ever daily, nonstop service between Reno and John F. Kennedy International Airport.
"With this one move, although it was a couple years in the making, we opened up a very important ski market to Lake Tahoe," says Andy Wirth, vice chairman of the Reno-Tahoe Airport Authority Board of Trustees and CEO of Squaw Valley Ski Holdings.

Andy Wirth
Risk Mitigation
One of the key components to securing the New York flight was support in the form of marketing dollars to help ensure the flight succeeds while still in its fledgling phase.
"Really, the JetBlue flight… is there because we pulled a lot of marketing resources in the form of commitment to spend marketing dollars on that flight with JetBlue and also some direct funding commitments," Wirth says. "We call it a risk mitigation package. We put this risk mitigation package in place with JetBlue and it made the difference."
Risk mitigation packages are a common practice in an airline industry with more airport suitors than available airplanes. Packages vary significantly between airlines and destinations, and the details of risk mitigation packages are rarely made public.
Airport fee abatement during the first year or two of a new flight and direct purchase of seats on underperforming flights are sometimes part of the packages. Marketing a new flight on both ends of the route is the most common aspect of risk mitigation.
"There are a number of things you can do," says Dave Clark, vice president of network planning for JetBlue. "Marketing is usually the classic, main one."
Wirth declined to give specifics of the risk mitigation package offered by the committee for the New York City flight, but says it includes upwards of $1 million in value to attract attention to the new air service. The risk mitigation package draws funding from the committee and area business partners. It does not include the direct purchase of seats, Wirth says.
The risk mitigation package will be used on a wide variety of marketing efforts, including database marketing, traditional advertising and in-flight advertising. The messaging will focus heavily on the message of flying nonstop from New York to Lake Tahoe on JetBlue, Wirth says.
Risk mitigation is part of the calculations airlines undertake when deciding whether to open up a new market. If those calculations don't equal the correct return on investment, any new flight is dead in the water, says Chris Baum, president and CEO of the Reno-Sparks Convention & Visitors Authority and chairman of the Regional Air Service Committee.
"If an airline is going to bring a plane to your region, they have to make sure that there is a demand for it, so they look at the O and D numbers, origin and destination," Baum says. "And they know every combination of cities in America and how much demand there is on a daily basis. So those numbers have to be at a certain level for them to even talk to you. But assuming those numbers look pretty good, they then say, 'Well, maybe we'd like to free up a plane but you need to help cover the risk in the first year of launching this new service.' And that may be through cash to offset any lower load factors and revenues for their flights on certain dates. And it may also be marketing dollars that make additional funds available to help make consumers aware of the service now being available."
Securing the Volaris flight, which included negotiations between area representatives over approximately a year, was less complicated than attracting a New York flight. The risk mitigation package for that flight was a "much smaller commitment on a much less risky venture," Baum says.
Reno's 25 percent Hispanic population, many of whom have roots in central Mexico, means the flight has generated significant demand on both ends. The flight has been successful at its onset, operating at 75 percent load factors.
Blankenstein, the chief commercial officer of Volaris, says the airline likes to utilize low-cost, high-value marketing at a grassroots level in the communities they serve, while also working with visitors bureaus on each side of the flight to ensure potential customers are aware of their travel options.
"Obviously, when you start a new market, a new route, a new destination, you always want to make sure that the word gets out, so we did some very coordinated marketing efforts, both in Guadalajara to make Tahoe known, Reno known, as well as in Reno to talk about international operations to Mexico," Blankenstein says.
Community Support
In addition to effective risk mitigation packages, representatives from both JetBlue and Volaris noted the importance of having community backing before opening up new routes.
"One of things we factor in is not only the destination itself, but the team there and how motivated and capable the team is, how much we feel confident that they'll be able to support our flights," Clark says. "We're looking to grow these destinations, so if we're going to bring in more seats, we need a partner who we feel confident can help us bring additional visitors, new incremental visitors, to those seats.
"We're looking at dozens and dozens of opportunities at any one time and then selecting the best 10 or 12, and that's a combination of how does our revenue and cost forecast look plus the partners are certainly part of it," Clark continues. "The more confident we are in the partner's commitment, the more confident we are in the partner's ability to really drive visitors, whether that's leisure travel or for our business destinations, business travel, that's part of our calculation, too. We think not only about what the economy is today, but what the potential is for growth and if we think the right pieces are in place to drive that growth."
Destinations such as Salt Lake City, Jackson, Denver, Aspen, Vail and Steamboat Springs have been successful in increasing the number of passengers coming through their terminals in the past decade, but Reno has seen numbers decrease by 40 percent, Wirth says. The lack of connectivity hindering the region's ability to compete has been a major push behind the regional air service committee over the past few years.
"That is a precipitous decrease and it has put us at a substantial disadvantage against some of the great mountain destinations in the West," Wirth says. "It's a real problem and a real challenge."
"It hasn't been some big event like X Games that has been the cornerstone of a place like Aspen's success, it's getting planes in and out of the airport," he says.
"In terms of the overall region, I think we're a little bit late to the show in terms of understanding the importance, but now we're here engaged and we have a very solid consortium and I'm very prideful in what's been developed," he says, adding the success of the airport is crucial to the region's economy as a whole, not just its ski resorts.
Area tourism entities have long seen the value of Reno-Tahoe International Airport, Baum says. Getting the area's corporate community to see its importance to the economy is one of the next steps for the committee. Baum expects the committee to reach out to corporate entities outside of the tourism industry this summer in the hopes of expanding the pool of dollars available for risk mitigation in the future.
Those involved in bringing new air service to Northern Nevada mentioned Southern California, Atlanta, Minneapolis, Washington D.C., Oakland and Vancouver among those markets that may make sense for Reno.
"There is still more to come," Wirth says. "We're still very active."
---
Writer and editor Adam Jensen is based out of South Lake Tahoe.